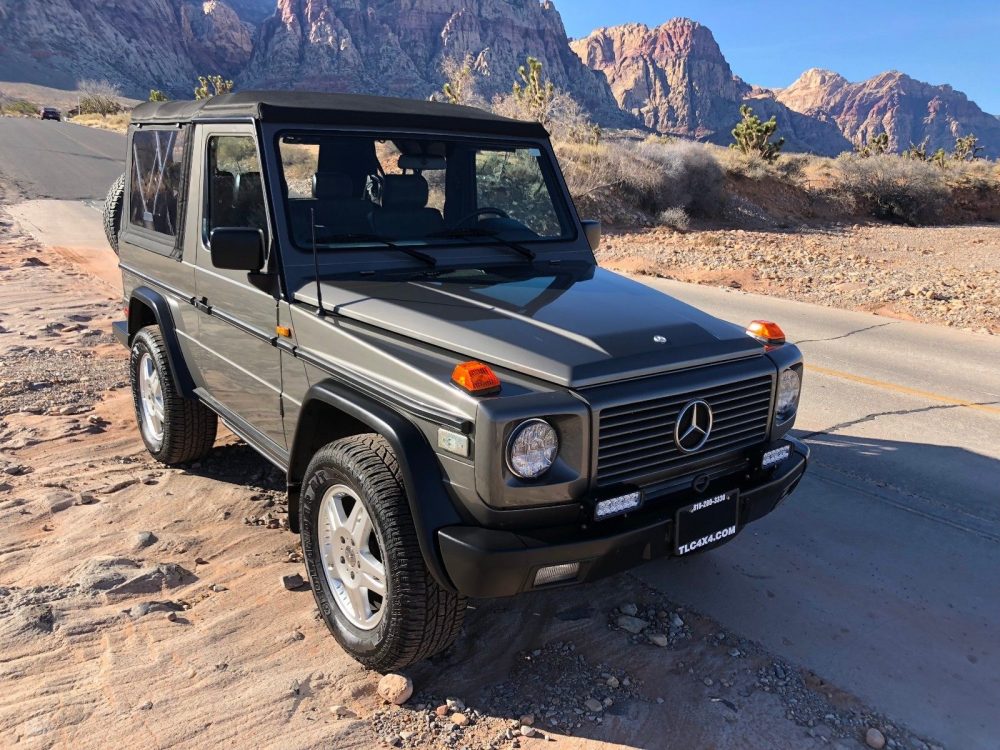 It has been awhile since I've featured a Mercedes-Benz G-Wagen Cabriolet because frankly, they don't come up for sale all that often. People that know what they are usually want them pretty badly and when they get their hands on one, they keep it for a while. The last one I checked out was a 1999 G500 Cabriolet that was nearly perfect and came with a price tag to match at $150,000. Today's G, a 1990 300GE for sale in Las Vegas,  is still a W463 but obviously a little older. This one however is a little cheaper and thanks to a bunch of custom touches, even a little bit cooler in my eyes. Although I want to be clear here. The word "cheaper" is a relative term when talking about these trucks. They are still really expensive in the grand scheme of things. How expensive?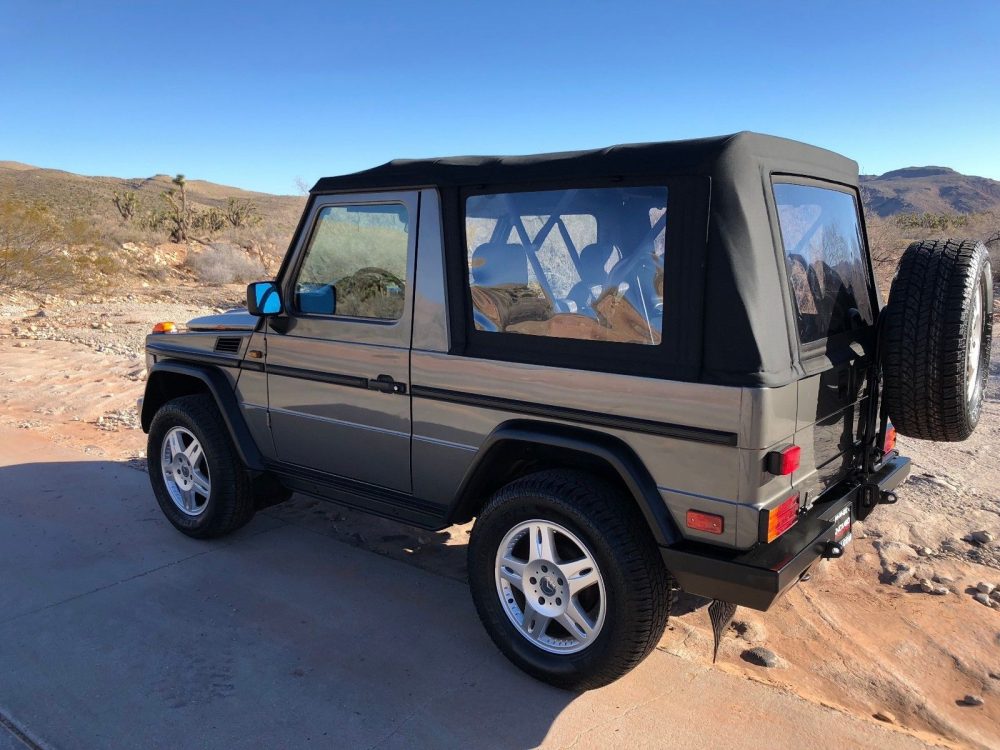 Year: 1990
Model: 300GE Cabriolet
Engine: 3.0 liter Inline-6
Transmission: 4-speed automatic
Mileage: 44,000 mi
Price: $95,000 Buy It Now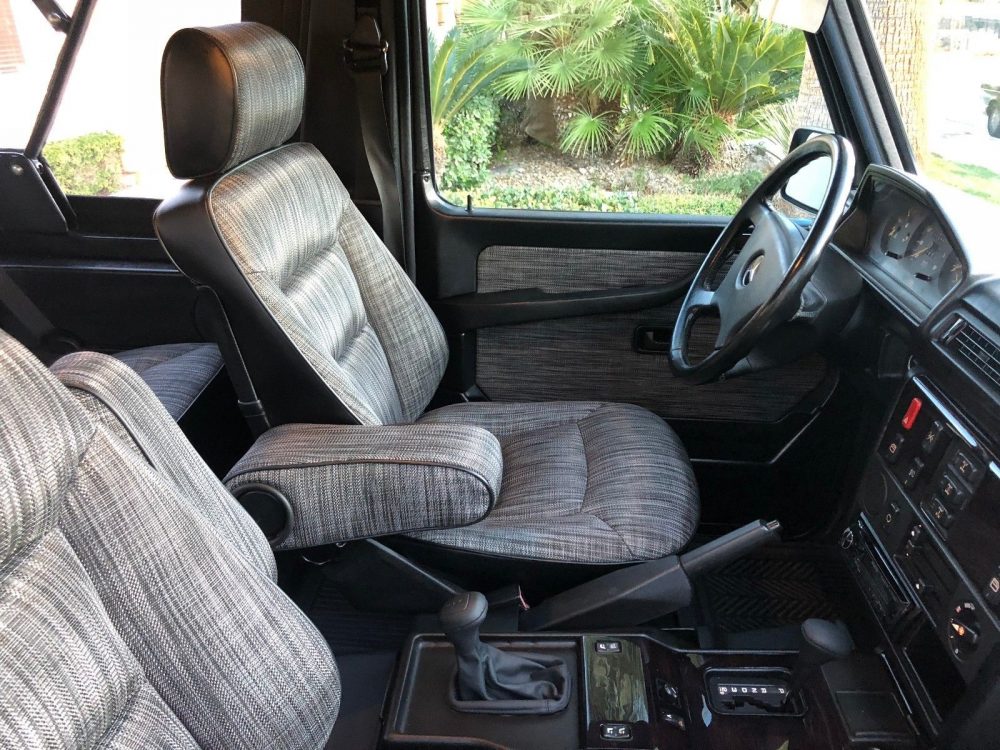 I think this is the coolest cabriolet g wagen in the country, maybe the world.
There is nothing like it anywhere.
Just got this back from ICON 4X4 in California. It was there for 1 year.
This truck is a labor of love and a wheelbarrow full of money.
44,000 original miles on this legally imported GE300. The vin is actually:
WDB46320717073001
It was imported from italy in 2016
I bought it from Frank Roti at mancuso motorsports in chicago.
Great guy and if this one is out of your budget I recommend looking at his maroon one.
it's a cool truck that you could upgrade over time.
there were three G cabrios when I got this in stock,this one a silver one which the CEO of mercedes benz usa bought and a maroon one with a manual transmission which i believe is still for sale.
This one is the more desirable of the three.
as its an automatic and awesome colors.
I have $40,000 in receipts
plus the original price of the G. I paid $60,000 for it as I recall.
I've put about 1000 miles on it and it drives so perfect.
See the pics for best description.
That being said:
ICON 4X4 installed gulfstream 500 jet sun visors, rock sliders, tuffy lockable storage, a custom insulated convertible top with removable windows,
heavy duty US style all steel aftermarket bumper.
LED lights everywhere including
the new driving lights that are on a factory switch inside.
Chilewich seating which breaths so great.
List of improvements is long.
There is a batter keeper system, all new leather shift knobs and shifters.
the amount it costs to get some of these parts original and new from mercedes is mind boggling.
the rear 4wd shifter was $600.
just the knob and boot, nothing else.
But i wanted to do it right so I made it happen.
This truck is all there.
MOST g import g wagens for sale are huge project cars waiting to happen.
this one is done.
all newly redone wood.
you'll notice the nice dark wood instead of the honey colored that comes stock in the early gs.
this one is special because it is the only 463 chassis year to be airbag free but still have the modern chassis.
Airbag free is ideal for a vehicle that will be used off road so you don't have an accidental airbag accident.
this truck has 3 locking differentials.
jeep rubicons have 2 for a reference point the top on this is amazing costing just over $4,000 to create from scratch.
it is better than the skimpy factory ones that come with them.
The snap downs alone are worth the change.
So easy to use and so quiet.
All the carpet is perfect and the all weather mats are factory and cover all areas.
There is rear lockable storage that would accommodate a small carbine or shotgun plus other gear.
billet aluminum pedals and fire extinguisher are amazing touches.
The mercedes has had all of its lights changed including the headlights with led.
all vacuum leaks and troubles have been sorted out between icon and mercedes benz usa dealer.
This g is leak free, drives perfect and has no mechanical flaws or needs.
it is all there.
I have put in 1.5 years into this and am moving to a very rural area where i don't want the attention.
this car is understated for sure, but it's still a mercedes g wagen convertible.
If you don't like people taking pictures of your car while its parked or driving this might not be the best ride for you.
when I bought the truck i was planning on a small house in malibu and it would have been really cool there. a little over the top for a small town in oregon maybe.
we can get on a call and talk all day about g wagens,4x4s or mercedes.
These are so much more reliable and better than land rovers.
NO leaks no electrical problems.
I can tell you all about it and answer questions.
Please call my assistant erin to set up a time to chat.
801.503.1754
she's around 24-7 it feels like so hit her up anytime and shell get ya handled. text or call.
If you need financing for this you can call JJ best or hagarty.
There are lots of options depending on your credit. google classic car financing. usually 20% down.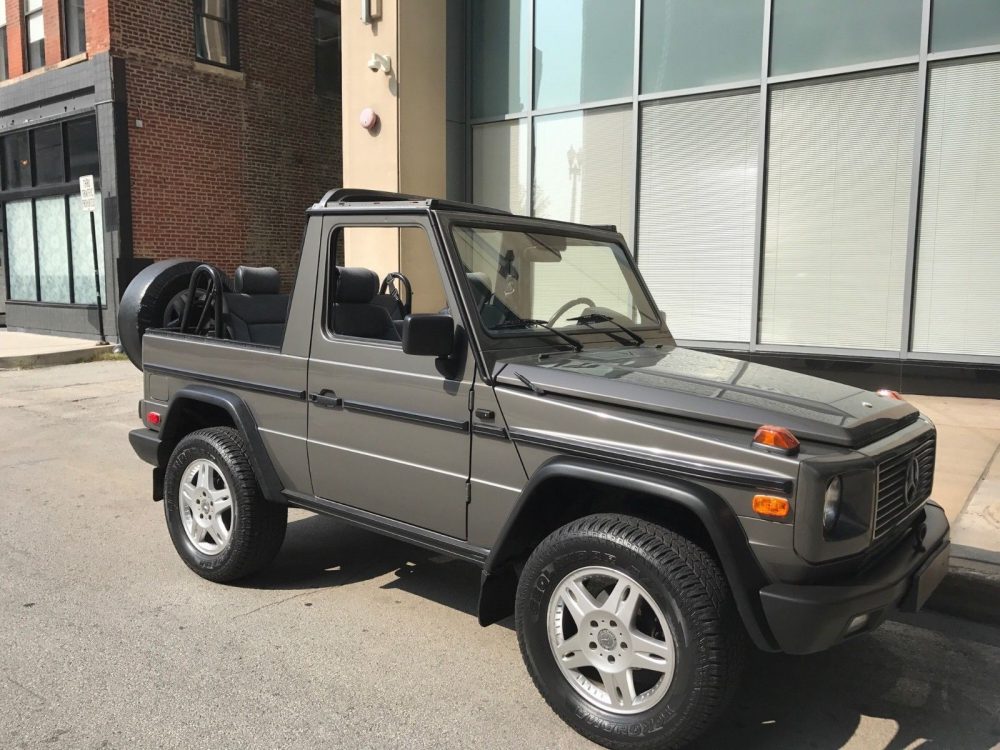 Just a quick run down on this thing. It's an Italian import that came to the US in 2016. From there, it was sent off to Icon 4X4 in Los Angeles where it received a bunch of off-road parts and other cool little touches that make this thing unique. Were that not enough, it was completely gone through mechanically and cosmetically to get this G up to new standard. All of this work costs a cool $40,000 because on a G-Wagen, a shift knob and boot is a $600 part from Mercedes. I like the look of the US-spec W463 wheels on this thing and the Yokohama Geolander tires are just aggressive enough to do real work without making a bunch of noise or killing gas mileage. But the center piece of the 300GE is the interior fabric. Icon 4X4 used a fabric called Chilewich on the OEM seats and door cards which look great in my opinion. It was just unique enough to really catch your eye but not so crazy that it looks out-of-place. Everything else in this interior looks great as well.
The price? $95,000. I understand it though. If this wasn't a Cabriolet and was just the standard three door, this is a $40,000-50,000 truck. But being a Cabriolet just sends it value skyrocketing. This is the price you pay for a nice one of these in the United States. It's a low production, highly desirable vehicle that people will pay dearly for. That's why it is $95,000. Someone who can afford to drop this kind of money on toys will see this thing and pay up without thinking. And as long as values hold steady, this process will keep repeating. More power too them, I guess.
– Andrew