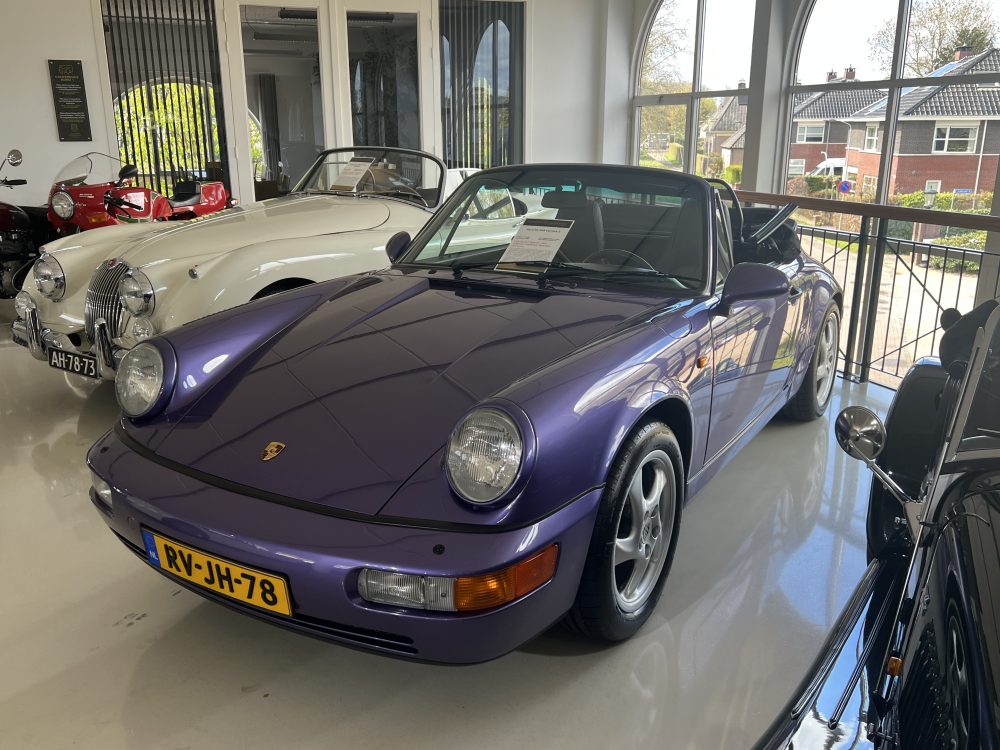 Well, there is a first time for everything. In over 1,000 cars I've looked at, I've yet to actually check one out in person before giving my opinion on it. That changes today with this 1990 Porsche 911 Carrera 2. However, this car just wasn't conveniently for sale down the street. Oh no. I peeled myself out of my chair, jumped on two planes, three trains, and walked a mile to the sleepy town of Brummen, the Netherlands to Gallery Aaldering. This is a place I've featured a handful of times before just because of their crazy collection, including a Wiesmann that was still there! Ordinary people go to the beach, I just visit car dealerships.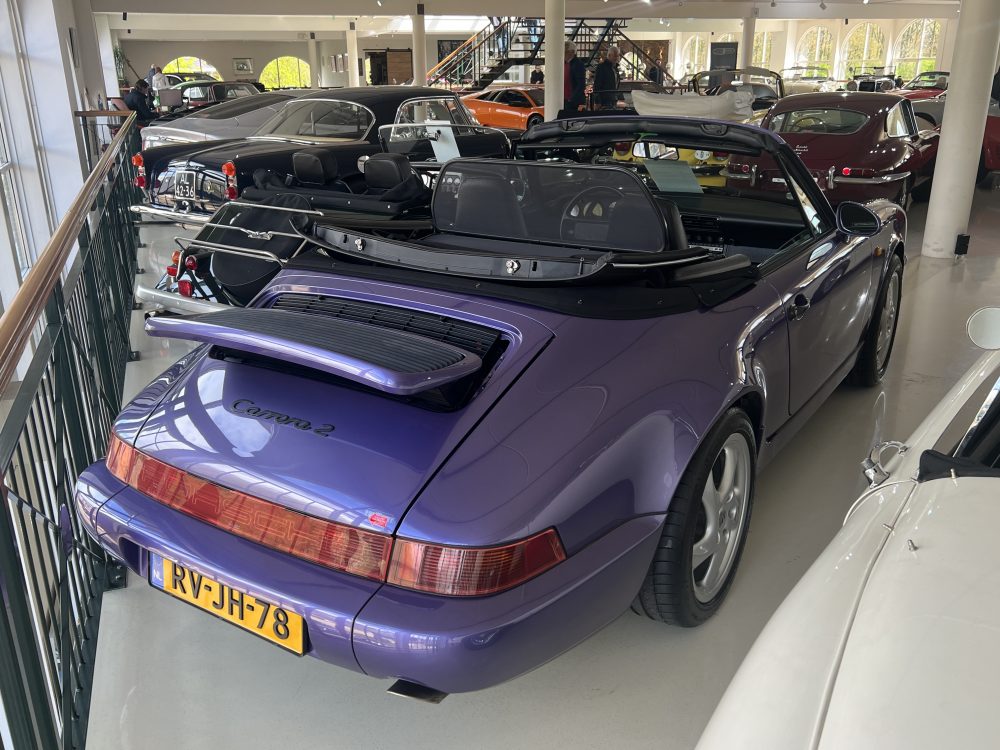 Year: 1990
Model: 911 Carrera 2 Convertible
VIN: N/A
Engine: 3.6 liter inline-six
Transmission: 4-speed automatic
Mileage: 119,810 km (74,446 mi)
Location: Brummen, Netherlands
Price: €76.950 ($85,630)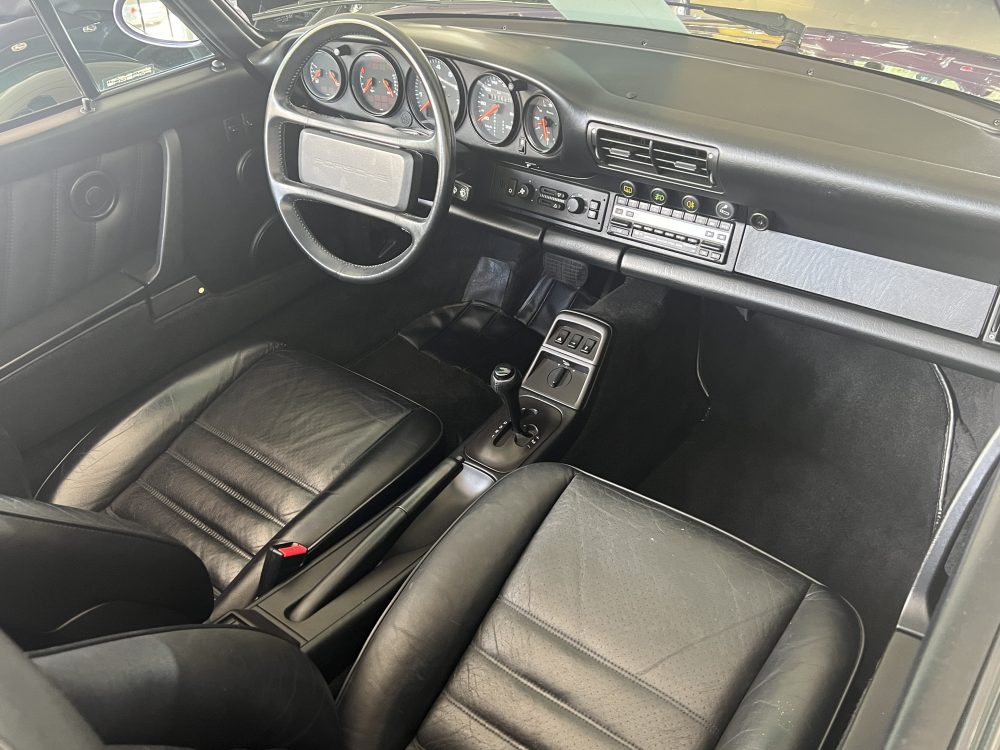 This is a beautiful 1990 Porsche 964 Carrera 2 convertible. The car was delivered new in Kiel in Germany and came to the Netherlands in 1997. Since then, the car has had one owner who has taken very good care of the car. The Porsche has less than 120,000 kilometres on the clock and has always been serviced by the Porsche dealer.

The first thing you notice when you see this 964 is the beautiful and original Violet Blue metallic paint. The car is 95% in the first paint. The paint has some slight traces of use but is generally in very good condition. Then the rims catch the eye, surrounded by Michelin Pilot Sport tires with "N" coding. The convertible top was replaced in 2020 and looks like new. The hood fits nicely everywhere and can last for years. The mouldings, bumpers and lamps are also all in good and original condition.

The interior is at least as beautiful as the exterior. The seats are upholstered in black leather that is in excellent condition. The rest of the interior has beautiful black carpets. Of course, there is a wind deflector for comfortable driving. Furthermore, the luxurious equipment of the Porsche 964 stands out. There are numerous options added to the car like air conditioning, cruise control, seat heating, electrically adjustable seats, the hood can be operated electrically, the steering wheel and poker are also covered with leather and there is an original Becker radio.

The technology of the 964 is perfectly taken care of. The car has always been offered for maintenance at the Porsche importer in Leusden. The engine was completely overhauled in 1998 and has been perfectly maintained since then. In 2015 the engine was repackaged and then regularly serviced. Of course, the invoices for the maintenance are present with the car. The Porsche 964 is powered by a 3.6 litre six-cylinder boxer engine that produces 260 hp at 6,1000 rpm. The engine is coupled to a four-speed automatic transmission that you can also shift yourself using the Tiptronic mode. The Porsche goes from 0-100 in 6.2 seconds and reaches a top speed of 256 kilometres per hour. Even after 31 years still has excellent performance.

It is clear from the first few meters that this Porsche has always been driven with love and has been very well maintained. The car steers tightly, the brakes can be dosed well and the chassis gives the car a pleasant ride. The car will be delivered including a complete board folder and all invoices for maintenance since 1997. In short, not only a beautiful 964 to look at, but also to drive.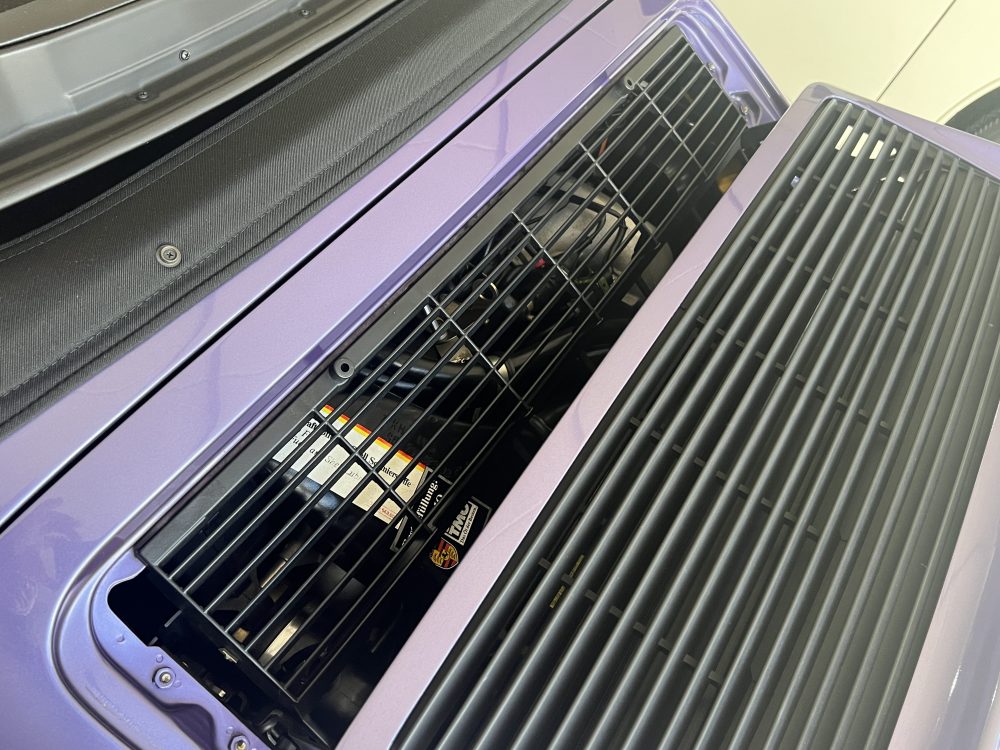 Naturally, a small town in the southeast of the Netherlands probably is going to be a tough sell for a vacation spot, but even if you are in the general area, this place was a site to see. The showroom minus any cars would win awards for its unbelievable staircase design, and the tens of millions of dollars in classic cars was just icing on the cake. Four floors were jammed packed with cars that it was totally overwhelming. I spent almost the entire afternoon there, including eating lunch in the cafe, before packing it up on two more trains and wishing I could come back tomorrow. Unlike certain places in the US that deal with really high volume classic cars, this place was not a fraud. Everything was extremely clean and tidy, and I don't think I even saw a single car with a drip pan under it.
As for this car, it was a very small fish in a big pond. If you saw this car parked on the street, it is a star with it being a 964 Convertible finished in Violet Blue Metallic. However, is this building? Just a mere footnote.
– Andrew