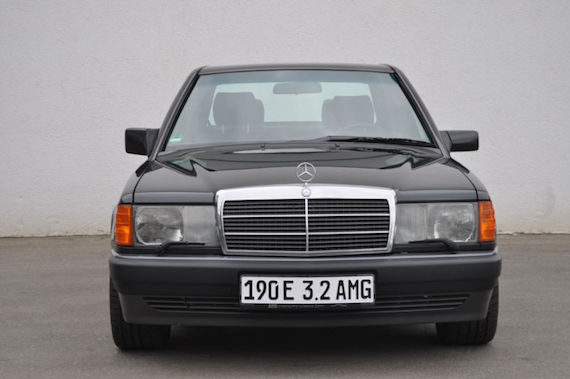 One of the first cars to be produced following the official merger between AMG and Mercedes-Benz was the 190E AMG 3.2. These cars came with an aggressive bodykit, giving the W201 a wedge-shaped profile reminiscent of the infamous W124 Hammer, and an enlarged version of the M103 six cylinder motor, bored out to 3.2 liters to produce about 234 hp. Only around 200 of these were made, so the chances of finding one today are slim. However, for a time AMG continued to offer an à  la carte menu of upgrades for Mercedes customers to choose from. As a result, a number of W201s were specified with an idiosyncratic mixture of AMG styling and performance parts. This 190E for example, for sale near Stuttgart in Germany, combines an almost bone stock exterior with an AMG-modified motor, making for the ultimate sleeper.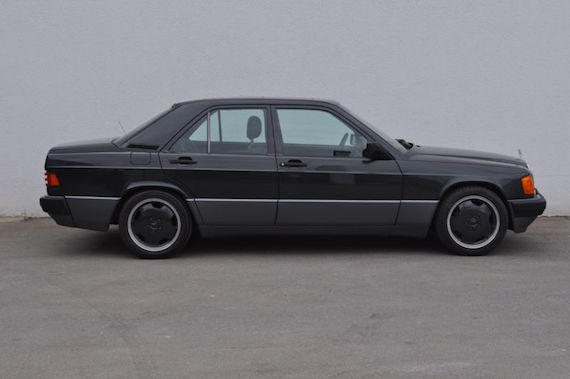 Year: 1992
Model: 190E
Engine: 3.2 liter inline-6
Transmission: 4-speed automatic
Mileage: 105,900 km (65,803 mi)
Price: €42,900 (~$47,767)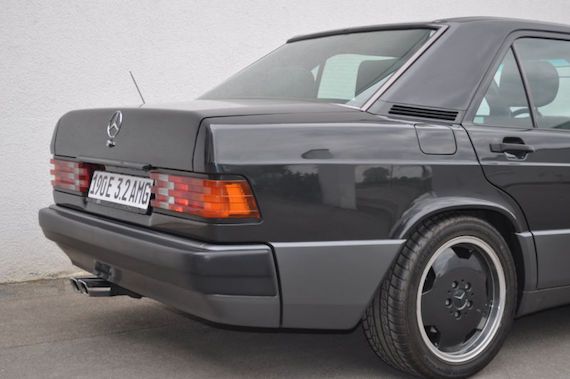 190E 3.2 AMG. Front, it is an original of 125 built vehicles. Ordered as 190E 2.6 from Daimler NL Stuttgart, then conversion from AMG to 3.2 with all entries incl. Aggregate pass. Each 190E 3.2 was previously a 190E 2.6 and was then converted according to the order. (See literature)

This version is therefore considerably less common than the two Evo versions 1 + 2 with 502 built vehicles. The driving performance is by no means worse, a real wolf in sheep's wool, unobtrusive and with the Swabian special equipment (omission of rear spoiler and optics package) also visually a pleasure.

Special equipment:

– leather dark green
– ASD (211)
– outside temperature indicator (240)
– sunroof electr. with lifting device (412)
– Radio Becker Mexico with VK, RDS (512)
– Window lifter elktr. 4x (583)
– exhaust gas cleaning (620)
– tinted laminated windows all around
– automatic
– cruise control
– air conditioning
– heated seats right and left
– ABS
– airbag
– headlight cleaning system
– headrests in the back seat – Adjustable
– Central locking system
– Central armrest foldable 4x (583)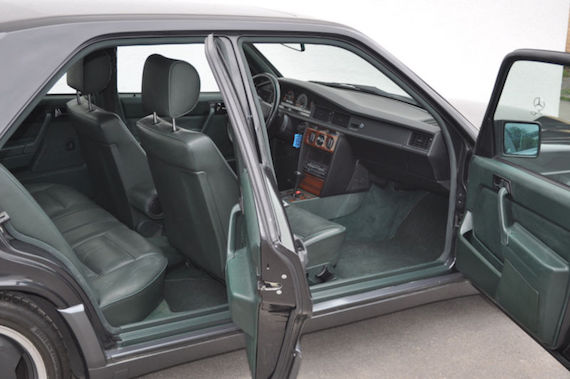 Questions of provenance are always tricky when it comes to early-era AMG cars, especially in cases such as this one, where the car has some, but not all, of the upgrade options available. What we can see in the pictures is a nicely preserved 199-Pearl Black 190E with a dark green leather interior. The exterior of the car is stock, aide from a set of period correct (and very handsome) Aero-I AMG wheels, and what looks like an AMG exhaust. There's no AMG steering wheel, but the gauge cluster does have AMG stamped on it, and the speedometer runs to 260 KPH. The biggest clue to authenticity lies in the AMG sticker attached to the slam plate, which indicates that the motor is the 3.2 liter 172 kW (234 hp) version.
The nearly $50,000 asking price is pretty extreme for what most will consider to be a bit of an oddity. There are certainly faster and more exotic early-era AMGs out there. However, I think it's an interesting and rare piece of Mercedes-AMG history. If money were no object, I'd buy this and daily drive the hell out of it.
– Craig