A little over a month ago I took a look at a 1991 Mercedes-Benz 300SE. On the surface, a 1991 300SE isn't all that special, until you noticed the Bornite Metallic paint of course. I went into a little detail on why that paint matters and the data doesn't lie when you see the selling prices of two nearly identical cars with one painted in Bornite and one painted in a more common color. Well wouldn't you know, the next generation S-Class, the W140, had the privilege of carrying on this color as well. This 1992 300SE checks in with a fair amount of miles with nearly 185,000, but don't kid yourself thinking you are going to get a deal on it. Also, there is one other problem if you want to own this car. It is in Germany.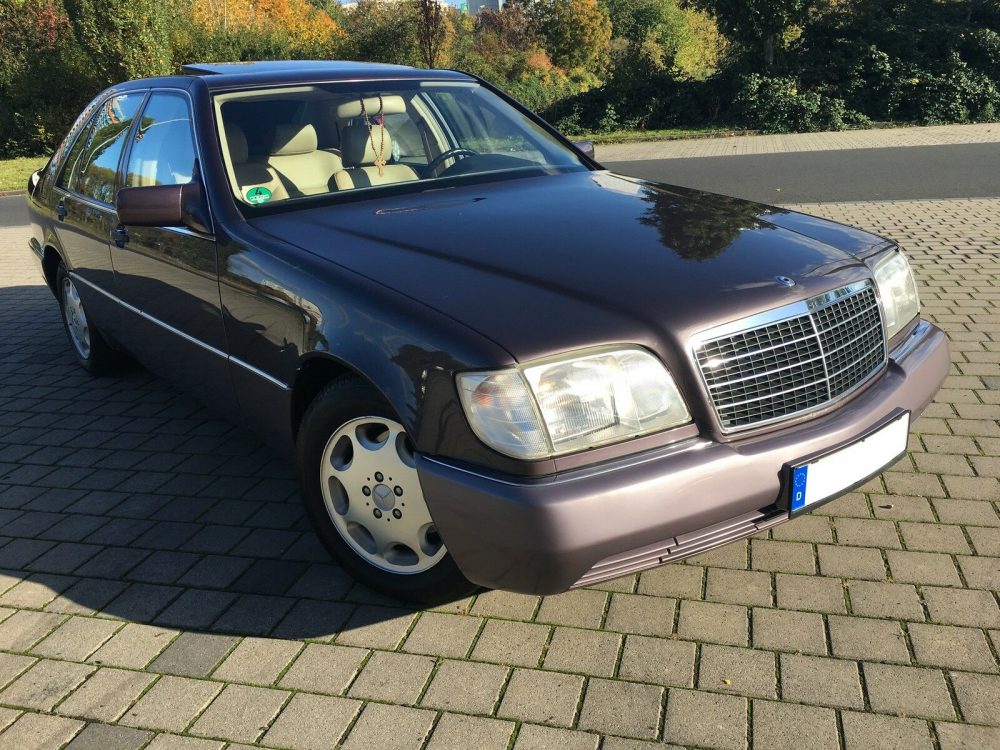 Year: 1992
Model: 300SE
VIN: N/A
Engine: 3.0 liter inline-6
Transmission: 4-speed automatic
Mileage: 185,000 mi
Price: €12.999 ($14,610) Buy It Now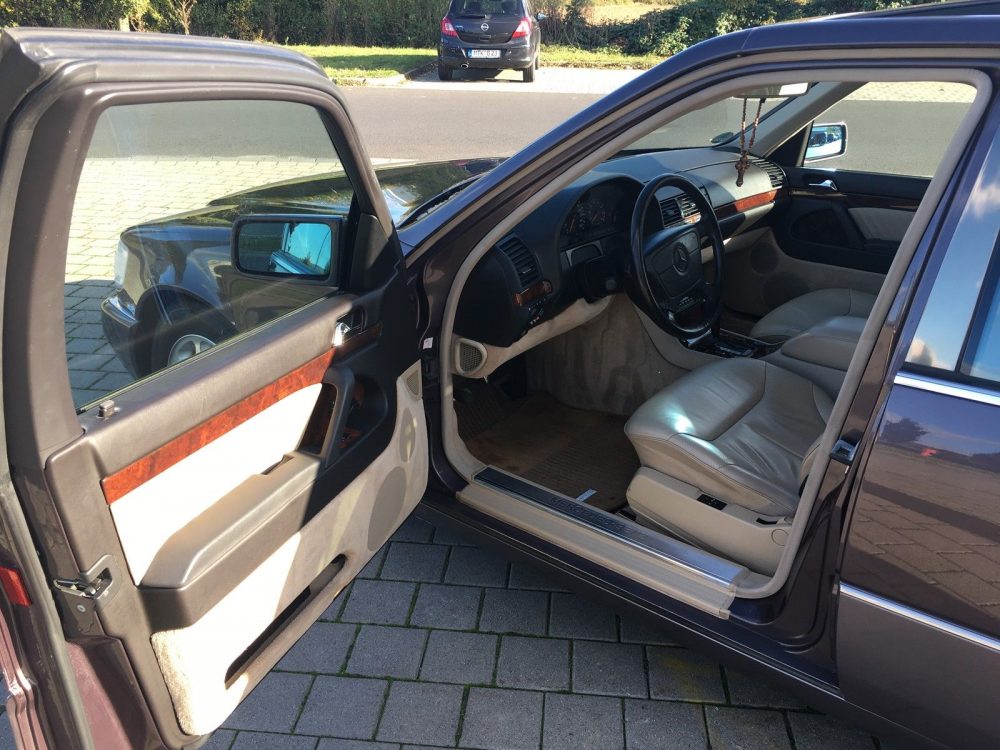 RARE in unabridged original condition with knaap 185000 km (verifiable), first owner COMPANY, second possession owner of same company, 3 owned his wife, practically I am second owner (only 350 km driven) so practically second hand. Engine and transmission run silky smooth, the gearbox switches just over 2000 rpm in the next gear, and without jerking. The car is absolutely accident-free, almost stainless, even at the door edges. Features: central locking by remote control, el. Adjustable and heated mirrors, el. Adjustable rearview mirror, el. Adjustable leather steering wheel, double zone automatic air conditioning, 5-speed automatic transmission, el. Sun blind rear, el. Adjustable and heated seats in front both with lumbar support (driver's side with memory function ), ABS, 16 inch alloy wheels with brand new tires, carriage is GARAGE VEHICLE. Star dismantled at the front (lies in the glove compartment)
Tacho / Km digital display, electric lift / sunroof, airbags, 4x power windows, double glazing, leather interior beige / very good condition – ga, in such a condition very rare), center armrest. The car still has the old Fz-letter, where 3 entries are registered. The penultimate owner (born 1951) drove the S-Class from 1999 to Dato. The car is up to 52.311 on 03.08.99 km checkbook maintained, then privately maintained (further nachweißbar, because Tüv reports and maintenance bills are available where you can follow by date and mileage history.The car has no rust, except on a small piece of It works absolutely everything, except that the radio antenna jams something and the radio spins now and then.There are many documents available, such as old TÜV reports, etc., as well as complete set of keys (4 pieces) in the original box For further questions I am at your disposal.

Please click here for special offers Havixbeck (Postcode 48329)

W140 S300 SE COLLECTIBLE CONDITION WITH VALUE ADDED VALUES TÜV until 01/2020

Optional equipment ***** ***** RARE

481U BORNITE METTALLIC PAINT
265 A LEATHER CREMEBEIGE / CHAMPION / QUARTZ
211 AUTOMATIC LOCKING DIFFERENTIAL / ASR /
213 PARAMETER STEERING
222 DRIVER SEAT RIGHT ELECTRIC ADJUSTABLE
241 DRIVER SEAT LEFT ELECTRIC ADJUSTABLE WITH MEMORY
246 CODE TEMPORARILY INADMISSIBLE
260 TYPE IDENTIFICATION MARK ON REAR COVER WASTE
284 COUNTER LEVER IN WOOD
332 CENTER CONSOLE FRONT WITH ROLLER
412 SLIDING LIFT ROOF ELECTRIC IN STEEL VERSION
425 TRANSMISSION AUTOMATIC 5-SPEED
441 STEERING ELECTRICALLY ADJUSTABLE
442 DRIVER AIRBAG
445 CODE TEMPORARILY INADMISSIBLE
540 ROLL ELECTRIC FOR REAR WINDOW
581 AIR CONDITIONING AUTOMATICS 5
590 HEAT-INSULATING GRUENES GLASS ALL-ROUND, HEATED REAR WINDOW
652 LIGHT METAL HOLDER 8LOCH
731 WOOD VERSION ROOTNUT
751 RADIO BECKER GRAND PRIX 2000 VK RD
873 SEAT HEATERS DRIVER SEAT LEFT AND RIGHT
877 READING LIGHT IN THE FOND
880 LOCKING SYSTEM WITH INFRARED REMOTE CONTROL

FIXED PRICE, without VB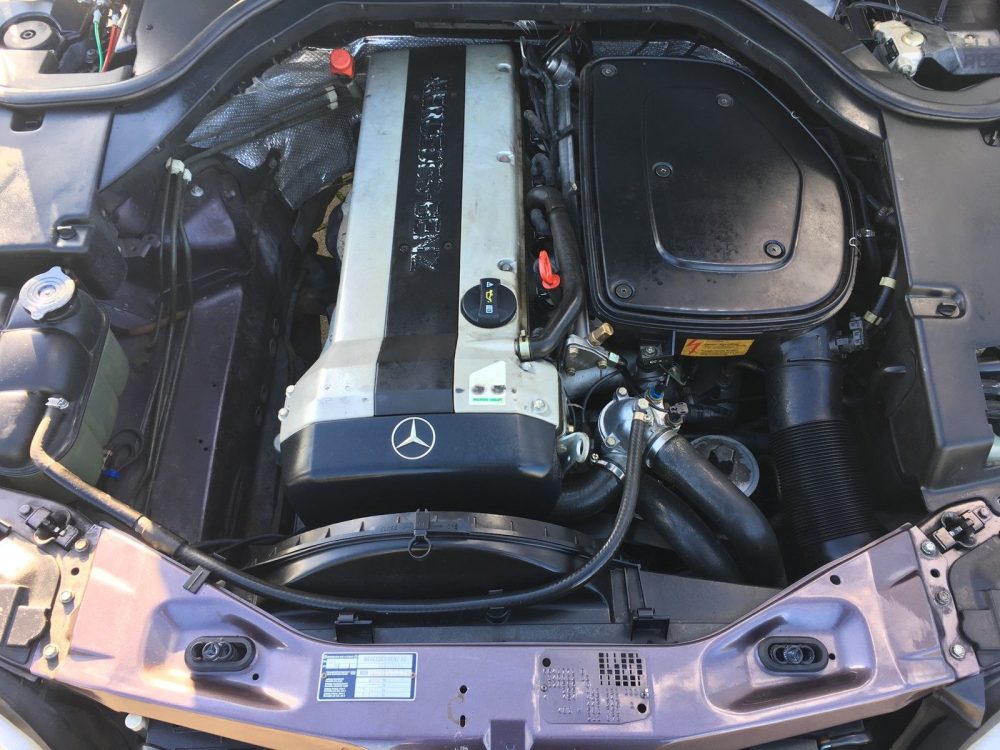 How I wish this car was stateside. Outside of the S600, the pre-facelift 300SE is my favorite iteration of the W140. The silky smooth M104 with the contrasting lower cladding and the tiny little parking poles that extend from the rear panels. I'm all for it. It would have to take a nearly perfect example for me to actually buy a 300SE, and this one is just that. Yes, it has some miles, but it hardly looks the part. All that is missing is the hood star, but that's an easy fix if there ever was one.
The price of of €12.999 ($14,610) is about what I expected when I laid eyes on this one. Those in the know realize that a Bornite pulls a premium on any car, with this one being no different. Would I pay it right now? Well, probably not. Just under $15,000 is a lot for a 300SE. A Bornite S600? Yes. This car being in Germany probably skews the pricing a little, but whoever is selling this is no fool. They know what they have, as obscure as it is, and are asking a premium for it.
– Andrew