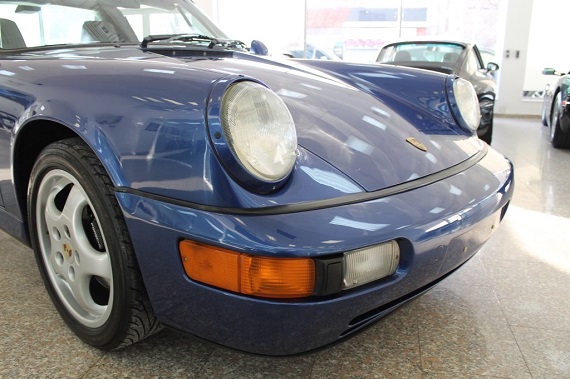 I've looked at a few 911SC Targas lately that I've really liked and all appeared to be fairly reasonable values, which admittedly was a large part of the appeal. I'll now fast forward in time a little bit to the 964 to take a look at a 1991 Porsche Carrera 2 Targa. This one isn't quite the excellent value the others appeared to be, but it comes in one of our perennial favorite colors: Cobalt Blue. I've seen a good number of 964 Targas come up for sale over the past few months and as is typical they come in wide ranging conditions. This one isn't perfect either, but for the most part it looks in very good shape, and as a one-owner 911 we can hope there's a good bit of history to come with it.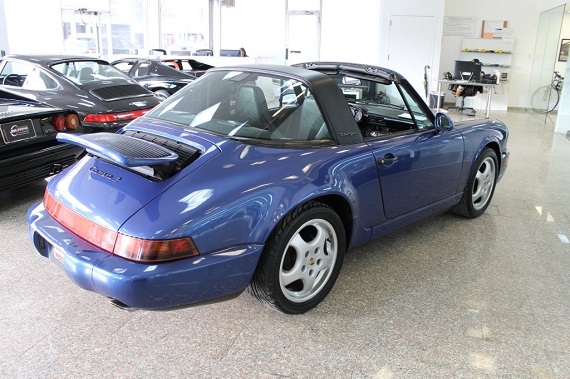 Year: 1992
Model: 911 Carrera 2 Targa
Engine: 3.6 liter flat-6
Transmission: 5-speed manual
Mileage: 116,011 mi
Price: $42,900 Buy It Now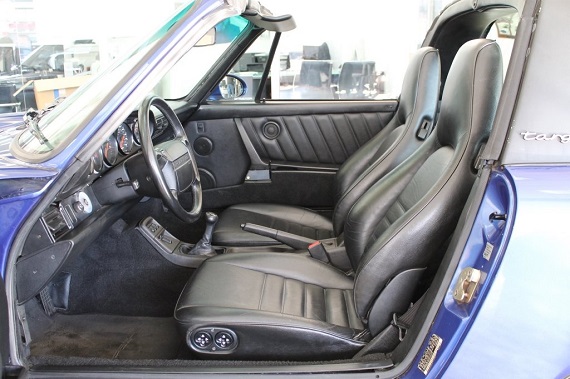 1992 Porsche 911 Carrera 2 Targa

5-Speed Manual transmission

This is an extremely rare find as only 211 Targas were built in 1992 for the US market.

This 911 is finished in Cobalt Blue Metallic with Black leather interior. it is a 1-Owner Porsche that has been well kept in its original condition with no modifications except for an updated Alpine stereo.

Exterior: The paint is in very nice shape with a bright shine. There are a some very minor rock chips & small scratche that can be seen when closely inspected.

Interior is very clean with no tears, cracks or problem areas. The leather is soft, carpets are clean, trim work is all excellent.

Mechanically: This is a well kept Porsche that will continue to provide years of enjoyment. There are no signs of leaks or corrosion. The engine pulls strong. The Transmission shifts well. The suspension is tight and proper. There is a Binder full of maintenance records that accompanies the car.
The speedometer & odometer were replaced at 66,883 on 11/12/1999 by Porsche of Roslyn because it stopped working the day before. There is a consistent tracking of the mileage before & after this on CarFax. The odometer currently shows 49,128 so the correct total mileage is 116,011.

It comes complete with the original owners manual, tools, spare tire, air compressor, front end bra & Binder full of service records.

Please feel free to contact me with any questions.

Steven Sasson (212) 804-8070 or Steven@JMLegendAuto.com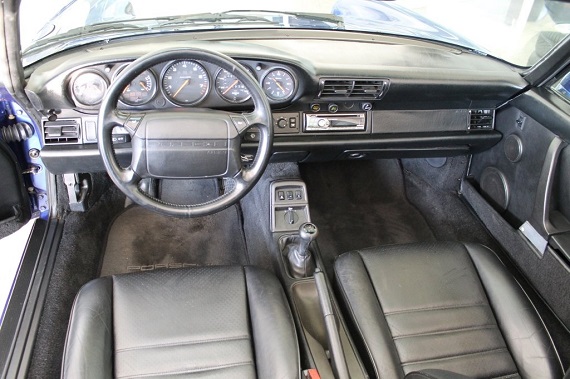 After the 964, Porsche redesigned the Targa and went away from the traditional roll-hoop with which we've been familiar since these models debuted in the '60s. For fans of that traditional design (and I count myself among that group) the 964 represents the last of the air-cooled Targas, which should garner them a little extra attention over other Targa models – keeping in mind that the Targa tends to be less loved relative to its Coupe and Cabriolet peers. There are some things to investigate here. For one the odometer has been replaced so while the pictures show 49,128 miles the true mileage is stated to be 116,011. The seller doesn't appear to be hiding anything in this regard so we simply need to verify those statements, but it's certainly something to look into prior to purchase. The price is probably a bit high given those issues, but we've seen the 964 attract a lot more attention than it once did so we shouldn't be too surprised at a sale here.
-Rob