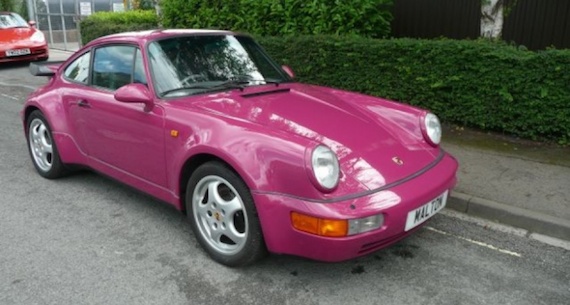 The Porsche 964 Turbo is identified by a lot of 911 purists as the last of the real 911 Turbos. When the 993 based Turbo arrived, all-wheel drive entered the equation and a bit of the challenge (or threat, depending on who you talk to) was taken out of the driving experience. The 964 Turbo isn't a car you'd expect to find in a particularly feminine color. But that's just what we have here with this 3.6 Turbo for sale in the UK painted in the striking shade of Rubystone. This is one of the 1990s Porsche colors I've always loved. Question is, are you male readers out there comfortable enough in your masculinity to be seen in a sports car like this?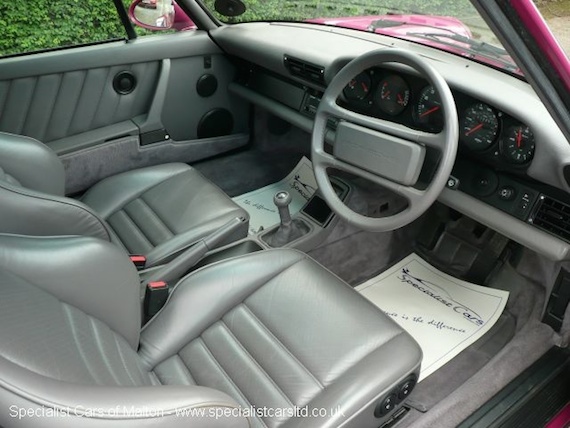 Year: 1992
Model: 911 Turbo
Engine: 3.3 liter turbocharged flat-6
Transmission: 5-speed manual
Mileage: 7,586 mi
Price: Call for Price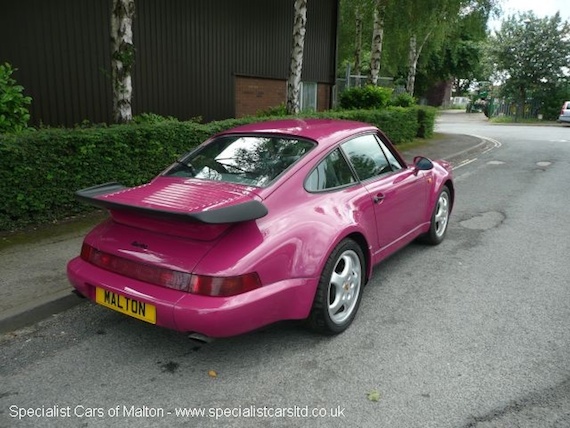 In stock now is this stunning Porsche 964 Turbo 3.3. Finished in the rare colour of Rubystone Red with grey leather the car was first registered in January 1992 and has had just 2 owners since, the last since 2003. Rarer still the car has covered just 12,207 miles from new and was specified without sunroof.

The full spec includes the following options:

220 – Limited Slip Differential
383 – Sport seat left
387 – Sport seat right
567 – Top tint windscreen

Full details of the car's lovely service history to follow.

Here at Specialist Cars of Malton we ensure our cars are the best quality cars in the country, this attention to detail has seen us voted Independent Porsche Sales Garage of the Year by 911UK members three years running!

We start off by picking the best cars for stock, of the 3 or 4 cars we get offered every day we buy only the best one or two a month.

Upon sale each and every car is taken to our workshops where it goes through our thorough 74 point check to make sure everything works as it should and is in good condition. Next the car is given a major service and the service book stamped accordingly. We carry out a 4 wheel alignment on the cars and an aircon service on cars with airconditioning. The car will then go to a local independent MOT station for a year's MOT. We tax the car for a year and fill the fuel tank.

Next the cars go to our team of professional detailers who spend up to a week preparing the car cosmetically. Any stonechips are removed, the wheels refurbed if necessary and the wheel hubs are painted. The seats are removed and cleaned. Next the car is detailed using Zymol professional products to give a long lasting lustre.

Finally, and arguably most importantly, we warranty every car for a year from bumper to bumper, anywhere in the world. This is not a bought in warranty, we stand by each and every car we sell for a year.

We believe we are the only Porsche specialist in the UK to offer a service like this.

We offer full dealer facilities such as part exchange, finance, service and parts.

We have a covered transporter and can deliver vehicles anywhere in the UK.

We are also experts in shipping cars and can deliver anywhere in the world also helping to minimise import duties.

For more details or to arrange to come and drive the car please call 0844 7000 997. Out of hours you can reach Mark on 07074 944 911 or John on 07794 911 911.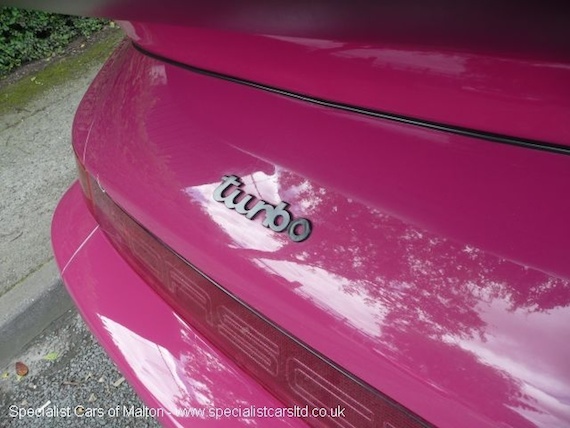 Seeing this car makes me wonder if there were any left-hand drive 964 Turbos produced in this color. It was one of those arresting colors made famous by Harm Laagay in the early 1990s, so I wouldn't be surprised. Turbos of this vintage have been pulling strong money in the US market, though not as astronomical as the later and more rare 3.6 models. For a car with such low mileage, we're more than likely in the $150,000 to $200,000 USD range give the present market.
-Paul