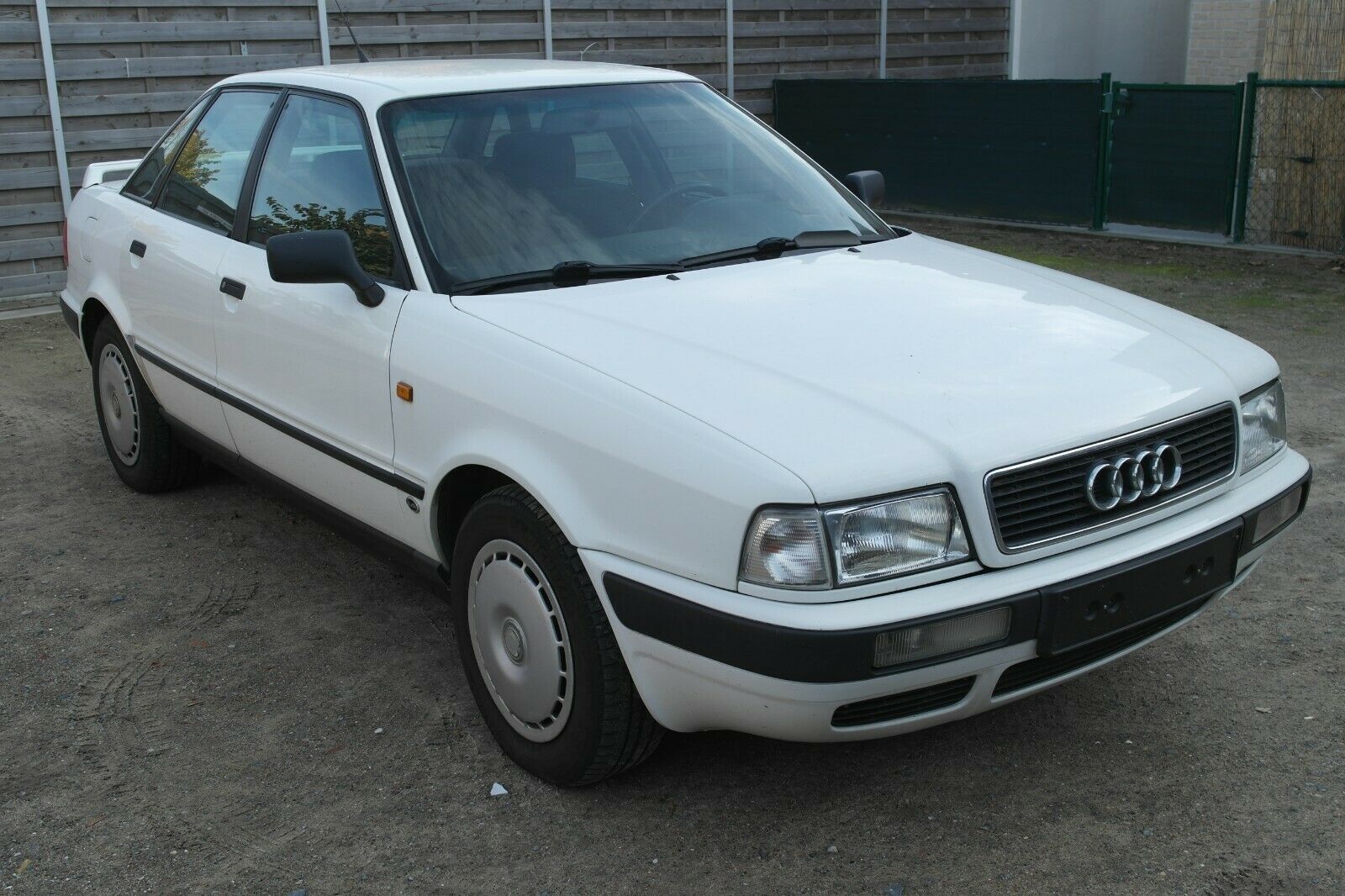 Just the other day on my 'Distinctive Drivers' page – a Facebook group that looks at unusual automotive finds – I stumbled across a '92 Honda Accord 5-speed. Here was a rather sedate, base model Accord; yet, because of the rarity of seeing such a car, and its recent complete disappearance from the marketplace, there's an odd desirability for what was otherwise just an average sedan.
The same holds true today. Here's a Euro-market Audi 80 TDi. The B4 chassis was nearly a stranger to us and is fairly infrequently seen these days; not many were sold here, especially when compared to the B5 A4 which followed. There were only two configurations they came in; all were 90s, and all shared the 2.8 V6 either driving the front or all four wheels. The 80 had been discontinued after '92 for the U.S. and it didn't appear as a B4 here, as there was no 90 model in the '92 season officially.
But in Europe, of course, the B4 included the 80 model, which was the cheapest Audi you could buy – so they sold quite a few. Engines varied quite wildly from the U.S. models; there were 1.6 and 1.8 models which ranged from 70 to 125 horsepower, then 2.0 models running right up to a high-output variant of the 16V we saw in the GTI and GLI. There was the tried and true 5-cylinder we saw in our 80, and then there were a few V6s – the 2.8 seen in the U.S., but also a lower output 2.6 model for better economy. But if you wanted real fuel savings, you opted for one of the two diesels – the 75 horse 1.9TD or the 89 horsepower 1.9TDi: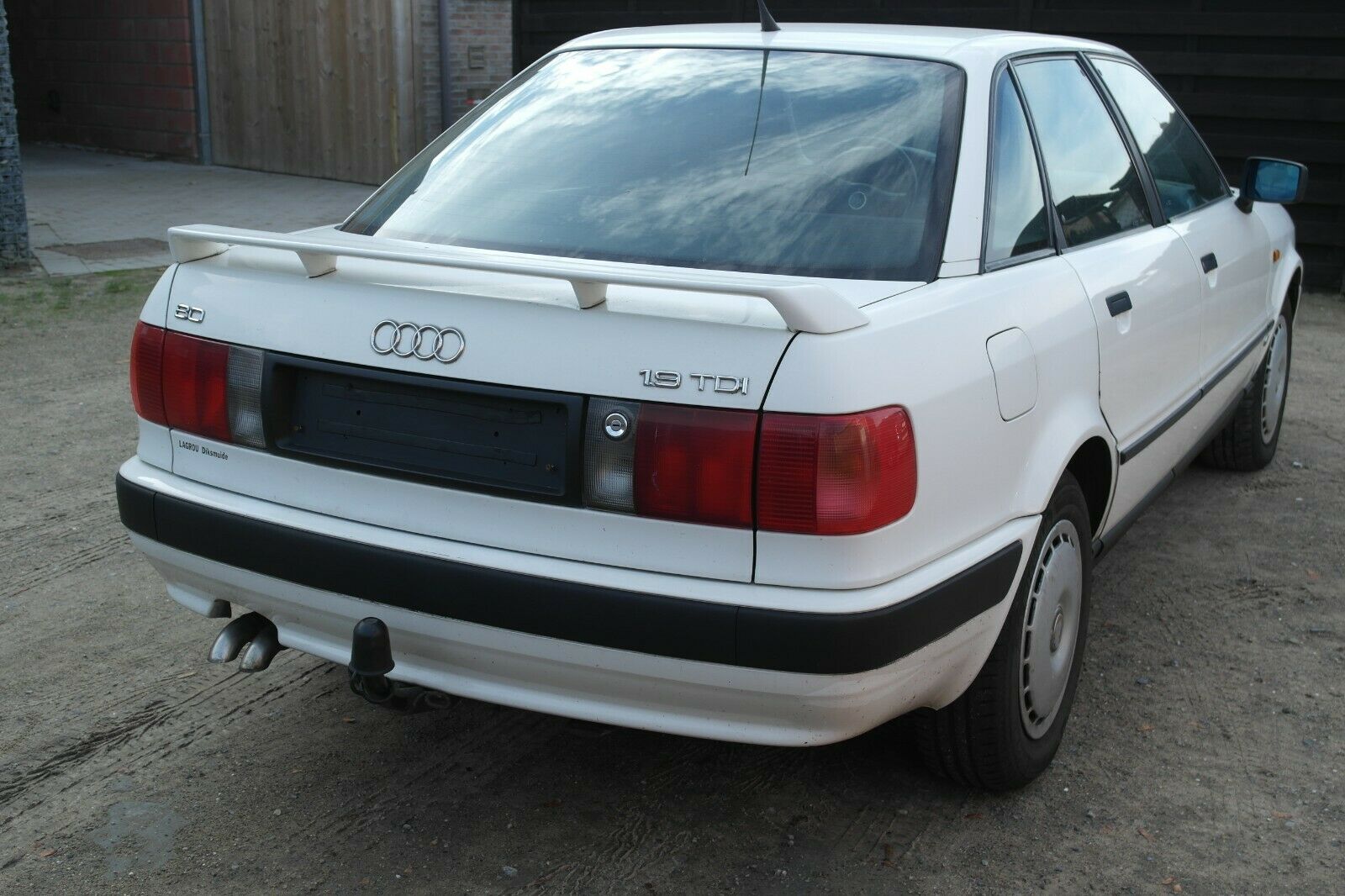 Year: 1993
Model: 80 1.9 TDi
VIN: WAUZZZ8CZPA228189
Engine: 1.9 liter turbocharged inline-4 diesel
Transmission: 5-speed manual
Mileage: 144,000 mi
Price: $6,999 Buy It Now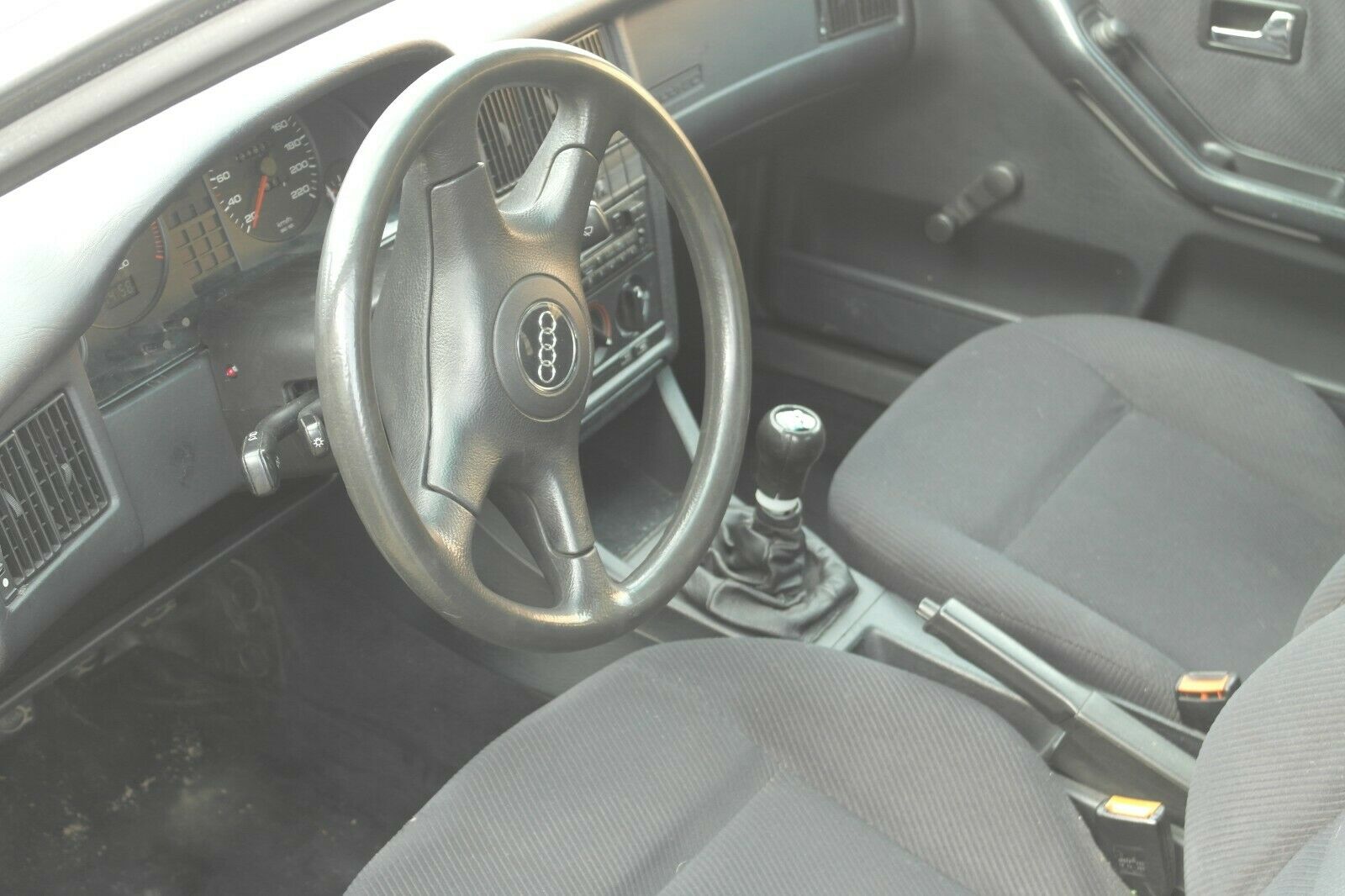 Looking for a vintage, low mileage TDI that is in EXCELLENT CONDITION, with ORIGINAL PAINT, NO COMPUTERS, NO EXPENSIVE MAINTENANCE, that has been properly maintained, babied and garaged all her life for less than $10K????

Inspected and certified mileage.
Look no further, but don't delay… only this one !!

This TDI 5 SPEED version has NEVER BEEN IMPORTED to the US, she is much faster and peppier than the sluggish automatic US cousin.
averaging a 40-50 MPG !!!!, much more reliable and even the color scheme is much nicer.
Speedo is in KM!

EUROPEAN CAR PASS 144K Miles (CERTIFIED MILEAGE) EURO CARFAX
A/C EQUIPPED !!! (Most of vintage European are not)
MANUAL 5 SPEED FACTORY
CAN BE REGISTER IN CALIFORNIA (Inquire for processing for California around $399) can help for shipping to the LA area and SFO.
Ebay does not recognize the European Vin, hence the plate on a picture. VIN: WAUZZZ8CZPA228189
Non-smoking owner. Factory paint, the ABS brake light is on (main need a wheel sensor replaced).

In most of Western Europe, dealer maintenance is done on schedule.
Not only that, but I grow tired of the sluggish automatic and needed more power and mpg, so I decided to locate great vehicles abroad and importing to the US.
Last but not least, German and Belgian yearly MANDATORY inspection is though safety-wise; brakes, steering, oil leaks, electrical, accidents, chassis, and laser frame inspected.

My price includes :

-US clean title/reg (1-week delivery)
-Imported legally through a bonded and insured broker.
Can help with shipping, cheaper if departure from Baltimore MD

The Audi is sailing toward the US, she should be at the Baltimore Port the third week of the month, the vehicle will be available once customs cleared.
Sometimes US Customs may conduct an inspection that will extend the pick up date.
If you are looking for something special in Europe, I'm traveling abroad every 6 weeks.

Vehicle sold as is, where is, no warranty impressed or implied. Buyer is welcomed for a pre-inspection.
A nonrefundable mandatory deposit with Paypal for $500 is due at the auction end, remainder with 5 days.
Please add $175 for courier and processing fees on top of the auction cost, this is mandatory. I can assist with shipping.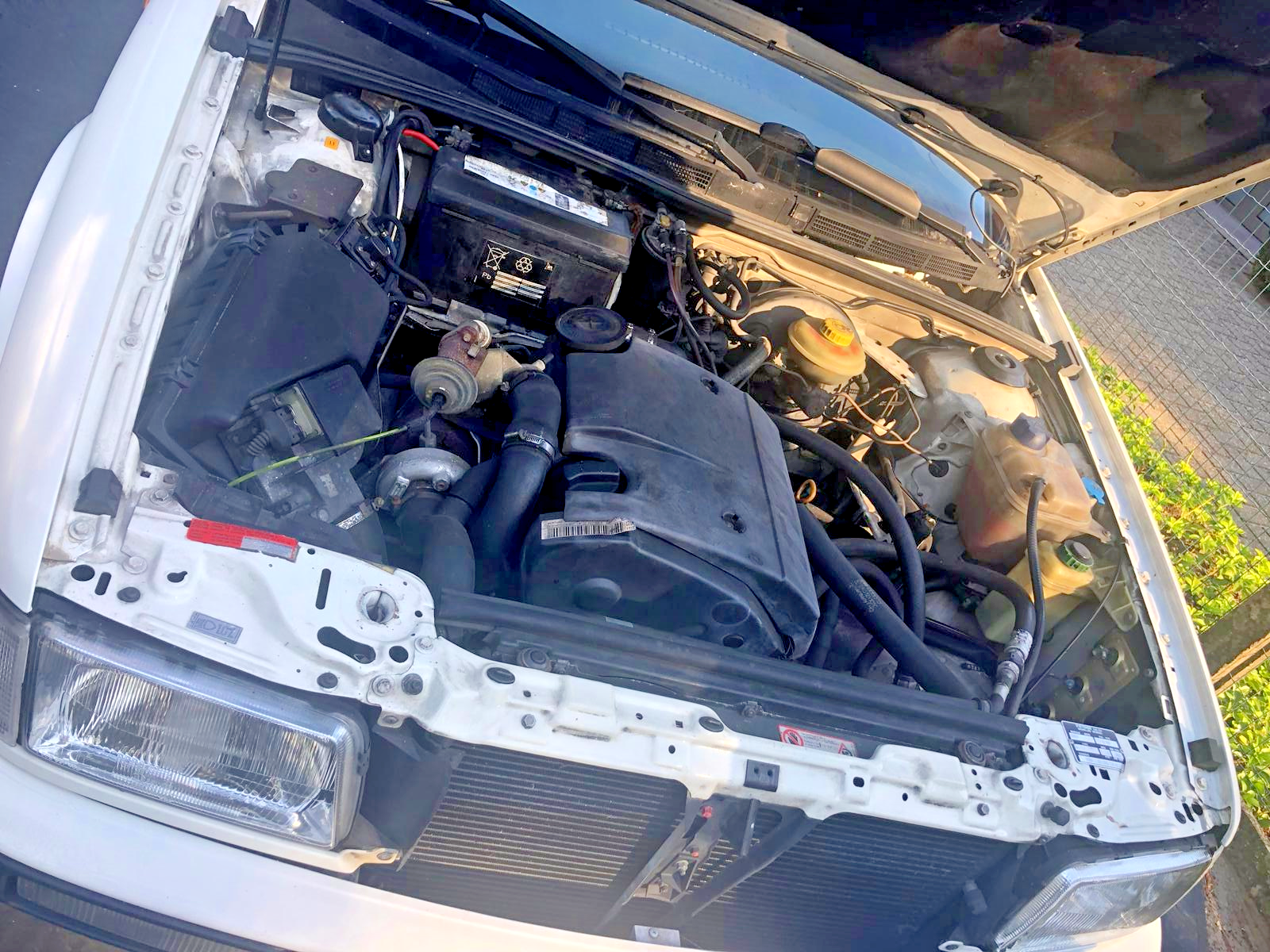 That 1.9TDi was the same '1Z' we saw in VW Mk.3s and the Passat. It is legendary in its ability to get phenomenal mileage and rack up ridiculous odometer readings. But, we never saw it in anything other than a VW, so while there have been swaps to other makes this is a factory 1Z Audi which automatically will raise eyebrows at a local VW show. Most probably wouldn't undertake the search and importation of such a model, but since it's done and already here, it suddenly becomes a lot more desirable.
Condition looks to be good overall, though it's missing one of its original hubcaps. The Fuba roof-mounted antenna is not original and it wears an aftermarket trailer hitch that seems very popular in Eastern Europe on these diesel 80s. As a major plus, the European integration of the bumpers was far superior to U.S. spec versions; I've never quite understood why Audi made the Coupe Quattro and B4 in the U.S. quite so clunkly-looking, since the B2 and B3 worked in DOT regulations so much better. Inside it's a fairly budget affair with no frills, but then that's what this car was. Is it all worth $7,000?
I'm sure to the right TDi fan it probably is. However I think you could find better deals on interesting 80s and import them. There's a Kingfisher Blue Coupe for less than 2 grand, manual 5-cylinder Cabriolet models, Avants with the 2.6, and quattro models all of which are frankly a bit more interesting to me. But if you want a manual diesel Audi right now, I suppose you could do worse.
-Carter