The Mercedes-Benz 400E/E420 is lost in the world of W124s where 500Es and Cabriolets get all the attention with their astronomical asking prices and the lowly 300E/E320 limp along on their 8th owners begging to be put out of their misery. These cars were no slouch and still can hold their own 275 horsepower and 300 ft·lb of torque. They aren't super sedans by any means, but feel significantly faster than their numbers on paper. Now, the 400E/E420 flys under the radar and is often unloved because if you are going to buy a M119-powered car, the W140 and R129 or maybe even W210 might be better choices in the long run if you are going to put some money into it. Today, we have a 1993 400E up for sale in Tampa, Florida that looks to be one of the best examples I've seen come up for sale in a long time. Even better, this one comes in with a price to match it.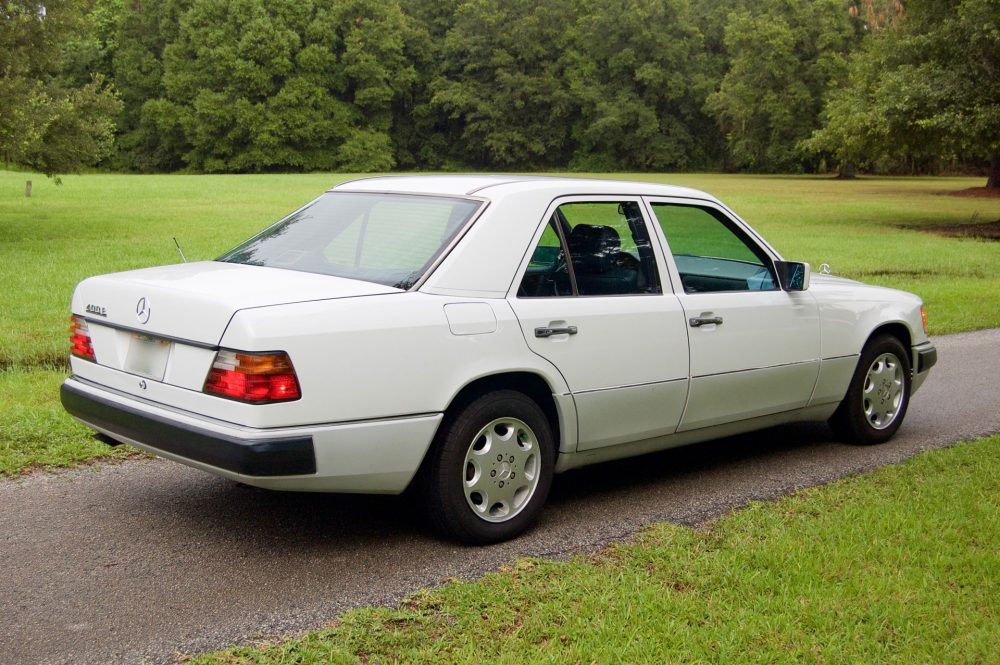 Year: 1993
Model: 400E
Engine: 4.2 liter V8
Transmission: 4-speed automatic
Mileage: 273,514 mi
Price: $4,000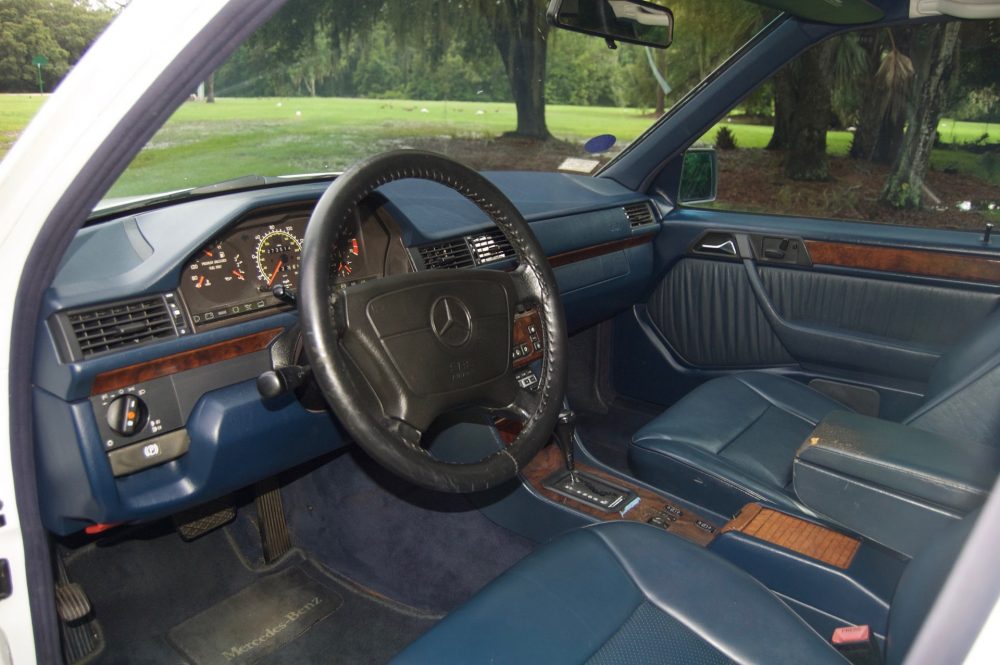 I am looking for a new home for my 1993 400E, a car I recently rescued from a fellow MB enthusiast whose interest had waned in it. I spent a great deal of time and resources to bring it up to near perfect condition, as best as one might expect for a car that is 25 years old and has 273,000 miles on it. More pictures and details here, or continue reading.

For those that know these cars, you're well aware that the 400E is a transitional model between the venerable six cylinder 300E and the highly desirable 500E that was tuned by Porsche. While the 400E is no 500E, the performance gain of having the M119 4.2 liter V8 engine in a chassis originally designed for a 3.0 liter inline six cylinder is significant. In other words, this car will go seriously fast compared to its 3.0 liter counterparts. And an M119 with +250k miles on it is hardly broken in – this is the third car I have owned over the years with an M119 that had over 270k on the clock, and it runs very, very well.

I've compiled a list of the majority of the work from the detailed records that I keep on every car I own. This gives you an idea (if you don't know me or my reputation for maintaining cars) of how much work and to what detail was gone to in bringing this car up to standards:

Washed car
Removed lower body cladding to prepare for paint recovery, washed car
Clay bar finish
Replaced worn steering wheel and air bag with spare steering wheel and air bag. Cleaned steering column switches.
Replaced broken ash tray and replaced burned out lamp
Removed radio and cleaned faceplate
Removed instrument cluster, disassembled and cleaned. Painted gauge needles, replaced burned out lamps and cleaned working lamps. Found odometer gears cracked, identified proper gears and ordered replacements. Reinstalled cluster and tested.
Removed trunk badge and tristar, polished finish with Meguires 205, polished finish with 3M PerfectIt polish, waxed with Collinite #845 Insulator Wax.
Replaced all AL fuses with new copper fuses.
Replaced burned out ACC panel illumination lamps (2).
Adjusted left rear corner of sunroof. Was not flush with roofline when closed.
Oil and filter change (Mobil1 0W-40, Mann filter)
Replaced all hard plastic vacuum lines in engine compartment between EZL & manifold, EGR & vacuum valves, intake and vacuum valves, air pump & vacuum valves and intake and check valves at firewall.
Replaced worn out trunk lid bumpers on trunk lid and body.
Installed missing air cleaner retention clip on right valve cover.
Used shelf Mercedes battery to replace existing battery with bad cell. Cleaned battery cable connections.
Replace failed O2 sensor.
Replaced throttle cable, adjusted linkage.
Cleaned interior leather with Leatherique.
Cleaned interior vinyl with 303 Protectant.
Cleaned trunk carpeting and lining
Installed lower body cladding. New pins and clips.
Installed new third brake light assembly and lamp
Replaced failing ignition lock cylinder, two new keys.
Bled brake system, filled with MB brake fluid
Replaced windshield washer reservoir and heater grommets in reservoir lid.
Replaced windshield washer pump, headlight washer pump and grommets.
Cleaned and checked sticky fuel gauge float sensor in fuel tank.
Replaced cracked and damaged right distributor insulator.
Replaced brake light switch on brake pedal linkage.
Installed rebuilt ETA.
New Michelin X-Tour AS T+H, 195/65R-15 91H tires, mounted and balanced
Drained and refilled differential. Mobil 1 75W-90 synthetic gear oil.
Cleaned around fuel filler and inside of fuel filler door. Waxed area when complete.
Replaced windshield wiper blade insert.
Cleaned ACC thermistor in aspirator grille.
Replaced cracked odometer drive gears.
Replaced failed oil pressure gauge sender and sealing ring.
Reglued slat and repaired broken guide on console storage box cover.
Replaced burned out right side panel illumination bulb for ACC panel.
Replaced existing H4 headlight bulbs with new Philips blue bulbs.
Replaced fuel filter with Mann WK845 filter, cleaned cover.
Replaced failed fuel pressure regulator with new Bosch part.
Replaced radio faceplate with rebuilt faceplate from Becker.
Replaced spark plugs. Bosch F8DC4, gapped at 1.0 mm
Installed newer trunk light switch with courtesy light turn off function
Drained transmission and torque converter, replaced filter (Mann) and filled with 8.5 quarts of Castrol TransMax Import ATF
Wire from power side of auxiliary fan resistor was damaged, resistor was not mounted on fender and heat shield was stuck under headlight assembly. Repaired wire and mounted resistor and shield on bracket on inner fender.
Replaced defective headlight/seatbelt buzzer relay to restore courtesy and door puddle light.
Replaced driver's door speaker that had perforation and failed capacitor in crossover.
Replaced original apparatus box cover that had peeling paint with intact cover.
Replaced worn grille shell with used OE shell.
Installed new "Battery in Trunk" label on new apparatus box cover
Installed AMG/Mobil1 oil label on fan shroud
Replaced damaged/worn lower windshield trim on right side, new sealing strip across both lower trim pieces
Replaced failed left rear window regulator with good used one. Installed missing moisture barrier.
Replaced both exterior rear view mirror boots with used boots.
Replaced worn front seat leather covers with new covers
Cleaned carpet under front seats while they were removed for recovering.
Removed headliner to take to upholstery shop for recovering.
Installed new recovered headliner
Reglued vinyl cover on both B pillars.

You can also read details of the work I did on the car at my blog on this site as well.

Is it perfect? Absolutely not. However, in my humble opinion, it's one of the best 400E values for its age and mileage that you're going to find. Add to the work that I have done to the car a great deal of major repairs and maintenance done by the previous owner, such as a complete front end suspension rebuild, and you'll understand why I jumped at the opportunity to bring this car back to life. I have records they provided that go back to the original owner of the car that will be included. I can't tell if they're complete, but they're here and shed a lot of light on how the car was cared for by its previous three owners. I also have copies of the VMI (Vehicle Master Inquiry) from Mercedes showing all of the warranty and dealer service work performed.

Nearly every feature on this car is functional. What doesn't work? The headlight wipers, and I'm working on finding the parts to sort that out. That, and while I wouldn't consider it broken, the original Becker 1432 wants the antenna to be up at all times. A nuisance, for sure, but certainly something that can be sorted.

That. Is. It.

I think the $4000 price is fair considering the time, effort, market value, age and condition. Hagerty says an example in "fair" condition is $3800, and I believe anyone who would see this car would agree that it's better than "fair". With that in mind I am firm on the price, and if unable to sell it, will set it aside as a backup car. Why do I want to sell it? It was a side trip on the way to finding my "forever" Finnie or nice W108 six cylinder sedan. Proceeds from the sale will go to my "Finnie Fund".

While cash is king, I am very much interested in W110/W111 Finnies (of any kind) or W108 six cylinder sedans in trade either outright or if I have to kick some cash into the deal for parity.

Questions? Check out the for sale web site or drop me a message at dan@penoff.com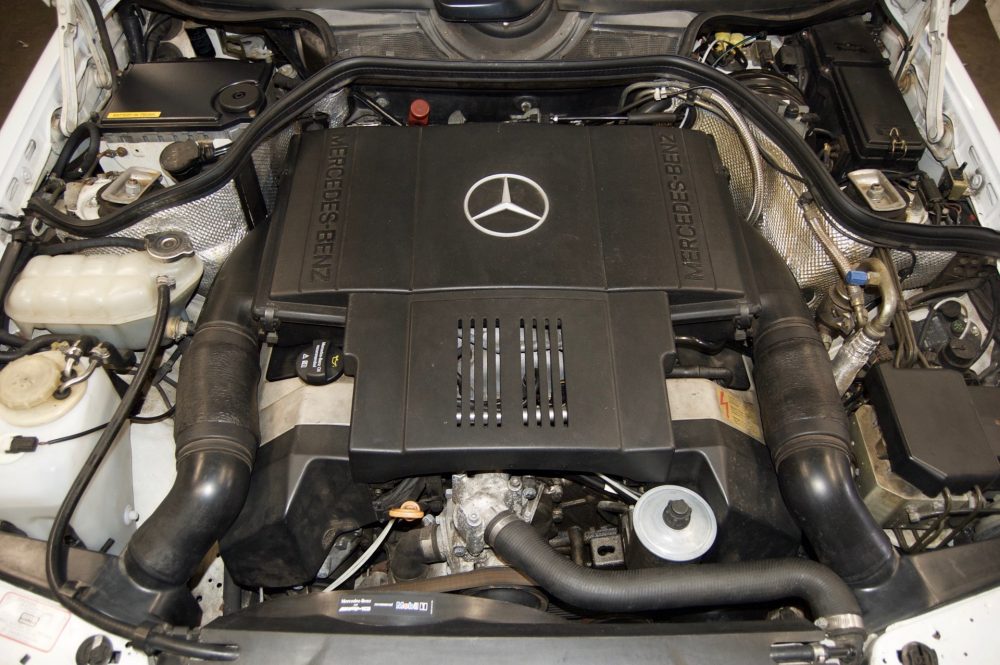 This is the type of person you buy a 25 year-old Mercedes from. This car was gone through with a fine-tooth comb and no stone was left unturned. You can read through the extensive description for this car and actually feel bad about how you take care of your own cars seeing how well this one was sorted. All the little things that can drive you nuts have been taken care of as well as the big things that will leave you scratching your head if you aren't familiar with the car or have no baseline as to whats been done already. Even the littlest things like replacing missing clips and stickers have been addressed. Is this car perfect? Of course not. But you won't get a perfect car for how inexpensive this one is.
I don't need to tell you that $4,000 is a deal for this 400E. That kind of money doesn't buy you a lot these days and it certainly won't buy you a decent V8 W124 outside of this one. Sure, you find one on Craigslist for $3,300 with three blurry photos and the description "needs a couple things. sometimes won't start. make fare offer." then you show up to find a nice family of raccoons living in the back seat. Miles be damned with this car, the M119 can easily take another 200,000 miles without issue as long as you keep up with the needs that is has. All in all, I'm glad this car is 1,000 miles away from me because I'm awfully temped by it.
– Andrew