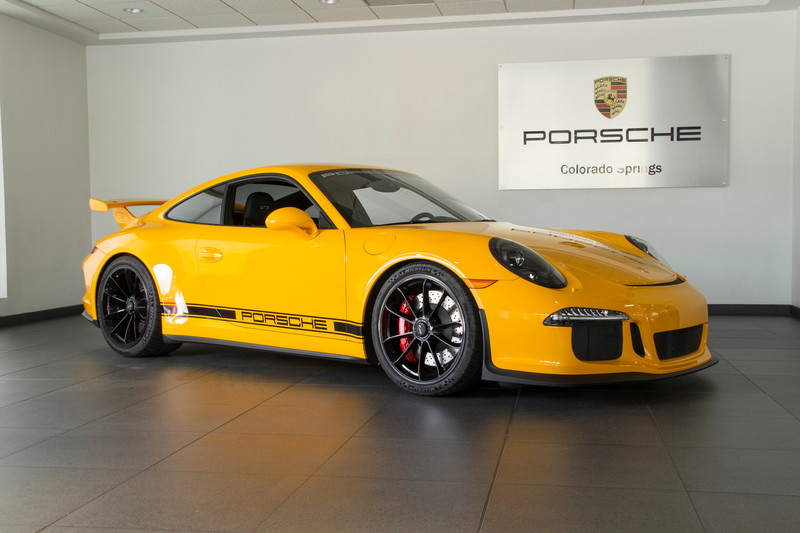 When I first came across this Signal Yellow 2015 Porsche 911 GT3 I could have sworn I had seen it before and already had posted it. The selling dealer looked familiar (and not just familiar as a dealer, but familiar for having this particular car for sale) and the overall look of the car looked familiar. I was sort of right.
The car I was thinking of was not in fact this GT3, but a Signal Yellow Cayman GT4. I assume you can see the resemblance. Given that the seller is the same I do wonder if the original owner of both cars was the same person, or maybe the owner of this dealer just really likes Signal Yellow. Regardless, pretty much everything I said about that GT4 applies to this GT3. Signal Yellow is one of Porsche's best historic colors and it looks great in most any application.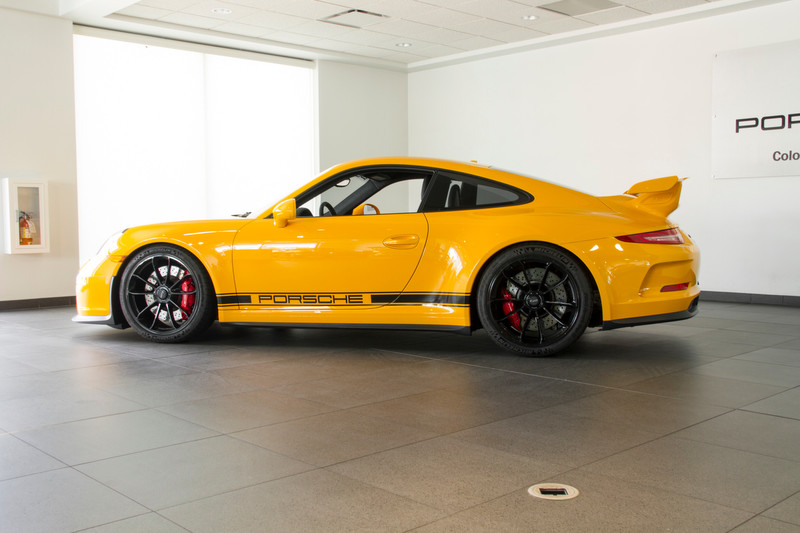 Year: 2015
Model: 911 GT3
Engine: 3.8 liter flat-6
Transmission: 7-speed automatic
Mileage: 1,271 mi
Price: $167,391 Buy It Now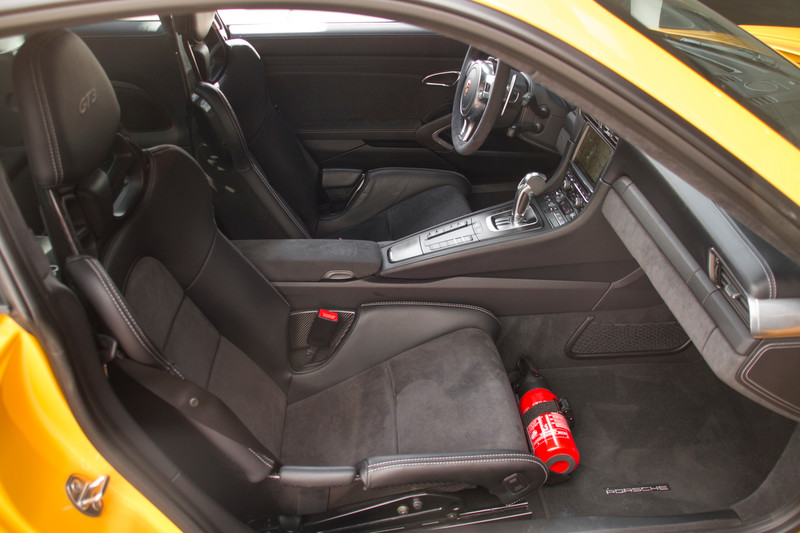 2015 Porsche 911 GT3
Certified Pre-Owned 2015 GT3 in Paint To Sample Signal Yellow over Black with Alcantara Leather interior. This Signal Yellow GT3 is absolutely one of the best looking GT3's we've ever had here at Porsche Colorado Springs. Loaded with options having an MSRP of $159,810 and now has the Unlimited Mileage Certified Pre-Owned Warranty until March 12, 2021. This car was traded in by a local Porsche enthusiast and the condition of it shows. The GT3 already has a full front clip clear mask which includes the front bumper cover, full hood, full fenders, and the mirror housings. Our Factory Trained Technicians just completed the 111-Point Certified Pre-Owned inspection which included an annual Oil and Filter Change and the 2 Year Brake Fluid Flush.

Equipment includes:

– Extended Range Fuel Tank
– Front Axle Lift
– Satellite Radio
– Navigation
– Sport Bucket Seats
– Black Wheels
– Yellow Seat Belts
– Extended Leather Trim Interior
– Aluminum Foot Pedals
– Carbon Fiber Door Sills
– Alcantara Console Lid
– Fire Extinguisher

Schedule your visit to Porsche Colorado Springs to see this Gorgeous Signal Yellow GT3 today! 719-219-1911

911 GT3
082 Extended Range Fuel Tank 0 USD
24931 Exterior Paint to Sample 0 USD
474 Front axle lift system 3490 USD
490 Sound Package Plus 700 USD
509 Fire Extinguisher 140 USD
581 Luggage net in passenger footwell 0 USD
583 Smoking package 0 USD
630 Light Design Package 510 USD
690 SiriusXM Satellite Radio, NavTraffic, NavWeather and HD Radio Receiver 1120 USD
78 Leather Interior in Black/Alcantara with Stitching in Platinum Grey 3480 USD
789 Code for exterior color to sample 0 USD
810 Floor Mats 0 USD
98 Exterior Paint to Sample, Non-Metallic 5500 USD
CLP Extended interior package, door panel in leather/Alcantara® 690 USD
CZW Extended Interior Package, Dashboard Trim in Leather 1720 USD
EEA Leather Interior Package i.c.w. Leather Interior 790 USD
EFA Pedals and footrest in Aluminum 625 USD
P11 Sport Bucket Seats 4730 USD
P23 Porsche Communication Management (PCM) incl. navigation module 0 USD
X69 Door-Sill Guards in Carbon Fiber 750 USD
XDG Wheels Painted in Black (High-Gloss) 685 USD
XEX Bi-Xenon' headlights in Black incl. Porsche Dynamic Light System (PDLS) 1375 USD
XHB Center console trim in leather 300 USD
XHN Seat belts in Racing Yellow 350 USD
XLJ Storage Compartment Lid in Alcantara with Porsche Crest 330 USD
XNG Instrument surround in leather 370 USD
XNS Steering column casing in leather 465 USD
XUB Headlight Cleaning System Covers in Exterior Color 295 USD
ZAB Ornamental Porsche Crest 0 USD
ZAC No Sunroof 0 USD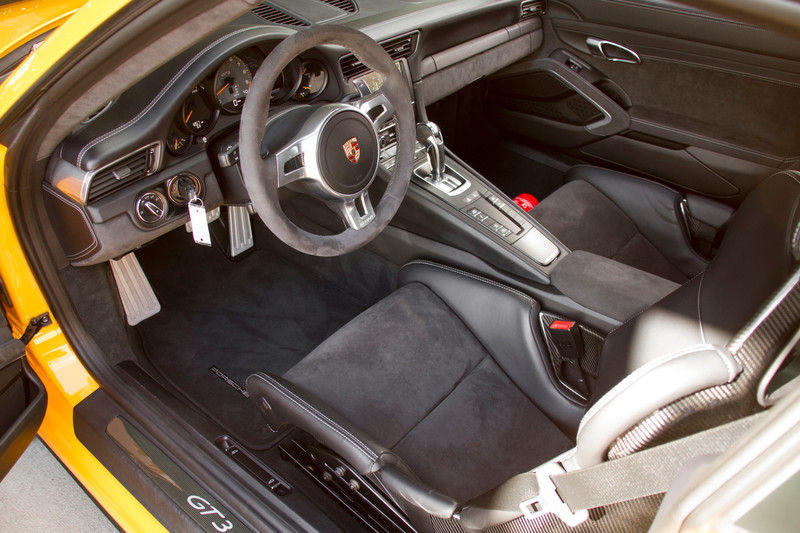 Over the past year or two I've really been focusing on the GT3 and have posted quite a few of them. For whatever reason the yellow ones are those that have caught my attention most. Yellow can kind of do that and I am generally a fan of yellow cars when done properly so some of that isn't surprising. But on the GT3 it still has felt different. Maybe it's the blending of performance and usability – the GT3's hallmark – that makes yellow seem perfect. It's bright enough to handle the extra aggression of the GT3, but it's allowed to stand out without all of the vents and scoops of the GT3 RS. I don't know, I just know I really like them.
If you're looking for a GT3 it isn't necessarily difficult to find interesting options on the market. Though the difficulty bar does get raised if a price tag like this one ($167K) is beyond your means. The 996 still seems to easily have the most reasonable values and the rawness of that car in general seems to be a favorite for many GT3 fans. It's still the one I have my eye on most. But, as mentioned earlier this week, the 997 GT3 provides more performance for not too much more money.
Stepping up to the 991 gives you loads of performance and more technology. These also are mostly pretty new. If PDK is what you're after it might definitely be the way to go. Manual, well, you'll have to look elsewhere. I like this one quite a bit. The price is high, but it looks great and you'll have no trouble turning heads.
-Rob