This is not a 911 RS America. I make that clear only because when I first came upon this car I originally mistook it for a RS America and wanted to have a closer look. I was confused by the color, which is not one of the standard colors of the RS America. In fact, this color itself is fairly rare among 964s in general. The specific color isn't stated, though it is said to be the car's original color, and I would hazard a guess that it's Oak Green Metallic. The lack of hi-res pictures don't help in this regard. So why does it look like a RS America? Because it's had a couple modifications – the suspension has been lowered and it's sporting the whale tail of the RS America. When the seller says the car looks like a RS America, I agree. At least with regard to the exterior. Since I've always liked the basic look of the RS America and I also enjoy these darker shades of metallic green this 964 really drew me in and overall the condition looks quite good. The 964 itself continues to grow on me and I think right now their values sit in a pretty nice spot for those who desire an air-cooled 911 that possesses a mix of the modern and the classic.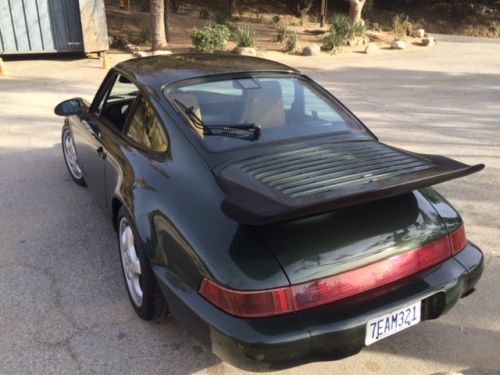 Year: 1993
Model: 911 Carrera 2
Engine: 3.6 liter flat-6
Transmission: 5-speed manual
Mileage: 150,435 mi
Price: Reserve Auction ($48,500 Buy It Now)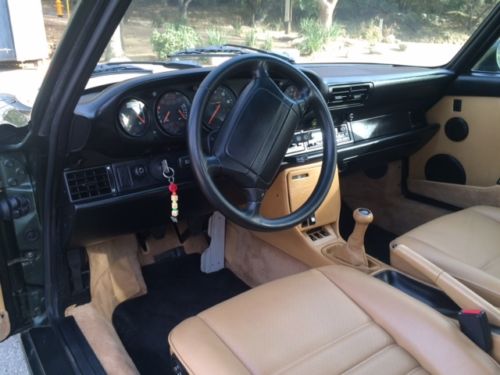 1993 PORSCHE 964 CARRERA 3.6 with 12,000 mile engine, G50 5 speed transmission…this car is the best of both world…with the soul of the air cool in a much modernized chassis

I hate to sell my car but I have too many car projects and running out of room. This car is a 4 owner car. I owned it for the last 4 years. This car has always been garaged and pampered, never smoked in and meticulously maintained.

Just received a valve adjustment and new valve gaskets, tuned and oil change. The transmission also serviced with new red Line gear oil. new clutch, release bearing and master cylinder.

The original engine is currently being rebuilt into a 3.8 liter by Mirage International in San Diego CA. I have purchased an 12,000 miles 3.6 engine out of a Speedster that is currently in the car (Invoice pictures and certificate from seller.) This donor Speedster is not a crashed car but 100% complete running car from a thief recovery by an insurance company (photo of speedster prior to engine removal are also available).

Brand new adjustable coil over Koni suspension, upgraded big red front brakes & rear brakes. $750 Corner balanced and ride height alignment by Johnson Porsche racing alignment in Torrance CA.

Brand new AC compressor and recharged, AC ice cold and heater toasty. New 17" Cup wheels and new Michilin Pilot sport tires 225X45X17 front, 255X40X17 rear.
New Battery
This car was never tracked and was carefully driven 2500 miles since the above mentioned works were done.

Exterior: Original rare dark green paint which is glass smooth. Tan leather interior in in excellent condition as shown on the photos. Original tools and owner's manual. This car is equipped with genuine RS America rear wing. In appearance; this car looks just like a lowered RS America without the RS America script logo and the high price tag. In fact, besides a little more weight with all the amanities, this car out handles and out brakes a RS America. The 12K mile 3.6 engine is powerful and sharp, 0 leak. The G50 5 speed gear box is snick snick smooth. This car is clean inside and out even the wheel wells and trunk, runs perfect and handles like a dream.

I will sell the car as is or if you preferred the now being built 3.8 engine with B&B stainless high performance exhaust system, please email me to inquire of the price. I am selling this car with a reasonable reserve. Serious buyer only please.

I have all the work invoices and engine record for your reference. Please feel free to contact me for additional pictures and information.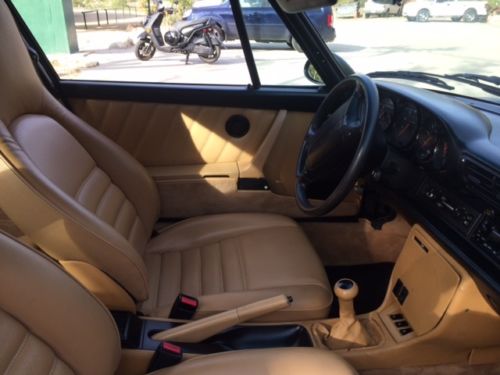 At more than 150K miles this 964 has had a full life and its apparent condition suggests it has been cared for during that time. The engine situation is of particular note for prospective buyers. The current engine in the car is a 12K mile 3.6 liter flat-six sourced from a salvaged 964 Speedster. The original engine is being rebuilt as a 3.8 liter. The auction here is for the car with the 12K mile 3.6 liter, but the seller says that he is willing to do the sale with the 3.8 (once it's finished) instead – and for a higher price. So there are some interesting possibilities here assuming all parties are happy with the necessary engine documentation. The asking price strikes me as a little high, but we must balance the chassis mileage with the new engine's mileage – while also factoring in the loss to originality for those concerned about that – so I could see this as striking someone as at least in reasonable territory. Current bidding suggests there is some work to do. At $36,522 there's certainly some ground to cover to meet the reserve and I think we're likely to see this one come up for another round of bidding. All told though this could be a very promising 964 in a very attractive color if the right pricing can be worked out. And with the 3.8 liter engine it could make for an excellent performer as well!
-Rob