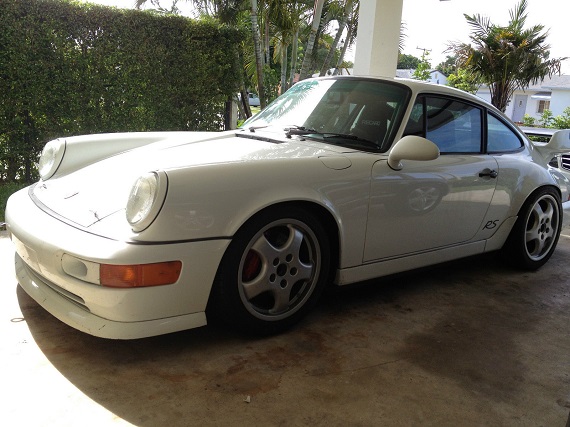 Porsche has always striven to maintain its racing pedigree by providing factory cars for enthusiasts who desire to live the life of a weekend racer. In some cases those cars were produced so as to meet homologation standards, but in others, like with the 964 RS America, the cars were produced at the behest of a customer base that demanded something more than the standard car. While mechanically quite similar to a base 964 Carrera, its stripped interior and host of deleted items allowed the RS America to come in at under 3000 lbs and provide Porsche's customers with a base for taking their car to the track. The car featured here, a White 1993 Porsche 911 RS America located in Florida, was originally a fully-optioned car, but has subsequently had the A/C and radio deleted. This car also features an interior fully outfitted for racing and front and rear spoilers from the RSR and Carrera RS respectively.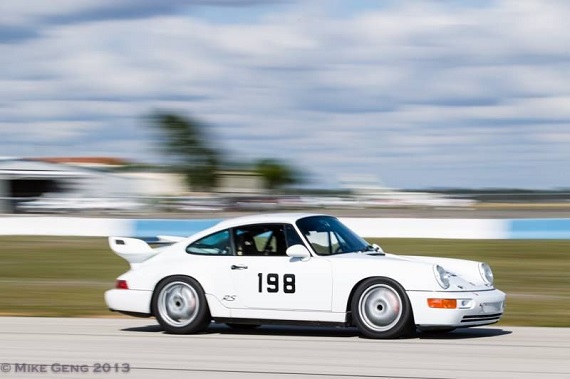 Year: 1993
Model: 911 RS America
Engine: 3.6 liter flat-6
Transmission: 5-speed manual
Mileage: 74,000 mi
Price: Reserve Auction (Buy It Now $55,000)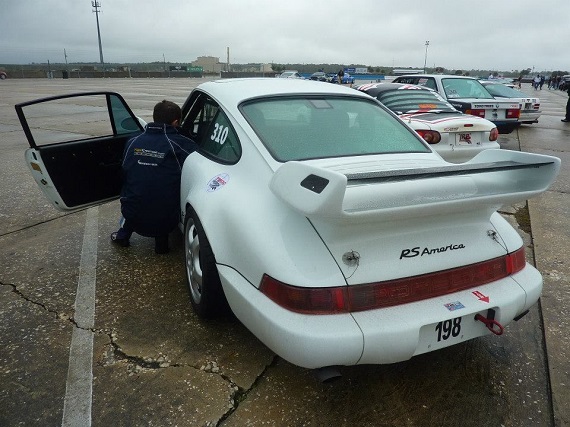 The car is well sorted and quite fast for a nearly full weight car. Originally a Sunroof, radio, A/C and LSD car. A/C and radio removed.
Car runs really well and a blast to drive, and fully serviced. All consumables and maintenance items replaced. No expense spared.

Interior

Recaro Seats
New Scroth harness (driver's side) in red
Cool suit
Helmet blower
Hot Lap
Momo Steering wheel
Full cage
Window net (removed, just need to be reinstalled)
Car has lightweight carpet
Fire suppression system
Ignition cut off
Rennline pedals
Rennline floor board

Exterior

RSR Front lip
3.8RS Wing with Carbon Fiber blade
Hood and engine lid pins.

Engine

3.8 Engine built by Foreign Affairs (Pompano)
Cams – 993 RS Specs (I was told)
Slightly clean up heads.
No heat exchangers or cats
Full headers and rear muffler with double exit.

Transmission

Clutch
Lightweight flywheel
Short ring and pinion
Short 5th gear
New axles
New Slave and master cylinder

Brakes

993 Turbo brakes
New rotors
New pads (Pagid Blacks)
ABS system checked and brake system flushed with SRF

Suspension

Monoballs on all control arms.
Moton Clubsport shocks (recently serviced)
Solid Top mounts
Aligned and sorted.

Wheels

2 sets of wheels.
OEM with brand new Bridgestone tires
Cup 1 replicas (964 Cup sizes) with Hoosiers R6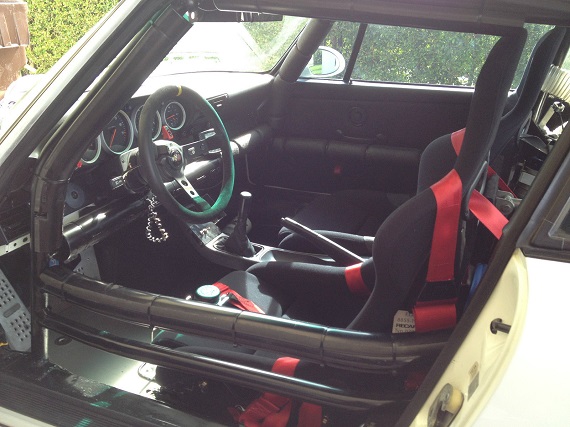 I'm guessing the lack of originality, both with regard to the interior and with the deleted radio and A/C may hold down the sale price here. While all of these things make the car better on the track, the RS America is reaching that stage in its life where it's not quite a vintage racer but also quite likely to be viewed by many buyers as a collector rather than a track car. With that said, the Buy It Now price here doesn't seem outrageous, but I'd imagine it's a few thousand dollars above market. Still, this appears to be a well sorted example that's sure to provide quite a bit of fun.
-Rob