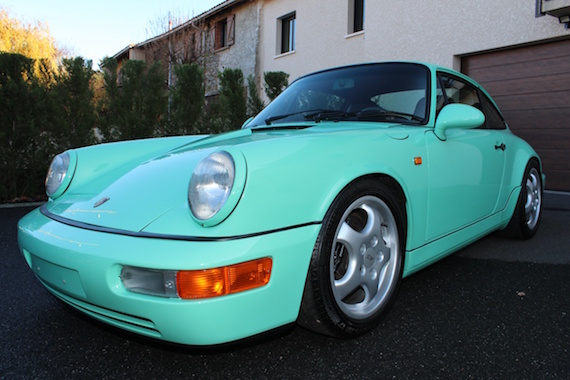 The beginning of a new year is a great thing for car enthusiasts, as it means another year of tasty vehicles we can get our hands on that were never imported to the United States because of the No Fun Club (aka the Department of Transportation and the Environmental Protection Agency). It will be another two years before this 1993 Porsche Carrera RS will be eligible for important to the US under the 25 year rule, but that date will be here before we know it. In the meantime, I'll keep ogling at the Mint Green paintwork, my favorite of all 964 hues. The Carrera RS was a European market only 964, a lightweight special deemed a bit too hard edged for the US market. Nevertheless, 45 examples of a model similar to the Carrera RS were imported by Porsche for use in a proposed Porsche Carrera Cup series that never happened due to lack of sponsorship.
These 45 cars were sold without any advertisement, as Porsche was readying another lightweight model for the US market, the 911 RS America. Weighing in at just under 3,000 pounds, these 964s had a bit of weight saving features with just enough niceties included to appeal to the American motorist. However, for those who want the purest of 964 experiences, only a Carrera RS like this one for sale in France will do.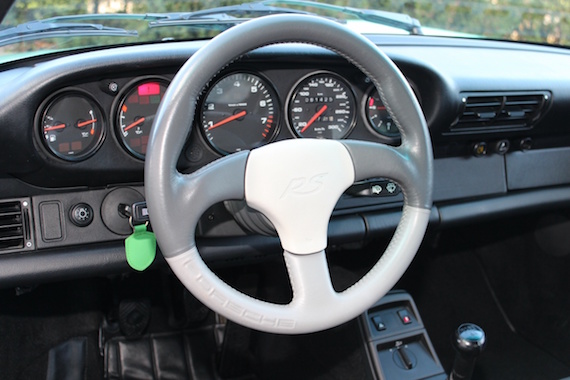 Year: 1993
Model:Â Carrera RS
Engine:Â 3.6 liter flat-6
Transmission: 5-speed manual
Mileage:Â 38,215 mi
Price: $201,837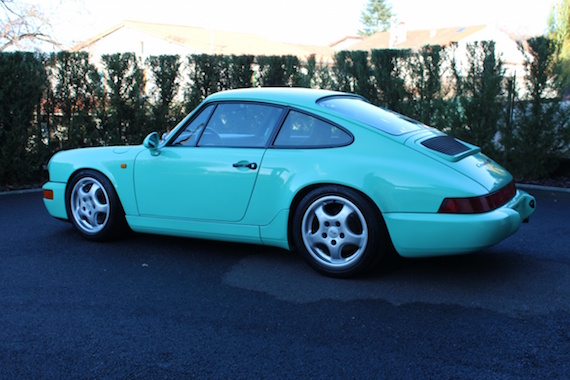 PORSCHE 964 RS M001 Lightweight

1st registration: 28/10/1993
Km: 61415 certified, in accordance with services and checks on the service book.
Matching numbers.

Collector vehicle in original configuration, perfect indoor / outdoor condition.

RS with low mileage, accident-free, leak-free and without any corrosion.
No Racing, no "clubs" session.

Steering Specific RS Light Weight in original option.
Magnesium wheels in perfect condition and tyres as well.
Has all its specific elements which RS aluminum bonet, light weigth windows and so on.

Service book ok, all original documentations and double of keys ok.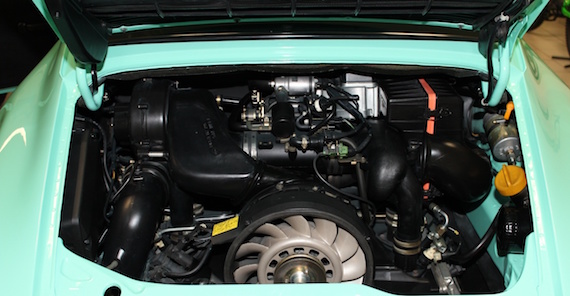 We've reached the point where six figure 964s are not uncommon, no matter of which side of the ocean we're dealing with. Just under 2,300 Carrera RS models were produced, so that places it squarely between the 964 3.3 Turbo and 964 3.6 Turbo in terms of rarity. I'll be interested to see how many of these start trickling their way into these shores in a few years, along with that other lightweight favorite of mine, the 968 Clubsport. Considering mint condition RS Americas are bringing around the $100,000 mark these days, this Carrera RS might be priced a bit on the high side. But there seems to be no end to the appreciation for air-cooled Porsches, especially rare models.
-Paul