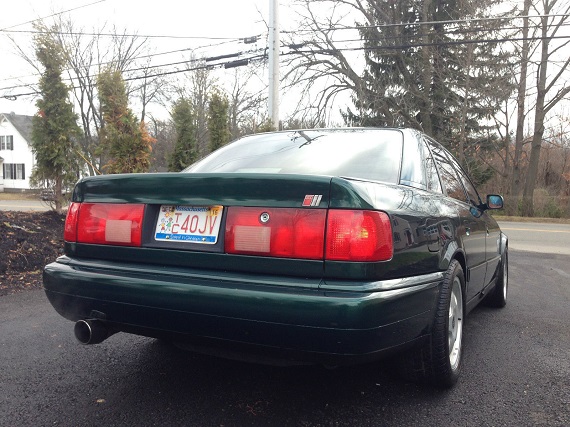 Finding a good first generation S4 is a bit of a hard task today. First off, they weren't the most plentiful car imported to the United States. On top of that, many have fallen victim to neglect, crashes or part-outs as they donated their valuable and powerful motors to projects. It's gotten to the point where I'd even term it infrequent that we come across a clean 1992 model – arguably, the most desirable of the bunch with lower and firmer suspension than the rest of the C4 lineup. Today isn't one of those occasions where we'll see one, but I do have one each from the subsequent years to take a peek at: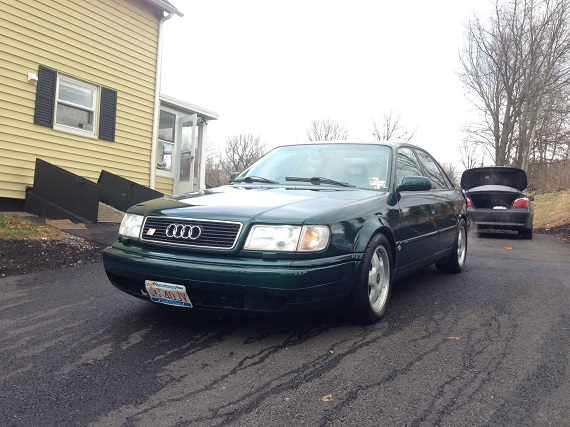 Year: 1994
Model: S4
Engine: 2.2 liter turbocharged inline-5
Transmission: 5-speed manual
Mileage: 198,000 mi
Price: $4,500 Buy It Now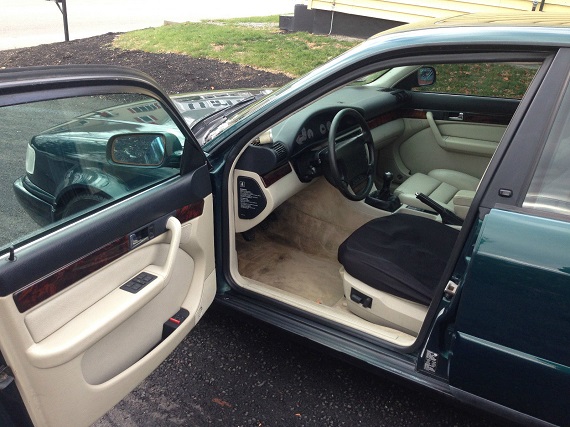 this car is one out of 457 i think. im the 3rd owner. have the car sense 2009. 034 chip . 3 inch exhaust from the turbo back. H&R springs. car is running perfect. sounds nice. 198K on it. will go for another 200k easy.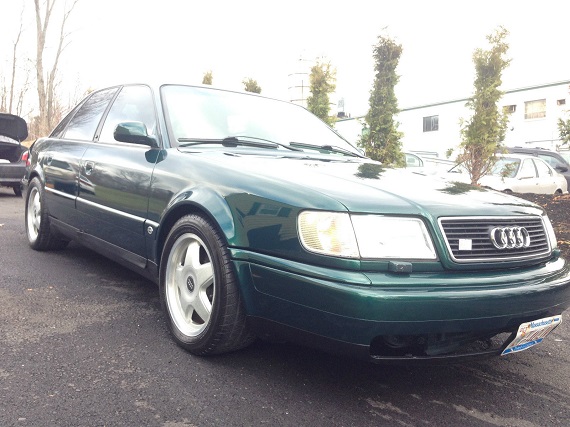 As always, the Emerald Green Mica seems to be the signature color for these cars but generally looks a bit dated. This one does look a bit better than average, but without diving further I think there has been some paint work – the rear badge is on the wrong side and there appears to be a bit too much peel in the paint, as well as the central black sections of the bumpers being body color instead of black. Inside, what can be seen of the passenger seat actually looks a bit better than normal but the covered driver's seat points towards the main condition problem. However, there are plenty of these kicking around so finding a good replacement may take some time but shouldn't prove impossible. The lowered suspension and chipped engine should provide more sporting performance and it's always nice to see the often-replaced Fuchs alloys. Condition wise, you could do worse for your $4,500 – but without heavy maintenance records, I think you could also do a bit better.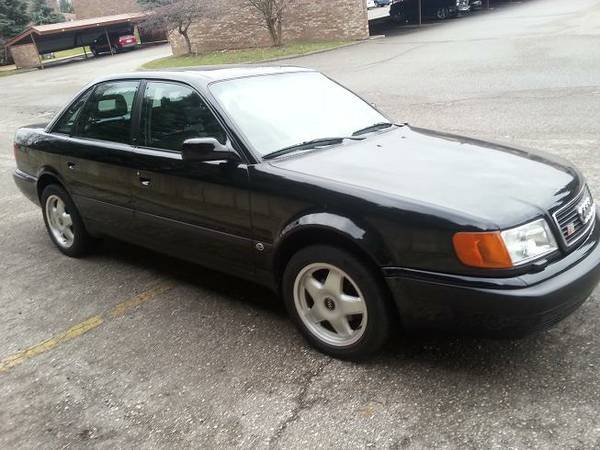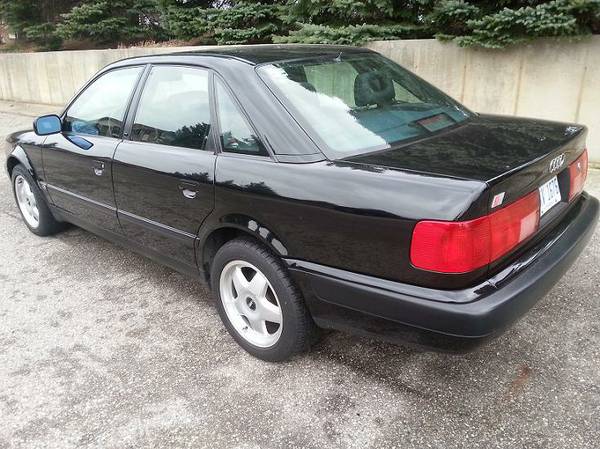 Year: 1993
Model: S4
Engine: 2.2 liter turbocharged inline-5
Transmission: 5-speed manual
Mileage: 117,280 mi
Price: $2,150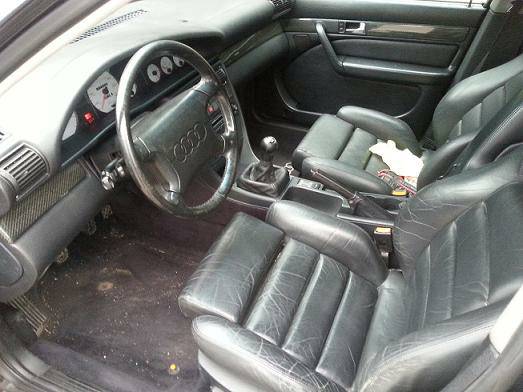 1993 Audi S4 117,280 miles. Acquired the car in 2008 with 100,500 miles. Body is in good shape.

Front diff bearings or pinion bearings a bit noisy. High pressure hose from pump to accumulator leaking. Headliner a bit rough. A/C needs recharging. Needs a battery.

I have replaced/repaired/installed:
The plugs. valve cover gasket set. Coil on plug extenders. O2 sensor. Aux coolant pump. Turbo system hoses(Samco). Clutch master cylinder. Left rear brake hose. Disc brakes and pads(except rt rr pads). Headlight lenses(euro spec). Sylvania Silverstar ultra high and low beam bulbs. Silverstar fog lamp bulbs. Left rear wheel powder coated. Two wheel center caps. Driver door window switch. Power seat memory switch. Driver door jamb switch. Rear Amp.

Waterford European work.
Steering rack. Timing belt. timing belt idler pulley. water pump. t-stat. coolant. serp drive belt. front wheel bearings. front brake hoses. coolant recovery bottle.

do NOT contact me with unsolicited services or offers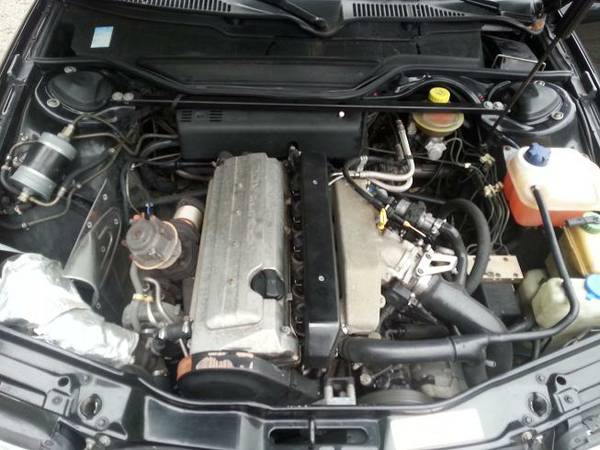 There's a lot to like with this '93 S4. The paint condition seems to be far above average for the year, and the ride height and original alloys point towards more original condition than the '94. The interior also looks great overall and is more pleasing in black over black with carbon trim. The seller also lists the recent maintenance they've done which looks to be a plus, including the timing belt. Also included are the more desirable Euro lights. There are, of course some needs – but at $2,000 this car had me nearly planning a road trip. You simply can't get more car for the money than this one.
That's been the hallmark of the C4 S4 for the past two decades – it's arguably the best overall performance deal you can find in the German car world. Sure, it's not a track monster – but you get a luxury car capable of carrying 4 in comfort (with skis!) through any conditions and at Autobahn speeds, but will also accrue 400,000 miles if you let it. In terms of legendary cars, there may be cars that outperform the S4 on paper – but as an overall package, it's hard to say there's something that's better.
Thanks to our reader John for a great spot on the '93!
-Carter