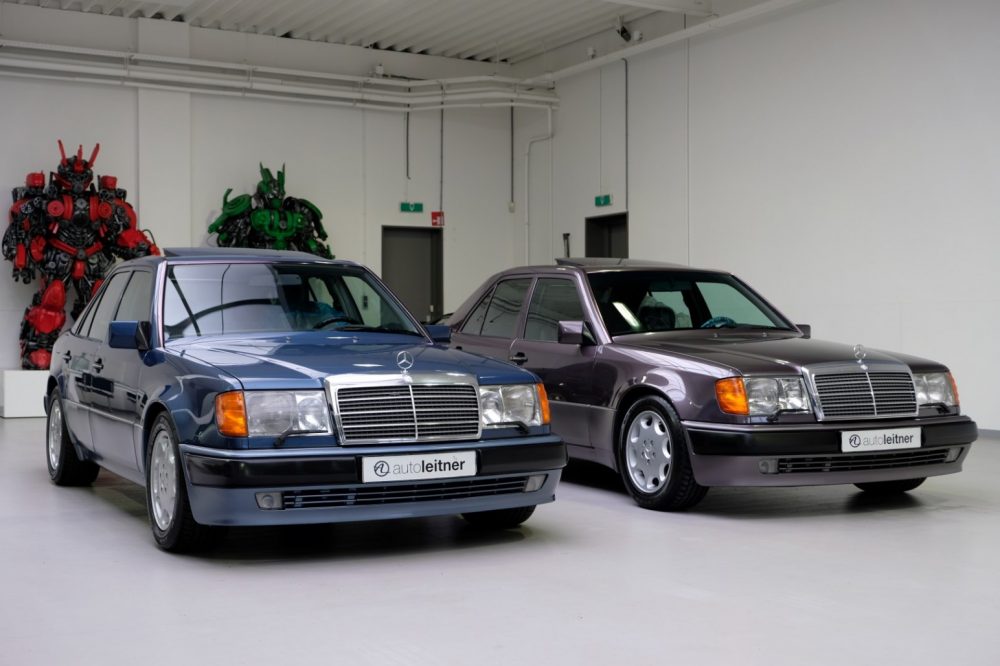 The last time I checked out a Mercedes-Benz W124 500E, it was none other than Rowan Atkinson's that ended up selling for a whopping $86,700. It's pretty clear his name had some serious value attached to it as not many W124.036s carry that kind of price tag, if any. That is until I came across these two beauties for sale in the Netherlands. One is a 1992 painted in Nautical Blue Metallic with the ultra-rare Alpaca Gray fabric and leather while the other one is a 1993 in Blackberry Bornite Metallic that there are only a handful of out there. Both of these cars are nearly flawless and as you might have guessed, carry some pretty serious price tags. But for these special examples, I can totally understand why.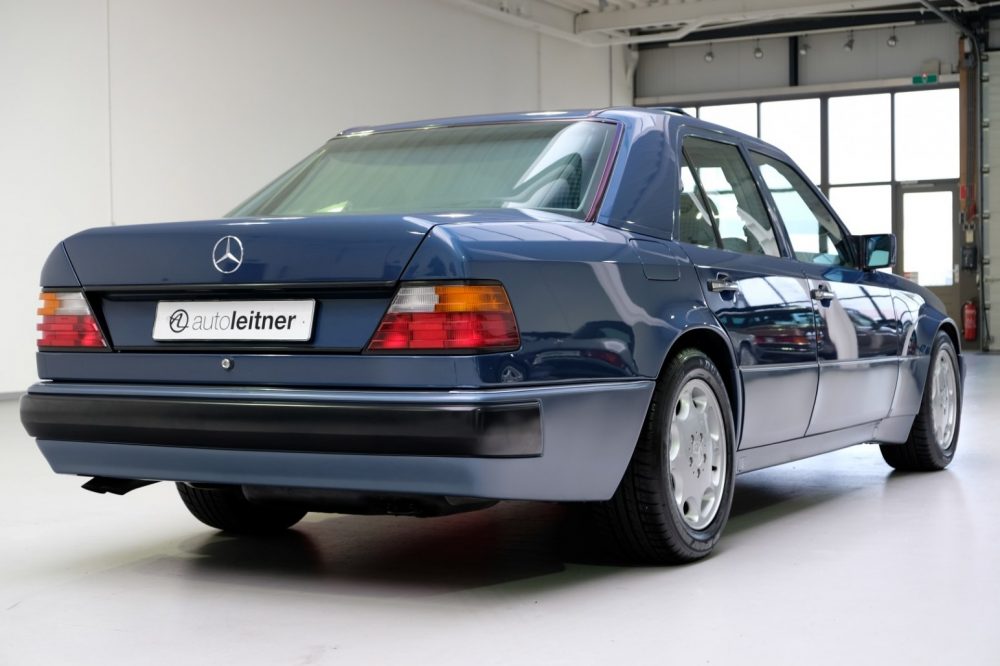 Year: 1992
Model: 500E
Engine: 5.0 liter V8
Transmission: 4-speed automatic
Mileage: 119,906 km (74,506 mi)
Price: €59,500 ($73,071)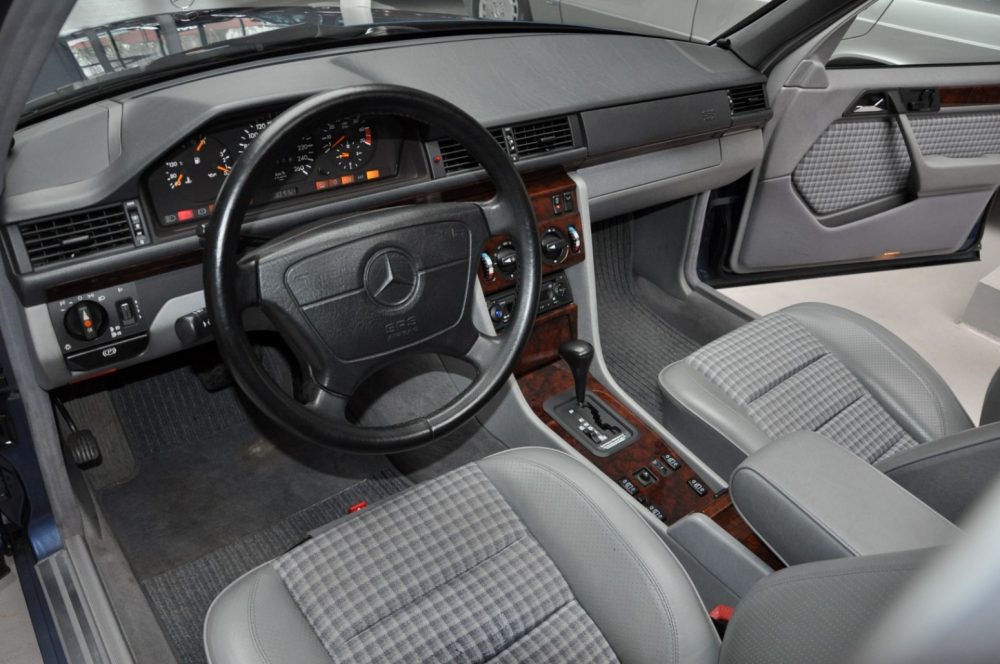 A very bright Mercedes 500E in the relatively rare color 929 Nautic blue metallic with beautiful 078 Apalca gray Karo / leather! Demonstrated only 2 German owners (both from Stuttgart, acquaintances of each other and born around 1940!). Both on the inside and the outside extremely well fitted and in top condition. 100% damage free and almost entirely in first paint. It has been assembled with, among other things, an electric slide / tilt sunroof, hand-operated air conditioning, electric awning and a fall-down type indication on the back for the 'wolf in sheepskin' effect …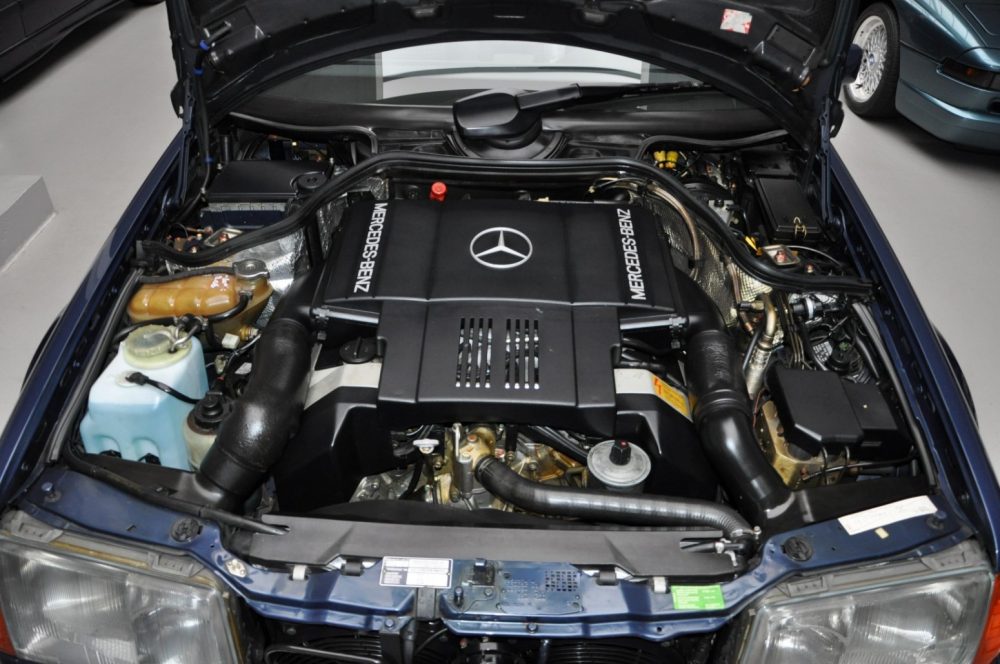 This 1992 in Nautical Blue is outstanding in every way but it is the interior that really gets me going. The Alpaca Gray fabric pattern on the seats and door panels is something I have seen on the W124 Sportline in Europe, but never on a 500E. Usually this kind of fabric has a high tendency to rip and separate at the seams but this example seems to be holding up pretty well for nearly 75,000 miles. The wood has that great deep look to it that has no cracks or marks on it either. There really isn't much more I need to say about this one. All 58 photos of this car are basically what 500E dreams are made of.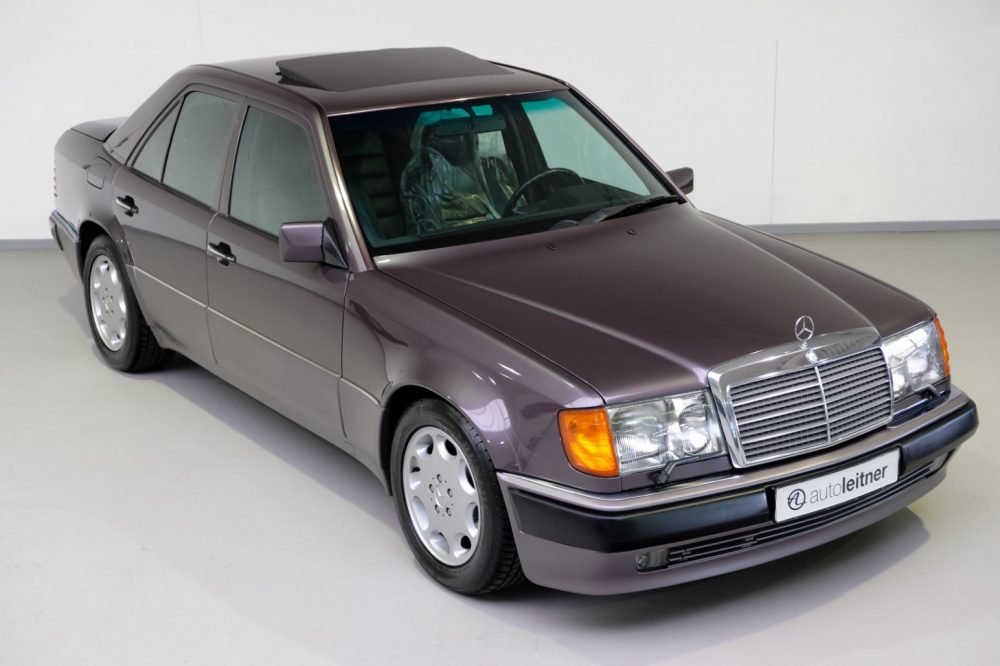 For this 1993, it is all about the Blackberry Bornite Metallic. This is a color I rarely see on the 500E and I can say I've never seen one come up for sale before. Showing just under 50,000 miles, I'd probably wager it is the lowest mile 500E in Blackberry Bornite. The black leather interior on these car shines just as well as the exterior and outside of some fading paint on top of the airbox, the engine is spotless as well. It's interesting that this car was actually delivered in Switzerland where it stayed its entire life before being offered up for sale now. I'm not a huge fan of aftermarket radios, but the Becker Grand Prix is a nice period-correct choice if you had to pick a radio for these.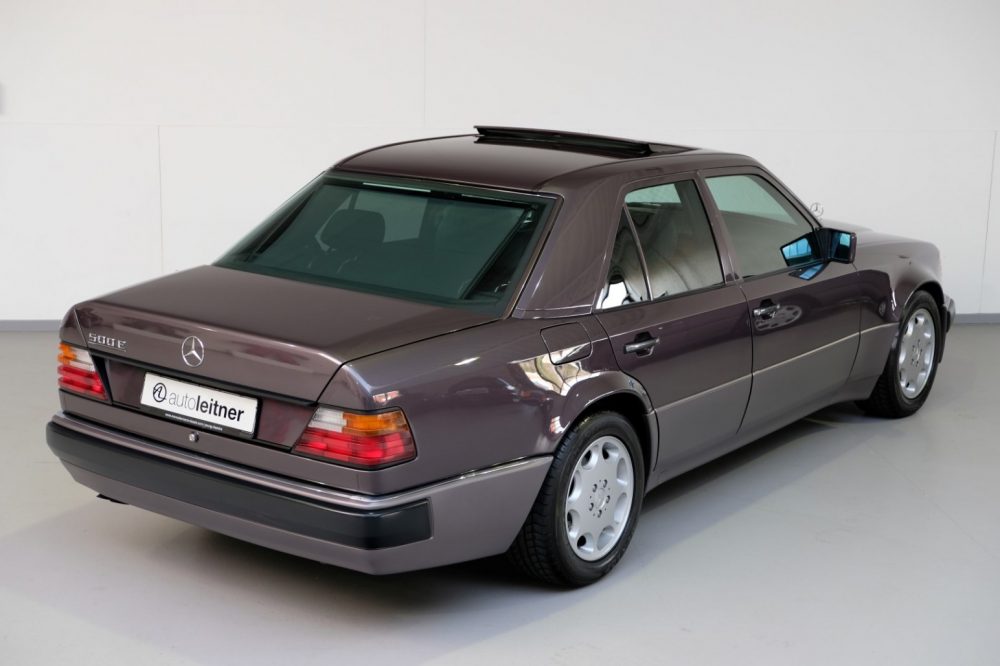 Year: 1993
Model: 500E
Engine: 5.0 liter V8
Transmission: 4-speed automatic
Mileage: 79,222 km (49,226 mi)
Price: €69.500 ($85,320)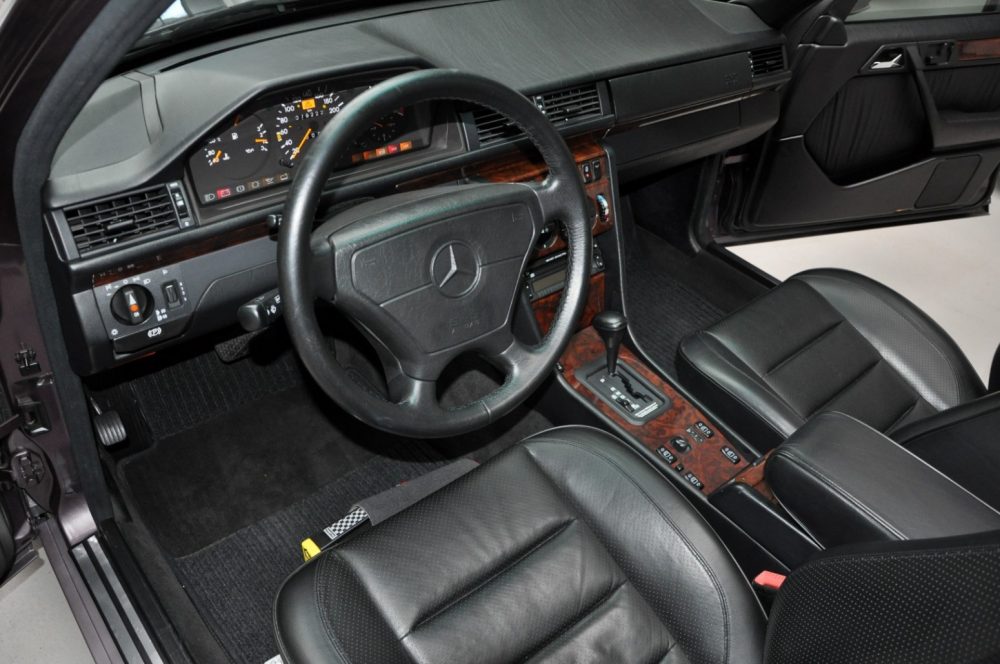 Collector copy! A Mercedes 500E W124 produced in the Porsche factory in the relatively rare 481 Bornit metallic color. Newly delivered in Switzerland and also ridden there until his last turn. Original only 79.221 km and in very well maintained top condition. In our opinion, 1993 is the best year for a 500E; had his first modifications, but before the facelift. Well equipped with manual air conditioning, an electric sunshade, Bose sound system and the electric sliding / tilting roof ….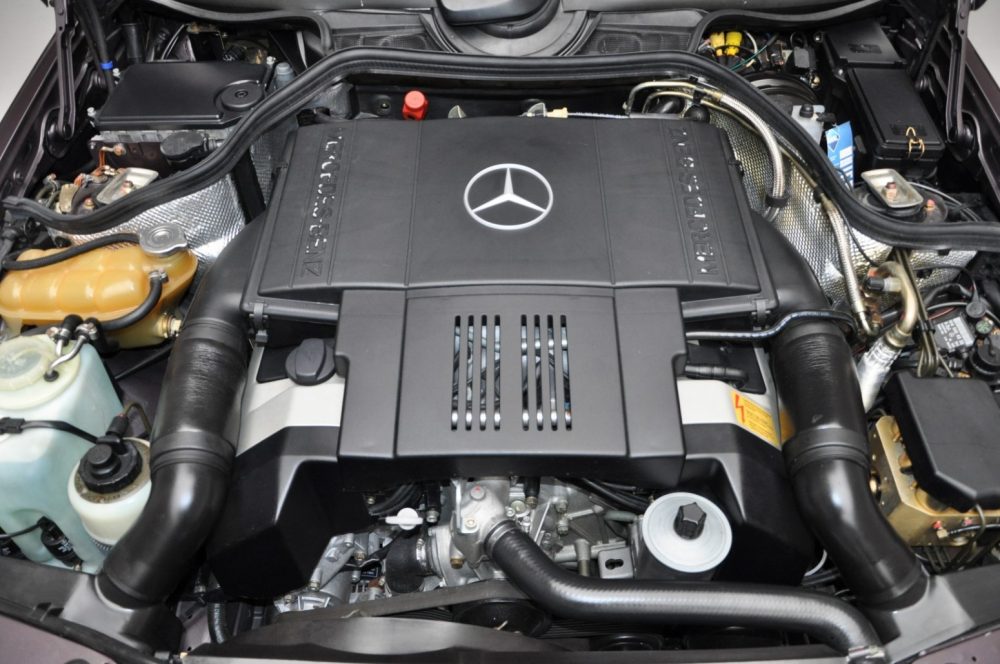 Both of these .036s are really, really expensive. There is no doubting that. But this is the price you pay for ultra-rare examples of already really desirable cars in 2018. Even in America, sellers are asking $50,000 for collector-grade 500Es and it is tough to argue both of these cars are anything but collector-grade. Being in Europe, I don't expect them to stick around too long as surely a wealthy buyer will snag one of these up, if not both, and export them to whatever they want. The colors, interiors and even engines on both these cars are reflective of how special these cars really are and continue to be.
Thanks to our reader John for the great spot!
– Andrew