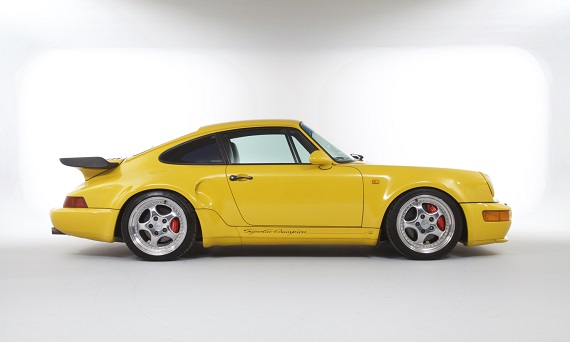 On to our second special 911 for the day. A few months ago we featured this 3.6 Turbo S 'Package Car' and I remarked in that post that my own personal Holy Grail would be the 1 Speed Yellow Turbo S produced for the US market. Well, this isn't that car, but it is very similar and about as close as you can get without actually stumbling across the lone example to have been produced. Here we have a 1994 Porsche 911 Turbo 3.6, which crucially has been fitted with both the X88 engine option that came on the Turbo S and also the X99 option package with the Turbo S rear fender vents. Of the 51 reported Turbo 3.6 models also to have been fitted with the X88 engine only 3 possessed the additional X99 package, 2 of which were produced in Speed Yellow. This is one of those two. These differ in appearance from a true Package car by their lack of the Turbo S front and rear spoilers, but in all other regards they are identical and were the only way to get a non-flatnose Turbo S outside of the US market (excepting the Japanese market Slantnose).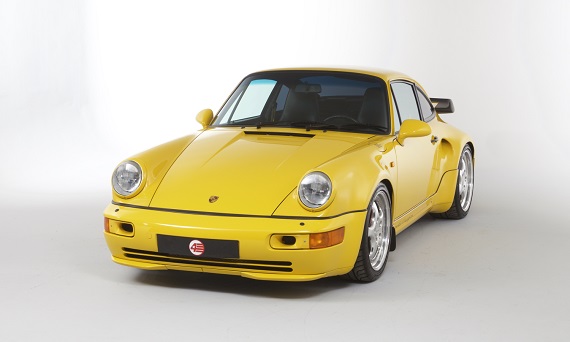 Year: 1994
Model: 911 Turbo 3.6
Engine: 3.6 liter turbocharged flat-6
Transmission: 5-speed manual
Mileage: 33,109 mi
Price: £249,995 (~ $375,826 USD)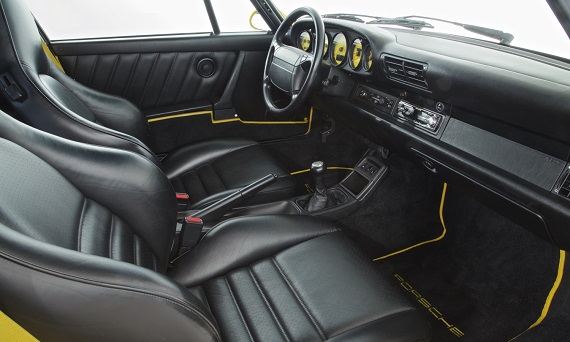 MODEL HISTORY
Porsche introduced the 964 Turbo in March 1990 as the successor to the 930. Unfortunately, they hadn't had the necessary time to develop a turbocharged version of the 3.6-litre M64 engine, and chose to re-use the 3.3-litre engine from the 930 instead.

However, in January 1993 Porsche released an updated 964 Turbo (Turbo II), now featuring a turbocharged version of the 3.6-litre engine, which produced close to 360hp. Road & Track described the result as "an engine that produces not only more horsepower but considerably more torque at low RPM …while delivering plenty of low-end performance and all-round smoothness. In short, a turbocharged powerplant with the instantaneous response and linear power delivery of an aspro (normally aspirated)."

On first glance the exterior of the 3.6 appeared much like the 3.3, but had striking 18-inch split rim alloys as standard, as well as a lowered suspension. The limited slip differential was tighter, and bigger brakes with red calipers were also fitted.

Interestingly, the 3.6 Turbo was only produced for model year 1993/1994 with a mere 1,437 units manufactured in total. This makes it one of the rarest and most sought after Porsches produced since the 959.

EQUIPMENT
'X88′ Engine power upgrade, 'X99′ Turbo S fender vents, Electrically adjustable and heated leather sports seats, Tinted glass, Four tailpipe exhaust system, Sport suspension, Air conditioning, CD player, Electric windows, Electric mirrors, Fitted Porsche carpet mats, Dash clock, Space saver spare wheel, Toolkit, Tyre inflator.

EXTERIOR
The outstanding Speed Yellow paintwork is the ideal choice for such an exceptional Porsche. The bold colour perfectly befits the muscular styling and lowered stance of the Turbo II, providing a wonderful contrast to the heavily tinted windows and highly polished alloys. The paint is in remarkable condition with absolutely no dents, scuffs or scratches to note whatsoever.

Having spent the majority of its life in a dry climate, there is no corrosion to be found. In fact, aside from one or two minor chips very low down on the rear arches, the Porsche is almost 100% blemish-free. All black trim around the car appears factory-fresh, as do the lenses, which are crystal clear and free from any cracks. Furthermore, the 'IMSA Supercar Champion' decals adorning the sills (relating to the 964 Turbo's victory in 1991), present as new.

This particular example features the 'X99′ Turbo S spec styling package, providing air inlets to both rear flanks, Turbo S front spoiler and side skirts.

INTERIOR
Equipped with the upgraded heated and electric sports seats, the interior of this 964 is in remarkable order. The leather upholstery presents beautifully and aside from the tiniest amount of wear to the driver's bolster, is like new, having never been repaired or connolised.

The carpets throughout show zero signs of wear and are protected by the original set of Porsche carpet mats, which also appear pristine. Furthermore, the dash is impeccable and the yellow dials are perfectly clear. In addition, the steering wheel and gear knob retain their factory texture. The door cards are completely scuff-free, with only the slight discolouration to the yellow piping providing evidence of this car's age.

ENGINE & TRANSMISSION
Neatly housed between the rear wings of the 964 lurks the rare 3.6-litre turbocharged powerplant. Looking beneath the large intercooler all components are standing to attention. There is no corrosion of any kind in the engine bay, with everything appearing in fine fettle. Equipped with the factory 'X88′ engine power upgrade, the monstrous engine produces 385hp and is frighteningly fast. Also from the factory, this 964 features the upgraded twin exhaust system.

Following its full mechanical inspection by our team of technicians, this example sounds incredible and drives faultlessly. The 5-speed gearbox is remarkably tight and precise; unquestionably the car drives as good as it looks.

WHEELS, TYRES & BRAKES
This Turbo sits on the correct 18-inch split-rim Speedline alloys. Each wheel retains its highly polished appearance from the factory with only minute curb marking to note on a couple.

The alloys are shod in a matching set of Bridgestone Potenza tyres, each with a good level of tread remaining. Between the spokes the red Porsche calipers present well with the ventilated discs showing plenty of life left.

HISTORY FILE
First registered in 1994, this rare Turbo 'S' spec has covered a mere 53,284km, which equates to just 33,109 miles. Having spent its life in a dry climate, this German-supplied 964 resided in a private collection where it remained indoors when not in use.

The factory options sticker is still present under the bonnet, which confirms the car's country of origin, Germany. This Porsche remains one of only thirty-six 1994 3.6-litre Turbos to have been fitted with the 'X88′ engine power upgrade, and one of only twenty also equipped with the 'X99′ Turbo S kit. Further still, there is only one other Speed Yellow example in existence with these features, making this car one of just two made to this specification.

Present in the history file are all the original owner's manuals along with the German service book, complete with the original document wallet.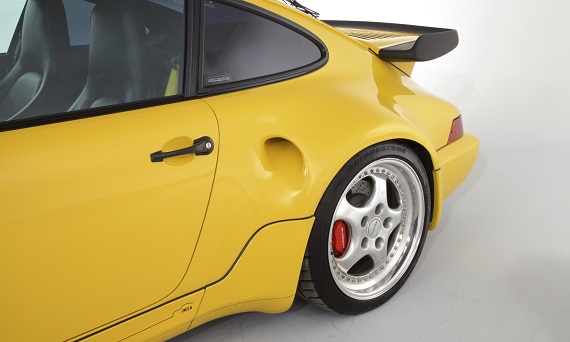 Since it is not the full on Turbo S model I suspect that these factory-optioned cars won't command quite as much value as a Turbo S, but that difference may be insignificant. The asking price here, at nearly $380K, isn't quite as high as that of the 993 Carrera RS Clubsport, but at these prices we are in very similar territory with each. This is one of my all-time favorites and is sure to deliver an absolutely captivating driving experience that elegantly combines exhilarating performance with a high degree of luxury. We don't often come across two such rare 911s from the same dealer at the same time and I wonder if some lucky owner simply has decided to pare down his collection a bit. Whatever the reason, this is an extremely rare opportunity for buyers to get their hands on two of the most desirable 911 models in existence.
-Rob