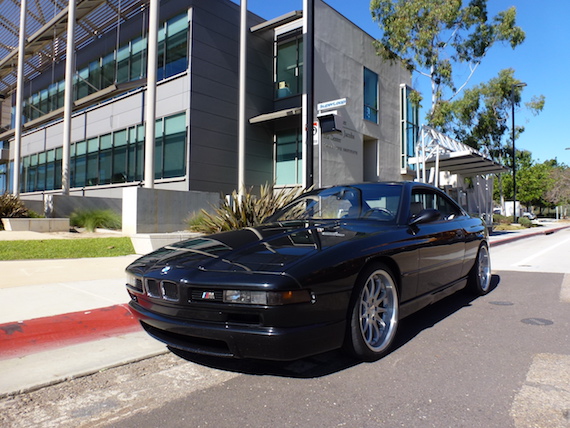 The 1995 BMW 850CSi we featured two summers ago is back up for sale on Bimmer Forums. The car has covered just under 1,000 miles in that time, but besides that fact, this has to be one of the best higher mileage E31s I've seen in some time. Along with its contemporary, the Porsche 928GTS, these big cruisers are bringing strong money these days. Will this one meet the ask this time around?
The below post originally appeared on our site July 31, 2014:
The 850CSi holds a special fascination for me; for some folks, the M cars like the E28, E34 and E30 models are the real draw, but the 850CSi is to me a siren of the 1990s BMW lineup. Granted, I'm fairly certain that it's a car I'll never have the luxury of owning – and likely, I'll never get to drive one either. They're not common to come by and because of their nature as a limited production halo model still command a serious premium over "normal" 8 series. Beyond that, there are many cars that you could get into that easily outperform the 850CSi for less money. Despite that, every time I see one of these cars my heart melts just that little bit. It didn't make much fiscal sense for the E31 to be made by BMW, and you can raise many logical arguments as to why it's not the best car to buy, but at the end of the day it's the one I still think about. And if by some miracle I won the lottery and had not a worry in the world, an 850CSi would be on my "must have" list. While it might be tempting to get into one with lower miles, I might actually sport for one with such a dedicated owner as this example: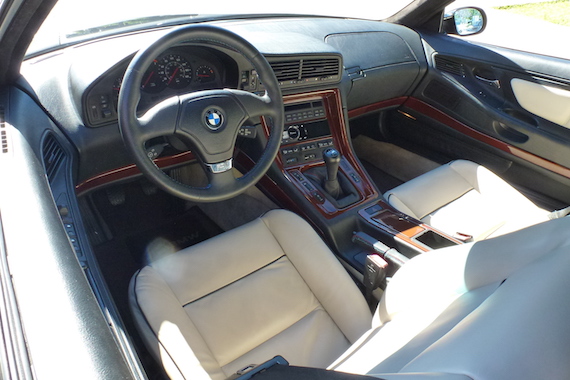 Year: 1995
Model: 850CSi
Engine: 5.6 liter V12
Transmission: 6-speed manual
Mileage: 140,300 mi
Price: $65,000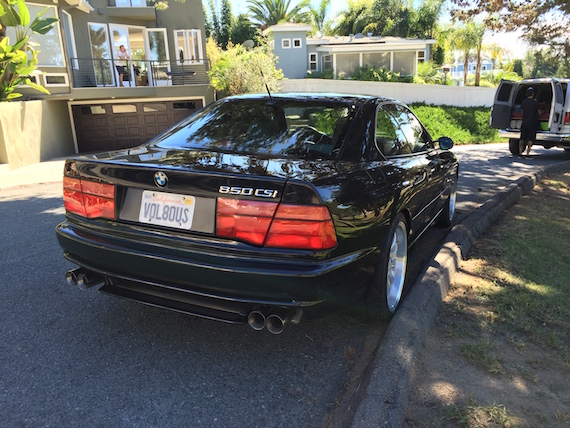 If you're looking for the pinnacle of CSi performance, and want to stand out in a crowd… look no further because I have a unique car for sale. Are you offended by the idea of locking up a beautiful 850CSi thoroughbred in some storage unit somewhere? Does it make you cringe at the idea of these rare and exotic cars rarely being driven on the open road, depriving the world of their magic, rarity and mystique? Then this car is for you!

This 1995 BMW 850CSi is on offer for sale and is one of 225 US market examples; the lowest production car shipped to the US in BMW's history. Only 1,510 of these unique cars were ever built worldwide. This example is a special sleeper CSi that has been well documented on the Internet. All performance upgrades are CA legal and offer the next level of performance and improvement beyond factory, making this a one-of-a-kind driving experience.

Back in 2007, I had read all over the Internet, all about the great work one of the previous owners (Greg Tessier) had commissioned Chad at Bullet Performance to do on "chassis #166" and swore that one day I would build a car like that. This car had a complete engine-out performance rebuild that today has less than 37K miles. In 2010, the opportunity came for me to actually BUY #166 and so I took it and never looked back. This is one of the best documented, cleanest 850CSis in the country and is in excellent condition inside and out. The rest of the interior, engine bay and trunk reflect a clean and perfectly well cared-for specimen. A recent smoke test (yes I do this stuff just for fun!) in October 2015 revealed absolutely NO leaks in the case or intake. The interior smells like new, has never been smoked in and has been adult driven. This car has won several awards, been in BIMMER Magazine twice, and today is possibly the most well cared for CSi around. Like the Most Interesting Man in the World says, "I don't always drive an 850CSi, but when I do, I borrow Taylor's…"
Attachment 554646
Background: This is a numbered, rare vehicle of limited production. As close to the M8 as you will find on the road, the CSi was the company flagship of the ninetees. Its V12 power plant was bored and stroked by BMW M GmbH, the renamed BMW Motorsport. Its displacement of 5576cc is 12 percent larger than the 850Ci's, but its 380 hp is 29 percent greater and the compression ratio was bumped to 9.8:1. Torque increased to 410 lb-ft from 360 in the 850Ci. And THIS car has been performance enhanced from the factory CSi, and it represents more closely what the Dingolfing factory should have put out in the ninetees.

This car turns heads everywhere it goes, and has a commanding presence about it, especially the wonderful Spitfire whine of the starter. This is a California driver's car, always garaged, never exposed to snow. Will exceed six figures before too long. Two separate feature articles were written about this very special CSi in BIMMER Magazine in 2005 and again in 2015 after winning SoCal Vintage BMW – Best in Meet.

Asking $65,000 – will consider reasonable offers.
Call Taylor at 202-909-5075

AWARD WINNING CAR:

SoCal Vintage BMW Meet 2014: Best in Meet
BIMMER Magazine 2005: "Cosmos Cool: 850CSi"
BIMMER Magazine 2015: "Object of Desire: 850CSi"
Cover: 2011 E31 Calendar
San Diego Clean Car Contest 2011: 1st Place Super Clean, Best Interior, Cleanest Engine, Best Trunk Overall
Winner: People's Choice Award at 25th 8-Series Anniversary: Best 8 Series

CAR DETAILS:

VIN: WBSEG9329SCD00166
Current engine mileage: 36,300
Chassis mileage: 140,300
Schrick 264 billet racing cams with 11.0 lift.
Matching gasket intake manifolds, ported and polished + Enlarged throttle bodies.
Rare Racing Dynamics Headers and Eismann Performance free flow exhaust.
Staggered Hartge Classic Type C wheels 19×9/19×8.5 with 285/255 tires (NO curb rash).
Euro spec brake package, floating rotors, and stainless steel brake lines.
3-spoke Euro leather wrapped steering wheel with //M stitching detail.
DINAN camber plates, E31 Bump-Steer plates, short shifter.
Eibach Springs, Bilstein shocks set to my specifications, Greg K-Bars Adjustable Sway Bars.
Compass/Homelink review mirror.
HID lighting (low beam/fogs), ///M Sport Mirrors, Complete trunk tool kit.
Tap-to-signal Comfort Blinker, double-blink hazards, and rear fog lights.
Complete documentation since new. Car cover included.
Every switch and button works – all operational like new.
OBC LEDs are 100% (recently replaced), no missing bits or bobs.
No broken plastic, torn gaskets, torn upholstery, no missing plugs or screws – the car is perfect.
New plugs, caps & rotors, timing, alternator, water pump, fuel pressure regulators, fan clutch, crankcase vent valves, Magnaflow cats, belts & tentioners.
Plenty of brake left but I also have a complete brake set (new rotors, pads, sensors) available for sale separately.
Some minor clear coat thinning on the driver's side arch, barely visible.
Front has typical road rash. Windshield has one or two minor pebble hits.
Otherwise the original paint is in fantastic shape – has been wet sanded, cut and buffed to remove factory orange peel.

All the heavy lifting has been done for you. All the regular maintenance has been done for you. All you have to do is buy it and drive away this fine German unicorn.
Whew, talk about an impressive writeup. Right down to resting parasitic battery draw, this owner has really documented this car. The Hartge wheels are a great match for the design, but truth be told I'd probably still rather have the M-System original wheels and a more stock example. I'd probably also prefer dark blue, but the Cosmos is a very striking shade for this car. Otherwise, I'm off to the corner market to buy some lottery tickets. You can't win if you don't pay, right?
-Carter