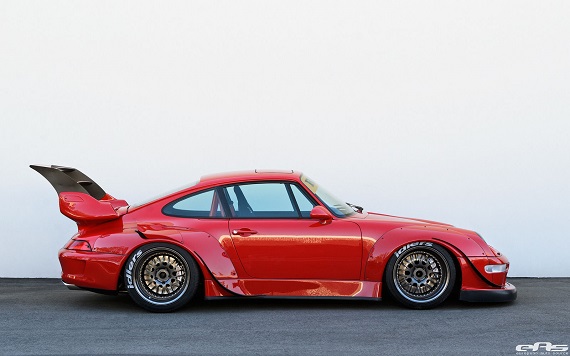 Porsche design can be funny sometimes. Generally, their designs are modern and purposeful, yet understated. This is something that I think has become especially true with their modern cars as they've established themselves as a luxury brand. Porsche even could be said to be a fairly staid company catering to an equally staid clientele. Yet, that is all a mask of sorts. Porsche is, as much as any other company, one built off of its racing history and successes. The designs of their racing cars are about as preposterous as they can get filled with huge wings and impossibly wide rear fenders, though all were built to a specific purpose and as wild as they might look they were functional. Of course, plenty of their road cars followed suit, if in much more reserved fashion. Within this over-the-top world exist a variety of tuners and few tend to take the design aesthetic of Porsche's racers and run with it better than Akira Nakai and Rauh-Welt Begriff. The one we see here, in Guards Red and using a 1995 Porsche 911 Carrera 2 Coupe as its base, is even over the top by RWB's standards. The double-decker wing has the look of a dragon's tail and stretches your gaze in a manner perpendicular to the stretch of the rear fenders. Some RWB cars can look very squat; this one does not. Not at all.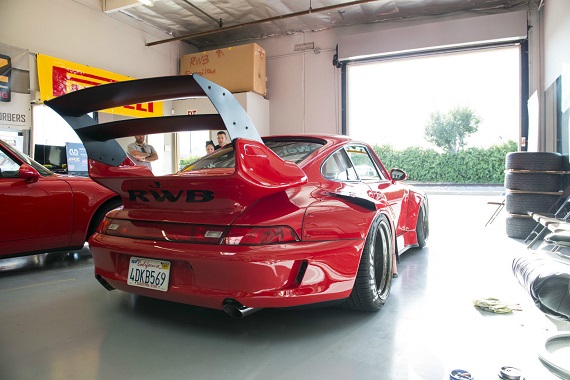 Year: 1995
Model: 911 Carrera
Engine: 3.6 liter flat-6
Transmission: 6-speed manual
Mileage: 131,000 mi
Price: $175,000 Buy It Now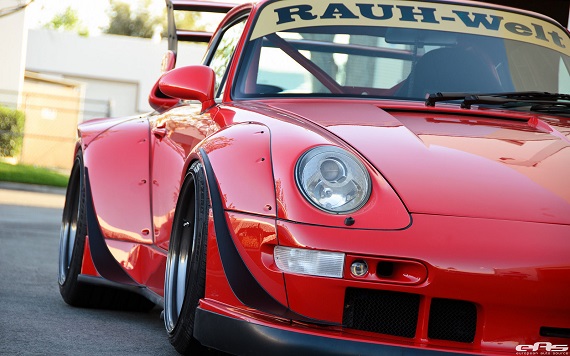 1995 Porsche RWB Carrera 2 Guard Red

Donor Car:
1995 Porsche Carrera Coupe C2
RAUH-Welt BEGRIFF Los Angeles serial number #3 Car
VIN: WP0AA2997TS321847
Mileage: 131,000 miles
Exterior Color: Guard Red
All documents are kept

RAUH-Welt BEGRIFF 16pc widebody kit hand crafted and installed by Akira Nakai

• RAUH-Welt BEGRIFF 993 super wide street version body kit with
• Kamiwaza double deck wing
• Nakai's hand-cut RWB letter in the trunk
• fender wing
• Rotana front extended carnards
• Street style front bumper with fog light insert & air duct

Engine:

• Fabspeed 993 sport headers
• Fabspeed 993 Catbypass X-pipe
• Fabspeed 993 Supercup exhaust system
• Fabspeed 993 Carrera Heat Duct & Fan Block –Offs
• BMC air filter
• Brand new spark plug wire set
• Brand new fan alternator

Wheel:

• RWB-LA custom 3 piece forged wheel (Front 18×11 Rear 18×13.5)
• Pirelli P Zero tire (Front 265/35/18 Rear 335/30/18)
• Brand new OEM wheel hub+bearing

Suspension:

• JRZ RS-Pro with EHC system
• ERP 993 Front A-arm spherical bearing kit
• ERP Rear spherical bearing cartridge
• ERP solid mounts for carriage
• ERP adjustable camber link
• ERP adjustable kinematics link
• ERP 993 camber plate
• Tarett drop links
• H&R front and rear sway bars
• Porsche GT2 strut brace

Interior:

• CAE shifter (993 Race version)
• Full custom alcantara interior (entire dashboard, door trim, rear side panel, and center armrest)
• RS interior door panel
• RS rear seats delete
• RS light weight carpet
• RWB Los Angeles Roll Bar (race version for 993) powder coated in red
• Momo steering wheel hub
• Sabelt Steering wheel SW-633
• 997 GT3 Cup car steering wheel quick release
• Sabelt GT-600 Carbon Fiber race seat (Driver + Passenger)
• Sabelt 6-point harness
• Porsche OEM guard red seat belt
• Rennline floor board (driver + passenger)
• Rennline full adjustable pedals

Brake System:

• Brembo GT kit with type III rotor
• Front 4 piston 355mm/Rear 4 piston 345mm
• Brembo SS brake line
• Brembo RE-10 pad front + rear

Alarm system:

• Viper 3305V 2-way alarm

Award:

• XS-Carnight (Top 20)
• Autocon 2015 (Finest Porsche)
• Targa Trophy Euro vs. JDM Festival 2015 (Best in show Euro)
• Spocom Anaheim convention center 2015 (Best Euro)
• Spocom Anaheim convention center 2015 (Best Fitment)
• Rennsport Reunion 2015 Laguna Seca vendor display car
• SEMA 2015 Pirelli Tire booth car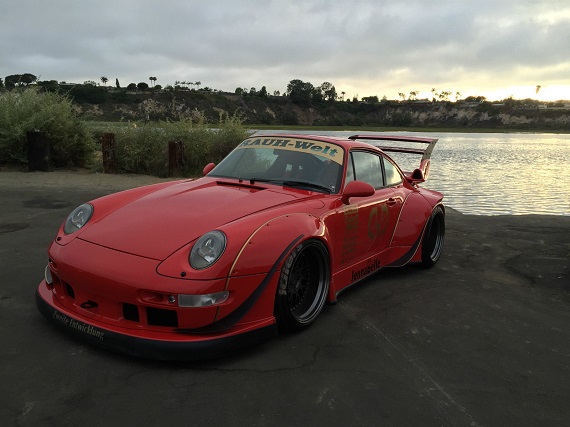 One of the criticisms we frequently see of RWB's designs is that they are generally all for show. The mechanical alterations are minor – well, outside of the suspension changes necessary to fit the design aesthetic. The engine remains that of the standard 993, but with a few bolt-ons. The interior, of which we don't have any photos here, follows a typical racing ideal and probably lessens the weight slightly, but really these cars are all about the looks. Is that a problem? Maybe, but in a world where even your most basic sedan has more power than is actually usable in a road car, I'm generally fine with designs like RWB's that work in a direction entirely focused on appearance, even if the look it emulates is that of much more powerful race cars. They're interesting, well made, and filled with impeccable details. On some cars the designs don't work, but those utilizing the 993 have tended to show excellent execution and wonderful lines. Like them or not, and many don't, RWB has a following that really enjoys its machines and will spend the money for such hand-crafted design. The one here, with an asking price of $175K, is priced above even the high prices we typically see for a RWB and I think it's unlikely we'll see it sell anytime soon, even given its uniqueness. These are expensive cars – when they come up for closer to $100K then they can sell pretty quickly – but I don't know if people will be willing to pay this sort of price given their lack of performance upgrades. But you never know. As time goes by and RWB becomes increasingly recognized and as the price of a 993 continues to rise, then we may begin to reach this sort of demand. Right now, I don't think we're there.
-Rob