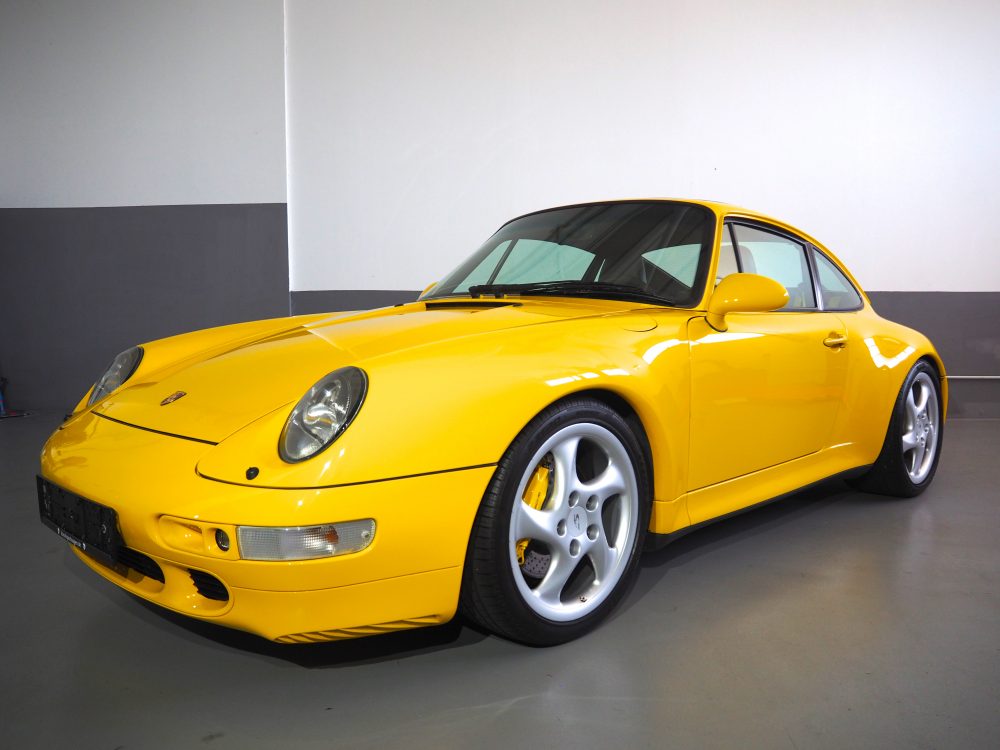 You can file this one under the "strange but true" category. This 1997 Porsche 911 C4S is finished in paint-to-sample yellow. However, this isn't just any yellow. This is literally Ferrari yellow. It says "Ferrari" right on the door jam sticker. Ferrari's name for the color is Giallo Modena because they are Italians, but Porsche calls this Ferrari-Gelb. (Literally Ferrari-Yellow) I would of loved to have heard the conversation in Stuttgart when the buyer asked for a paint to sample in a car literally from a competing brand. My guess is this was a very important person who spent a lot of money with Porsche over the years because Porsche doesn't exactly bend over backwards for anyone off the street and they certainly don't do it for less than those giant bags with '$' on the side of them. Given the paint to sample, you would be correct to guess this one also has some other cool little touches.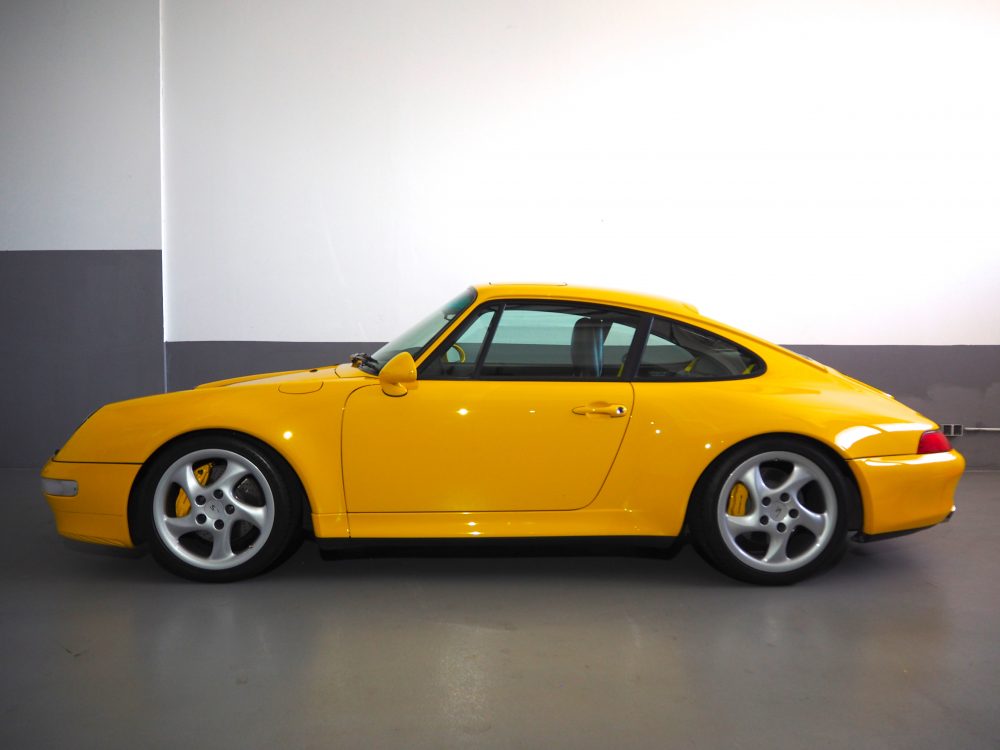 Year: 1997
Model: 911 Carrera 4S
VIN: N/A
Engine: 3.6 liter flat-6
Transmission: 6-speed manual
Mileage: 115,091 km (71,514 mi)
Location: Hameln, Germany
Price: €108,900 ($120,818)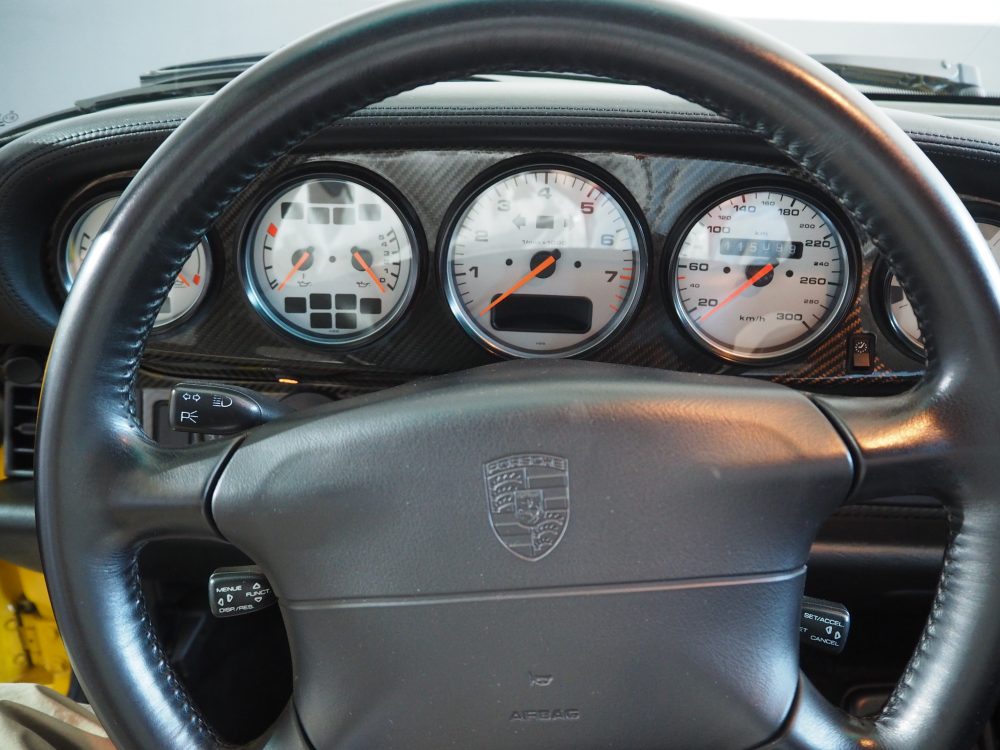 This particular 993 4S is a very special item , if only because of the color. At that time it was still possible to order a Ferrari color ex factory . Unthinkable today.

The first owner has therefore opted for the color "ferrari yellow". What must that be a fun to during a Porsche meeting on this color philosophize. The proof that this is an original, of course, also provided by the plaque in the engine compartment (see photo).

31 !!!! additional extras were ordered. 18 of them from the Porsche "Exclusive Department".

The Porsche was first registered in the US in 1997. The first owner had the car 15 years. In 2012, the 4S was imported to Germany and since then it is in a collector's hand.

The vehicle has been rebuilt to EU standards: new EU taillights, rear fog light, EU bumpers and km / h speedometer. All work was carried out at an official Porsche Classic Partner, with invoices and photo documentation.

Everything fits in this Carrera. Technically, visually and historically at the highest level. Of course, the car is absolutely dry because all engine seals have been changed.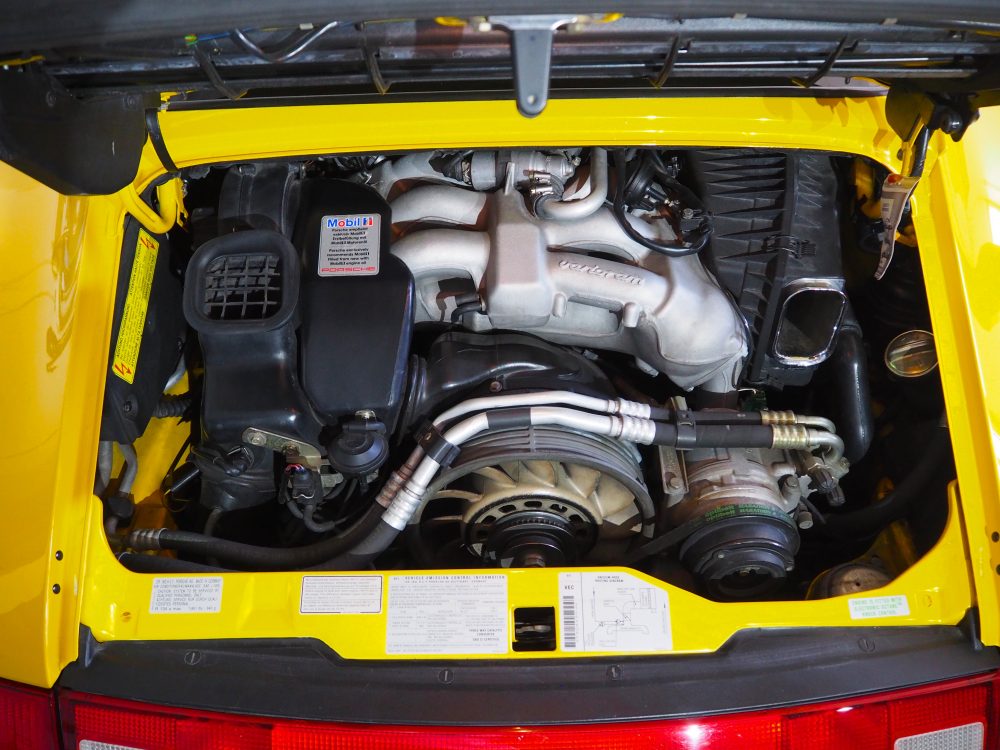 This car is in Germany, but it was originally a US-spec car that was exported back to Germany in 2012. Other than the Ferrari yellow paint, this one also has matching seatbelts, silver gauges with a carbon backing, C4S door sill plates, and a couple other little things. It does have a fair amount of miles with 71,000, but nothing crazy. I'm not alone in loving the looks of the 993 C4S, and the matching calipers under the 18″ turbo-twists finish the car off great.
So it is pretty clear this dealer is charging a premium for this paint color. Really nice C4Ss can touch $100,000, but those are for the 7,100 mile cars, not the 71,000 ones. This car has an asking price €108,900 ($120,818), which seems really high. Like $35,000-40,000 too high in my eyes. You can buy a 993 Turbo for $100,000 all day, so unless you one of those people who has to have all their cars from all their brands in the same color, this one is vastly overpriced. The good news is there are plenty of other cool colors out there.
– Andrew