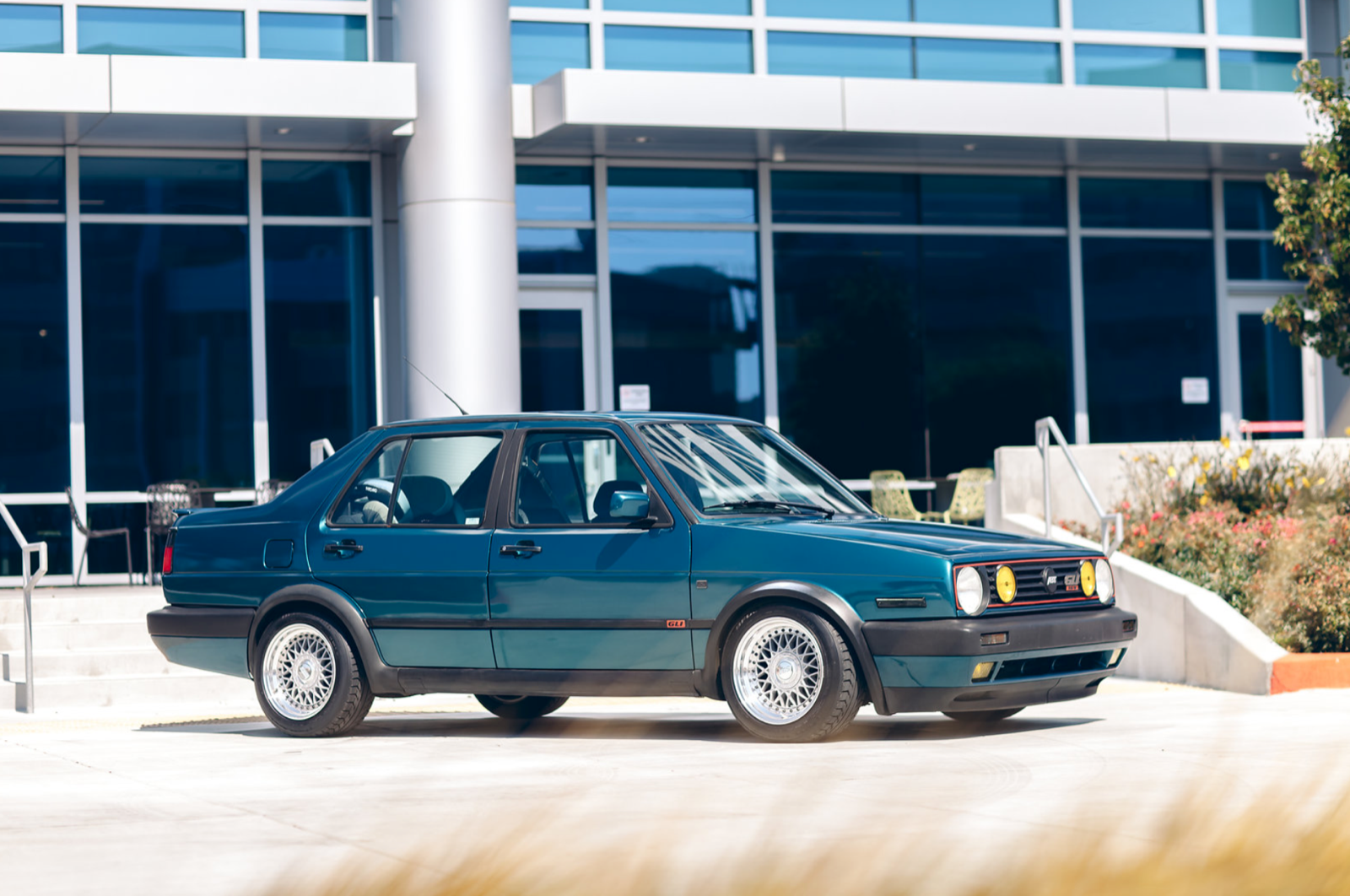 Over the past few weeks I've taken a look at both the special '89 Wolfsburg Edition Jetta GLI 16V and a '91 GLI 16V. Both, ultimately, were lacking. The '89 suffered from a plethora of mods but not a look quite perfect enough to be a show car, while the '91 had a lot of needs as it had been hobbled together. So it's a bit interesting to see another GLI 16V pop up.
Like the July example, this is a later 'big bumper' car. Like the '89, this one has quite a few modifications from stock and is a special color. But perhaps because of slick photography, bigger dollar mods or the spectacularly 90s LA6U Capri Green paintwork, this one pulls it off: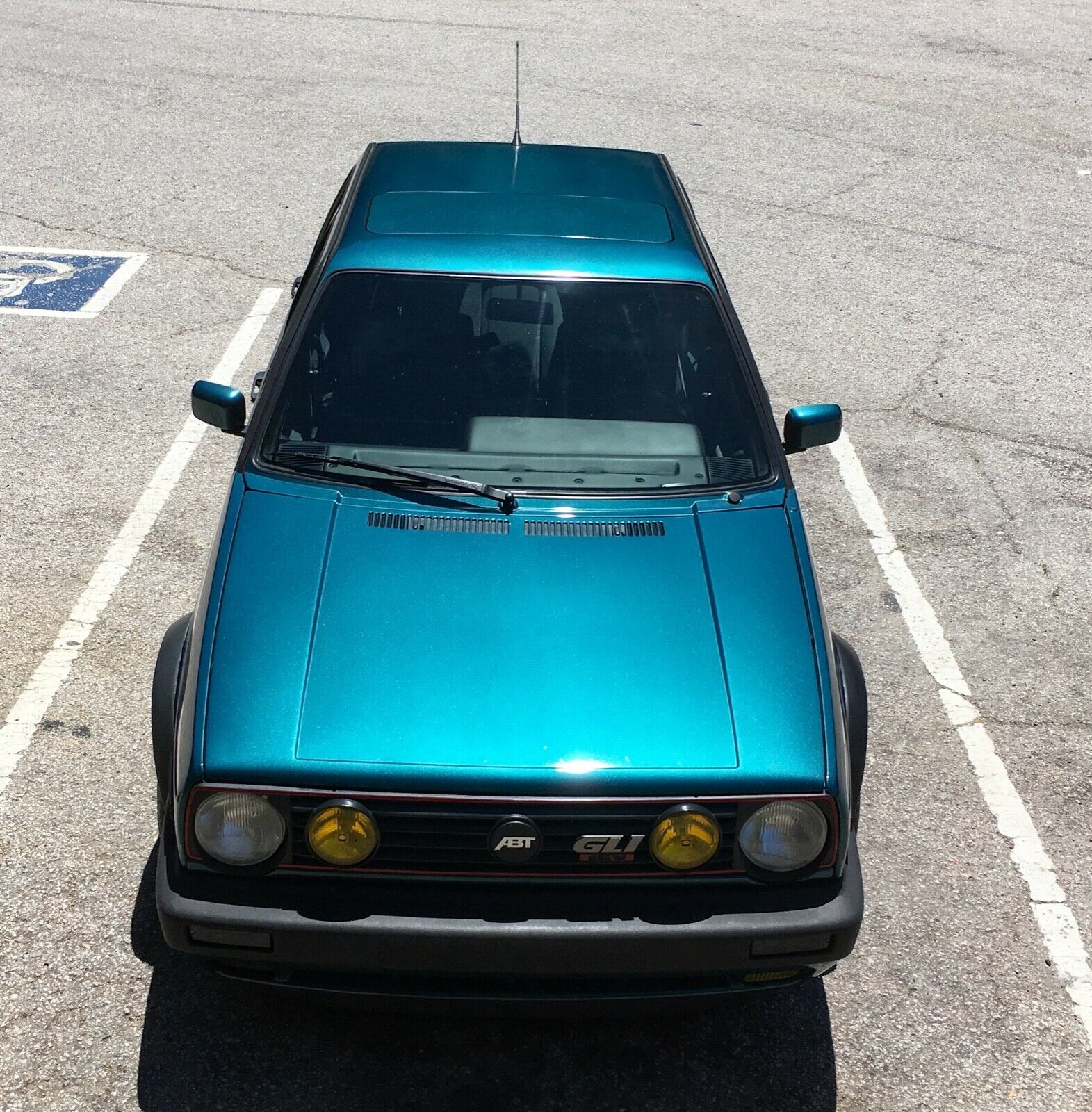 Year: 1992
Model: Jetta GLI 16V
VIN: WVWTE21G8NW015226
Engine: 2.0 liter inline-4
Transmission: 5-speed manual
Mileage: 122,531 mi
Location: Menlo Park, California
Price: $14,500 Buy It Now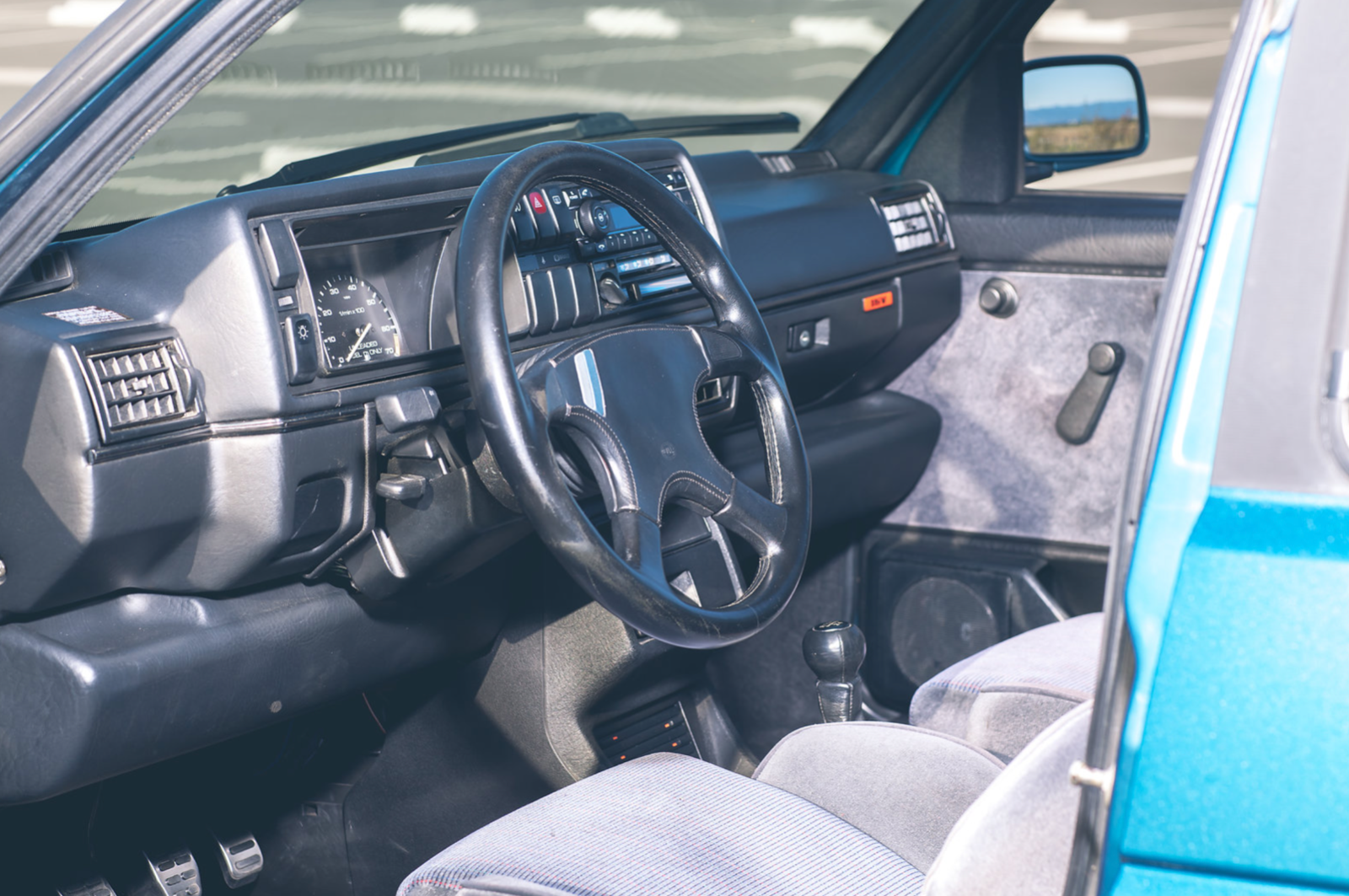 Jetta Mod List

Engine:

ITG filter

Neuspeed CARB Sport Camshaft

Remus exhaust header w/cats

Techtonics Tuning exhaust

50mm Euro intake manifold

Eurosport airbox

OE stainless fuel lines

NRG ground wires

Powder-coated intake manifold and valve cover

G60 Power Steering Reservoir

Mild wire tuck

Handling/Brakes:

Neuspeed swaybars (front and rear)

MK3 VR6 front strut tops

Koni coilovers

Custom wide lip BBS RM rims with Toyo T1-R tires

H&R wheel bolts

Eibach front camber kit

Autotech adjustable upper stress bar

Eurosport rear camber kit

Neuspeed 4 point Rear Stress Bar

Eurosport Front Lower Bar

Autotech Clubsport Control Arms

Autotech Rear Poly Bushings

Autotech Stainless Brake Lines

Billet battery relocation kit/optima battery/kicker terminals

Drivetrain:

USRT Smartshift2

Autotech HD transmission mount

Peloquin LSD

Black Forest Industries clutch with lightweight billet flywheel

Exterior:

New factory paint

Quad headlight OE red-stripe grille with Hella French fog lights

GLI grille badge

Color matched armor plates

Hella outer headlights

Bonrath mono wiper

LED headlights/high-beams/brake/taillight/reverse lights/license plate lights

LaminX foglight film

Hella smoked tail lights

Fifft smoked turn signals

ECS Smoked banana lights

Remus exhaust tip

ABT grille badge and tail badge

G60 flares

Porsche script door handles

Interior:

Hella leather steering wheel

Momo hub adaptor

Kicker/CDT/infinty speakers/sub/crossover

Kienzle head unit

Soundstream Amp

Brushed aluminum door pins

Retrofit early GLI trunk carpet

Retrofit early GLI black c-pilllars and sunroof crank

ABT pedals and dead pedal

ABT door pins

Fischer CD console

Euro instrument check panel and headlight leveling switch

GLI plaque

Votex cabin filter

Hella smoked dome light

Misc/Fluids:

Motul/Redline

2678 pounds

—————

1992 Jetta GLI Costs

New OE shift boot: $45

New OE key: $16

Antenna Mast; Mast Only; Screw-On $13.44

Brake Pad Set; Front; OE Supplier Compound $54.00

Brake and Clutch Pedal Pads $3.00

Fog Light Bulb; H3 Halogen; 12V/55W with Wire $2.87

Radiator Mount; Upper Right $5.58

Behr Radiator; 675mm Core with Angled Lower Outlet $77.69

Spark Plug Wire Set; OE Type with Coil Wire $152.39

Europsport Front Lower Bar: $89

Neuspeed P-Chip: $109

Neuspeed Sport Camshaft: $149

Neuspeed front sway bar: $100

Neuspeed rear Swaybar: $125

H&R Spacers (5mm front, 10mm rear) wheel studs: $191.00

K&N air filter: $54

BBS center caps: $120

OE Wheel stud caps: $25

Rear OE GLI emblem: $25

Front OE GLI emblem: $63

Rear OE VW logo: $39

OE Speaker Grilles: $69

16V interior badge: $22

Windshield repair: $85

Owners manuals: $40

Windshield repair: $85

Outer window scrapers (pair): $60.00

Inner door seals (front pair): $90.00 shipping $20.05

GLI side badges (pair): $45

OE quad headlight grille: $110

Kamei eyelids: $179

Hella inner fogs: $52

Hella outer headlights: $40

Sylvania Silverstars: $20

OE Round light core support: $129

Techtonics roller chain hanger: $18.99

VW logo key ring: $11

Door handle seal: $15

Touch up paint: $23.87

Brake boot: $35

Headlight conversion harness: $65

Rear door seals: $50

New MFA LCD: $69 +$75

Toyo T1R tires – $245

Radiator fan switch – $25

Various Redline/Motul/Mobil: $120

Acc. Belt shield: $40

Hydraulic motor and transmission mounts: $134

Bonrath mono wiper: $100

Clubsport MK2 Control Arm Kit: $139.97

Stainless Brake Lines: $109.17

Rear brake rotors: $73.47

Poly rear shock tower bushings: $27.97

Armor Plates: $50

Ignition Sender: $25

Hella 7" H4 Headlights $124

Rear bench: $250

EGR valve: $20

Remus Exhaust Header: $310

O2 and Knock sensors, various gaskets: $47

ECS front suspension refresh kit: $76

Eurosport nutsert kit: $27

Kicker/CDT speakers/sub/crossover, Alpine Amp, Bluetooth integration: $1,200

OE Emergency kit: $35

Misc. fluids/engine mounts/radiator/egr labor: $495

LED headlights/highbeams/license plate lights: $450

Door pins: $20

Dashboard swap: $250

Neuspeed endlinks and bolts $80

Eibach alignment kit: $41

Eurosport rear camber kit: $52

Paint: $1,800

Hella momo steering wheel: $159

Spoiler plugs: $25

Headlight film: $17

Rain drip rails: $300

Floor mats: $140

Sunroof Seal: $79

Antenna Base: $26

Transmission inspection hole plug: $15

Dashboard and heater core: $450

Exhaust manifold and engine mount labor: $600

New window scrapers and climate control panel: $100

Door handle trim: $53

New speaker grille, momo hub, and trunk trim: $90

Power steering hose and rear strut mounts: $93

Sunroof handle – $15

Black c-pillar trim and fuel dist. cover: $80

Headlight adjuster: $53.23

Lower headlight trim support: $38

Sunroof cables: $61

Mechanical service (power steering, sunroof, engine timing, rear spacers, injector seals) $680

Wolfsburg emblems: $40

Kienze Head Unit: $230

Fischer CD console: $160

BBS valve stem caps: $23

50mm intake manifold $230

New distributor, pressure switch, PS leak repair $414

USRT Smartshift2 $185

Eurosport airbox: $125

Euro instrument check panel: $14

Peloquin LSD: $675

ARP bolts: $139

Black Forest Industries Clutch/flywheel: $399

Kamei Golf ball shift knob: $35

Hella smoked tail lights: $300

Hella smoked signals: $110

ECS smoked banana lights: $29

Remus exhaust tip: $149

BBS Rims: $1,700

Headlight adjuster switch: $20

Autotech strut brace: $145

Accordion shift boot: $22

BBS valve stem and caps: $55

Neuspeed 4 point rear brace: $400

Heated seat switch: $49

New OE grille with Hella French foglights $450

Votex cabin filter: $165

Hella smoked dome light with delay: $40

Infinity sub: $165

ABT rear emblem: $30

Soundstream amp: $165

Koni coilovers: $550

Techtonics plug wires $75

New axels, hubs, Power steering pump and front bearings: $500

DPR fuel pressure regulator adjustment: $100

New front bumper: $230

New front wheel bearings, axels, power steering pump, and tie rod ends: $400

Labor for suspension overhaul including new coilover install: $1,200

Alignment: $100

New rear bumper – $250 + $250 paint

G60 flares – $370

Porsche door handles – $250

Replacement inner fender – $702

Powdercoated intake manifold, valve cover and rims with new brake fluid and coolant reservoirs: $700

Tires: $280

Porsche door handles: $400

Replace fuel distributor and trouble shoot/replace plug wires (arcing) and vacuum leaks: $1,100

Replace IAC valve: $600

Window scrapers (rear): $125

Seat bushings: $60

Fix fog lights and door handles: $200

P.O. (108k miles)

New water pump

New alternator

New timing belt

New plugs, distributor, cap, rotor

New air filter

Oil change

Coolant change

Vacuum leaks fixed

New thermo switch

New air box assembly

New fuel pump and filter

New battery

Reinstall carpet

New wiper blades

New tires

Corrado steering wheel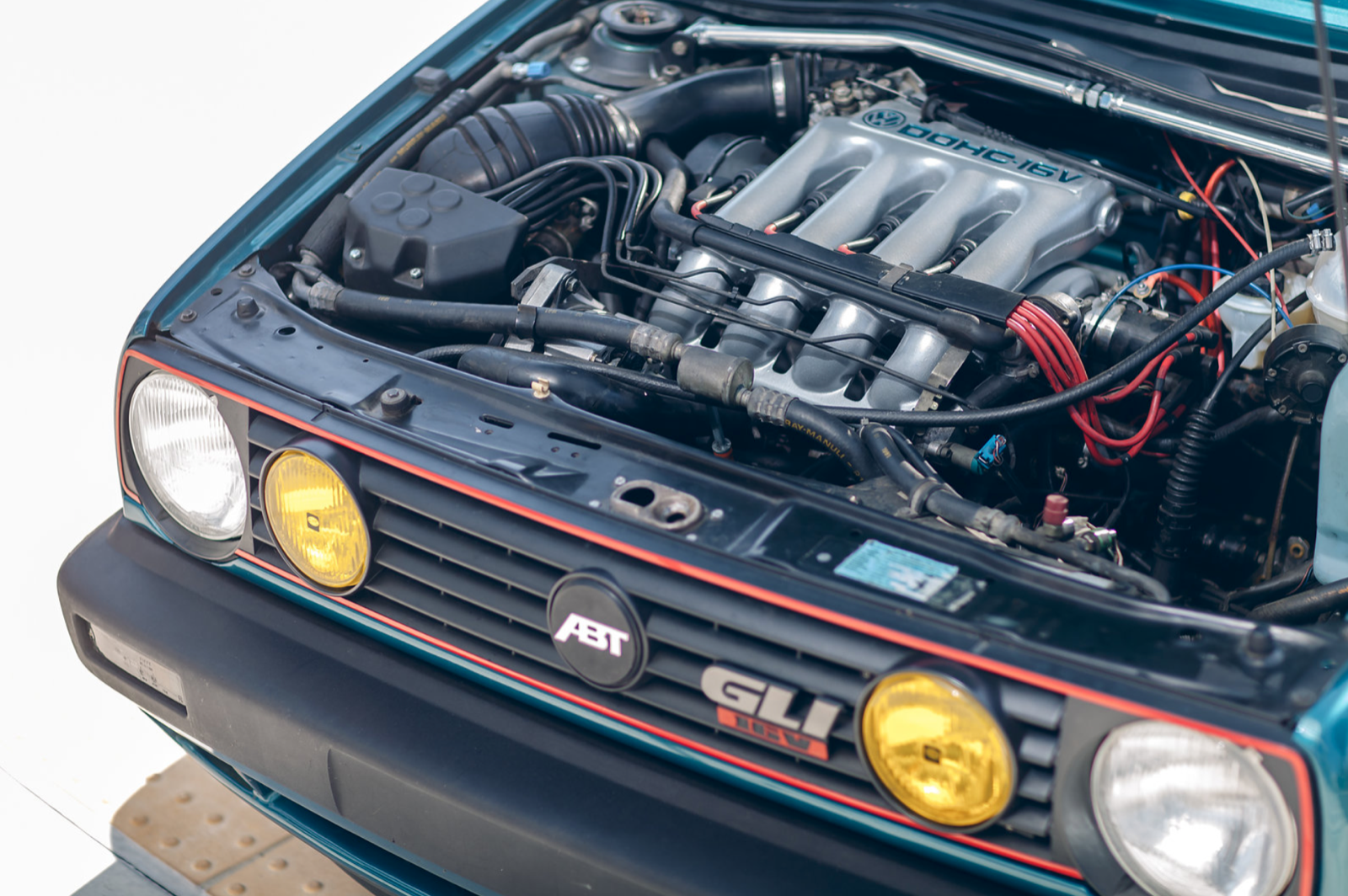 Many things can make a car for me, but let's start with the color. Capri Green was effectively the Jetta's version of the GTI's Montana and it's a great color. It's matched well by the BBS RMs, which have been custom widened and have flat caps. Truth told I'd rather have a stock set, but the look is much better overall than the last two Jettas. That's also helped by the wider G60 flares and lowered ride height. The 4-headlight grill looks a bit cleaner here than it did on the '89 because it doesn't have the lower lip and the big bumpers correctly are carrying their fog lights. The ABT badges are a rare and neat touch, as is the Bonrath single wiper. Inside the car is accented by the Hella steering wheel, a few more ABT touches and it's interesting to see manual windows instead of power on a late GLI.
Mods aren't limited to visual appeal, though, with a LSD, hotter cams and exhaust, coilover suspension and some other nice details. Reading through the changes is literally like browsing through a 'who's who' of 90s VW tuners and this car pretty much has it all. Beyond that, though, I'm glad they retained the 9A instead of swapping to the VR6 as many do. It all pulls together very well and while there are a few things I'd personally change, the vision on this build works. It would certainly draw a crowd at a show, and it's priced as a show-quality car would be. Would I pay $18,500 for this car? Probably not and the asking price undoubtedly limits the pool of people this appeals to. But unlike the price on the '89, I can see why this car could be worth that amount to the right person – and in this case, a person who doesn't already own it.
-Carter