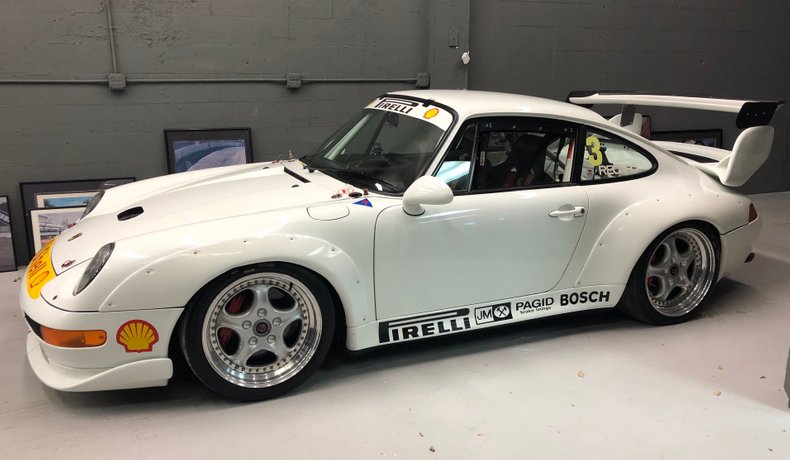 While for some the Turbo S and GT2s are the pinnacle of 993 performance and desirability for understandable reasons, for me it's the Supercup cars that really excite. Building on the 964 Cup design, the 993 received a special version of the Carrera RS's 3.8 liter M64/20. Dubbed the M64/70, a plastic intake, hotter cams, no cats and a unique non-MAF Motronic computer yielded 315 horsepower. Then, just as they had with the 964, Porsche upped the ante again with the 3.8 RSR. The RSR had an even more unique motor – the M65/75 – which went to a aluminum resonance manifold and individual throttle bodies and hot cams to produce 349 horsepower. You could opt for three different specifications for sprint or endurance, and two different transmission options (one with additional cooling). Outside, in addition to the Cup splitter and giant rear spoiler, the RSR featured GT2-esque tacked on flares covering massive 18″ BBS center-lock magnesium race wheels. It was, in all, a very special package and a claimed 45 were produced.
The thing is, this isn't one of them. Well, sorta…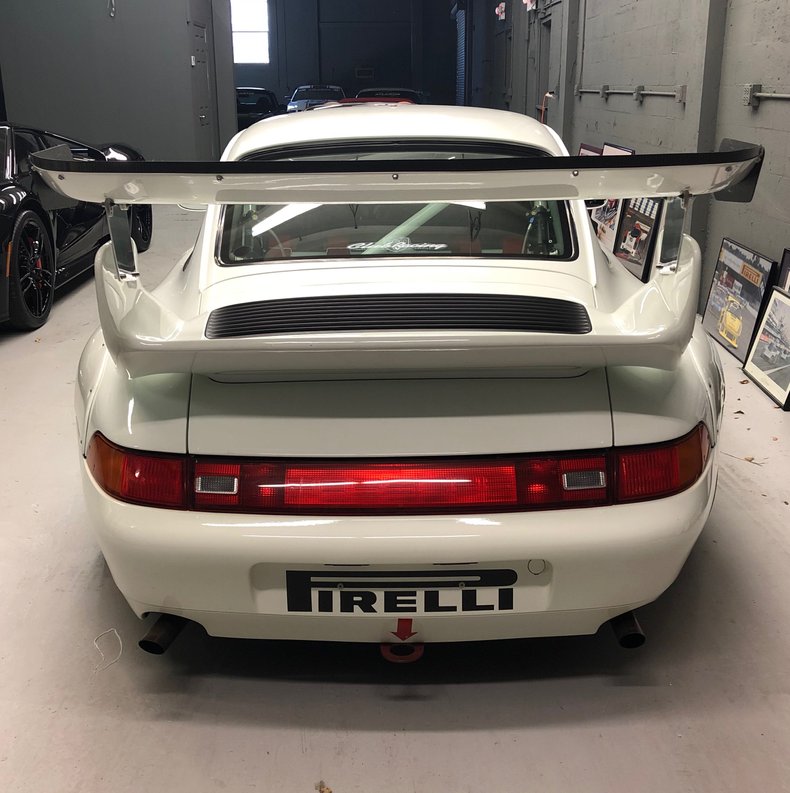 Year: 1995/1997
Model: 911 Cup 3.8/911 Cup 3.8 RSR
VIN: WP0ZZZ99ZSS398084
Engine: 3.8 liter flat-6
Transmission: 6-speed manual
Mileage: Not Listed
Location: West Palm Beach, Florida
Price: $499,000 Buy It Now
1995/97 Porsche 993 3.8 RSR

The cars history starts with the original owner contacting Jurgen Barth of Porsche in 12/20/1994. His request as an individual customer, was to purchase a new 993 SuperCup.  As these were only being produced and sold to entrants in the European Porsche Cup series, his initial request was denied. Further requests to Alwin Springer, Director of Porsche MotorSports North America (PMNA) finally made the purchase possible and the sale was approved by Jurgen Barth in April 1995. The car initially offered was not white, but the original owner persisted in his request for Grand Prix white. His persistence paid off.

This was the first 'permanent resident' 1995 993 Cup 3.8 delivered to the USA. The first owner of this 911 Cup 3.8 was John Ruther, the owner and President of NorthStar Motorsports in Lake Barrington, Illinois, and former President and current Director for the Chicago region of Porsche Club of America (PCA), as well as the longtime Chief Driving Instructor. It was raced in Porsche Club Amateur racing events and never raced professionally.  During the 1996 race season while at Road America, John Ruther and Alwin Springer met to discuss developments for the 1997 version of the Naturally Aspirated (N.A.) Cup Car. In their discussions, Alwin told John about the new RSR engine. The new engine was extensively different from the prior version.  The prior version was the M64/20 and the new version would be a M64/70. The prior version could not be upgraded and to be swapped out. In 1997 the car was returned to PMNA where a M64/70 version of the motor was installed. This engines output was 390 HP. Also installed by the factory was RSR bodywork and suspension components. Thus making this car the only 1995 tub Cup Car with the 3.8 RSR motor, suspension and bodywork, authorized and built by the factory.

The original owner later upgraded to Evolution (EVO) bodywork and a slide valve induction system. The prior induction system was kept for use as needed at specific racetracks. The engines output now was 410HP. Slide valve systems are very rare and they require a special EMU to operate.
This car is the most fully developed N. A. 993 Cup car authorized and built by the factory.

Includes all documentation from the first letter requesting a car in 1994 to present day is maintained and cataloged: from letters, faxes, emails, and receipts.

The story of how the car came to be was published in Excellence Magazine. We have two mint and one working copy of this issue.
Adrians Streathers' book: The Essential 993 referenced this car many times. We maintain a copy of this oft quoted reference book.
Original PORSCHE parts manuals and operating manuals have been maintained in their original condition.
The interior, race seats and harness belts are all original.Â
Additional specs some possibly duplicated:
1995 Porsche 911 Cup RSR 3.8 Evo
Chassis no. WP0ZZZ99ZSS398084
Â
One of the last of the air-cooled 993 RS based factory-built Cup cars
The only 1995 Cup car upgraded to 1997 RSR Evo specification
Upgraded by Porsche Motorsports North America (PMNA)
Only two owners since new; never professionally raced
Never crashed and only campaigned in club racing events
Includes extensive documentation from PMNA and original correspondence between the first owner and PORSCHE representatives.
Â
Porsche Cup cars are extremely low production models to begin with. In this case, a 1995 993 RS was pulled from the assembly line to create this all-out Carrera Cup race car. Between 1994 and 1998, approximately 374 993 Cup cars were produced, of which a significant number of them have since been written off in racing incidents or modified from their original factory configuration during competition use.
Â
During 1996 Porsche continued to develop improvements for its Cup cars.  In 1997, Porsche produced only a handful of RSR Sprint type engines for selective use in 1997 Cup cars. They are a singularly unique engine. The sprint motor is a highly modified 3.8-liter engine with special heads (two valves per cylinder), special camshafts, intake system and butterfly valves. It contains mostly R type Porsche racing parts, including many that are fabricated by hand and some created out of titanium. The engine is coupled with unique resonance-controlled intake runners producing approximately 390 horsepower (SAE). Porsche made additional changes to the RSR in 1997, so they were also made to this car – installed by Andial. These included extensive bodywork, center lock wheels, and suspension upgrades using Porsche "R" parts as installed on the RSR for 1997.
Â
The original owner then added a Teilert Engineering slide valve induction system, shelving the butterfly valves. Only a handful of these systems were hand-crafted by this German Engineering firm. The Cup Motronic ECM was also replaced by a Porsche ECM modified unit to accept this induction combination. With this setup installed on a Sprint motor it produces approximately 410 hp.
Â
Complete and original documentation, invoices and correspondence with Porsche executive management accompany the car. Porsche only sold Cup cars to those who would participate in their racing series, however this car never competed professionally. It has been driven by only two owner-drivers, exclusively in amateur events and has never been in an accident.

The list of spares is 18 pages long.

This car qualifies for all vintage racing, and is ready to race today.

For more info Call or email 877-894-4420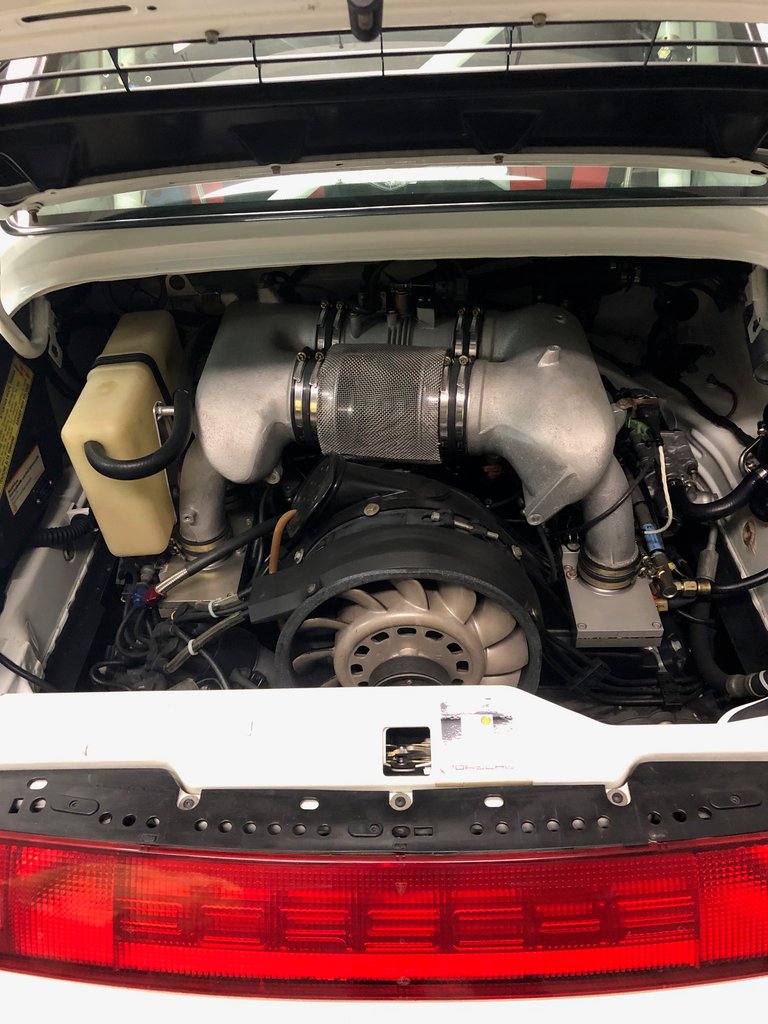 So this car is a bit confusing from a collector standpoint. I've actually looked at it before; back in 2016 it was more accurately listed as a '95 and the seller was looking for $729,000. This was in part a reflection of Seinfeld's 3.8 RSR $935,000 selling price in March, 2016. The thing is, this car is a bit of a Hodge-podge of admittedly very desirable parts when compared to Seinfeld's pristine and original example. It wears later Evo bodywork and has undergone constant upgrades. It has the Supercup wheels rather than the BBS units. And the seller seems confused on their engine numbers. I'll admit, it's easy to do – but they claim the engine was a M64/20 and was swapped to the 'new' M64/70. Well, I'm pretty sure that the M64/20 is the Carrera RS motor and the M64/70 is the standard Cup 3.8, so either this car has the original motor in it for the Supercup or the seller is wrong. The aluminum plenum would seem to indicate they're incorrect rather than the motor is the wrong one.
It's been on the market more or less constantly for the past few years; besides when I looked at it in 2016, it came up for auction last October with a $250,000 – $275,000 estimate but was a no-sale. Is it a half-million dollar example today? I'd have to believe it is not. While it's not unusual for race cars to be upgraded over their life – rather, it should be expected – infrequently does it add to their value. At the end of the day though, with the Andial connections and the fact that it is, underneath, still a factory racer, it should still be worth a pretty penny but probably not more valuable than original cars. A more special and original Guards Red example sold for $357,000 in 2017, while other examples are on the market from $250,000 to $400,000. I think we'll see this interesting bit of kit remain for sale for some time.
-Carter