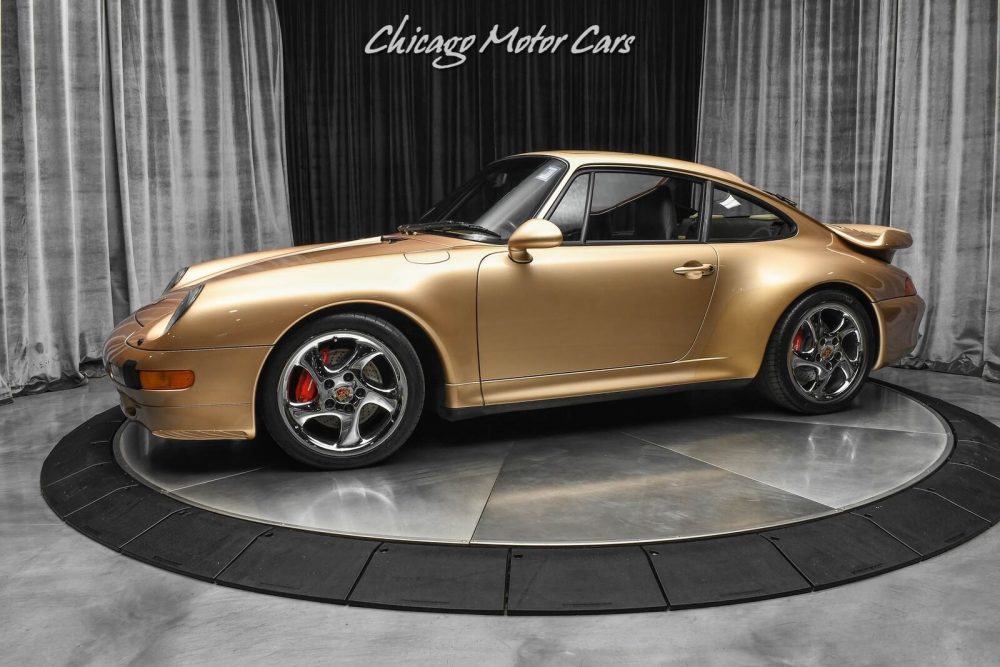 Paint-to-sample examples are usually my favorite cars to look at. They almost always have some kind of unique twist that sets them apart from the standard color range and I'm mostly all for them. Mostly. Today is not one of those cars.
This is a 1997 Porsche 911 Turbo finished in paint-to-sample Gold Metallic. That might be the most literal description of a color ever. There is no denying this is a gold car and boy, is it not shy. Sometimes you can get away with having a gold car, but I think this is probably one of my least favorite shades ever, especially on a 993 Turbo. However, it doesn't end there. Just wait until you see what the picked for the interior.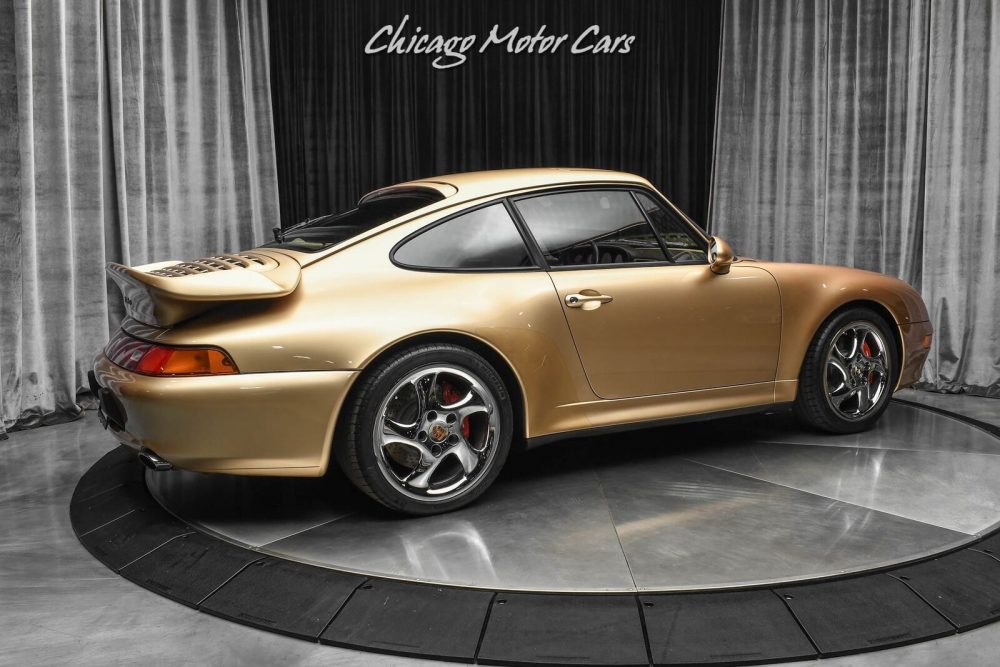 Year: 1997
Model: 911 Turbo
VIN: WP0AC2994VS375894
Engine: 3.6 liter twin-turbocharged flat-6
Transmission: 6-speed manual
Mileage: 41,298 mi
Location: West Chicago, Illinois
Price: $219,800 Buy It Now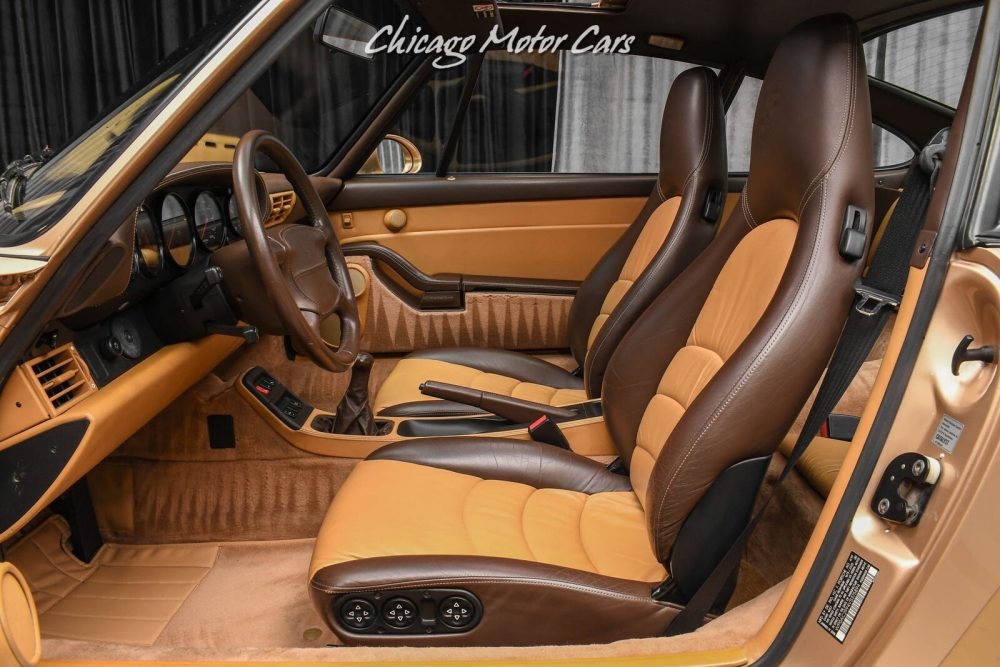 1997 Porsche 911 Turbo 993 Coupe

​Paint to Sample (PTS) Gold Metallic Exterior over Two-Tone Cashmere/Mocha Leather Interior

EXTREMELY RARE PAINT TO SAMPLE 993 911 TURBO COUPE! FULLY SERVICED!
OWN A PIECE OF PORSCHE HISTORY! VERY RARE FACTORY COLOR COMBO!

FACTORY OPTIONS INCLUDE:
XK7 – Shift Knob and Boot in Leather

XMA – Leather Headliner

XN1 – Leather Door Package

XN2 – Leather Door Handles

XN3 – Side Air Vents in Leather

XN4 – Center Fresh Air in Leather

XN7 – Brake Handle in Leather

XN9 – Sun Visors in Leather, Lighted Mirror in Right Sunvisor

XP9 – Leather Door Package (Speaker Grilles) in Leather

XV1 – Defroster Trim in Leather

XV2 – Triangular Trim Near Vents in Leather

XW6 – Leather Door Package (Finishers) in Leather

XW8 – Leather Door Package (armrests) in Color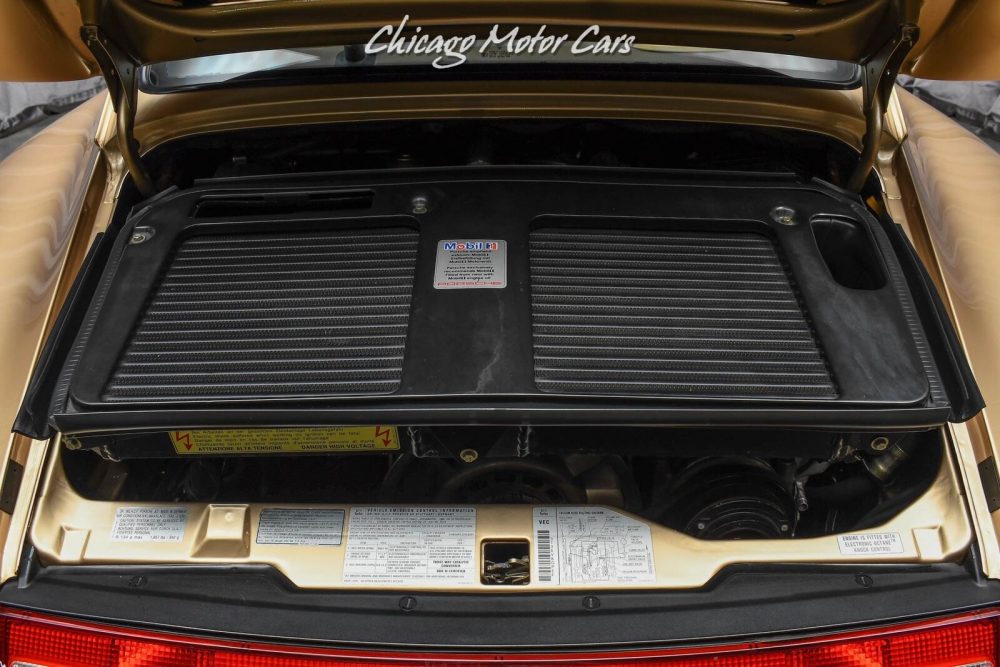 I suddenly want some peanut butter cups. Make no mistake, whoever ordered this car had something for the shade of gold. The interior is nothing short of shock with the contrasting tan and brown every where you look, to the point of it is almost distracting. I know you never look a gift horse in the mouth, but this would be a tough buy no mater what the price. Thankfully for most, this won't ever be a consideration.
The asking price here is $220,000, which is shockingly high. Just because something is rare doesn't make it automatically worth a bunch more, especially on something as garish as this color combo. If this was a normal factory color, I would peg it between $130,000 and $150,000 given it has just 41,000 miles. I'm just not seeing where the extra money comes from seeing how this is a hard pass for almost everyone. Your thoughts?
– Andrew