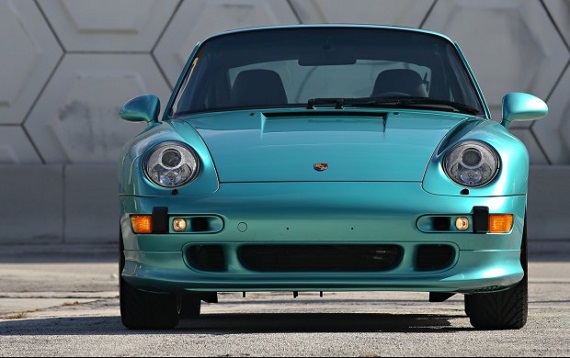 Rare cars in rare colors are a perennial favorite of ours here at GCFSB. These cars can cause a bit of consternation since, especially in the case of a rare Porsche, they frequently arrive having traveled very few miles, but ultimately the variety of options and interesting aesthetics win us over almost every time. We featured a rare 993 Turbo S a couple weeks back and here we have another of these beautiful and high-powered air-cooled Turbos. Here we have a very pretty Ocean Jade Metallic 1997 Porsche 911 Turbo S with Grey leather interior that is believed to be the only such combination produced for the Turbo S and is set to be auctioned at The Amelia Island auctions on March 13. Like many such cars the mileage is low, in this case a little over 15K miles, and it is in absolutely stunning condition.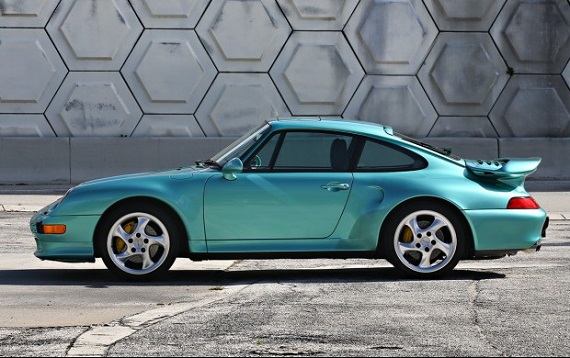 Year: 1997
Model: 911 Turbo S
Engine: 3.6 liter twin-turbocharged flat-6
Transmission: 6-speed manual
Mileage: 15,423 mi
Price: Auction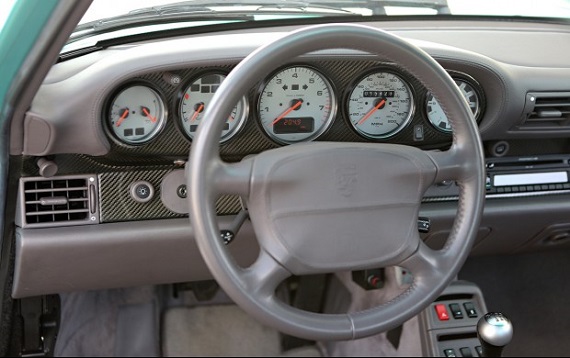 Noted Motor Journalist Peter Egan wrote, "If it didn't exist, there would be nothing remotely like it," referring to the unique design and evolutionary track of the 911. The final development of the air-cooled rear-engined concept was the 993 Turbo S.

Introduced in 1994, the 993 generation of the 911 was styled by Tony Hatter, with a nose and tail that were more aerodynamic than the outgoing 964 version of the 911. Ride and handling were improved due to a new multilink rear suspension system specifically aimed at reducing oversteer. The Turbo S used the twin-turbo motor from the GT2 mated with the four-wheel drive system from the Turbo, which featured advanced electronic control that routed drive to each wheel individually. Comparisons with the 959 – Porsche's technical tour de force the previous decade – were inevitable. When new, the Turbo S was priced 50% higher than the base Turbo, with dealers having to place large deposits to secure examples. At 424 hp, this was among the most powerful production engines Porsche had ever offered.

Built by the Porsche Exclusive department, the Turbo S was distinguished by vented rear fenders, yellow brake calipers, a special rear spoiler, wheels with a polished finish, a four-tipped exhaust system, and an Aerokit front spoiler with special vent and fog-light placement.

This 993 boasts limited ownership and displayed just over 15,000 miles at the time of cataloguing. All service work since new has been performed by authorized Porsche dealers, with a recent service completed in January 2015. Several sources assert that Turbo S production for the US market was a scant 182 cars. Still wearing its factory-original paint, this is believed to be the only Turbo S finished in Ocean Jade Metallic over grey.

The Classic Grey full-leather interior includes leather headliner, sun visors, center console, key rosette, window switches, door sills, speaker covers, and seat switches. Additionally featured are carbon fiber dash insets, instrument surrounds, and door-panel inserts, carbon and aluminum shifter and hand-brake handles, and aluminum-faced gauges.

Documentation is excellent, and books, tools, air compressor, and a Porsche Certificate of Authenticity accompany the sale of the car.

The 993 Turbo S was the final iteration of the air-cooled 911 – the fastest, the most powerful, the ultimate evolution. Historically significant and highly collectable, the 993 Turbo S is at once fiercely capable, yet practical, transportation worthy of the most discerning Porsche collector.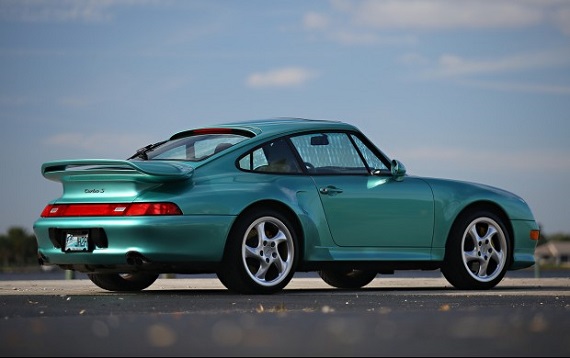 Gooding & Company estimates the value of this 993 at $325,000 – $400,000 and they are usually pretty accurate so that should tell us quite a bit about the market for these cars. Some of the rare and pastel colored 911s have shown the best value in the 911 range so as a potential one-off of the last air-cooled Turbo this 993 obviously has tremendous investment potential. All that remains now is to see what sort of bid it might fetch.
-Rob