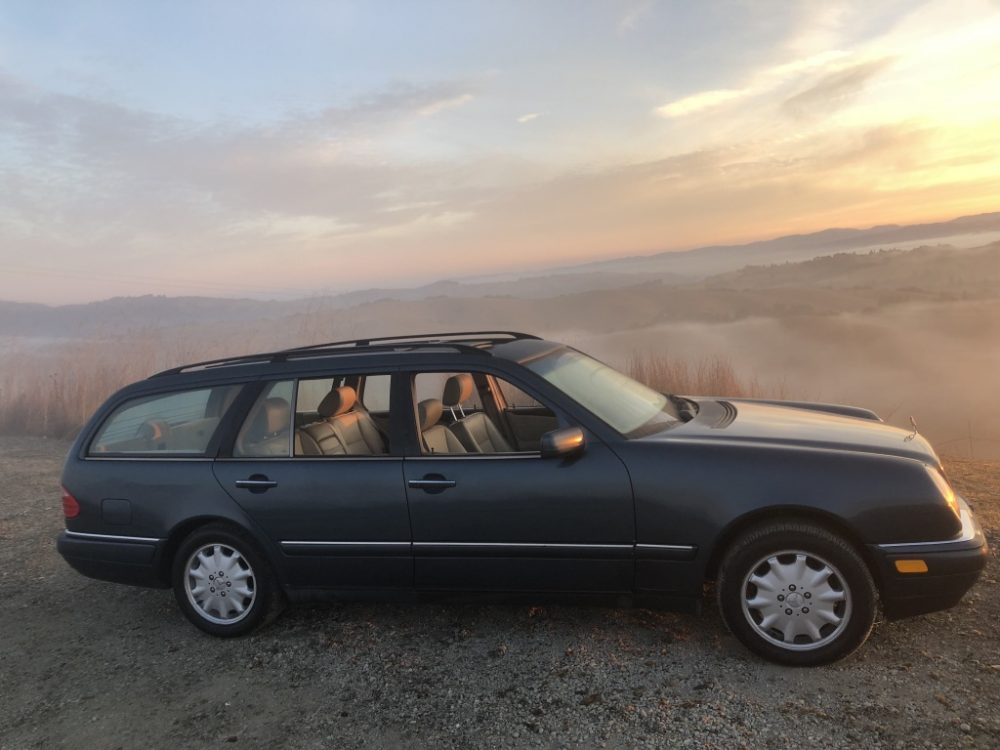 Update 11/29/18: Although it was listed as sold a few weeks ago, this E320 4Matic has been relisted with a Buy It Now of $2,950. Maybe another good chance to get a cheap winter beater if you have access to a steam cleaner!
Update 11/16/18: This E320 Estate sold for $1,757.
Winter is mere weeks away and I'm still on the hunt for a new-to-me winter vehicle to battle the snow and ice. My current winter beater, a 1997 Land Rover Discovery that I've had for the past 13 years, is on life support. Both front fender wells are rusting away at an alarming pace, the 4.0 liter V8 that has been around since the mid-1960s (!) is sounding awfully crunchy and I swear it gets around 11 mpg. I told myself I was going to buy something reliable to replace it, so I started hunting for a Toyota Land Cruiser/Lexus LX470/GX470 only soon to find out that you can't buy one for $2,200 like you can Land Rovers. They aren't all that plentiful on the used market thanks to people taking them to their graves. Well, the time is ticking and I might have to consider options. One of those options is a Mercedes-Benz W210 4Matic because I might as well stick to what I know. Even better, an E320 4Matic Estate would fit the bit quite nicely with the extra cargo space and no one would confuse it with my E55 if I bought one in silver. Well, wouldn't you know this 1999 popped up for sale that would fit my needs quite well. The only problem is that it is 2,600 miles away. Such is life.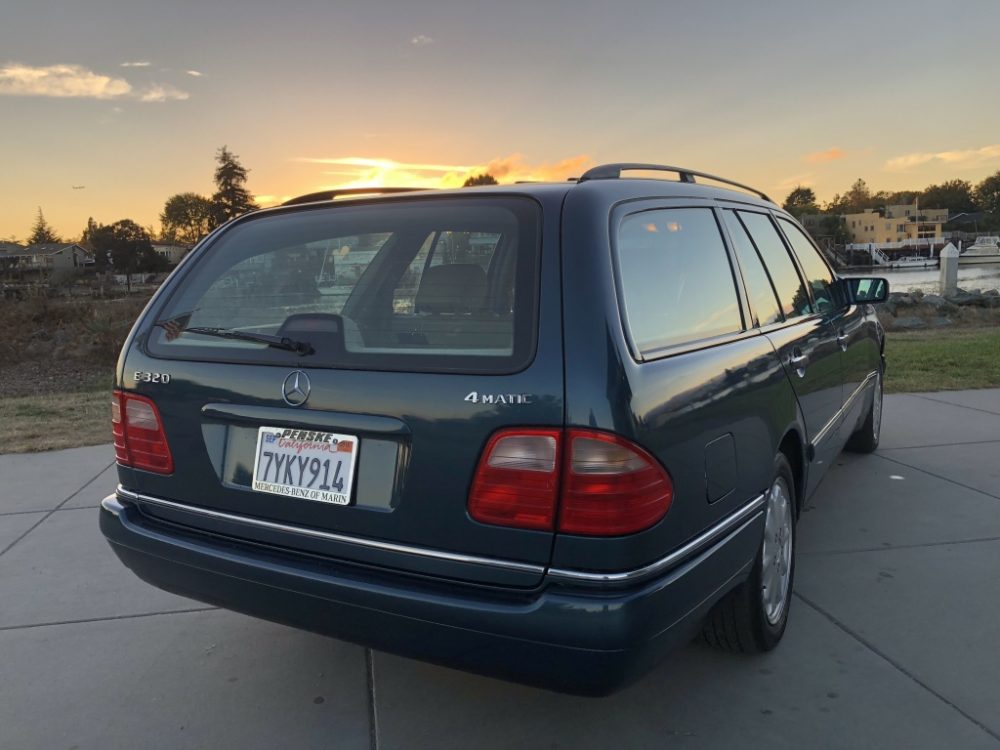 Year: 1999
Model: E320 4Matic Estate
VIN: WDBJH82F1XX025941
Engine: 3.2 liter V6
Transmission: 5-speed automatic
Mileage: 149,723 mi
Price: $2,950 Buy It Now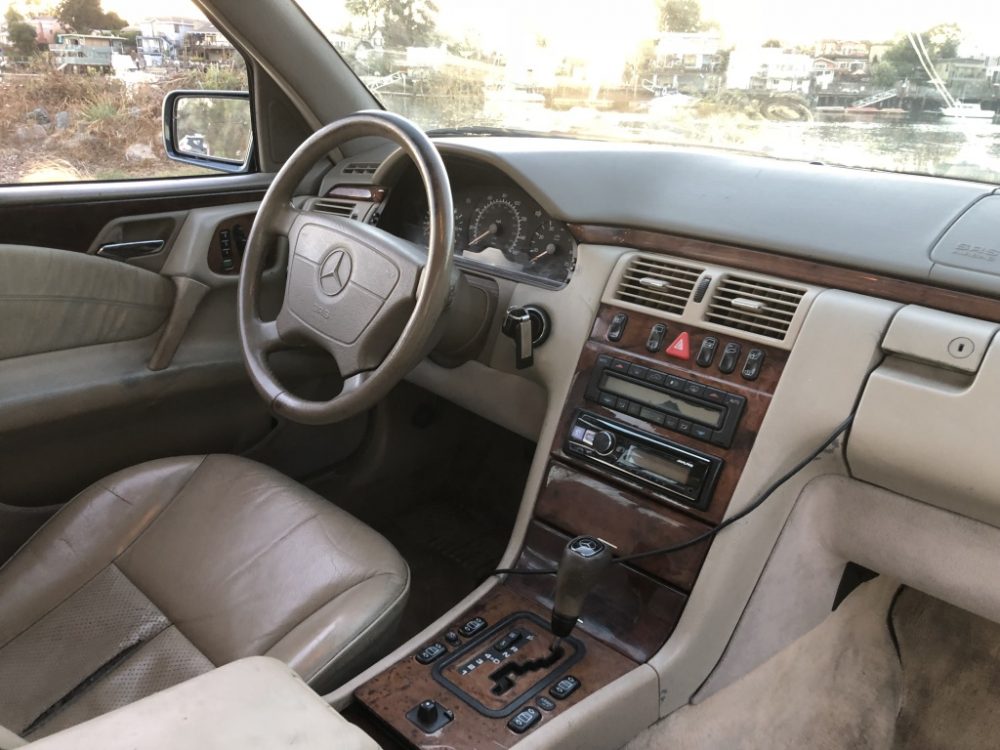 This 1999 MERCEDES E320 4MATIC ALL WHEEL DRIVE WAGON was sold new in the San Francisco Bay area on July 15, 1999. The car is finished in very rare color option #257 Circongruen mica/Dark Turquoise Metallic.
The cabin is trimmed with #205A Mushroom Pebble Quartz Leather with optional Heated front seats with burl walnut accents. Factory amenities include electically adjustable front seats with the memory package which includes the sterring column. It has dual climate controls and a electically steering column,dual air bags as well as side air bags. This car was built in Germany and shipped to California on 5/26/99 as a California spec car which is rare as most ALL WHEEL DRIVE vehicles were sold in the United States to locations where it snows more often than in the San Francisco Bay Area where it last snowed one day over 40 years ago.

This is a California Car which means unlike most of the 4-Matics were sold to areas where they rust out.
If you are looking for a pristine show car this is not it, if you are looking for an affordable sport wagon with All Wheel Drive with a powerful Mercedes V6 with 221 horspower capable of 150 plus miles per hour (so I am told) that gets good gas mileage, that you can take the dogs in, or pack up the gang and take sking or kayaking or mountain biking or any out door activitys and in a pinch all the seats fold flat wnat two pwople can sleep and with space for up to 7 people with 7 shoulder seats belts with all the saftey features like Anti lock brakes, Traction Control and not only front air bags but side front air bags as well with out breaking the bank look no further as this is the car.

The 4-Matics where built in Austria and designed to be the ultimate All wheel drive wagon with the original MSRP at over $50,000. This Mercedes Benz was designed for areas like the Swiss Alps where Ultimate Traction in slippery conditions is a concern this system increases traction and improves performance on slippery roads, or if you can use it like I did for taking my dogs to the beach and to kids sporting events you would never know it is an ALL WHEEL DRIVE vehicle as it drives just like a Mercedes
Why would you buy an over priced Japanese vehicle made by Fuji HEavy Industries in Lafayette Indiana when you could have an actual Mercedes Benz made in Germany/Austria the world leader in high quality luxury automobiles that will do the same thing for less than a preowned Hyundai

This is a fully loaded car with dual power front seats with memory that are both heated with two levels of heat as well as dual climate controled air conditioning and heat where the driver can have the ice cold air blasting at 65 degrees and the other front passenger can have her controls set at 85 degrees. The car has the optional high end BOSE sound system mated to an Alpine CD system and is equipped with an I-pod connection in the glove box. It also has a factory Alarm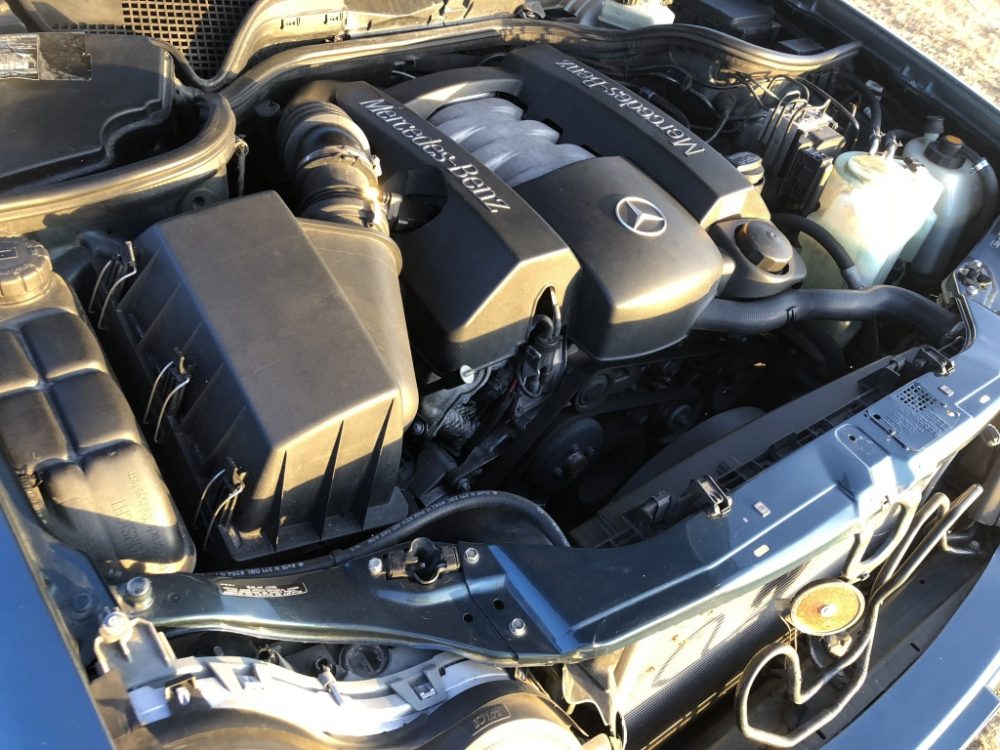 At first glance on the outside of this S210, you would think everything is pretty nice. No rust since it is a California car and no major body damage from what I can see. Then you open up the doors. This is a special level of dirty that is usually reserved for cars on Craigslist that have photos with a thumb over half the lens. I know these wagons were bought to be used as work horses, but that doesn't mean you beat the horse while you are working it. Even the dash has a giant hole in a speaker cover that I had no idea was even possible. Sadly, this car is probably at the point of no return even if you tried to clean it up a little because of how much of leather is ripped and worn away. I'm sure this car having six owners probably contributed to the mess here, but my goodness is it sad inside once was a nice car.
This auction is no reserve and I'm not going to predict any big numbers for this car. The W210 is plentiful in California thanks to the lack of rust that usually kills these cars so it's not like someone is desperate to find one no matter what the condition. If you made me guess I would say it will bring maybe $2,000 if someone really is in love with the color of this car, but I have a hard time even at that price because of how bad the interior is. The photos are amazing, but that ends up hurting the car because it shows how bad everything really is inside. Who knows, maybe this one lives on for another 19 years. No reason it can't — unless you bathe it in salt.
– Andrew