Warning!
This post is in our archives. Links in this post may have been updated to point to similar cars available to bid on eBay.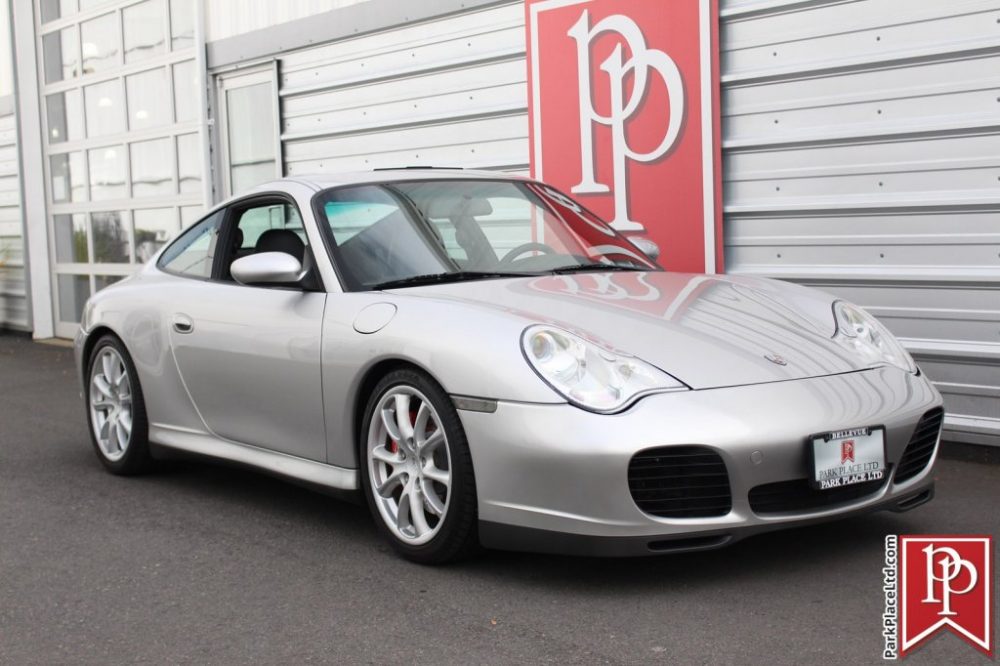 Depending on your location it might be beginning to get cold and snowy (or the cold and snow might be well underway!). That means for many 911s their time in the sun shall now take a brief hiatus as they are tucked into their respective garages awaiting the return of more hospitable weather. But not everyone likes to follow such a tack. For some their 911 must prove capable regardless of what the environment demands. At least within reason.
So I began to think about daily drivers and which 911s could serve such a purpose. Naturally that would lead me to one of the various all-wheel drive models and here I think we have the best all-around candidate: a 2005 Porsche 911 Carrera 4S, located in Washington, with 42,950 miles on it. I suppose if you deal with frequent snow you might want to have a little less power and save a little money so you'd opt for the regular Carrera 4. But that's less fun and the C4S looks better than the regular 4. Also, it doesn't snow all the time and if you live somewhere where it does snow all the time, then get yourself a Defender and let the 911 rest. For cold weather, maybe some light snow, and general fun when the roads are dry go for the 4S. And, of course, it'll be more fun in the summer too!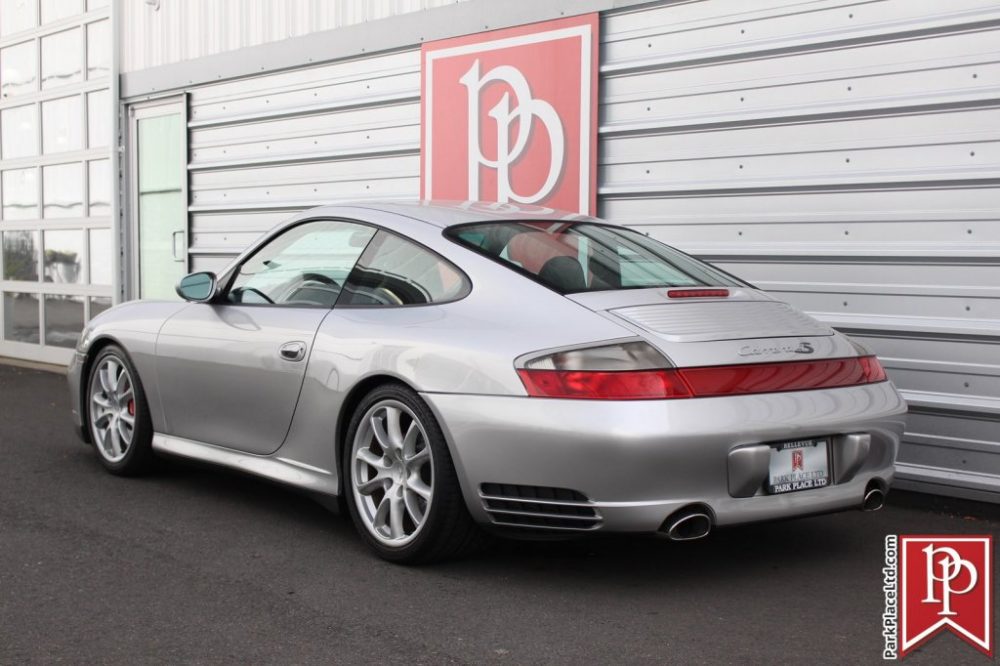 Year: 2005
Model: 911 Carrera 4S
VIN: WP0AA29985S620136
Engine: 3.6 liter flat-6
Transmission: 6-speed manual
Mileage: 43,509 mi
Price: $42,950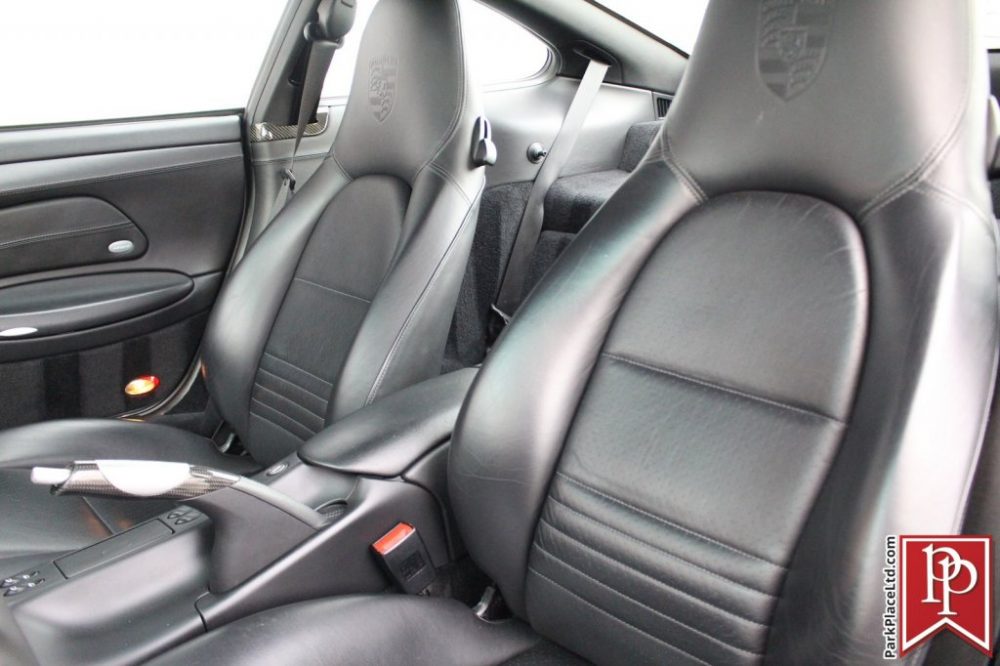 2005 Porsche Carrera 4S Coupe finished in a smooth Arctic Silver Metallic with a Black Leather interior. Powered by a 3.6L 6-Cylinder engine producing 320hp/273lb-ft of torque that's backed by an enthusiast's 6-speed manual transmission and Porsche's revered all-wheel-drive system. Standard Equipment includes; all-wheel-drive, knock sensor, hydraulic clutch, power steering, 18″ wheels, speed activated rear spoiler, 4-piston fixed alloy calipers, vented and perforated brake discs, anti-lock brakes (ABS), fog light integrated into headlights, Porsche Stability Management System (PSM)
with Electronic Gas Pedal (E-Gas) and Automatic Brake Differential (ABD), power windows with one-touch, heatable windshield washer nozzles, carbon filtered ventilation system, dual illuminated vanity mirrors, immobilizer anti-theft system, automatic full climate control with A/C, power heated side mirrors, electronic sliding roof with tilt, and radio with in-dash CD. The Porsche C4S is all Porsche, all the time.

The cockpit of this Porsche maintains basic design themes from the past but boasts cleaner layouts and enhanced functionality, particularly the classic instrument cluster. Though the cabin has a function-oriented layout, upscale materials on the doors and dashboard, and remarkable craftsmanship and attention to detail throughout welcomes both driver and passenger. The black leather seats in front are firmly bolstered and deeply contoured, and are in excellent condition, and partnered with the perfectly arranged and precisely weighted pedals, offer miles of comfortable driving.

As would be expected from Porsche, long known for its unique sports car engineering, the Carrera 4S came in with cutting-edge performance technology. Porsche fitted them with dynamic suspension technology capable of handling high-speed cornering. Engine and transmission employed the latest technology to deliver incredible acceleration while keeping fuel economy reasonable. This car impresses with its refined styling and athletic handling, with strong road grip and minimal body lean. The Carrera's acceleration is particularly impressive — a result of its direct-injected 3.6L flat-six, rated at an impressive 320HP, paired with Porsche's proper 6-speed manual transmission, and delivered through Porsche's venerable all-wheel-drive system. The steering is very responsive and precise, and the race-bred Porsche brakes provide the required stopping power.

For more information on this beautiful 2005 Porsche C4S Coupe or any of our 40+ Porsches always in stock, please contact one of our friendly and knowledgeable sales consultants or feel free to drop by – We Always Have 150+ of the West Coast's Most Exciting Luxury, Exotic, Sports and Collectible Cars on site at our 5-acre Bellevue, WA campus.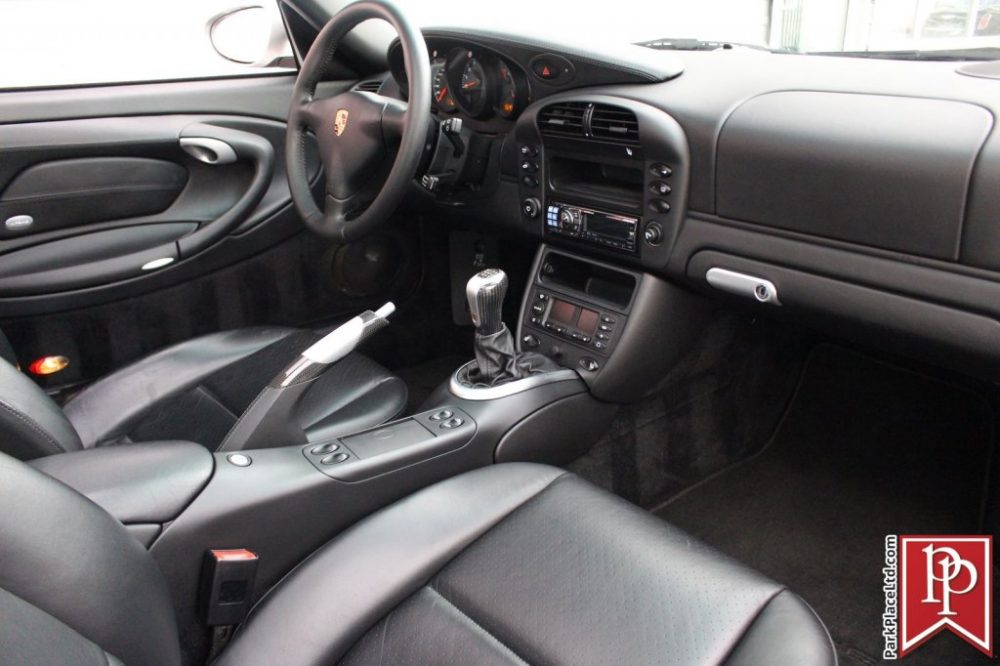 Befitting the cold weather impetus this C4S comes in Arctic Silver Metallic. I'll admit that's not my favorite option when it comes to color, but as we know when you're looking at the 996 you can't throw a shoe without hitting a silver Porsche. At least it looks in very nice shape. To contrast that staid exterior we have an all-black interior. That's fine and it will serve your purposes well. Everything looks in nice shape and other than the radio looks to be original. One aspect I do really like about this particular C4S – and partly why it caught my eye more so than other available examples – are the GT3 wheels. They were selected from the factory on this one and they are my favorite wheels on a 996. Granted they don't look quite as good on a silver 911 and I'm not sure you'd want to strap some snow tires on them to go banging around all winter, but they still look great and they're a nice upgrade to have.
Other than appearance we're provided with little else to assess this 911 so some digging will be necessary. Hopefully it'll come with good documentation and pass a PPI. Bonus points if the IMS bearing has been upgraded.
I do think these 911s make for really nice daily drivers and that can apply even if you don't live in the snowier parts of the country. You've got all-wheel drive when you need it, enough luxury to stay comfortable, a 6-speed manual to keep you fully engaged, and prices remain on the more reasonable side of the spectrum. And for me the C4S is one of the better looking 996 models out there. This one doesn't come in a very exciting color palette, but having a 911 you can drive year round should provide its own excitement.
-Rob