Where to start….where to start….
So, in the realm of 'Least Desirable Volkswagen Products' enthusiasts bemoan, the New Beetle must surely rank very high on the list. But every once in a while one pops up that is worthy of consideration. Maybe they have low mileage or are a neat color. Sometimes they're turbocharged, making them pretty quick, too – all attributes of this 1999 example. Presented in L9L9 Cyber Green Metallic, it's traveled only 23,000 miles in its life and its the more macho 1.8T speedbug. Though it's clearly not stock, we've recently looked at a well modified Beetle that pulled off big-dollar mods at a budget price.
Tuner Tuesday GCFSB Alumnus: 2002 Ruf Volkswagen Beetle Turbo S Concept
So when I first caught the gallery shot, it looked as though the owner of this car tried to replicate the super-sweet Beetle RSI – not a bad thing, if it was pulled off correctly.
This one is not pulled off correctly.
However, if you'd like a few chuckles, read on.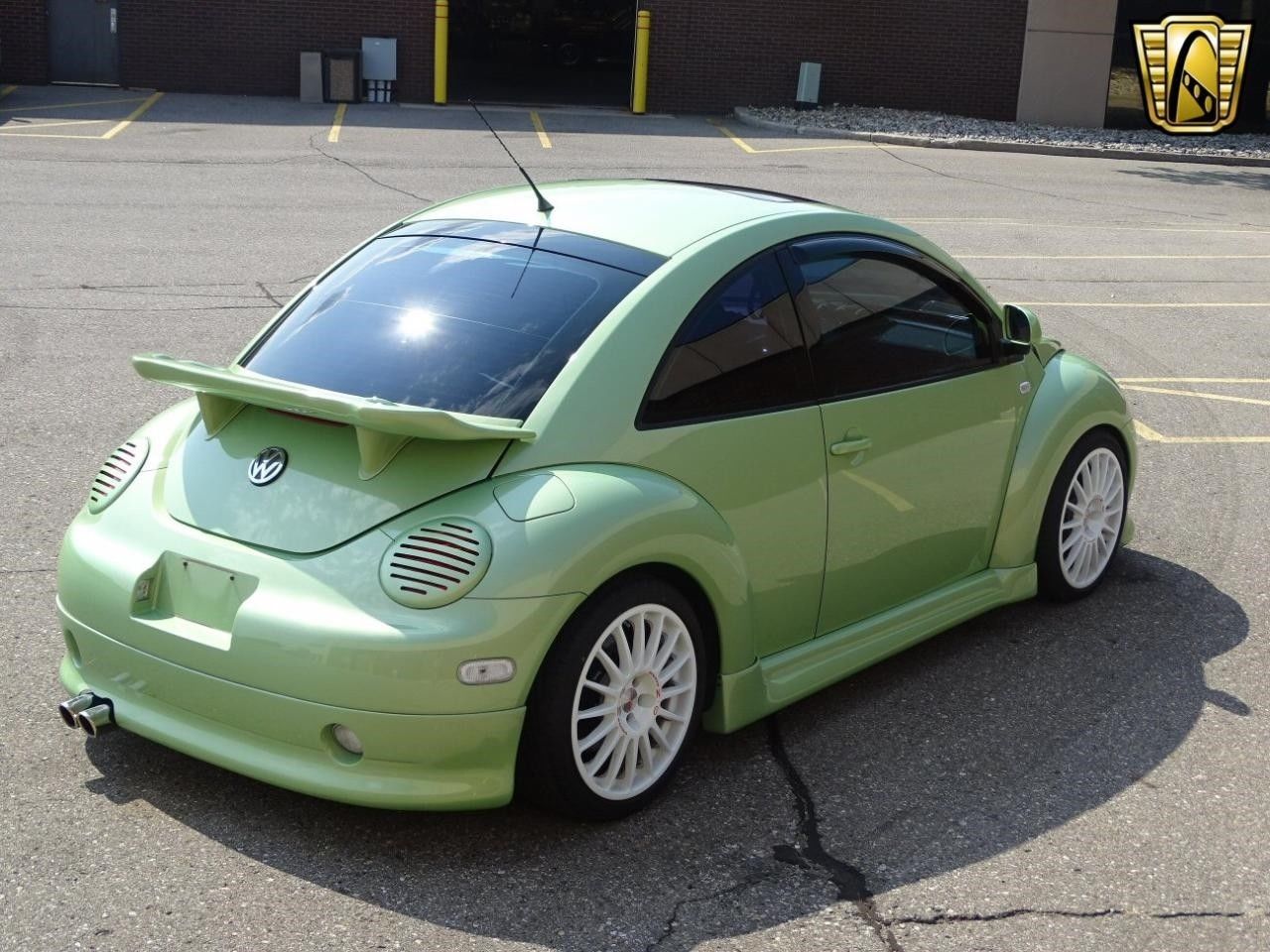 Year: 1999
Model: Beetle GLS 1.8T
Engine: 1.8 liter turbocharged inline-4
Transmission: 4-speed automatic
Mileage: 23,116 mi
Price: $19,595 Buy It Now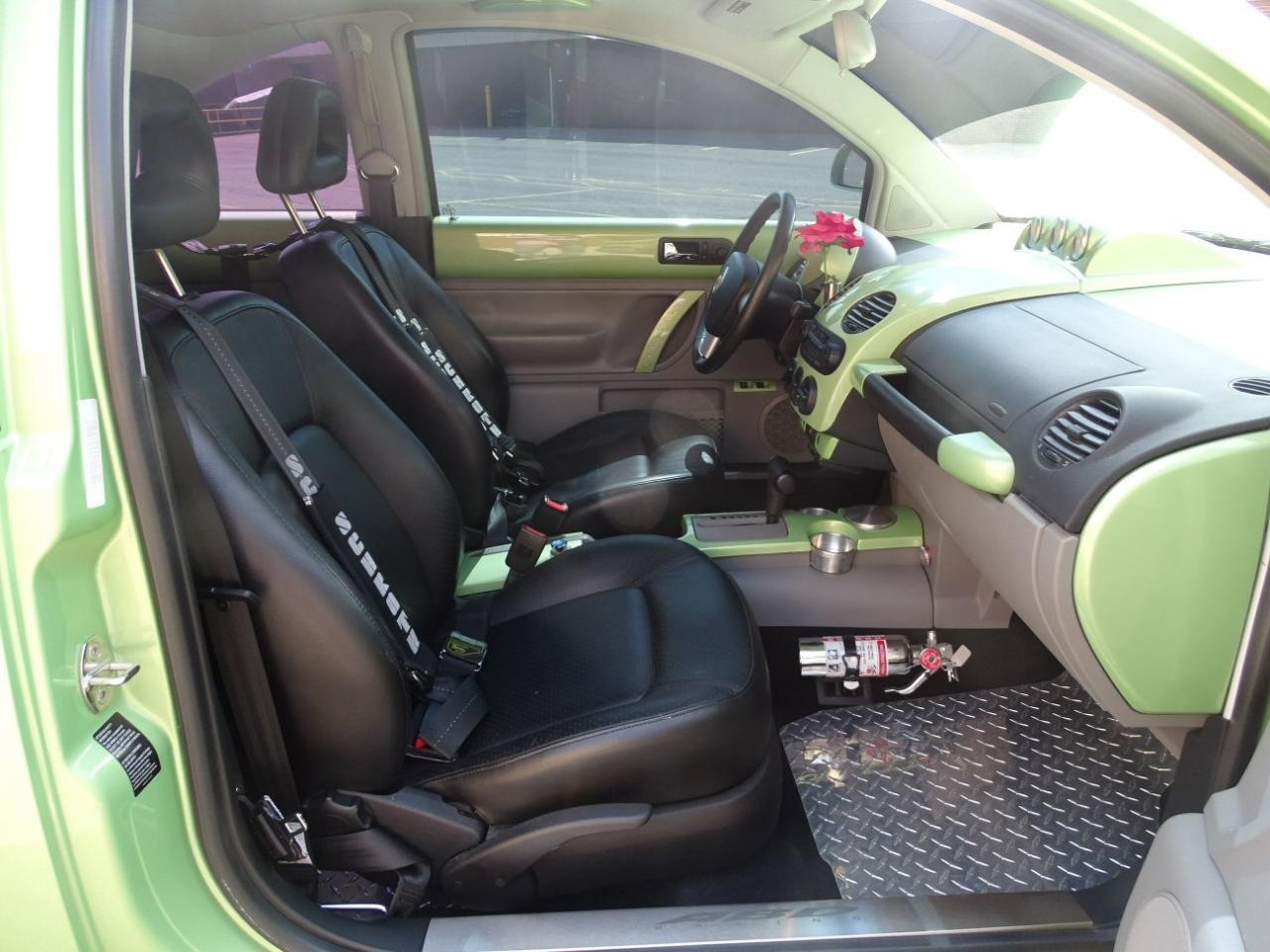 Our Detroit showroom is proud to offer this one-of-a-kind 1999 VW Beetle GLS. Clearly this Beetle is far from stock and features tasteful performance and cosmetic modifications. Originally this Beetle was purchased new from Bill Cook Porsche Volkswagen in Farmington Hills, MI. It features full power options (steering, brakes, windows, locks, and seats), a sunroof, A/C, and heat.

On the performance side of the equation, this customized VW features a Borla SS cat-back exhaust, GIAC performance chip, Forced Performance 2.25 SS lower IC pipe, Bailey Motorsports DV30 diverter valve, ABD Racing billet turbo intake, HKS IV turbo timer, ITG Cool Flo air filter, Race N75 frequency valve, and an Interstate battery with cutoff switch. For gauges, it features a 4.0 bar fuel pressure regulator, Indiglo oil temp, oil pressure, and boost gauges in a color matched pod.

Other modifications include: Euro-spec headlight and fog light switch, NB Turbo S performance fender liner, Ignited push button start, Neuspeed sport lowering springs, Nuespeed front and rear anti-sway bars, Bilstein shocks and struts, ABD Racing upper strut, ECS Stage II Porsche big brake kit with 13.1" front rotors and 12.1" rears, Foliatec painted brake calipers, 18" OZ Superturismo Corsa wheels with 225/40ZR18 Goodyear F1 tires, a Cord body kit, Gude bullfrog ram air composite hood, Speedster rear wing, Schroth Rallye 3 racing harnesses, Legend 5 Racing diamond plated floor, ABD carbon fiber engine cover, Porsche engine accessories, custom painted dash, euro clear turn signals, tail blazer smoked lens covers, TVA fog light grills, chrome fire extinguisher, ABD white speedometer face plate, ABD brushed aluminum door sills, RActive racing pedals, and limo window tint. All of the body and paint work was done by Auto Solutions in Farmington Hills, MI. All of the fabrication and performance modifications were done by Club Customz in Livonia, MI, AWE Tuning in Philadelphia, PA, and Munk's Motors in Waterford, MI.

This Beetle has won numbers awards at car shows and the dash was signed by Michigan football head coach Lloyd Carr. With just over 23,000 original miles, this unique Beetle has barely been played with and includes the original manuals, books, and keys.

FOREIGN MADE VEHICLE. The original VIN NUMBER for this vehicle is 3VWCD21C6XM456997.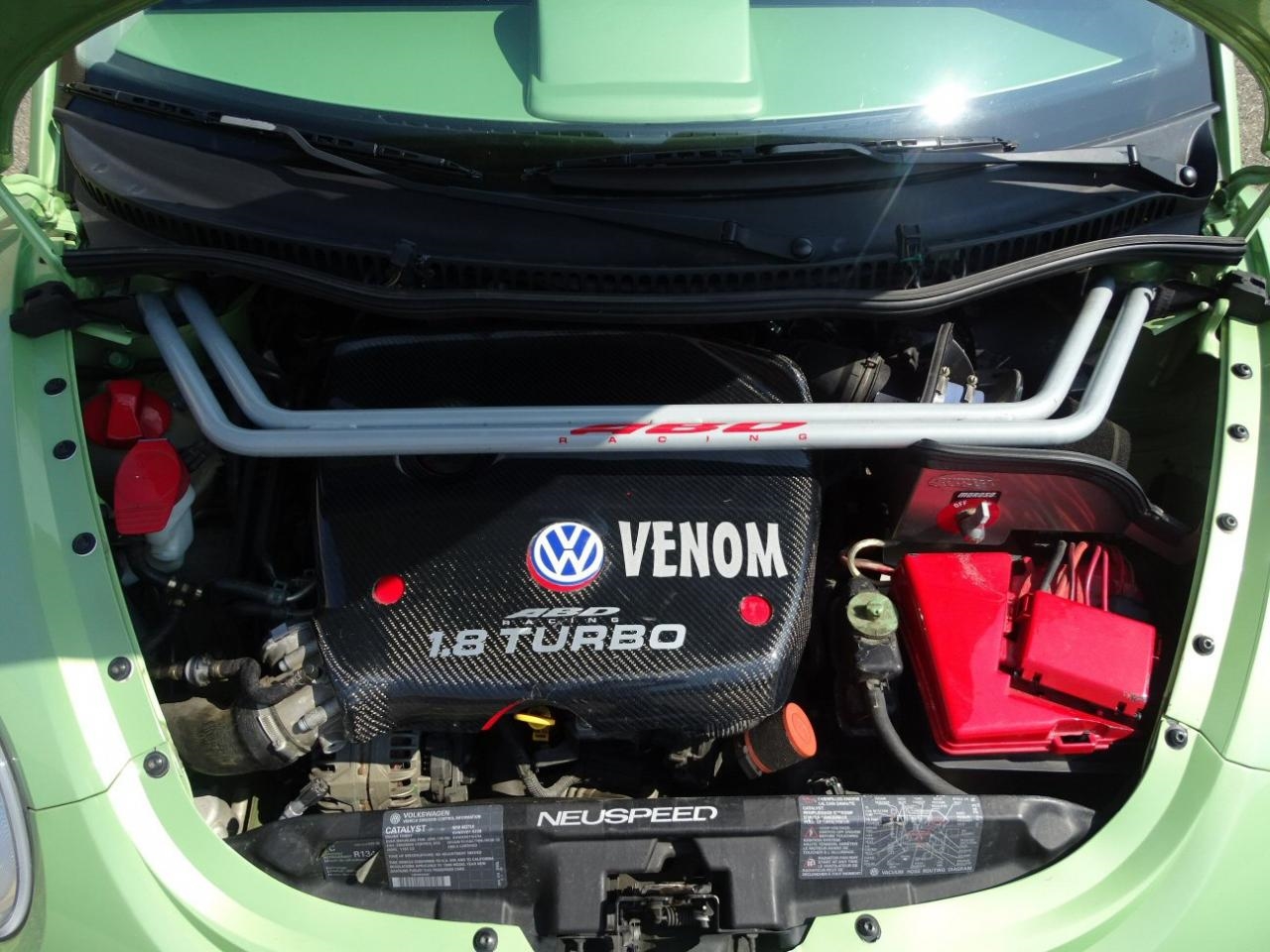 Above I claimed this car looked like the Beetle RSI when I first spotted it. In my defense, the gallery shot on my phone as I scrolled through eBay was really quite small. Or, more likely as my wife insists, I need some glasses. A click on the link quickly revealed this car was nothing like the Beetle RSI. Sure, it's got similar wheels, a somewhat similar spoiler, is a bit lower than stock and…well, it's a Beetle. Outside of that, this car literally looks like it was vomited upon by a few different parts catalogs. I had a good laugh as the ad copy, which sounds a bit like Paul Ryan trying to translate a Trump twitter rant with "Clearly this Beetle is far from stock and features tasteful performance and cosmetic modifications".
There's so much going on here it's just hard to know where to start. There are some good bits; Borla exhaust, Bilstein suspension, Neuspeed bits, Porsche brakes and those great OZ Racing wheels. And if they had just stopped there, this would be a pretty neat car to consider. But they went farther. A lot farther. We're talking Moses wandering the desert for 40 years kind of far. From the "tail blazer" light covers to the chrome fire extinguisher to the "bullfrog raim air composite hood" to the diamond plate floor, there's clearly been a tremendous amount of money spent. But as I scrolled through these mods, the one that I have to say surprised me was to see that it was, after all of this, an automatic. And the one that perplexed me the most was not that it won awards at shows (do participation trophies count, coach?) but that one of the highlights was that it was signed by a college football coach. I know college football is a serious thing in the corn belt, but really? I would have loved to be a fly on the ABD white speedometer face plate when that occurred, but even more I'd love to know what the coach was thinking when he was asked to sign the dashboard of this creation. Surely that is a turning point in your life where you start to consider seppuku your career legacy, no? Then the seller caps (literally and figuratively) the listing off with the announcement that this is a foreign-made car. Whelp, now you've lost the Blue Oval and Bowtie crowd – they were fooled right up to that point.
But the coup de grâce surely must be the price. Only $19,995? The reason the Ruf Beetle sold for $15,000 was because it looked good and was well modified with top-dollar items – not the case here. We've been chatting up creating an "ambitious seller asks" section for our site, and I think this one would fit the bill.
-Carter