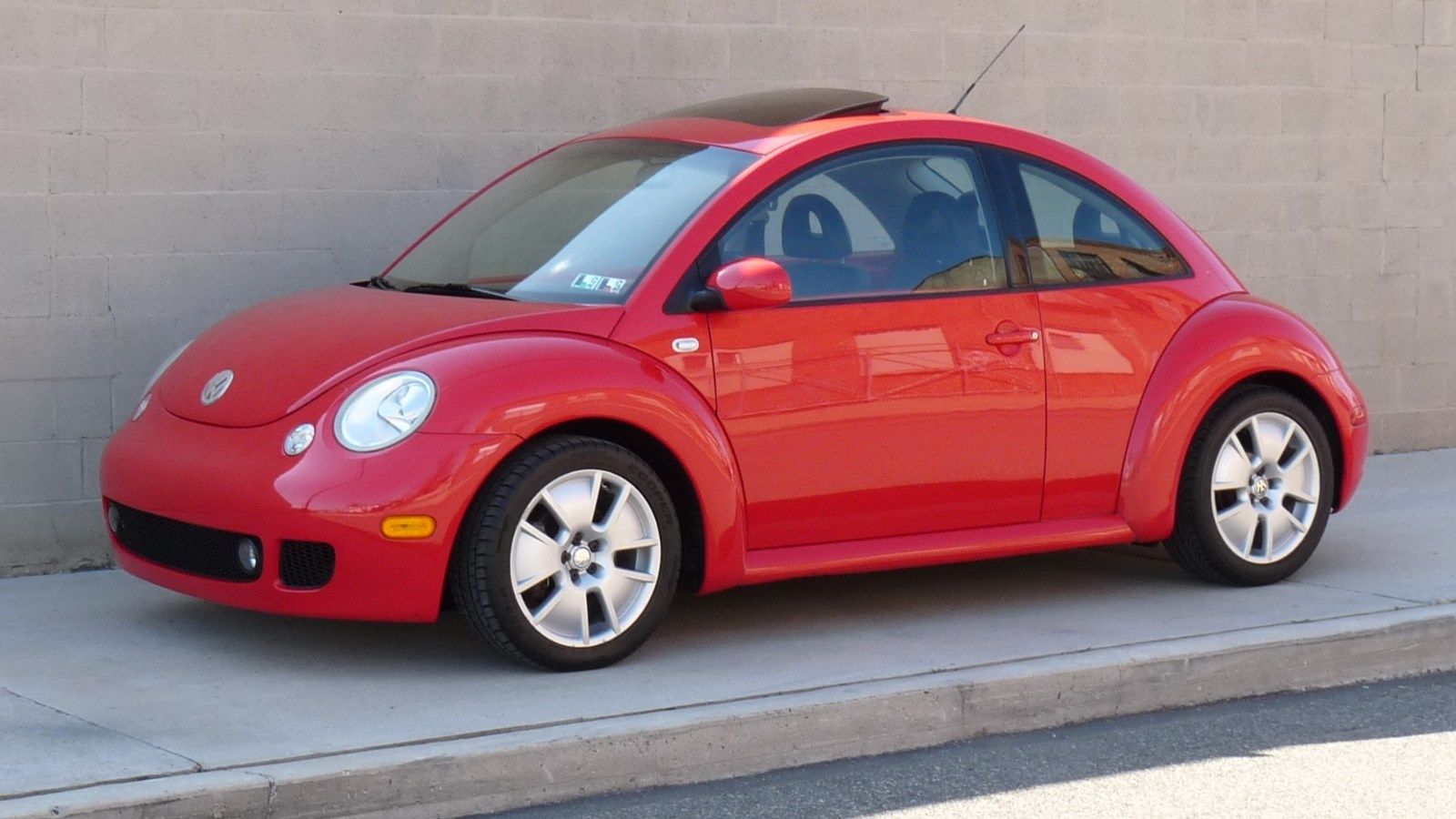 The New Beetle isn't a car which often featured on these pages. In fact, I can only find three times since we've started this site that they've come up. Considering that we've written up about 1,200 M3s in that same time period, I guess our stance on the Golf-based image car is pretty clear. However, the bones of the New Beetle aren't really all that bad; based on the Mk.4 chassis, there are plenty of parts available and they're cheap to buy. They offer a pretty practical hatchback package with some additional style. And, in turbocharged 1.8T form, they even offered a sporty ride.
Introduced in 2002, the Turbo S turned that package up a notch with help from the GTI. Underneath, the AWP-code 1.8T was rated at 180 horsepower at 11.6 lbs of boost, and had matching 173 lb.ft of torque. The transversely-mounted power was channeled through the same 6-speed manual you'd find in VW's hot hatch and no automatic was available. Volkswagen outfit these cars with standard stability control and loaded them up with Monsoon sound, sunroof, active aerodynamics, leather, aluminum trim, power accessories and keyless entry. They also got special white and black gauges inside and a more pronounced twin-tip exhaust, along with fog lights integrated into new bumper covers. To help manage the speed, Volkswagen's 1BE lower and stiffer suspension package was fit, along with BBS-made "Delta X" 17″ wheels with 225-45-17 tires. The package was pricey, at nearly $24,000 in 2002 – a not unsubstantial amount, considering that money would get you into the much nicer chassis of the Passat in wagon form at the same time. Unlike the pastel-toned entry colors of the New Beetle, the Turbo S was only available in Black, Silver, Platinum or Red with a total of 5,000 produced. Volkswagen hoped that these sporty changes would re-character the model which had primarily appealed in only one sexual demographic. Did it work?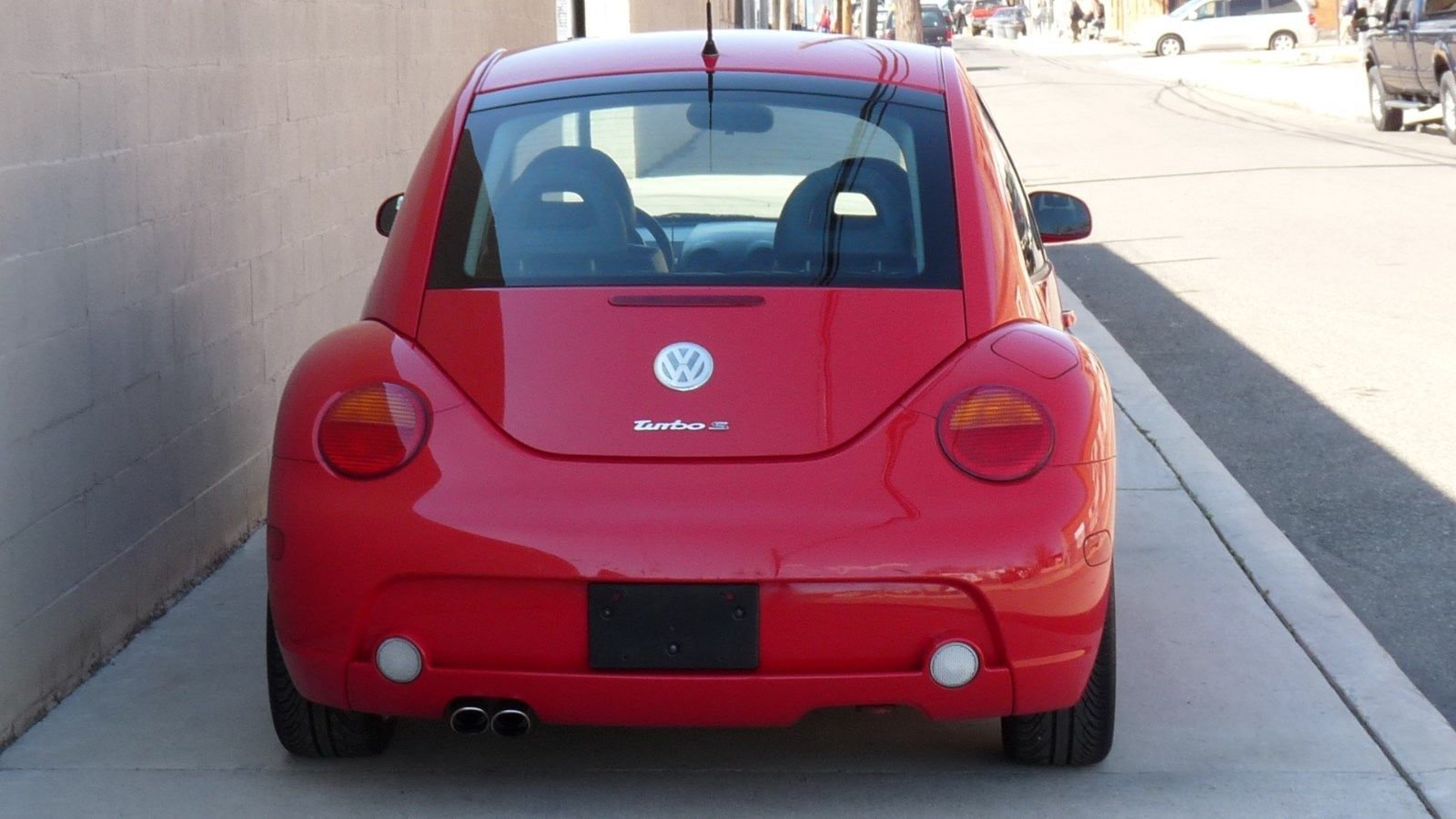 Year: 2002
Model: Beetle Turbo S
Engine: 1.8 liter turbocharged inline-4
Transmission: 6-speed manual
Mileage: 126,735 mi
Price: No Reserve Auction
2002 Volkswagen Beetle . Turbo S
We have been a licensed Automobile Dealership in Philadelphia, PA. for the past eighteen years. We are primarily an Auto Wholesale Operation supplying other dealerships, and we are now listing select vehicles for sale to the public as well. I am the internet/wholesale manager and my name is Chris. Please feel free to call me with any questions at 215 669-6400.

We offer our online customers a full guarantee on the purchase of any of our vehicles. If you come here to inspect this vehicle and then decide for any reason that you don't want it, you will be excused from purchasing it. The stated auction terms must be observed to maintain this guarantee.

This is a very nice 2002 Volkswagen Beetle Turbo S with 126,735 miles. This Beetle is equipped with the 1.8L turbo engine, and six-speed manual transmission. Some of the features include the power sunroof, leather interior, heated seats, and CD-changer. All of the equipment in this car has been tested and is operating properly including the air conditioning.

This VW runs and drives beautifully, and there aren't any service or warning lights on. The engine runs very strong and smoothly, and the transmission shifts crisply. We performed a safety inspection, as well as a maintenance service and road test on this Beetle in preparation for sale. The 17″ tires are showing lots of tread and the brakes are in excellent condition. The oil & filter and air filter were changed this week. There aren't any service or warning lights on, and this Beetle is ready for immediate use.

The exterior of this Beetle is in excellent condition with nothing other than some bumper marks and minor imperfections. The bottom right rocker also has a slight dent underneath. The Red paint is nice and glossy over the entire body. The alloys wheels are clean and in great condition. There isn't any body rust, and the undercarriage is in great shape as well.

The interior is clean and has been well maintained. All of the leather seats are soft, supple and in great condition. The carpeting is clean and undamaged throughout this car. The center armrest is loose as most of them seem to be. There aren't any smoke odors or burn marks inside this vehicle.

The vehicle history report shows a minor incident which was fully resolved years ago with no remaining issues. We have the clean, clear title in hand. This is a great looking Beetle that runs excellent, and I wouldn't hesitate to drive this car anywhere in the country.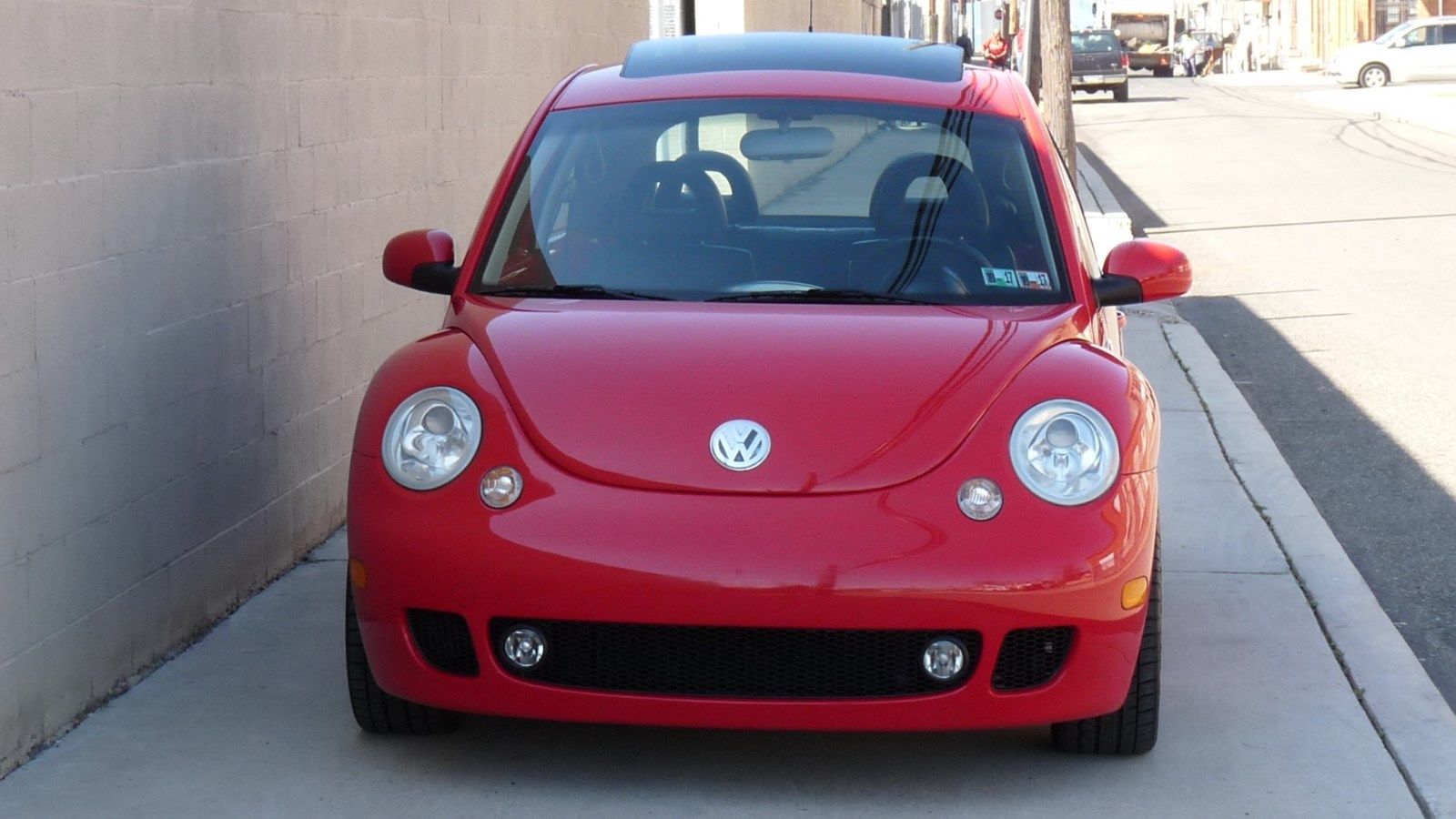 As just about anyone who has owned this generation of Volkswagen product will tell you, if there is no warning light on the dash, just wait. The infamous 'check engine light-on' seems to be one of the mainstays of period VW/Audi ownership, with items like the notoriously complicated positive crankcase ventilation system and other engine bay electronics doused by a decade and a half of turbocharged heat fairing poorly at this point of life. Should you throw the baby out with the bathwater? Not so fast, as get the engine running right and the 1.8T is a great motor that returns quite good mileage and is dependable relative to its performance. It's not a set-it-and-forget-it 2.0, but it's also not as needy as some of the V6, VR6 or V8 motors in other period VAG products. The rest of the presentation, outside of an apparent accident at some point in the car's history, appears to be very nice. Red is the exterior color to have on this car in my opinion and looks to be in good shape here, as do the original BBS alloys.
Is the shape something you could live with? Well, it's certainly not for everyone. The New Beetle is pretty polarizing and I'd wager few consider it attractive. Unlike the Mk.1 TT, it hasn't aged particularly well, either – but I'll admit that the Turbo S is the best looking of the bunch, borrowing just enough Beetle RSi DNA to back up the sporty performance. The car is being sold in no reserve format, too, and at writing has just crested $1,500 – about as cheap as you can get a decent condition car, anywhere. Look, you're not buying a 911 – this is a commuter car that offers a bit of sport in a unique package. If it stays under $3,000 – which it probably will – I'd consider it money well spent.
-Carter