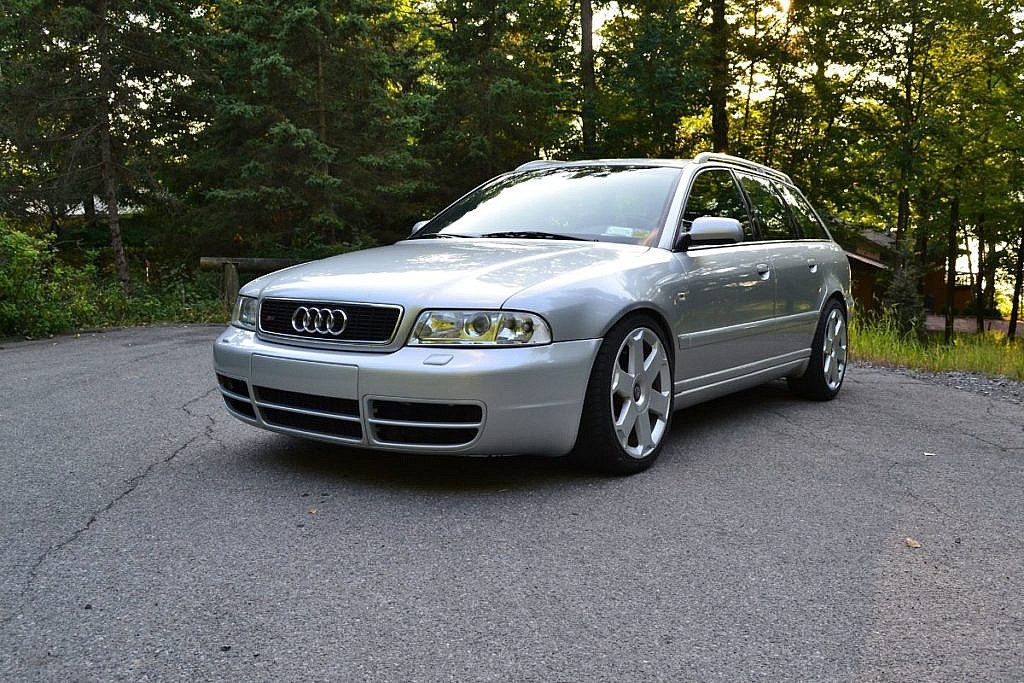 In recent posts I covered both the importance of the B5 chassis and its development into nuclear-grade weaponry in the RS4. In the midst was the substantially more tame yet still quite exciting S4 Avant.
Audi brought the S4 Avant to the United States for the first time in 2001. It joined the sedan lineup and offered a follow-up to the large chassis S6 Avant from 1995. Instead of the traditional inline-5 motivation, though, Audi had developed a new 2.7 liter version of its V6. With a K03 turbocharger strapped to each side, the APB produced 250 horsepower at 5800 rpms and 258 lb.ft of torque at only 1850 revs. Like all the B5s, Audi's new generation of 'quattro' used a T2 Torsen center differential and relied upon an electronic rear differential utilizing the ABS sensors. The B5 chassis used the same technology on the front differential as well and was capable of independently braking each front wheel to try to sort the car out through its dynamic stability program.
But the real fun was that it was available as an Avant and with a 6-speed manual. Just over 1,500 were claimed imported between 2001 and 2002's model years, with about 600 of those being Tiptronic equipped. Light Silver Metallic was by far the most popular color ordered, and this particular Avant is one of 358 LSM manuals brought in for the 2001 model year: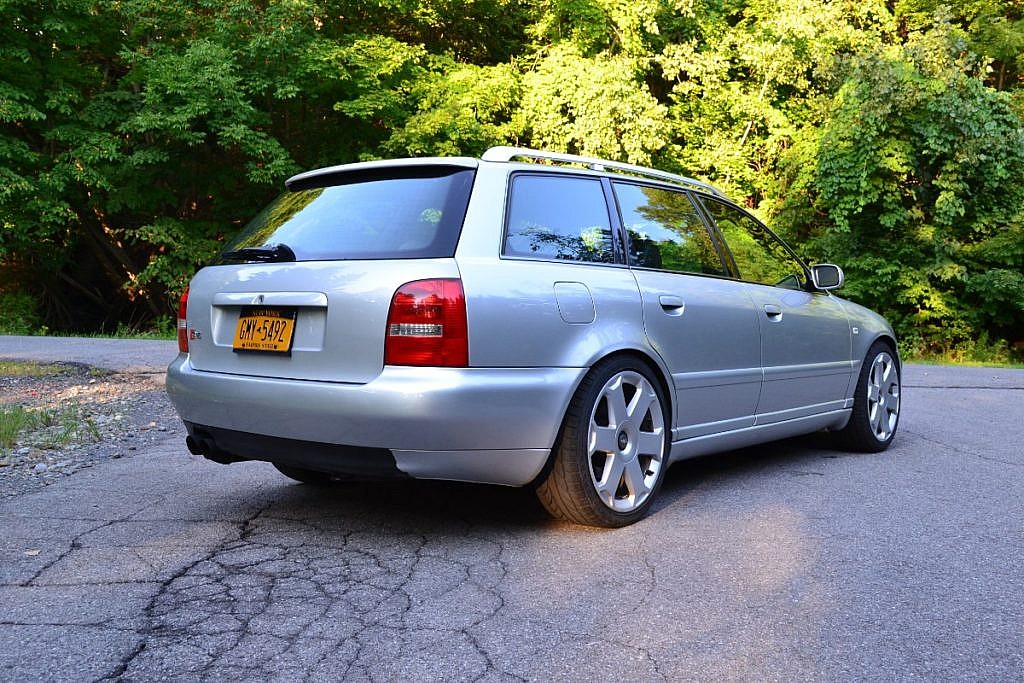 Year: 2001
Model: S4 Avant
Engine: 2.7 liter twin-turbocharged V6
Transmission: 6-speed manual
Mileage: 206,000 mi
Price: Reserve Auction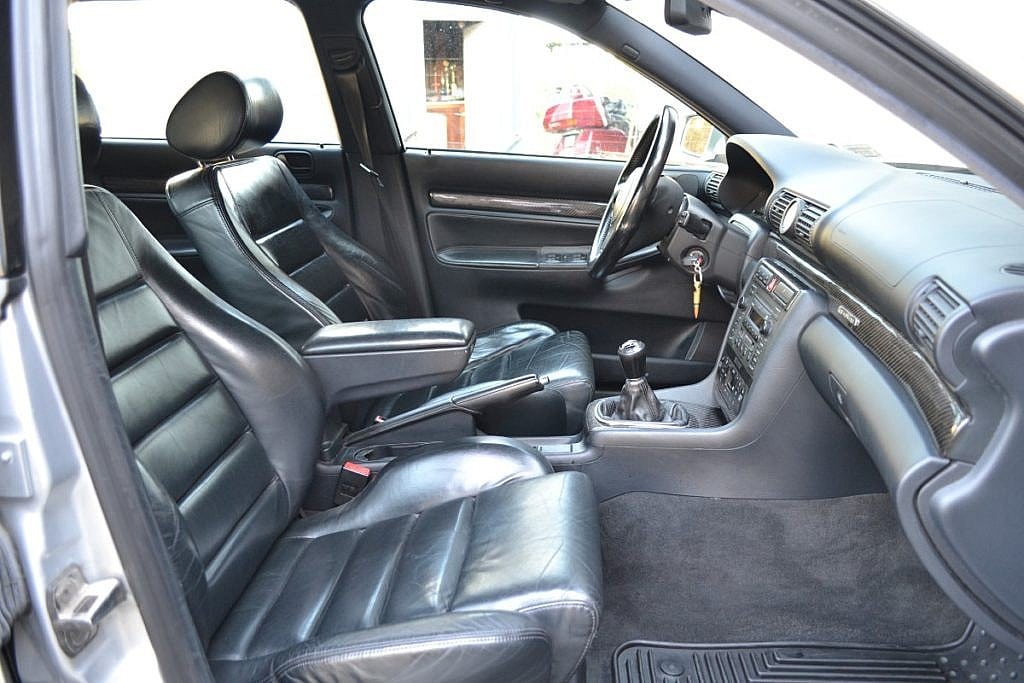 Model History

BMW has the M Division, Volvo the R, Mercedes the AMG…with few letters remaining to distinguish the high-performance line-up, Audi has the S line (and the RS which we've covered elsewhere). Dating back as far as 1991, Audi was developing factory modified variants of their then Audi 100 to give them that special something they needed to compete in the performance marketplace. Originally based on the C4 platform, the first generation S cars would have but one engine variety, a single turbocharged intercooled version of the 2.2L 5-cylinder.

In 1997, Audi released the second generation S cars and would bring that B5 platform to the states 2 years later, in both sedan (saloon) and wagon (estate or avant) version. What did you get for the 50% increase in MSRP over the A line cars? The S4 is not the A4 with a turbo on it. Recall the famous Porsche ad, "what it takes to make the 944 turbo…including the turbo"? That story applies here. These cars were powered by the more potent 2.7L bi-turbo (Audi's marketing speak for a twin-turbo). The S cars also ride on different (lower / stiffer) suspension than the A line, have bigger brakes, better seats, different gauges, body moldings…whew, the list goes on and on. These cars have flown under the radar to the general public, but are alive and well deep in the enthusiasts world. They're not the cheapest to maintain, but then again, nothing we feature on Second Daily is…that would just be boring.
Car History

Second Daily Auctions is proud to present this second generation 2001 Audi S4 Avant wagon. It is powered by the aforementioned 2.7L bi-turbo V6 and thankfully mated to a 6-speed manual gearbox. Best of all, all four wheels have power going to them, making this a great all-season sport wagon for anyone as far north as Taloyoak to the rainy jungles of Chichirata. It's also a driver, with 206k miles ticked away on the odometer, so there's no need to worry about saving this one for the next guy. The seller acquired this S4 7 years ago with 151k miles on it from its original owner, a professor in Boston who took great car in the car. He has records dating back to her ownership and states all of the normal issues these cars see have been addressed already under the current owner.

Financial and shipping assistance is available. We also offer our Buying Assistance program to help facilitate the transaction between buyer and seller. If you would like to have this vehicle inspected, Second Daily will cover up to $200 on a pre-purchase inspection if you go on to purchase the vehicle.
Exterior

Outside the bright silver has held up well over the years. There is a small bit of rust between the two passenger doors. The underside looks quite tidy, and the seller provides pictures of a few bumps and bruises endured along the way. The seller states there are no accidents under his ownership, though the previous owner did have the driver side front fender painted at some point. The rear hatch was re-sprayed as well as the front bumper last fall. The seller notes the paint does not match perfectly under certain lighting. An RS4 style hatch spoiler was added.
Interior

Inside the seller has provided many high-res photos included in the gallery below. The leather seats show a little creasing but no tears or rips can be seen. A few small changes from original can be seen if you look closely, authentic carbon fiber trim has been added, a ProSport electric boost gauge, LED interior lighting, an OEM compass mirror, and OEM all weather floor mats are included. The screen in between speedometer an tachometer has weak pixels and the driver side heated seat works intermittently.
Engine / Maintenance

The seller states he has records for the 50k miles he has owned it and some from the prior owner. He states that it receives a yearly oil change (~5k miles/year on the car), new spark plugs, brake fluid flushed, lower oil pan gasket replaced, control arms, new battery, new tires, and new brakes all in September of 2017 (~1k miles ago).
Modifications from Original

The following modifications were made by the current owner, effectively bringing this to a Stage 3 S4:

RS4 Turbochargers (OEM)
RS4 Turbocharger Inlets (034)
85mm MAF Sensor (034 Billet)
SSAC 3″ – 2.5″ Downpipes to Custom 4″ Single V Banded Exhaust with Vibrant Race Muffler
RS4 Clutch With 6 Puck Ceramic Sprung Disk
RS4 OEM Intercoolers and Piping
Siemens 630cc Injectors
Aeromotive 340LPH High Flow In-Tank Fuel Pump
Custom Tune (2nd O2 sensors and Cats coded out – Plug in Passes Emissions Testing)
2.0t Coil Conversion (Deletes stock bolt down coils and Ignition Control Modules)
APR Bipipe
710N Diverter Valves
Secondary Water Pump Delete
APR Snub Mount
Passat Solid Rubber Trans Mounts
Aluminum Thermostat Housing
D2 S8 Rear Brakes
Wheel Spacers 8mm Front 20mm Rear
Coilover Suspension (Raceland Ultimo)

Final Thoughts

What's not to love about a 4 door twin-turbo AWD 6-speed wagon for under $10k? If you're looking for something with 45k miles that hasn't been driven in the last 18 months and retains its plastic sheathing on the tire jack and have $30k to spend, this is not the car for you. But if you're looking for a lost cost to entry tastefully modified S4 turbo wagon with lots of recent maintenance done that you can actually drive and not feel bad about doing so…we'd strongly advise you to hit the BID NOW button. Whether for you as a daily or second daily driver, for your wife to take the kids to school in when it snows, or for your kid headed off to high school or college and you want something affordable and fun, you've found it.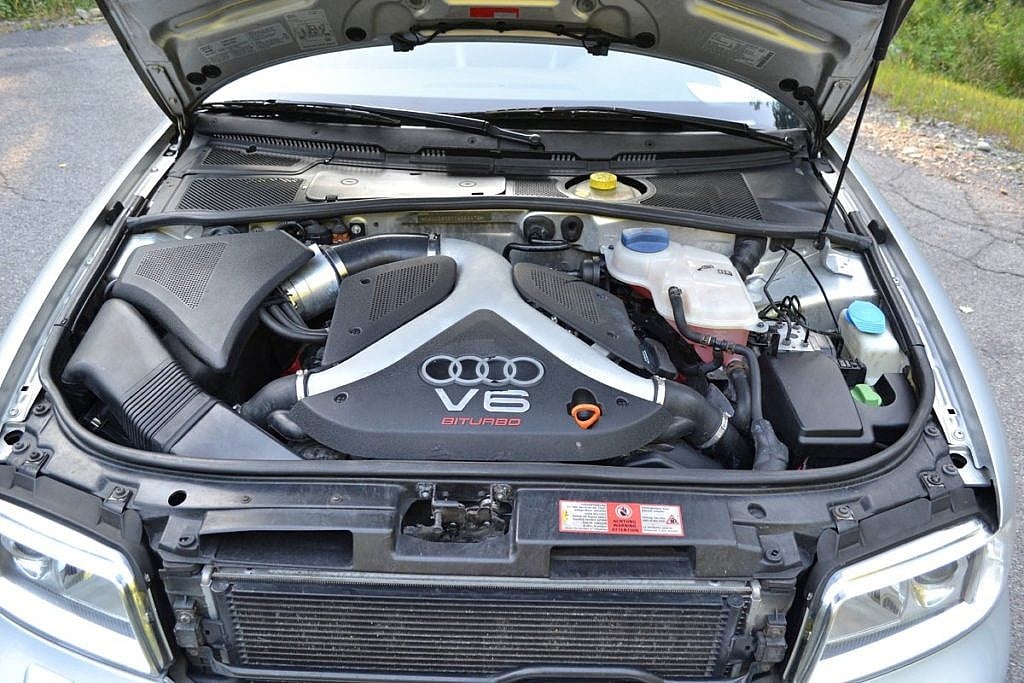 Like any turbocharged car, the real benefit to the B5 was tunability. While out of the box it was way down on power compared to its replacement B6 with the 4.2 V8, it's not hard to produce over 300 horsepower with a simple flash on the biturbo V6. Pile on more RS4 parts and you can be looking at the best part of 400 horses. Those mods aren't very cheap, but having them done saves a lot of money and work. Turbocharger service on the B5 can mean dropping the motor, after all. While no spring chicken, the miles seem to have been pretty kind to this chassis. It shows as a car with only half the odometer reading it has. The upgraded suspension makes the stance of the car just about perfect without being too low, though I personally don't like the incorporation of the later 18″ B6 S4 wheels. While they look similar, they never look quite right to me. Personally I'd source some early S2 S8 wheels for the right look if 18″ was the way you wanted to go. Otherwise, as the ad implies, this is a seriously quick hauler that you don't need to worry about keeping miles off. It offers most of the performance of the custom B7 RS4 at a fraction of the price, too. The miles should keep this one pretty affordable and that means a potential deal for the future owner.
-Carter