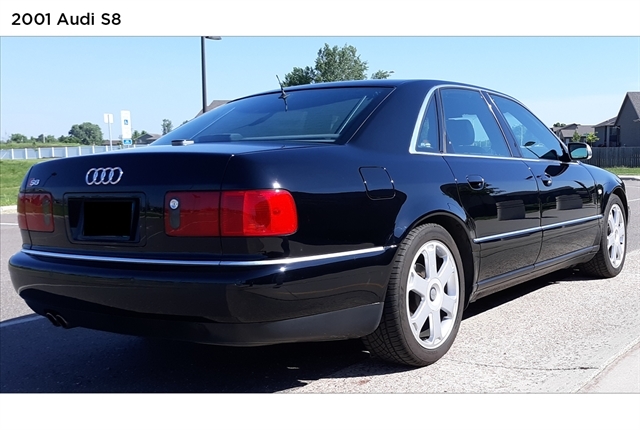 If you follow these pages, it goes without saying that I'm a pretty strong Ingolstadt devotee. My first car was an Audi 4000CS quattro and since then I've owned an absurd 9 models along the way. But that doesn't mean I buy everything from the company hook, line and sinker. Indeed, I've been less than impressed with many of the newer models. Sure, sometimes they look slick, go like stink or are really pretty inside. But would I want to own one? In most cases, no – outside of a few very select models, I don't really desire to own much post 'Y2K'.
One exception to that rule – and it's literally and figuratively a huge exception – is the S8. Everything about this car was just spot on to me. In an age when increasingly the offerings from the competition were unattractive and overly complicated, the S8 was to me the last of the great original quattros. It was an analog offering in a digital age; simple, blunt force from a 360 horsepower V8 in front driving all the wheels with a luxurious driver-oriented cockpit. Sure, there were plenty of computers. Probably there are too many. But compared to the new luxo-suites? The D2 seems downright cart-like. And the proportions of the car were just perfect; lowered, menacing stance, huge yet delicate-appearing wheels, just the right amount of bling, yet an understated car which easily fades into the background. So even though I'm still probably a long way from ownership, I often find myself dreaming about being behind the wheel of one.
The pool of candidates that remain is beginning to dwindle; the newest of the D2 S8s are now 16 years old and parts are already getting hard to source. Getting into an enthusiast owned one is the way to go at this point, but that doesn't automatically mean it'll break the budget: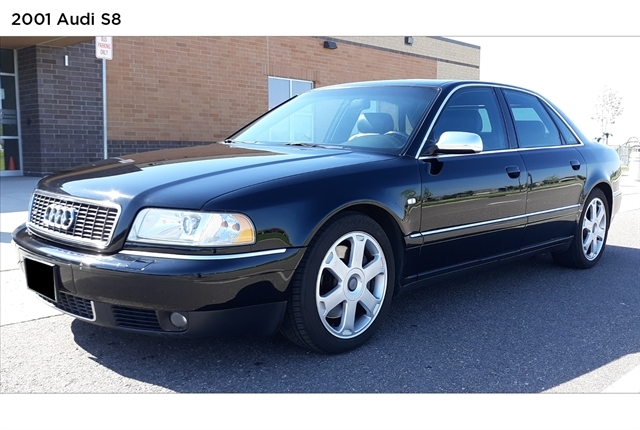 Year: 2001
Model: S8
VIN: WAUGU54D91N006359
Engine: 4.2 liter V8
Transmission: 5-speed automatic
Mileage: 145,500 mi
Price: $5,500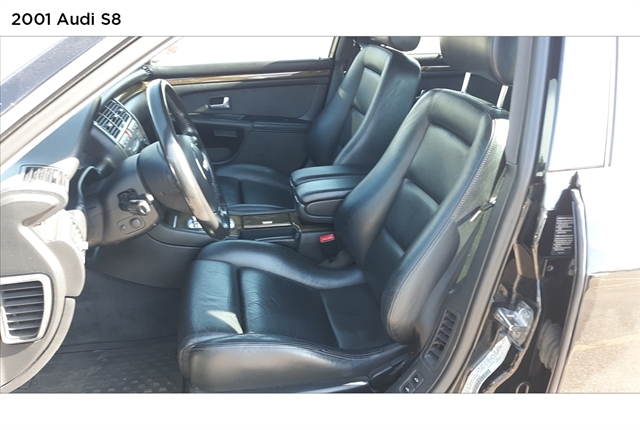 CARFAX Certified no accident, automatic transmission, all wheel drive and 145,XXX miles. Extremely well maintained by adult owner. These cars are very rare. There were only 53 black-on-black 2001 S8 brought to the USA. This example is unmodified. I've owned it for the past 6 ½ years and it's been cared for with an open check book. Interior and exterior are exceptionally clean. The exterior recently had a 3-stage paint correction preformed. Car has always been garaged since March 2013.

Features: 4.2L V8 Engine, Quattro All Wheel Drive, Anti-lock brakes (ABS), Traction Control, Vehicle Stability Control, Leather Interior, Heated front and rear seats, Power Driver and Passenger Seats, Power Windows, Power Door Locks, Cruise Control, 18 Inch Alloy Wheels, Keyless Entry Three Master Keys and One Valet Key.

Being sold by non-smoking owner. CARFAX available upon request.

Asking $5,500 or Best Offer

NOTE:
Moonroof tilts but does not slide back. Common issue with Audi/VW of this era.
Parking sensors have been disabled due to front sensor not working properly.

Mechanical & Service Items
• 3-Stage Paint Correction: 04/2019
• Rear Differential Seals Replaced & Serviced: 03/2019
• Oil and Filter Change: 02/2019
• Four New Tires: 01/2019 (Continental DWS 06 & Alignment at 141,971 miles)
• New Headliner Installed: 12/2018
• New Battery Installed: 10/2018
• Both Outer and Inner Tie Rods Installed: 07/2018
• New Fuel Pump Installed: 04/2018
• All 8 Front Control Arms Replaced with-in the past 2 years (Lemforder & TRW)
• New Blower Motor Installed: 11/2017
• New Bilstein Front and Rear Struts include Hardware and Mounts Installed: 08/2017
• New HID Bulbs Installed: 02/2017
• Both Rear Oxygen Sensors Installed: 07/2016
• Rebuilt Transmission: 12/2015
• Both Front Oxygen Sensors Installed: 07/2015
• Complete Timing Belt Service: 8/2013 (93,835 miles)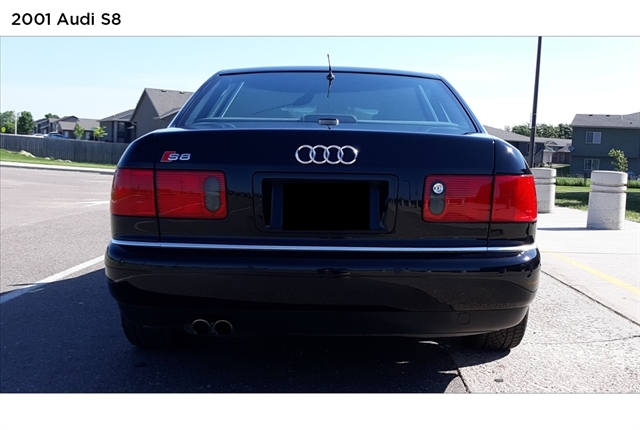 What a lot of car for the money! This one comes from a reader who has followed these cars since he purchased this one off the site back in 2013, though strangely we couldn't locate the post. Brilliant Black over Black sport is still classic, the original Avus wheels are mighty, and the overall package appears to be in great shape. The seller has undertaken some costly repairs over his ownership, from the timing belt service and rebuilt transmission through cosmetic items like the headliner. In short, the asking price is probably only a third of maintenance costs on this car over the last 50,000 miles. Will that scare some people off? Sure, but if you're looking at any older German cars and not anticipating potential repair bills, you're on the wrong site (and, in the wrong frame of mind!). This is a car which can be bought for a reasonable sum of money and enjoyed for what it is – a stellar super-executive.
-Carter