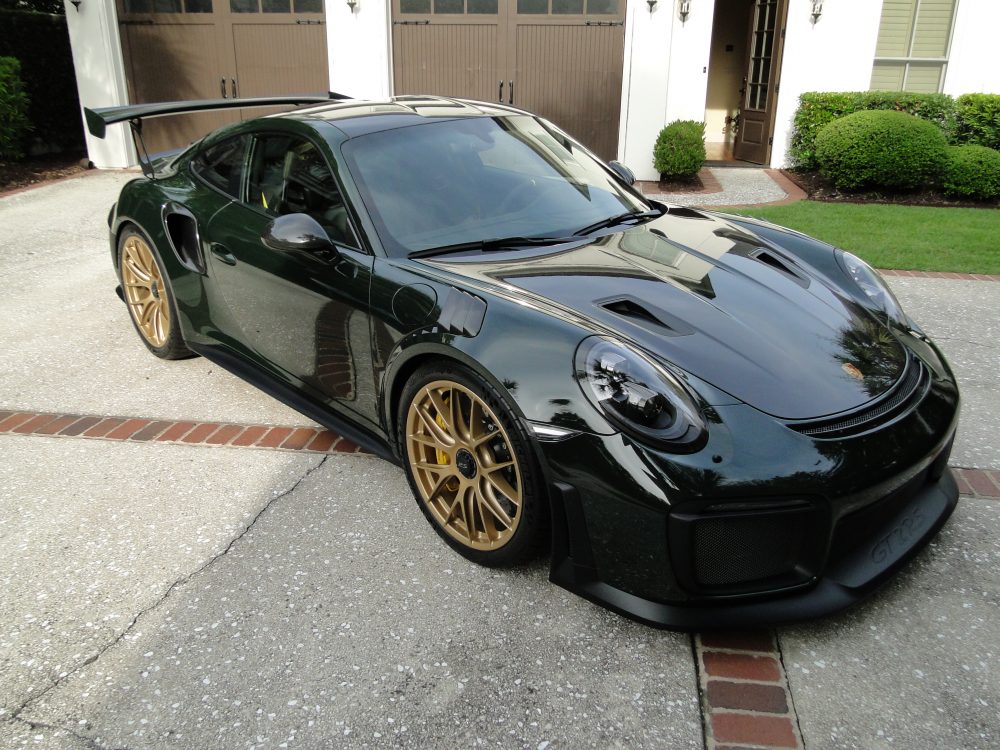 Did you love last weeks Porsche 911 GT3 Touring painted in Brewster Green but maybe thought to yourself, "I need more excitement?" Well, don't worry, because Porsche can fix that for you. This is a 2018 Porsche 911 GT2 RS painted in, you guessed it, Brewster Green. What exactly is it? A 3.8 liter twin-turbocharged flat-6 delivering 700 hp sent to the rear wheels via Porsche's 7-speed PDK transmission. Compared to a Turbo S, it is 286 pounds lighter. This car has the $18,000 Weissach package which means you lose another 40 pounds thanks to a bunch of carbon fiber. Also, don't forget the $13,000 magnesium wheels. The 0-60 time? 2.6 seconds. Quarter mile? 10.3 seconds. Can you drive it work on Monday morning? Yes. Will all of your co-workers hate you with envy? Also yes.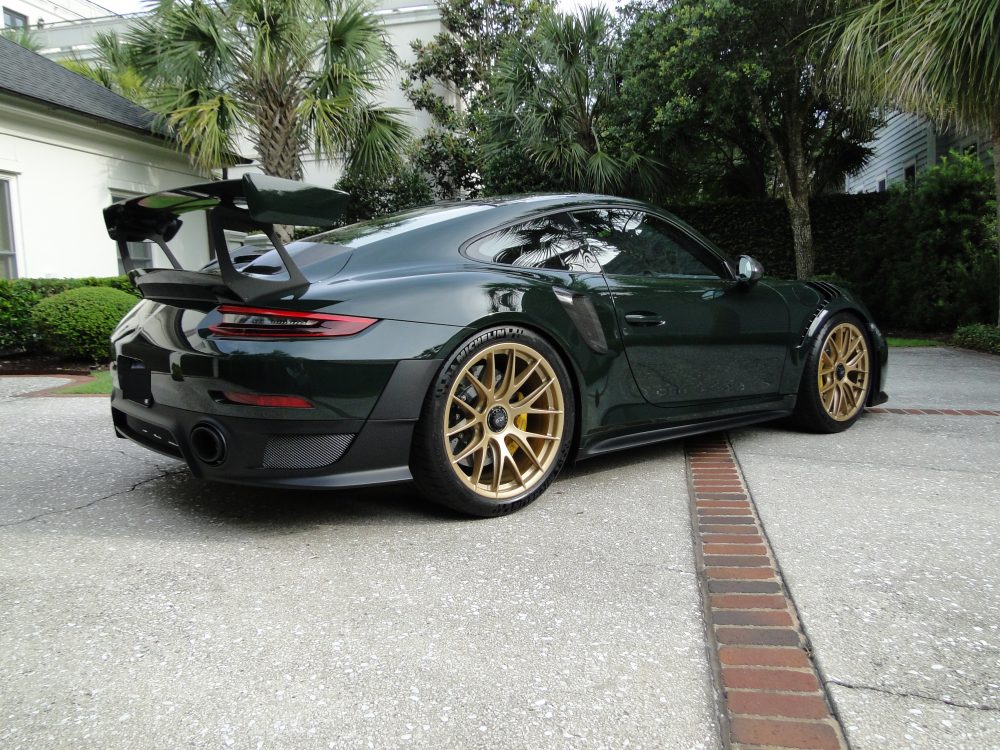 Year: 2018
Model: 911 GT2 RS
VIN: WP0AE2A91JS185762
Engine: 4.0 liter flat-6
Transmission: 7-speed automatic
Mileage: 140 mi
Price: $429,000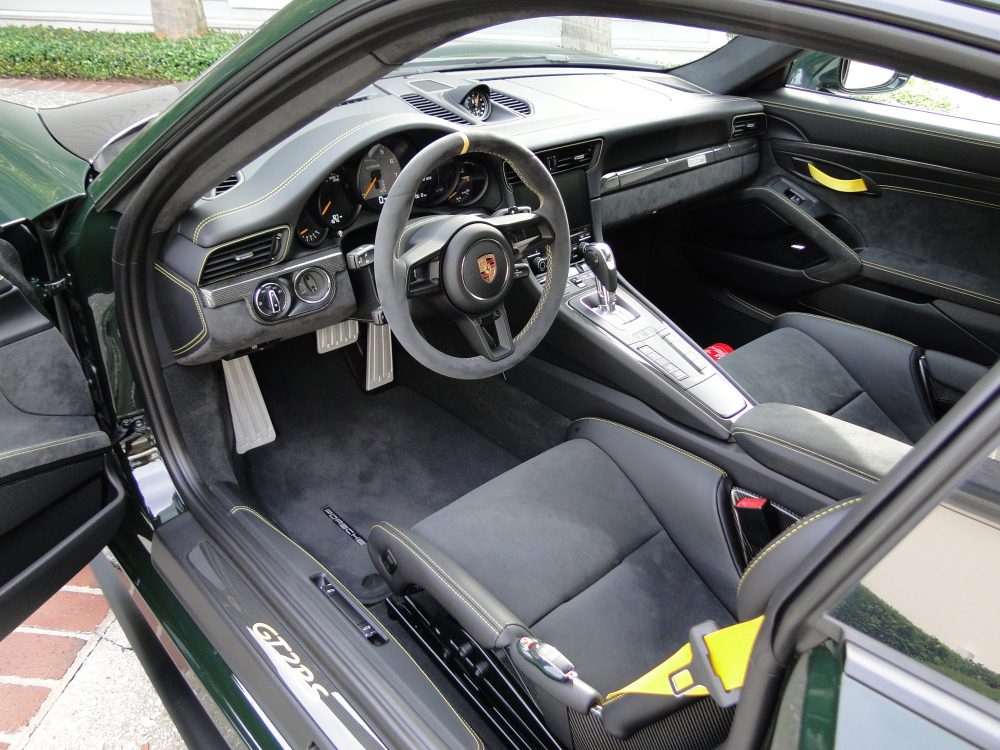 'Punky' is up for sale.

The reason is because, and yes I should have driven her more.

There are a few BG ones out there but this one is truly unique … it's the only one I am aware of with CXX Aurum magnesium wheels.

This car is absolutely stunning in person and is cosmetically perfect in every way.
I may be biased but I think it's one of the most beautiful 2RSs out there.

She's a very fancy girl with a plump $373K msrp full of cxx goodies, including yellow stitching everywhere and factory yellow led lit door sills.
Also very fancy and whimsical cxx forest green Porsche script on the wing which works very well.

As per usual, full pdf and ceramic.

Car is in Charleston SC.

Sorry for my non-pro pics.

Lmk if you have any questions.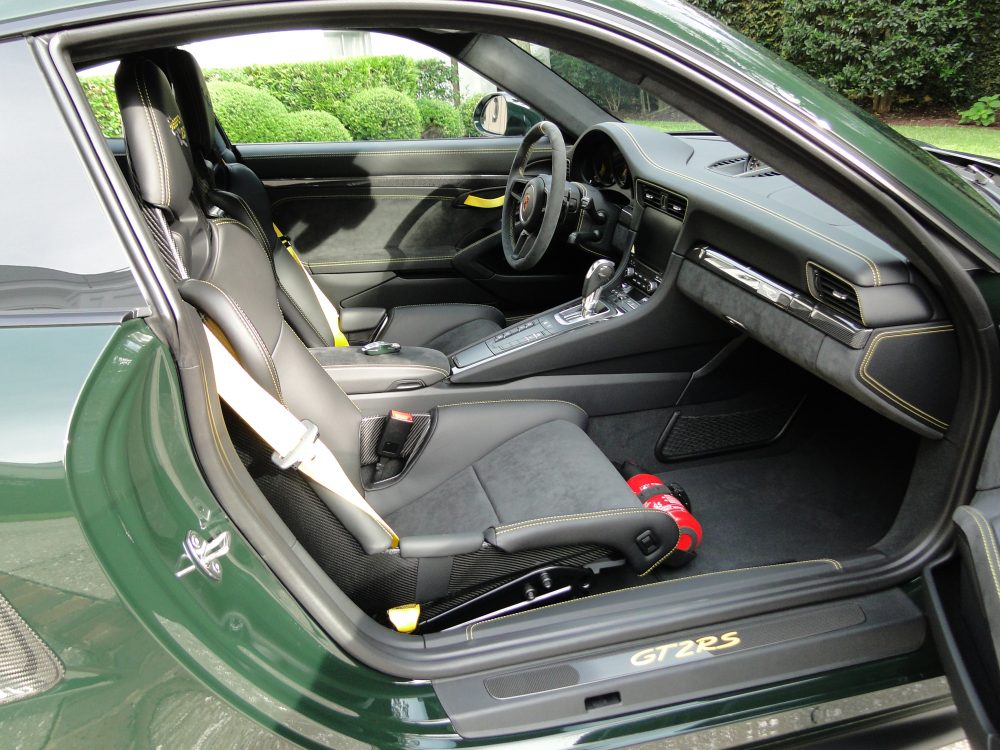 This is what happens in Stuttgart when the sun goes down and the liquor comes out. Porsche didn't have to make this car this insane, but they did anyway. They wanted to have a little fun, and this is what they came up with. That, and they knew they could charge a literal boatload of money for it. How much? The sticker on this car was $373,096. For a Porsche 911. Yes, it has nearly $80,000 in options alone, but the fact we are getting in the ballpark of $400,000 for a factory 911 is nuts. However, consider on paper that this car is maybe a half step behind the 918 at less than half the price, and $375,000 seems like a deal. Does that mean you can buy one for sticker? Of course not!
This car is offered by its original owner who spec'd it out and is now for sale with just 140 miles for $429,000. Looking around at the other GT2 RS cars currently for sale, and there are a few, you can get one in the mid-300s. Does it have delivery miles? Actually, yes. There is a Guards Red car in Chicago with 23 miles for $361,800. That is still nearly $30,000 over the sticker price, but still can save you $70,000 if you don't mind the crazy color combo. My guess is the owner of this car is banking on someone who has to have Brewster Green. Although I have a feeling he might be waiting for a while.
– Andrew