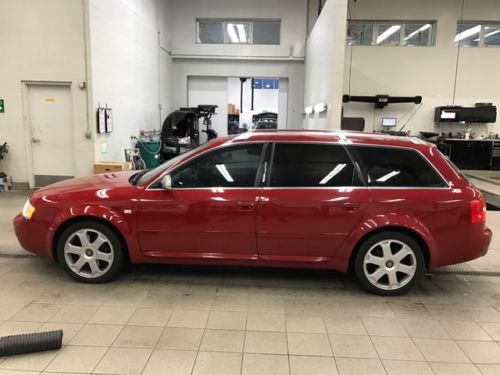 Perspective is an interesting thing. Just a few days ago, I looked at an S6 4.2 Avant – a car that never came to the U.S.. It was certainly potent, with 285 stomping V8 horsepower. Even more potent was the Plus version linked in the article, with enough power to match rivals from Mercedes-Benz and BMW. But here in America, we bemoaned the lack of importation of these models; worse still, Audi's U.S. lineup went decidedly soft following the discontinuation of the 20V turbocharged inline-5 S6 in 1995. Indeed, another S model wouldn't appear here until 2000.
But only a half decade after the most potent S-car had launched out of quattro GmbH, Audi gave us a reason to celebrate. The S6 Avant returned to U.S. shores, and it was even more powerful than the Plus model had been. Now with 5V technology, the BBD 4.2 V8 cranked out 340 horsepower. Like the 4.2 sedan we just looked at, the flares were widened and door blades made the stance more aggressive. Special interior details abounded; sport seats and steering wheel (comfort seats were a no-cost option), Alcantara headliner, and carbon fiber trim let the driver know they were at the wheel of a special model. Audi's signature Avus wheel design appeared in 17″, but uniquely 8″ wide and in lower offset than either the S8 or S4 models' wheels. The 1BE sport suspension was 20mm lower and 30% stiffer than the standard models. And though it looked like the rest of the subdued, understated early 2000s lineup, the Avant scooted; 0-60 was gone in 6.5 seconds, the standing quarter mile in 14.5, and the S6 could pretty effortlessly brush against its electronically limited 155 mph top speed. Reviews and owners alike chime in with the same song: like the E39 M5, this is a car that does everything, and does everything well.
So why the hell didn't we buy them?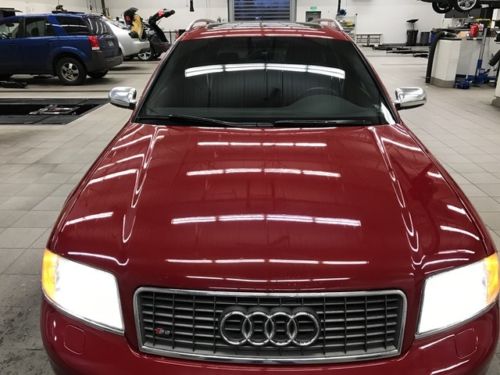 Year: 2002
Model: S6 Avant
Engine: 4.2 liter V8
Transmission: 5-speed automatic
Mileage: 125,160 mi
Price: $11,000 Buy It Now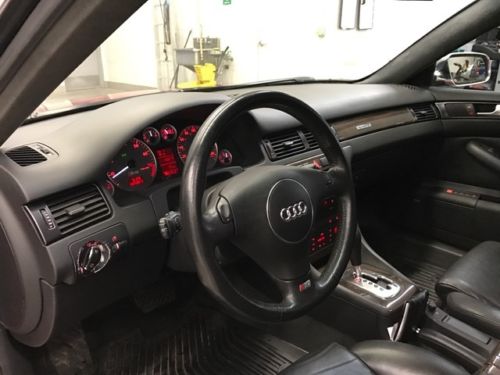 Very clean 2002 Audi S6 avant / wagon asking. oil change was just performed, tires have a little under half tread left, major service performed about a year ago, timing belt performed around 110000 miles. recently replaced prop shaft seal and both front outer CV boots. front bumper has a crack near the headlight washer, and the left rear door molding is slightly damaged. overall a very fun car to drive and had no problems at all during the recent snow storm! clung to the road better than cars with studded tires!
Thanks for checking out my car!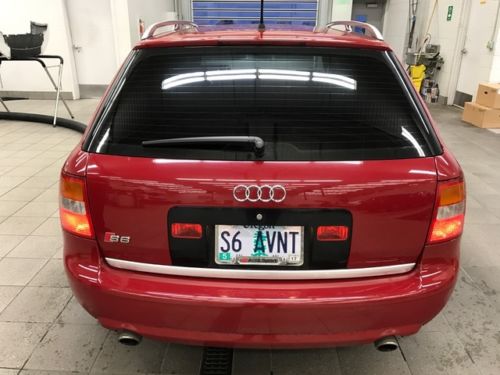 Well, first off, they were expensive. The base price in 2002 was $59,000, and add a few options in and you were past $60,000. Consider for a moment, as with the 2010 535xi Touring from the other day, that money still buys a wagon with equal power and more tech 15 years later and you can start to appreciate the relative expensive of this car in period. But the real kicker was the transmission; while Audi's 5-speed Tiptronic wasn't a bad choice given the potency of the 4.2 V8 and the highway mile-cruncher mission of the S6 Avant, the reality was the choice alienated some of Audi's traditional base. Add to that aspect that the ZF unit has become notoriously prone to failure and in the used market, these S6 Avants have a lot of people who love to see them, but few who are willing to pay a premium. Lastly, over the past year I've noticed an increasing amount of these S6 Avants coming to market with a bit of a shocker – rust, generally appearing around the hatch, rear fenders and even the doors. You won't see it on the front with the aluminum-intensive work there, but apparently it's becoming an issue on the C5.
A fair amount of the discussion on the low mileage A6 4.2 quattro last week focused on colors available on these C5s, and which was best. And, looking at this LY3C Amulet Red example it's easy to see why. Far from subdued but not quite as shouty as the Laser Red on the S4 of the same period or Misano Red Pearl Effect on the RS6, the hue is spectacular. This example isn't shown well, but looks to be in good original shape overall outside of some minor disclosed body damage.
From the not particularly detailed photos, it looks like this car has heated rear seats (4A4, $250). It also appears to have the manual rear window shades, which were only an option with the $750 Warm Weather Package (PWX), which gave you the solar roof too. Outside of that, there weren't many options available; Navigation which most wouldn't want and park distance control, along with OnStar and rear side airbags were among the few options. One big one that makes the '02 desirable was the optional 3rd row seating; this was discontinued in the '03 model. Little is disclosed about the history, but the timing belt service is recent. Pricing for a decent S6 Avant seems pretty accurate at $11,000. You can get needy, higher mileage examples more cheaply or pristine examples asking more, on balance this one seems about right in the market. If you're going to get into the 4.2 C5 market, this seems like the best path these days. It's not as complicated as the RS6 or Allroad and more affordable to run (and buy), while simultaneously being more special and quicker than the 4.2 sedan. And though it might look a bit heavier (*and is), it'll also give those classic C4s a run for their money in performance, luxury and build quality.
-Carter