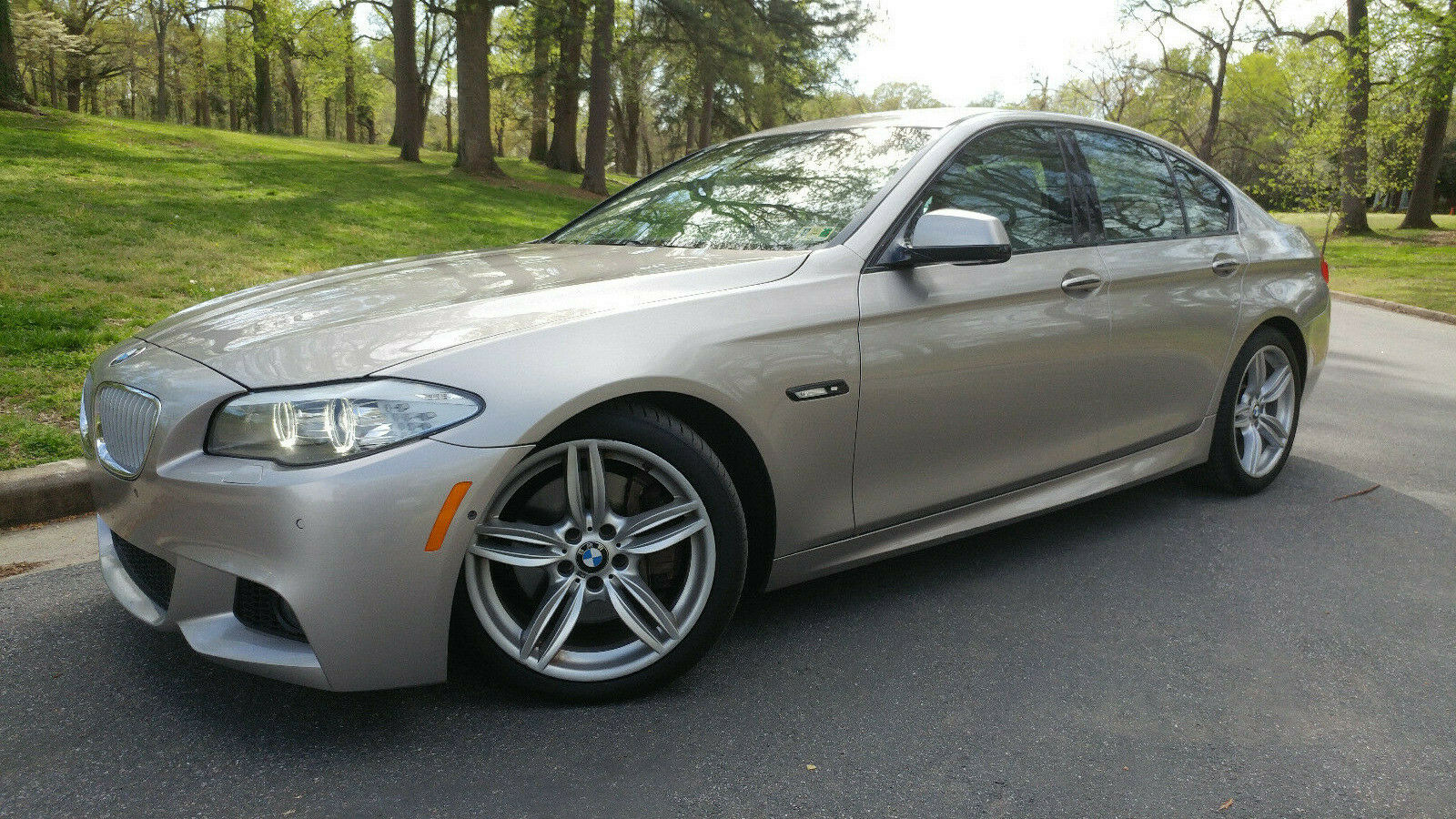 I've recently noticed a large amount of second-hand F10s hitting the market, and what's been surprising to me is just how cheap they've gotten so quickly. Perhaps I just haven't been paying attention, but suddenly the asking prices on the early F10s are precariously close to $10,000. I suppose it makes sense; the F10 is out of production and no longer the "new thing", with early examples over 100,000 miles and 8 years old. That's pretty much a death sentence for a mid-sized executive sedan.
But before you entirely dismiss the F10 line and commence your search for lightly used G30s, there are a few reasons to consider some specific trims in the lineup. For one, the F10 was a lot less controversial of a design than the E60 had been. Second, they seemed to integrate the technology better into the platform, making it a lot less glitch-prone than its predecessor. And, as with all 5-series iterations, power was once again up in the newer models across the board.
But within the F10 lineup for the U.S., there was one particular model which was quite special – what's listed here as a 550i M-Sport 6-speed. Some 611 550is were equipped with manuals, but of those only 269 were made with the M-Sport package. Today's example is one of just 16 550i manuals produced in Cashmere Silver Metallic: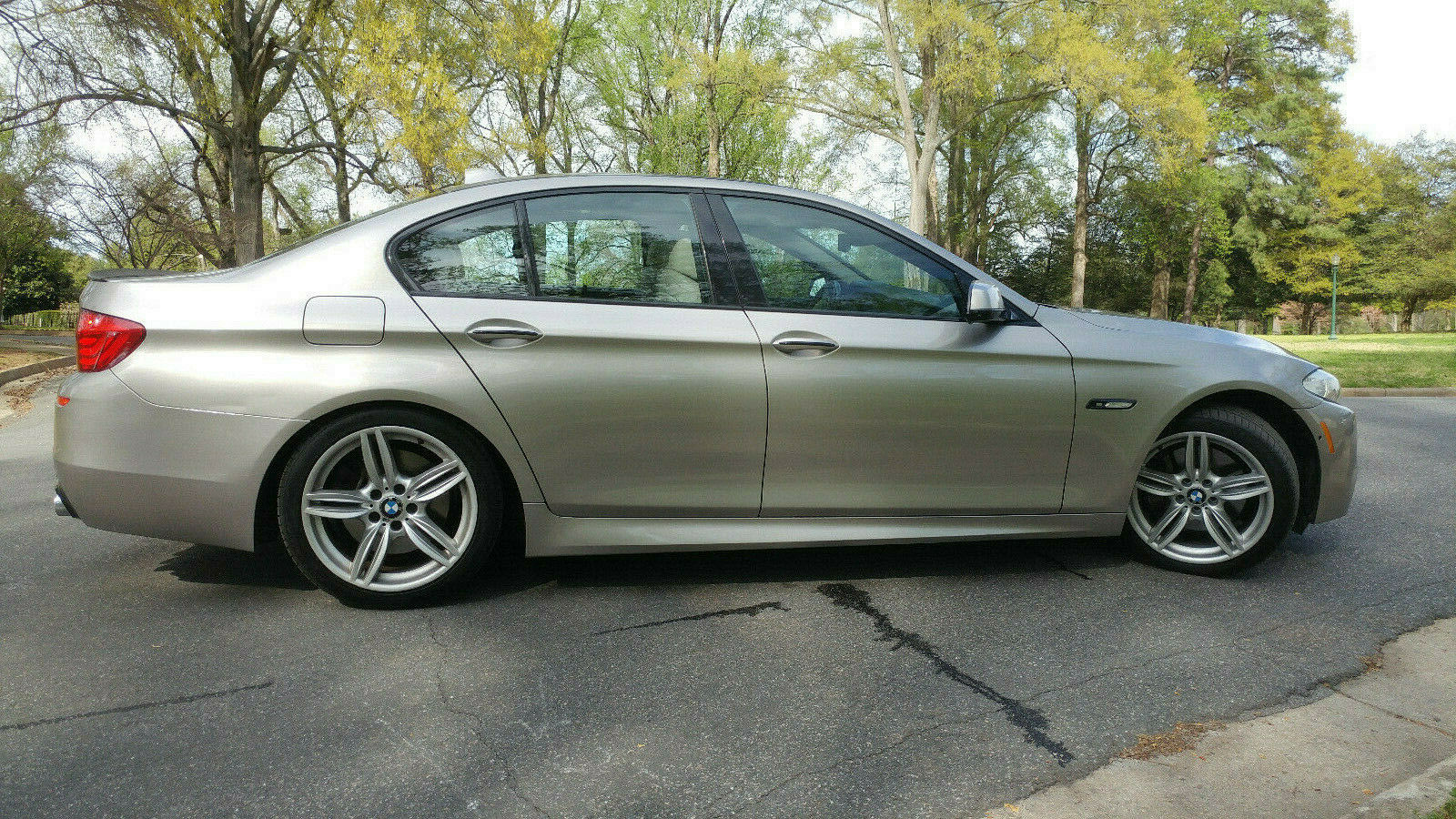 Year: 2011
Model: 550i
VIN: WBAFR9C50BC271277
Engine: 4.4 liter twin-turbocharged V8
Transmission: 6-speed manual
Mileage: 91,463 mi
Price: $16,850 Buy It Now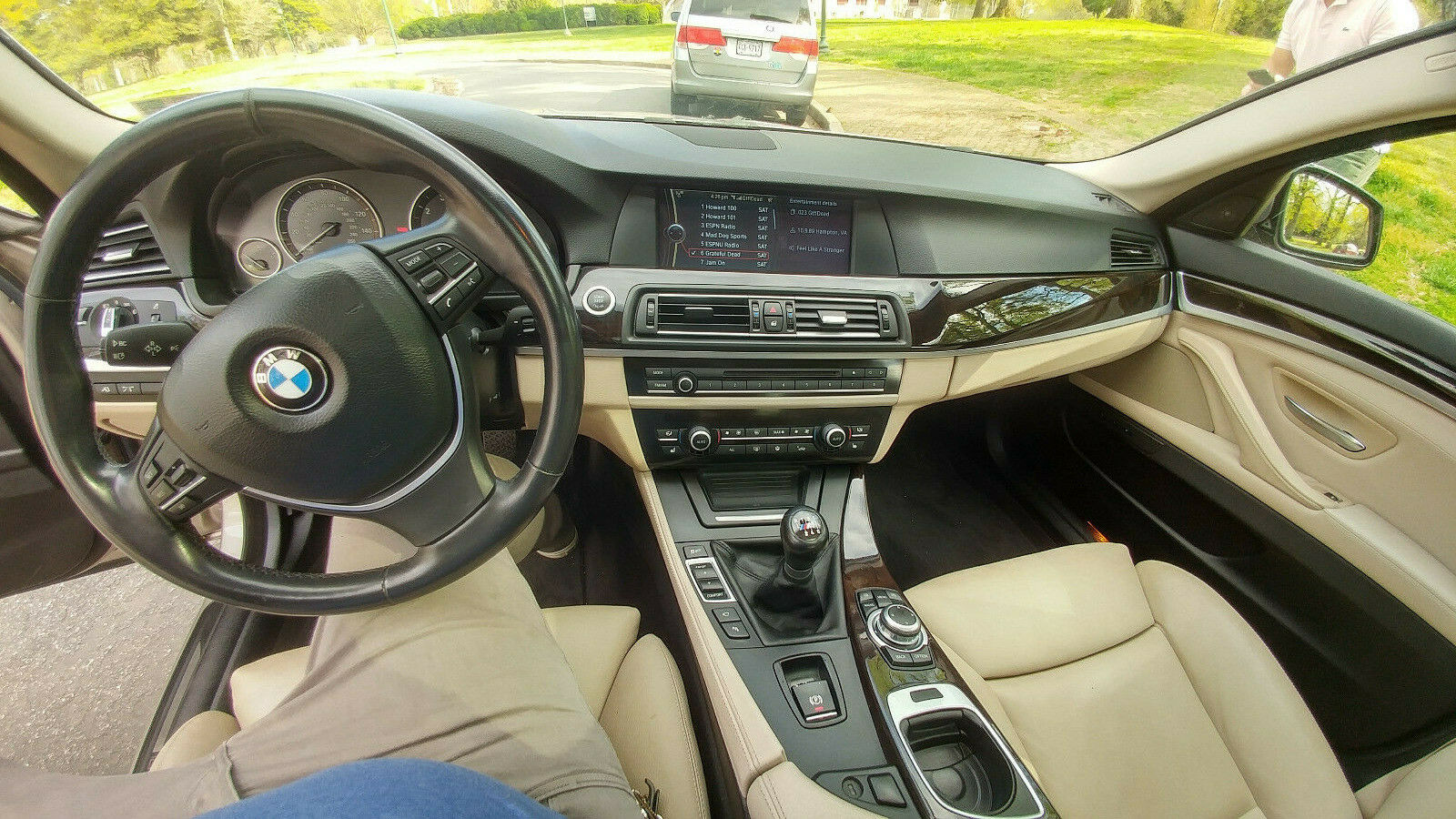 Rare 2011 F10 BMW 550i M-Sport with 6-speed manual transmission now available with a Clean CarFax. The car is finished in Cashmere Silver Metallic paint over a cream-colored Oyster/Black Dakota leather interior. Finding a clean F10 6-speed has become very difficult in the U.S. market, with very few produced for North America. Beneath the carís clean skin lies the heart of a tiger. To beef up the standard 4.4 liter Twin turbo V8ís standard 400 bhp output, the seller added a Stage 1 BMS tune, turning the already fast sedan into a growling rocket.

Additional upgrades include a factory M5 quad exhaust (OEM M5 exhaust was supplied by German firm, Boysen) that emits a very loveable, low roar as you fire the engine with the ignition button or downshift to blow by a slower driver in the right lane. The exhaust note will turn heads and make the new owner smile frequently. This family-sized, five passenger sedan is as great for getting the kids to school as it is for burning rubber.

The seller has lovingly cared for the car, sparing no expense to maintain it, with extensive service records from his 5 year ownership. He added a Dinan springs and handling kit that lowered the ride height one half of an inch. Recent maintenance includes new tires in the last few months, new clutch in mid 2016 and routine fluid changes every 5000 miles. The car currently shows approximately 91,500 miles. The engine runs strong and pure, and the car is very clean save a few normal blemishes. The seller purchased the car from Performance BMW in Chapel Hill North Carolina in the Fall of 2015 and has added approximately 30,000 miles since his purchase in 2015 – a mere 7,000 miles a year. He is only selling to make room in his garage for a vintage car he recently purchased. The sale includes all original manuals and the carís window sticker from new, showing an original sell price of $74,800.00.

Cosmetically, the car is extremely clean – inside and out. An approximately nine inch scratch with minor dent remains on the passenger side rear quarter panel that existed prior to the sellerís purchase (see included images). Overall, the paint is in good shape for its age. The interior shows very minor signs of age, most notably on the driverís armrest leather, parking brake lever and the driverís door pull.

The car features navigation with three optional views, a 20GB internal hard drive for your music collection and a USB iphone connector. Additionally it has factory Sirius XM/AM/FM radio and a 6 disk in-dash cd/mp3 player. It has heated front and rear seats and even a heated steering wheel.

Additionally Standard/Optional features include the following:

Sport Package (Dynamic Handling package)

Two-way moonroof: opens completely or tilts upward for venting.

Rear window sunshades, including a power shade on the rear window and manual shades on the door windows

Rain sensing wipers

Premium Package (premium audio, heated seats,usb phone adapter, rear sunshades, keyless entry)

Split fold down seats (carry your skis or a few two by fours when you need.

Safety: (Blind Spot Detection, lane departure warning)

Shipping: Free local pick-up or seller can assist with shipping process.

Payment: $500 deposit due within 24 hours. Full payment via Cashiers check or wire required before seller releases vehicle.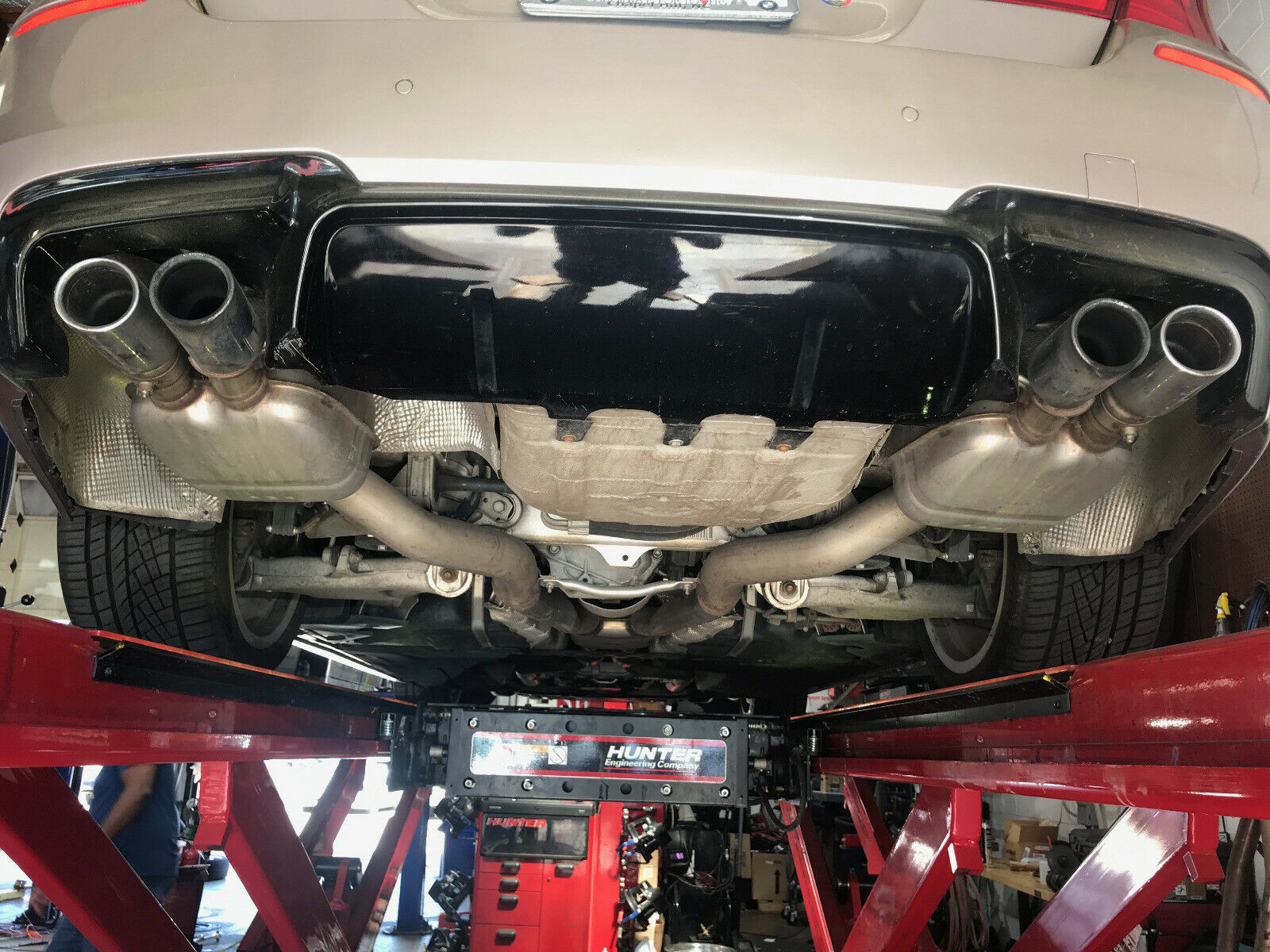 A72 Cashmere Silver Metallic is an absolutely beautiful color, especially in person. Here I think it tends to photograph as beige-toned, but I promise, it's much more dynamic than that. Inside I expected to see black leather, but the original seller opted for the light Oyster Dakota (LCCX) color instead and I think the combination works. Here's where things get a bit interesting.
Obviously, this car has a 6-speed manual. Also obviously, it's the correct color from the factory. But according to the breakdown of manual M-Sports above, this car isn't one of them – no Cashmere Silver Metallics were M-Sports. That would seem to mesh with the headliner, which in M-Sport models is typically black. Yet strangely, the car wears the correct M-Sport Style 351s and the deep front facia and rear diffuser. What's going on?
A look at the VIN breakdown clarifies what a lot of scrutiny suggests; this isn't a M-Sport model originally, but the seller or previous owner spent a fair amount of money trying to make it look like one. Again here the crossover between BMW's Sport and M-Sport packages gets very confusing, with the M-Sport being a mostly cosmetic affair. This car originally wore standard Style 332 550i rims and, while it did have the dynamic handling package and most of the M-Sport details, didn't ultimately have the M-Sport package. No accidents are recorded on CarFax, so I'd guess the bumper changes were a willing choice rather than a necessity. Does that matter? Well, in terms of value, it's probably not quite as desirable as one of the original M-Sports. But in a great color combination with the looks of one, it's still very nice. The BMS Stage 1 tune should put the N63 at 440 horsepower and the Dinan and M5 mods are nice. Then there's the price – at under $17,000, this just seems like an awful lot of car for the money. Finding a real M-Sport might be more appealing, but to me this one seems like quite a good deal overall on what is still a very rare performance car.
-Carter