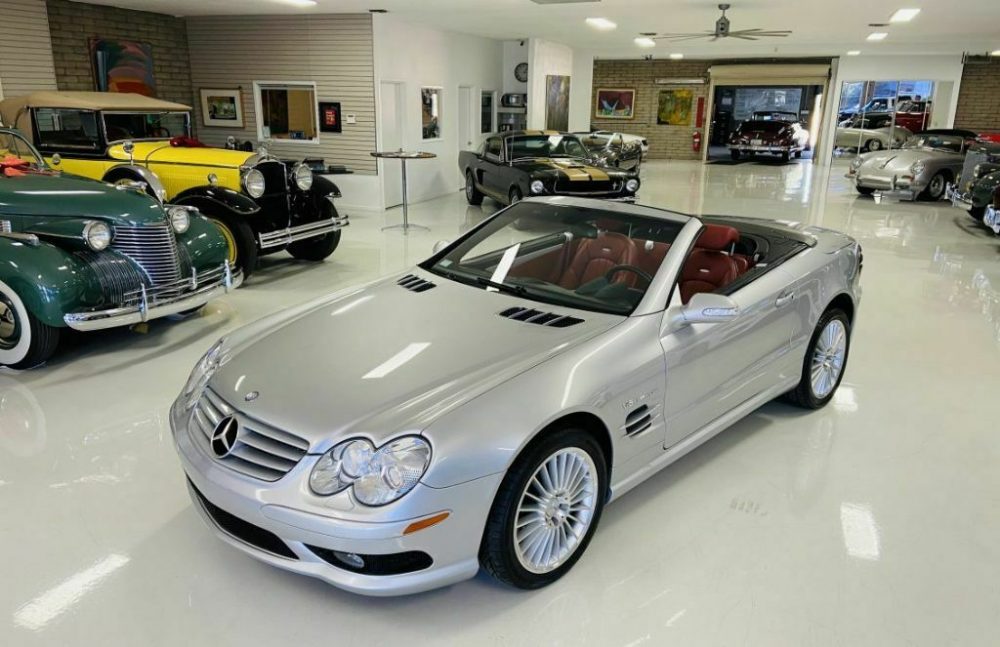 All of a sudden it's March! You know what that means. Four more weeks of winter for us in the northern part of the country and then we'll maybe start thinking about spring. In all seriousness, hope springs eternal when the calendar turns and we'll be preparing for car season. What better way to kick it off by looking at a Mercedes-Benz convertible with a supercharged V8 with nearly 500 horsepower?
This 2003 SL55 AMG up for sale in Arizona is finished in the classic Brilliant Silver Metallic, but when you open the doors you get your hair blown away with a red leather interior. Personally, I love it. I love even more that it has just 14,000 miles as well.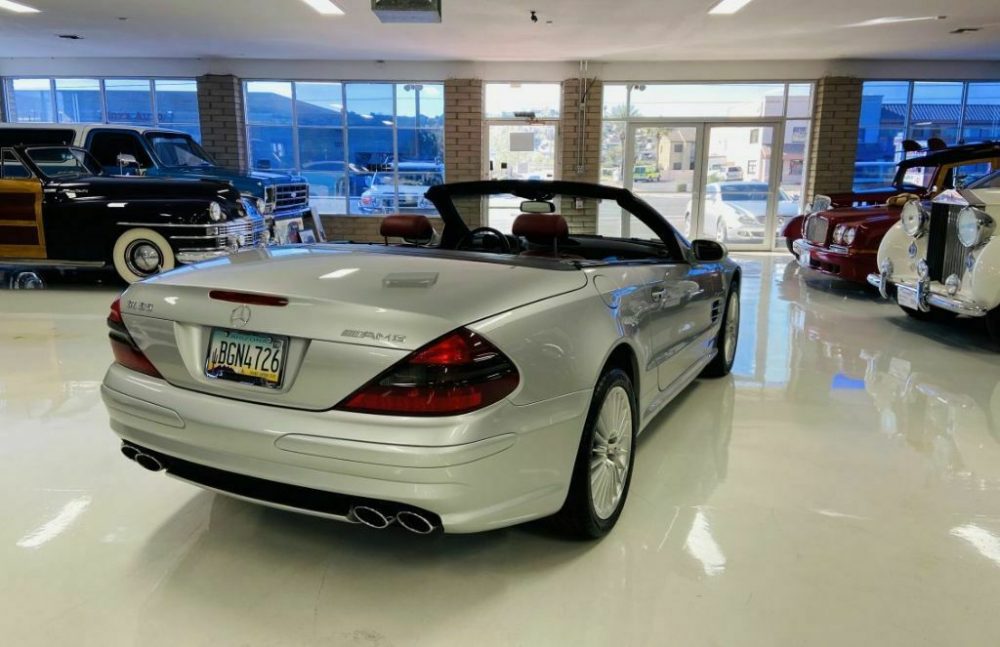 Year: 2003
Model: SL55 AMG
VIN: WDBSK74F93F053967
Engine: 5.4 liter supercharged V8
Transmission: 5-speed automatic
Mileage: 14,249 mi
Location: Phoenix, Arizona
Price: $29,800 Buy It Now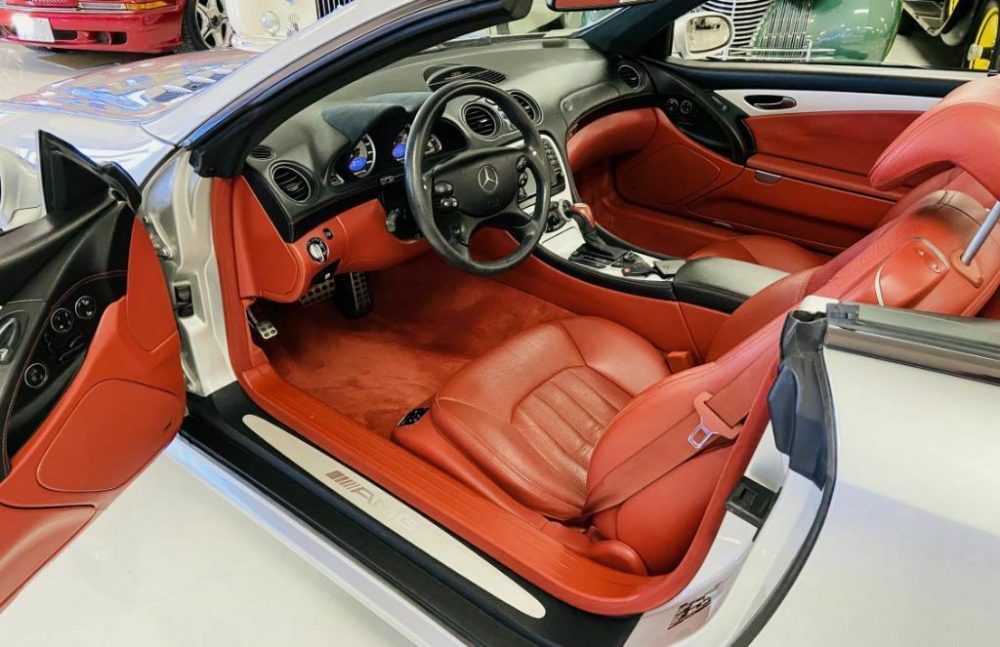 We are proud to offer this gorgeous 2003 Mercedes Benz SL55 AMG. With a clean CARFAX and near perfect condition inside and out, this is about as close to buying one of Mercedes most famous nameplates new as you can get. This SL represents the fifth generation (R230) of Mercedes two seater luxury sports car, which actually traces its lineage all the back to the original 1954 300 SL (aka. The Gullwing). Did you know? The letters SL are an abbreviation for "Sport Leicht," which translates from German to "Sport Light." Note, the word light is referring to the relative curb weight of the vehicle, and not to be interpreted as "light on sport." This is not the diet coke of sports cars after all! So, you can add that bit of trivia knowledge to your repertoire of Cars and Coffee small talk. Getting back to this particular SL55 AMG, at the time of its launch, there were no tires available which could tolerate the speeds this vehicle was capable of; consumer passenger tires would rip themselves apart from the centrifugal force. In fact, the March 2002 issue of Car and Driver noted that this car is capable of doing 208mph and out performed their Porsche 911. For a really interesting read, check out the online reprint of that article. The particular SL55 we have for sale has been owned by a fellow car enthusiast and friend of Classic Promenade's. With such low millage and outstanding condition, it goes without saying that this vehicle has hardly been driven and garage kept. Mechanically everything works as it should. In typical Mercedes fashion, this car pulls hard and shifts smooth. The paint and exterior condition of this vehicle are excellent. We did not notice any blemishes upon our initial inspection. Moving to the interior, we are amazed at how well it has aged. The soft and supple red leather interior is classic with the silver exterior. The red leather is contrasted with black accents throughout, giving the overall design a look that remains relevant today. Most everything on the interior is in outstanding condition as well. We did note that the drivers seat bottom has an approximately 1/4 inch tear in the leather and the glovebox was not working properly, thought that could be user error on our end! Back in 2003, this car would have retailed for $115,000 ($161,000 today). This SL55 is in such outstanding condition that it's current asking price represents an amazing deal for any interested buyer. Cool Facts: ENGINE TYPE: supercharged and intercooled SOHC 24-valve V-8, aluminum block and heads, Bosch Motronic ME20 engine-control system with port fuel injection Displacement: 332 cu in, 5439 cc Power (SAE net): 469 bhp @ 6100 rpm Torque (SAE net): 516 lb-ft @ 2650 rpm TRANSMISSION: 5-speed automatic with lockup torque converter DIMENSIONS: Wheelbase: 100.8 in Length: 178.5 in Width: 71.5 in Height: 50.9 in Curb weight: 4400 lb PERFORMANCE: Zero to 60 mph: 4.6 sec Top speed (governor limited): 155 mph This car is available for inspection at our Phoenix Showroom. For more information, contact Daniel at 1.917.890.4230 or at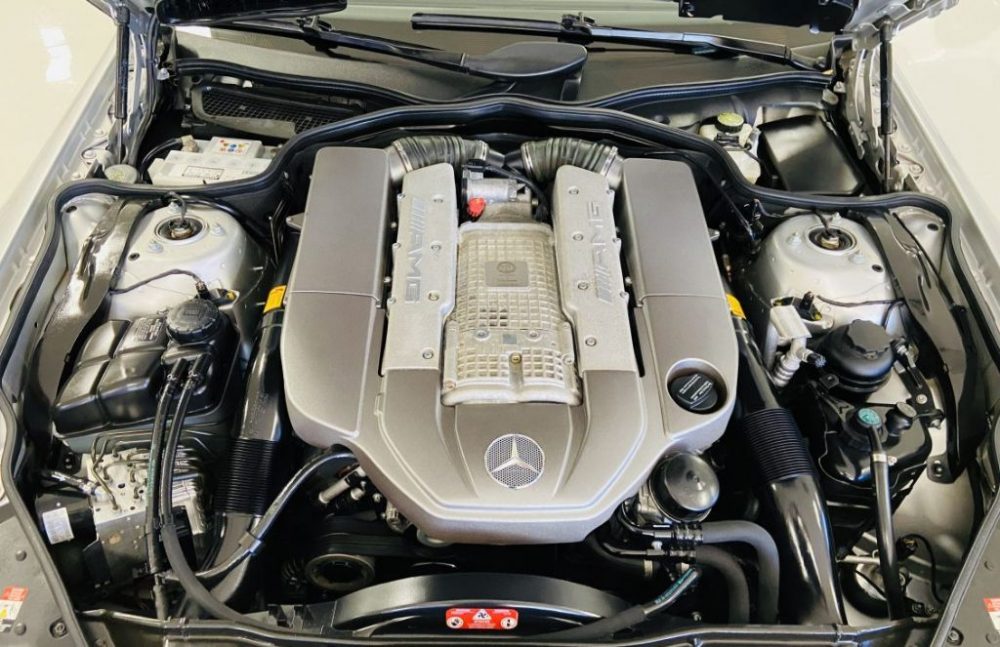 I think I'm partial to this color combo because it was used as the launch color for the promo photos when they first announced the SL55 in late 2002. The turbine style wheels, rounded body, and miles of red leather was very "new millennium" and helping Mercedes move from "old money" to "new money" seamlessly. In terms of performance, 500 horsepower and 0-60 times in the mid 4 second range was really fast for the time, and honestly isn't all that much of a slouch even today. As for this example, the dealer says the glove box is broken or "that could be user error on our end!" Nothing inspires confidence in me buying a car like someone not figuring out how to work a glove box. Either way, I'm sure a thorough pre-purchase inspection is required on this. Even more so for this price.
The $30,000 asking price is up for there for sure, and is probably the very top of the market for these early year example. The best comp I could find was actually a 2005 that had the same price that I looked at back in June that was in a far more desirable color. That one had a touch more miles, but condition was probably even better on that one. I don't think the pricing is too far off, but a lot of it is going to depend on the PPI.
– Andrew