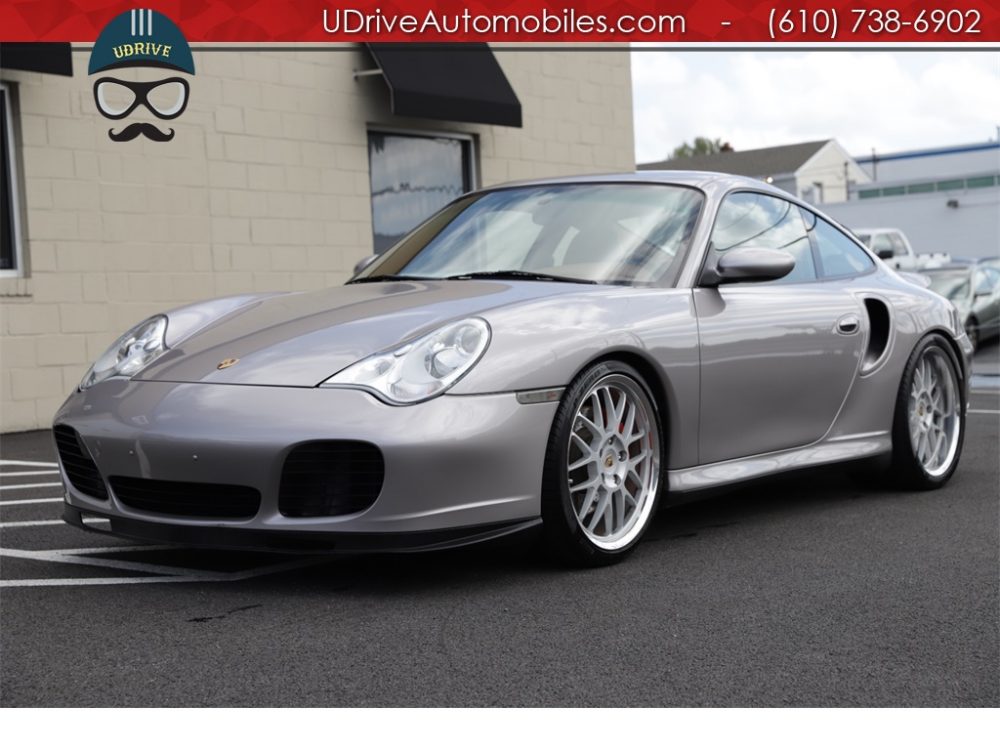 It is almost silly how many variations of silver exist. And this isn't just a Porsche phenomenon, but they do seem to lead the pack. Here we have another: a Meridian Metallic 2003 Porsche 911 Turbo Coupe with Cinnamon leather interior and 25,002 miles on it. I don't think I have ever seen Meridian Metallic, though to be honest I'm not entirely sure I'd know if I saw it unless it was sitting amongst a few other silver 911s. It seems to exist somewhat in between Arctic Silver (lighter) and Seal Grey (darker). We might think of it as a silver in the vein of Polar Silver, not in the sense that the hue is the same, but rather that it is a variant of silver with a slight blend of another color. Polar Silver naturally possesses a hint of blue to it, whereas Meridian appears to have a slight purplish/pinkish hue. I will admit I kind of like these variations of silver since they possess more dynamic properties that will change depending on the type of light and I do find this 911 to be strangely attractive. Even so, at the end of the day, it's still silver. I wouldn't necessarily seek it out, but as an option on a very nice looking Turbo it might tilt me slightly in its favor.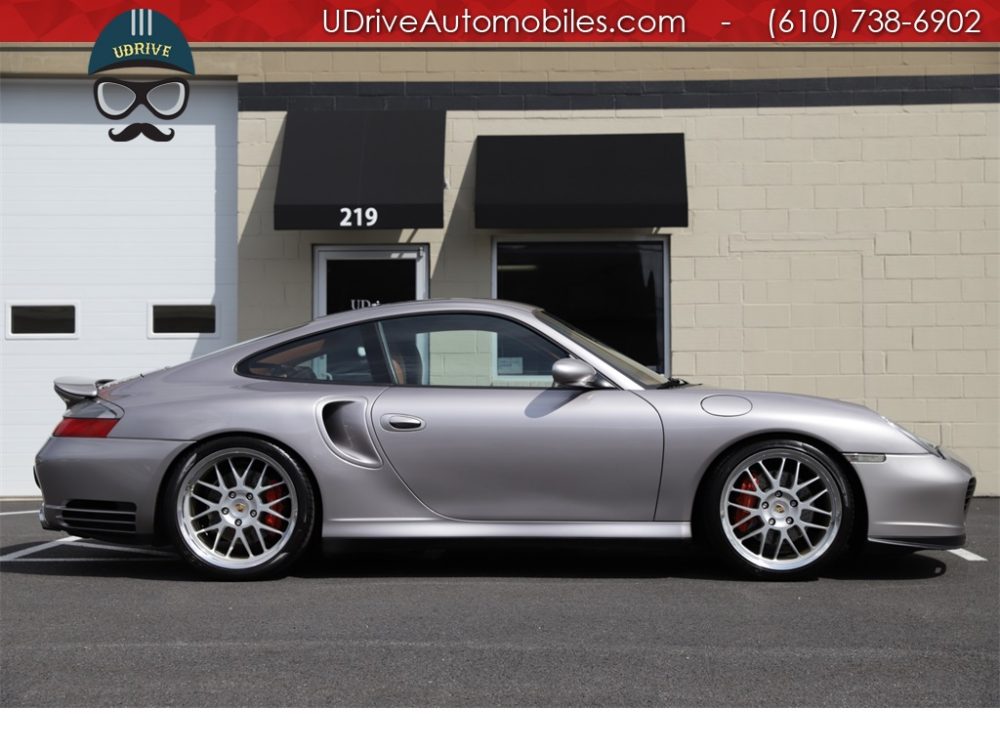 Year: 2003
Model: 911 Turbo
Engine: 3.6 liter twin-turbocharged flat-6
Transmission: 6-speed manual
Mileage: 25,002 mi
Price: $59,900 Buy It Now
!!2003 Porsche 911 Turbo Coupe!!

!!EXTREMELY RARE COLOR COMBINATION – Meridian Metallic over Cinnamon Full Leather!!

!!25,002 MILES!!

!!6 SPEED MANUAL TRANSMISSION!!

!!Original MSRP $123,415…Heated Front Seats…Lumbar Support-Right Seat…Lumbar Support-Left Seat…Light Wood Package – Small…Black Mats – Porsche Lettering…Cinnamon Brown Special Leather…Meridian Metallic Top…Lowered Seats (-10 mm) Aluminum/Chrome…Lowered Suspension…19 inch Champion Motorsport RG5 Forged Monolite Wheels – $5,800 NEW!!

CALL (610) 738-6902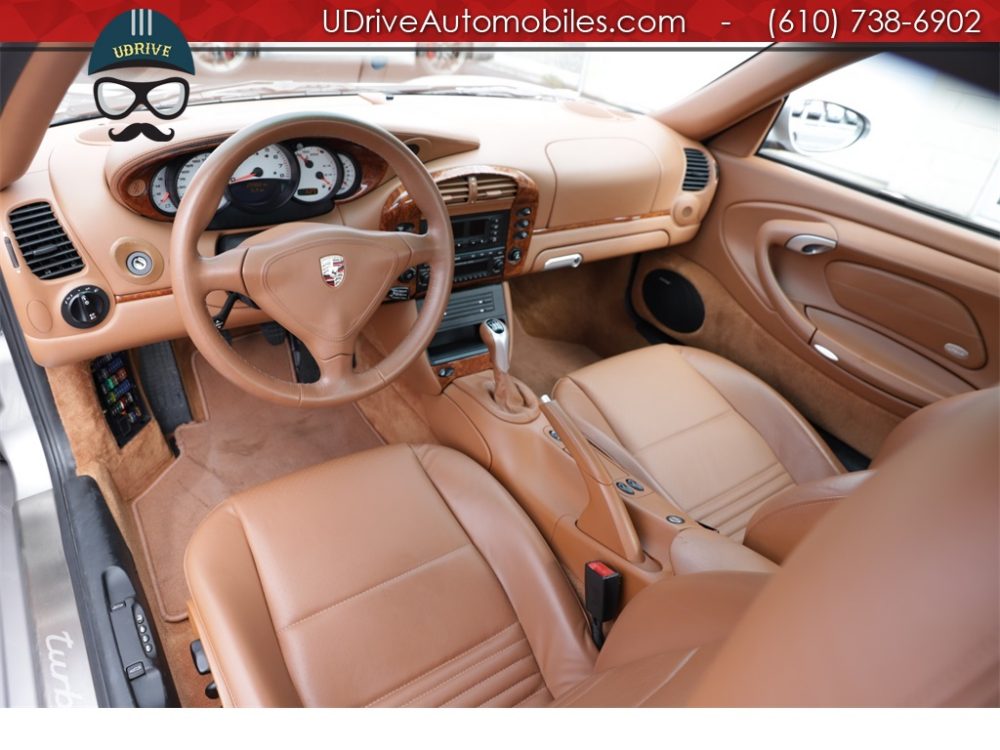 In addition to the rarely seen Meridian exterior, this Turbo also possesses a somewhat rare Cinnamon interior. The combination works pretty well and I think I definitely prefer it over the much more common black or, even worse, grey interiors we see on quite a few 996TTs. It also has some wood trim, which I hate. I'll admit I didn't notice the wood at first, but once I did it was hard to ignore it. At least they didn't go overboard and restricted its use to the center console and gauge surround. Much of this 911 looks particularly nice with the exterior showing very well and the interior looking crisp and clean with minimal apparent wear. It looks like the fuse box cover is missing, but hopefully that's just a minor oversight and it'll be in place for anyone looking to purchase this 911.
As for price, this one is aiming pretty high and is priced in the territory of X50 models. For those looking purely for a performance bargain this one won't quite strike that note though even without the additional horses from the X50 package a 996TT does pretty well in that regard. I assume the premium here comes from the combination of the pretty low miles and the rare color combination. It does indeed have low miles. The colors too are rare, but given that Meridian is a rare variant of a pretty standard color I'm not sure you really should expect much premium because of it. Nor does it have much historical value a la Polar Silver. It looks nice though and if the price can come down should make for an attractive purchase. And if anyone ever compliments you on your silver 911, you can tell them, "No No, not Silver. Meridian Metallic."
-Rob