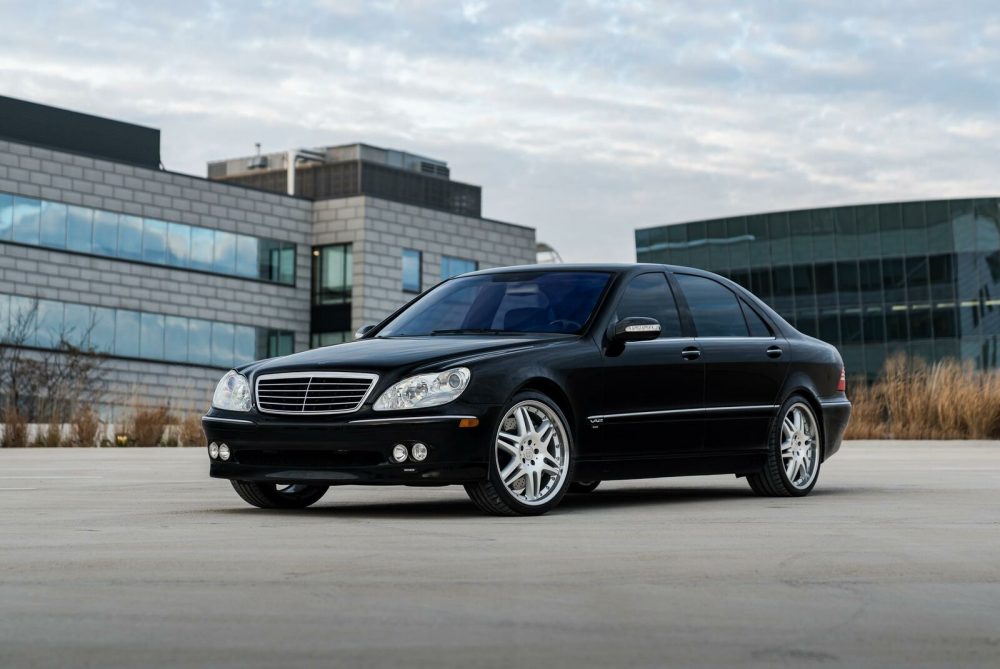 Mercedes-Benz turner Brabus is never one to pull any punches. When they go "all in" on a build, they don't hold back and usually produce something that has so much power that it is almost useless in any kind of normal driving situation. Impressive outputs aren't the end of the spec sheet, as they'll usually throw some bumpers, wheels, and most importantly, brakes on the car as well. Most of the time you get a fairly conservative design in terms of tuner companies, but sometimes you get some stuff that really went off the deep end.
Today, as luck would have it, a 2004 S600 popped up for sale in Philadelphia with the Brabus T12 package on it. The W220 S600 was already a pretty powerful car with the M275 twin-turbo V12, but if you give Brabus a check for nearly $60,000, they'll make it even better. How much better?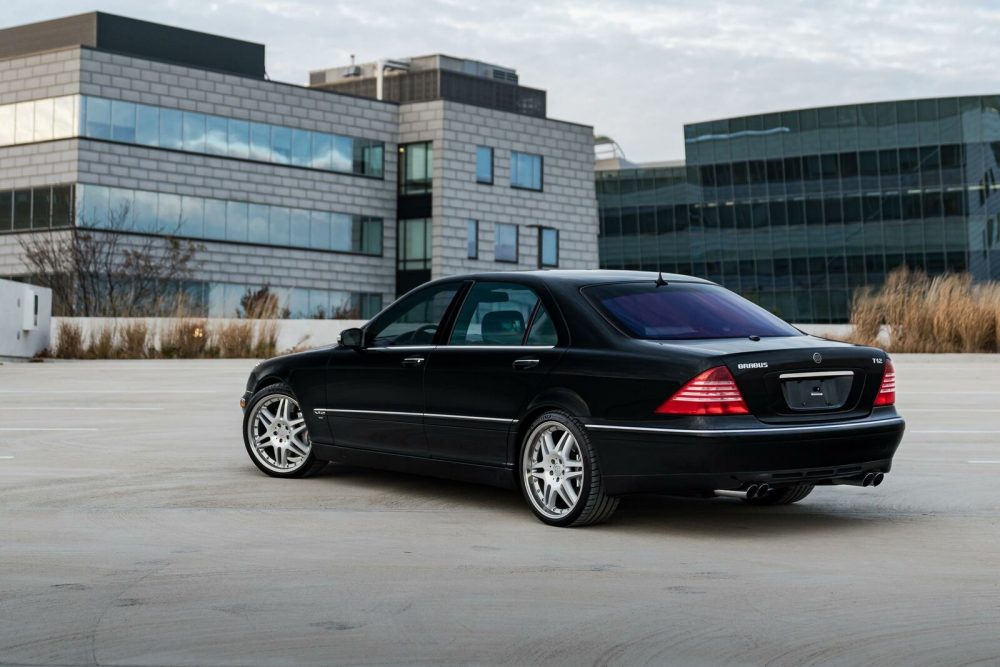 Year: 2004
Model: S600 Brabus T12
VIN: WDBNG76J54A387363
Engine: 5.5 liter twin-turbocharged V12
Transmission: 5-speed automatic
Mileage: 102,411 mi
Location: Philadelphia, Pennsylvania
Price: $38,000 Buy It Now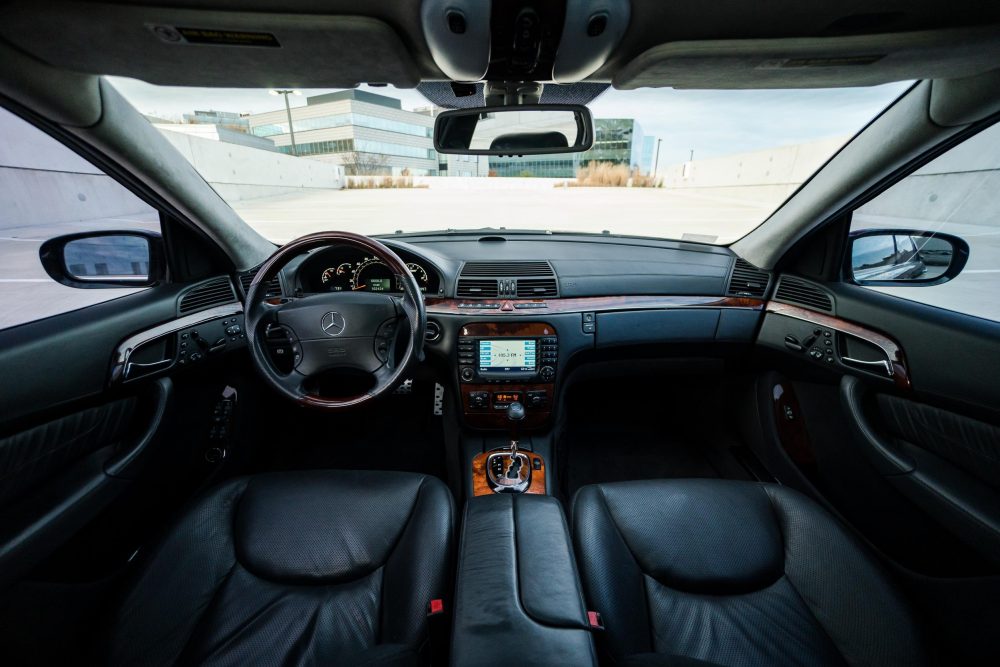 – Chassis # WDBNG76J54A387363
– 580 Horsepower Twin-Turbo Aluminum V-12 Engine
– The Brabus North America Show Car
– Nearly $260,000 In Comprehensive Receipts From New
– Outstanding Condition Both Cosmetically And Mechanically
– Includes Window Sticker, Brabus Build Sheet, Books, Tools, Spare, Brabus Sales Documents,
And Extensive Service File

Among the world of Mercedes-Benz tuners, there are two names that stand head and shoulders above the rest; AMG and Brabus. With the full acquisition of AMG by Daimler AG in 2005, Brabus was left as the go-to independent tuner for all things Mercedes-Benz. The original brains behind Brabus, Bodo Buschmann, was interested in customizing his Mercedes and found that the existing tuners simply couldn't meet his requirements, so he decided to take it upon himself to provide the Benz world with superior aftermarket support. The Brabus company name was first registered in 1977 and due to a German law requiring companies to be founded with 2 people was derived from the founder's surnames of Brackmann and Buschmann. Brabus found immediate success and opened its first dedicated showroom in 1983, where customers could buy prebuilt Brabus versions of Mercedes offerings or bring their personal car in for custom touches. Over the years, the company has grown immensely and offers everything from aero and body trim pieces to full-on custom hand-built engines for the Mercedes platform and has remained the pinnacle of independent Mercedes-Benz tuning and customization.

The example on offer here, chassis number WDBNG76J54A387363, is a 2004 Brabus T12 Sedan. This T12 is an astounding one-owner example, residing its entire life in Arizona and has been meticulously cared for in an open checkbook manner. This car started life as a top of the line 2004 Mercedes-Benz S600 which features a 5.5 liter twin-turbo aluminum V-12 engine with a sticker price of just over $133,000. It was sent immediately to Brabus, where it would be transformed into the T12 version. Once at Brabus it was fitted with over $57,000 worth of upgrades which included the following:

– Front and Rear Bumper Kit
– Brabus illuminated side skirts
– Lowering kit for ABC cars
– T12 power kit which increased power from 517 hp to 580 hp and 663 lb/ft of torque
– Brabus quad exhaust kit
– Brabus Brembo front brake kit
– Brabus Monoblock V1 wheels
– Brabus burl walnut electric folding tables in the rear
– Extensive Multimedia kit consisting of 6.5-inch monitors in the headrests, 6-disc DVD changer, TV tuner, wireless headphones, and an Xbox gaming system
– Glass tinting

Once completed, this example would go on to be Brabus's North American Show Car and would be displayed at the 2004 LA Auto Show. In a testament to the thorough nature of the documentation that is included with this car, passes and Brabus VIP badges from the 2004 LA Auto Show are included with the car among a host of other Brabus related material as well as thorough service records. This car has been under single ownership since being sold by Brabus and has been meticulously maintained by reputable marque specialists with a chain of unbroken service records dating back to late 2003. This T12 has lived its entire life in the dry and car-friendly climate of Scottsdale Arizona. The most recent service documents are from May of 2019 and include replacing control arm bushings as well as fixing a stuck shade screen in the rear of the car. As it sits today, this car has 102,411 miles from new but appears both cosmetically and mechanically as if it could have 25,000. It has been absolutely exquisitely maintained and remains in fantastic condition all around despite the mileage. Given its heritage, original sticker price, as well as incredibly thorough service history, this 2004 Brabus T12 is an absolute bargain of a Mercedes-Benz powerhouse. This Brabus T12 may not be considered a traditional classic car but what it does have going for it is rarity, usability, as well as an immense fun factor. Given these attributes, this car would make for the perfect interesting vehicle to add to a daily driver rotation or would be perfect for fun outings with the family.

Included with the sale of this car is the original window sticker, extensive service documents, Brabus build sheet, Brabus sales materials, original books, tools, and spare.

EXTERIOR
Body And Paint
This Brabus T12 is finished in Obsidian Black from the factory and the paint remains in fantastic condition despite the mileage. The color is deep and consistent around the whole car. Given the mileage, there is some very minor stone chipping in the front section of the body, likely from normal use. The front bumper has some very minor webbing cracks near the driver's side fog lights. There are a few other very minor chips in the paint in high wear areas such as the edge of the driver's side door, but most of these require a very thorough eye in order to locate. The body is very straight with nice smooth panels and excellent door gas etc. There are no signs of abuse or neglect and the exterior of the car remains in excellent condition.

Glass And Trim
The windows were tinted by Brabus at the time of the build and they remain in excellent condition all around. The tints are dark, providing the privacy one would expect from a car of this caliber, but still allow enough light in to properly illuminate the interior as well as to keep good visibility all around the cabin. There is some minor de-lamination occurring on the driver's side rear window but nothing serious. The headlights are clean and clear but do show some pitting in the plastic. The fog lights which are located in the custom Brabus bumper do have some cracking in the lenses. The taillights appear in great condition with no issues to note. The anodized trim around the windows is smooth and clean with a top-notch finish and the rubber gaskets backing the trim appear supple and solid.

Wheels
The large 20 inch Brabus monoblock wheels are in good condition however they are a bit more representative of the mileage. The polished finish is clean but does show some swirling and there is some minor curb rash on some of the wheels.

INTERIOR
Seats And Surfaces
The interior of this Brabus T12 has been maintained in fantastic condition. The Charcoal leather seats throughout the car remain smooth, tight, and free of any issues. They all have solid bolsters and appear to perform all of their numerous powered functions as they should. The carpets are good order, showing minimal wear and good color. The Brabus branded floor mats are in good shape as well, however, the front driver's side has begun to bunch up a little, an easily removable issue. There is some scratching on the Brabus branded driver's side door sill, but nothing worth making an attempt to fix. There are some minor knicks in the leather of the doors where (likely) someone with rings on would open and close the doors. This is present on both the driver's side front and rear doors. The finish on the parking brake release has started peel and there is some additional normal wear on some of the more heavily utilized buttons and switches. The headliner is nice and tight with no staining or sagging to speak of. Overall the interior remains in outstanding condition and one would be hard-pressed to find a run of the mill S600, with these miles, in this kind of outstanding condition. Add on the fact that this is no run of the mill S600 and you have a recipe for something truly special.

Please contact us for a complete description and photo set on this exceptional car.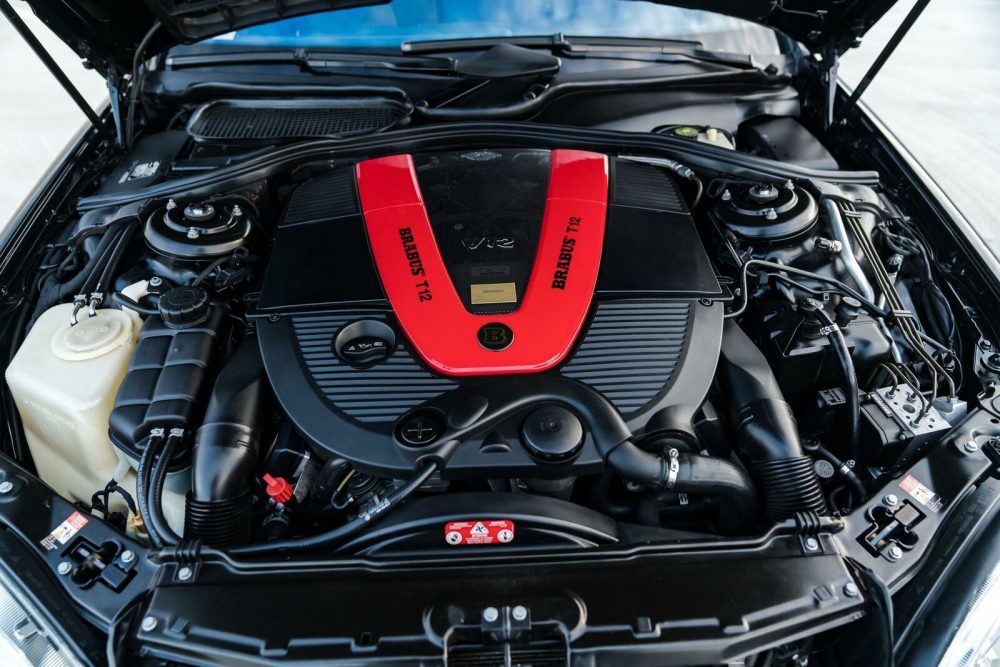 This was actually a show piece for Brabus at the 2004 LA Auto Show so needless to say, they went all out on it. The full works on the exterior, 19″ wheels, upgraded front Brembo brakes, some light interior touches, and an increased horsepower to 580 horsepower and 663 lb-ft of torque. I'm usually not into the cosmetic changes that tuners make because usually they are a little too over the top, but the black does a good job of masking all the aggressive bits on the body and it is just enough to know that this is a different car. It looks like the displacement stayed at 5.5 liter because I think that Brabus was taking this cars up to 6.2 liters on later M275 cars. Believe it or not, this example actually has over 100,000 miles on it, so that probably says a lot about the longevity of what they built in the past.
A cheap W220 this is not. The asking price of $38,000 is steep for any W220, S65 AMG included. Is this a better car than a S65? I don't think honestly. You can't really blame Brabus as the S65 was still years away so they probably thought this was the route to go as the S55 was using the M113K, not a V12, and an S65 wasn't yet announced. I think you'd have to be the ultimate Brabus lover to consider the car at this price tag. If this was $25,000? Sign me up. However, $38,000 for any W220 with over 100,000 miles is a tough ask. A bargain compared to the $190,000 it took to make this car happen, but then again, so is a 2006 S65 that can be had for much less than also retailed for that same $190,000.
– Andrew