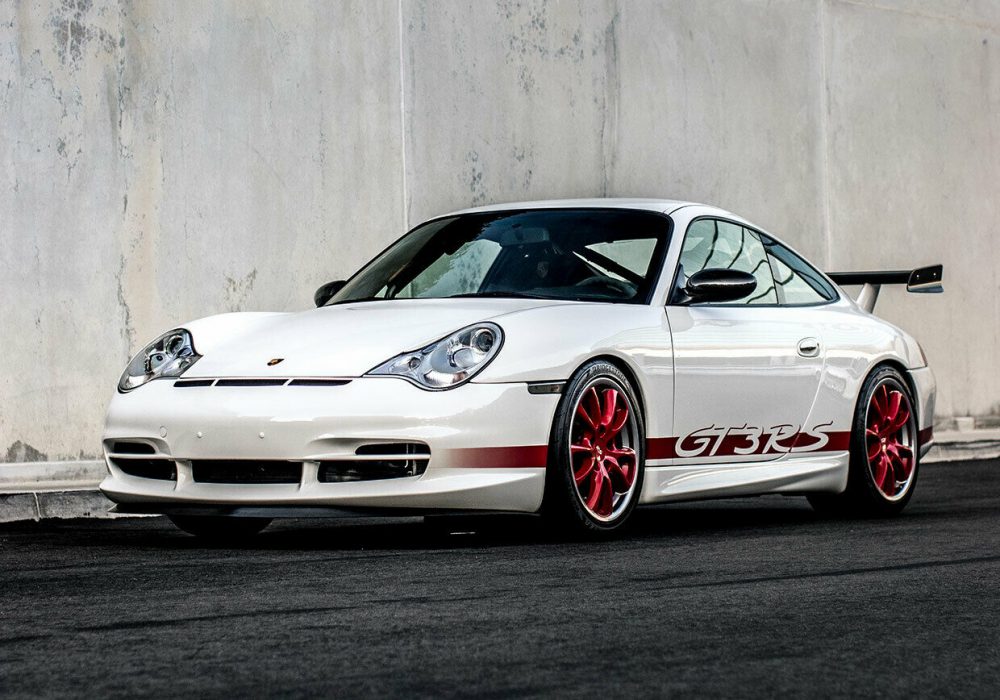 Porsche GT cars are hotter than ever it seems. If you aren't ordering a new GT3 RS with paint-to-sample, 18-way adaptive sport seats, carbon ceramic brakes and $72,000 in other options, are you even living? Lots of people literally obsess over these things and I guess it makes sense as these are big decisions, like whether or not to spring for the $1,300 carbon fiber door sill plates. However, back when we were still in the infancy stage of Porsche GT car madness, things were much simpler thanks to one of the cars that started it all: the 996 GT3 RS.
Just 682 were ever built and exactly zero were configured for the North American market. You had no choice of color. Carrera white and you'll like it. However, you did have a choice of wheel and sticker color of either dark red or light blue. From the cars that are publicly seen, it seems like most of them were optioned in red. These RS cars were exactly what you'd expect. A more hardcore version of the 996 GT3 that admittedly was already a pretty raw car. The RS received a bunch of lighter body panels, a Mezger 3.8 liter that could rev to 8,200 rpm, and some other small changes that is detailed below if you really want get nerdy about it. Now that everyone is into respecting their elders, it only was a matter of a time until one of these made its way to America. This 2005 up for sale in California is a left-hand drive Japanese car that is fully EPA and DOT compliant for road legal use in America thanks to the 996 GT3 RS being on the NHTSAs list of cars that can be imported through a registered importer. The price? A brand new 2019 GT3 RS, plus a Cayenne for your significant other, is less expensive than what you'll have to pay to take this one home.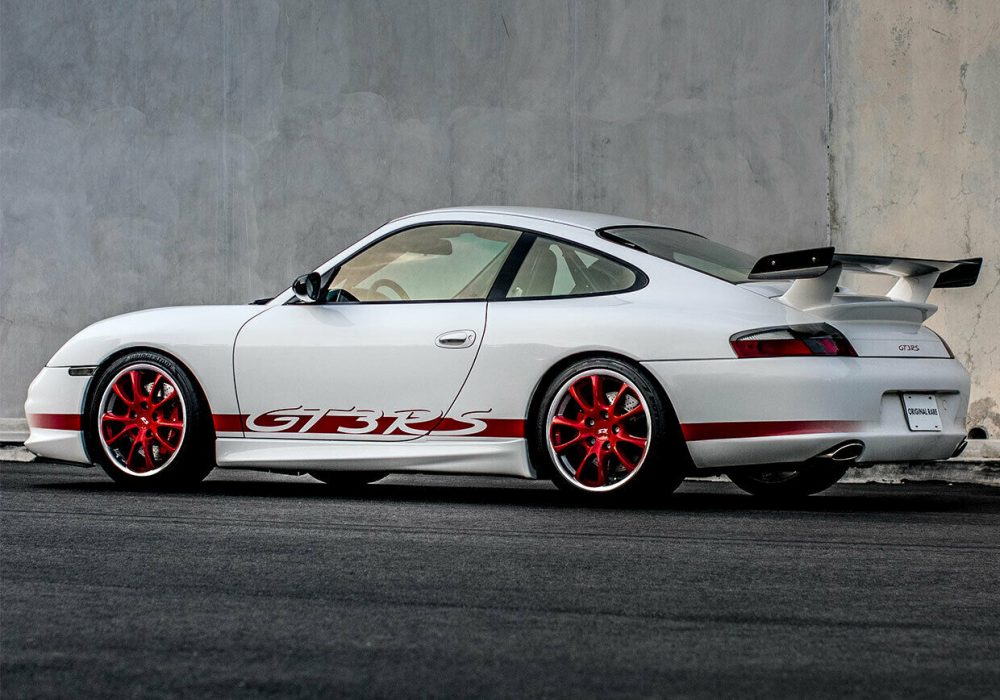 Year: 2004
Model: 911 GT3 RS
VIN: WP0ZZZ99Z4S691474
Engine: 3.6 liter flat-6
Transmission: 6-speed manual
Mileage: 17,800 km (11,000 mi)
Price: $290,000 Buy It Now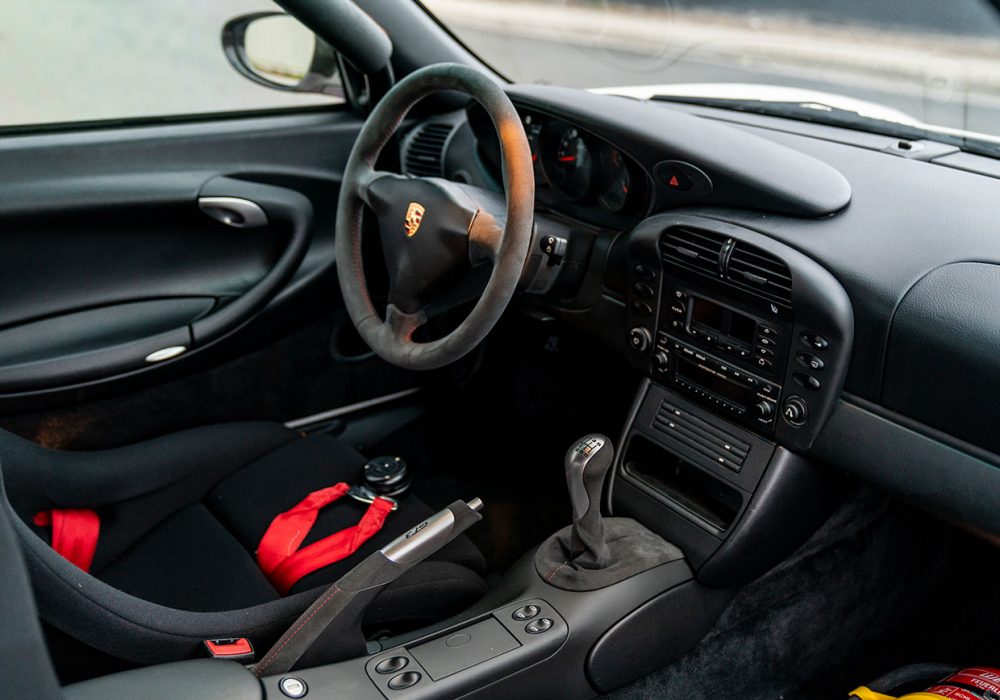 996 GT3 RS:

The Type 996 GT3 was developed by Porsche in 1999 to homologate the 911 for the FIA GT3 category. In competition form, the GT3 enjoyed success with class wins at Le Mans, Sebring, and Daytona. For 2003, an even more track-focused RS variant was introduced. Its aerodynamics and suspension were improved over the then-current 911 GT3 and 110 lbs were saved thanks in part to a carbon fiber hood, polycarbonate rear window and carbon fiber rear wing. The 996 GT3 RS was also one of Porsche's first cars to offer carbon ceramic brakes as an option. The engine in the GT3 RS was a carryover from the GT3, with a naturally aspirated 3.6-liter flat-six derived from Le Mans-winning race motors designed by longtime Porsche engine guru Hans Mezger, making 380 hp and ripping up to an 8200-rpm redline. The GT3 RS also has significant chassis improvement over the GT3. It is considered by many who have driven it to be the rawest RS because there is no electronic assistance in the suspension and no traction control. The steering response and brake pedal feel is also considered to be one of the best out of all the Rennsport Porsches.

This 2004 Porsche 996 GT3 RS is one of 682 examples built. Never offered in the United States, this car was delivered new in Japan, where it remained until early 2018 with less than 11,000 miles. Finished in Grand Prix White with red graphics and wheels, this RS is equipped with the Clubsport package, which is composed of a roll-cage, six point harnesses, Recaro race seats, a fire extinguisher, and a single-mass flywheel. Car comes with books, tools, documentation, and original exhaust components. Since this car was never offered in the USA, this car cannot be legally imported into the USA without going thru the legal process. This car was recently made EPA and DOT compliant for road legal use.

From Total 911 Magazine:

"Unlike the standard GT3 on which it is based, the 996 GT3 RS's banshee-like howl is likely to be the only noise that you'll hear emitted from the dual tailpipes.

The reason for this is two-fold. The uprated Mezger engine in the RS model only makes one sound, whether at 1,500rpm or 7,000rpm. Even if it did have the ability to make different noises, you wouldn't experience them because, as a driver, the GT3 RS always urges you to wring its neck.

If you step up to the challenge, the 380 bhp engine's tone is orchestral. Nonetheless, it isn't the sound that makes this car a must-have.

GT3 RS models are often described as 'more focused' editions of their standard GT3 brethren. However, the 996 'Rennsport' isn't focused; it is distilled. It is the very essence of driving involvement, packaged in an iconic white and red or blue livery.

The steering wheel is a weightier affair than the GT3, increasing the illusion that you are in the cockpit of a bespoke racing car, not a road-legal grand tourer. The additional camber on the front wheels is the culprit, increasing feedback, yet this isn't a negative trait.

On every inch of tarmac, you always know what is going on. The sensation of this all-enveloping involvement is incredible.

Turn in is immediate, providing huge levels of confidence, even on the damp and rutted roads of the Northamptonshire countryside here. Once into the corner, the archetypal 911 understeer is non-existent – always on the heading that you, the driver, intended.

As you apply the power hard, the GT3 is liable to sit back on its haunches, creating an unnervingly light steering wheel. The stiffer springs and dampers on the RS decrease the level of squat (reducing weight transfer to rear wheels), providing a more consistent level of front grip."

Serious Inquiries Only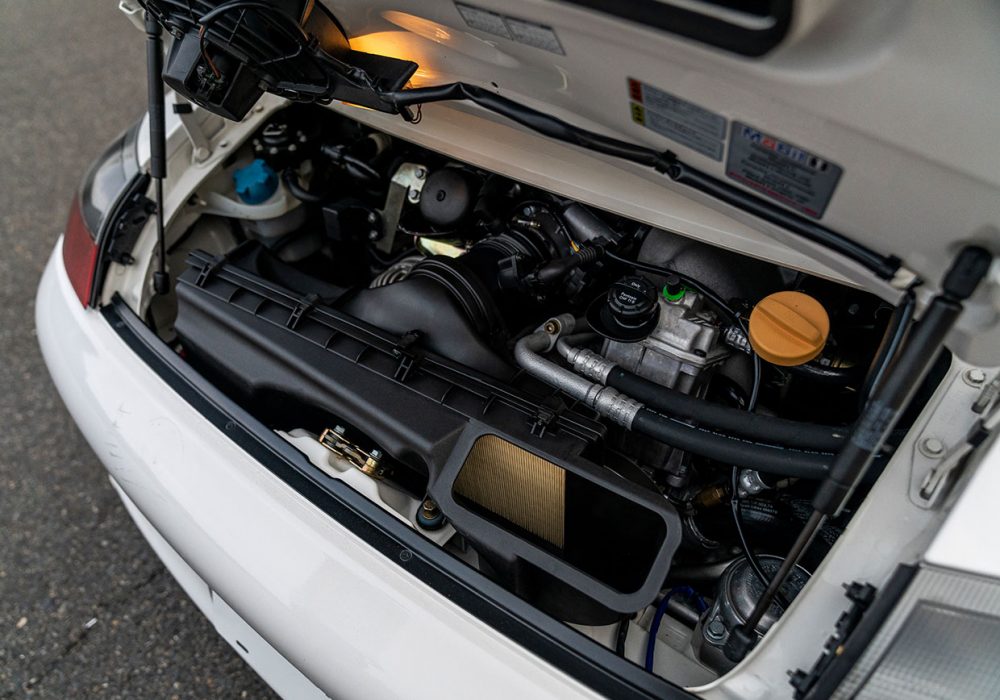 Say what you want about the 996 styling, but I think these look killer. The selling dealer goes into pretty good detail about what this car is all about, so I won't bore you repeating it. I just want to talk about price. Nearly $300,000 is a boat load of money to pay for a 996 seeing the nicest GT2s are bringing around $150,000 and really nice GT3s bring $80,000. Clearly doesn't make sense from a math perspective, but if we all bought vehicles based on math alone, a 2005 Prius would be in all of our driveways. If we look at it from an exclusively standpoint, this a grand slam. If you pull up to the annual Smokies GT event in this, you might as well of brought the Jennifer Aniston to your high school prom in 1998. This car is a show stopper for those in the know. Something we only watch YouTube videos about. That is why it is almost $300,000. Well, that and they are still ridiculously expensive in Europe too.
– Andrew