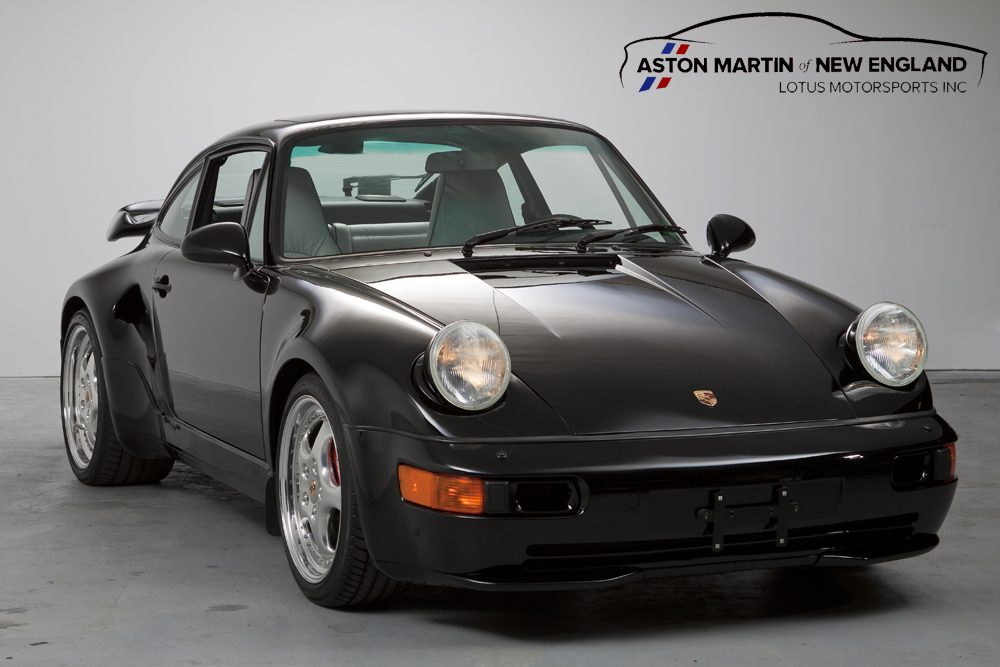 Not too long ago we featured a 911 Turbo S Package car, one of the rarest and most sought after of all air-cooled 911s. Now, we'll take a look at the other version of this ultimate 964: a Black 1994 Porsche 911 Turbo S Flachbau (Flatnose), located in Massachusetts, with Light Grey leather interior and 16,400 miles on it.
As the last standard issue rear-drive turbo – I'm intentionally excluding the later GT2 from this – the Turbo S serves as the ultimate expression of the breed melding prodigious power with all of the dynamic peculiarities of the 911's rear-engine platform. It's luxurious and refined, while also looking the part of the supercar that it is. Not everyone likes the 968-derived Flatnose, and even I'll admit it makes for a somewhat peculiar appearance, but there's no question it will grab your attention. Step behind the wheel and your attention may never leave it.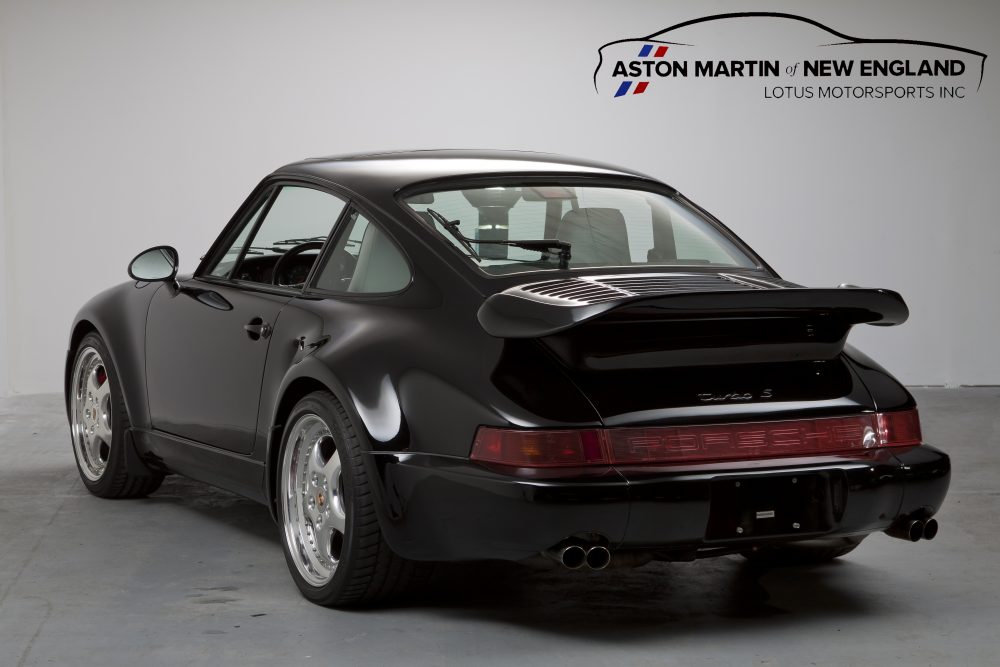 Year: 1994
Model: 911 Turbo S
Engine: 3.6 liter turbocharged flat-6
Transmission: 5-speed manual
Mileage: 16,400 mi
Price: $795,000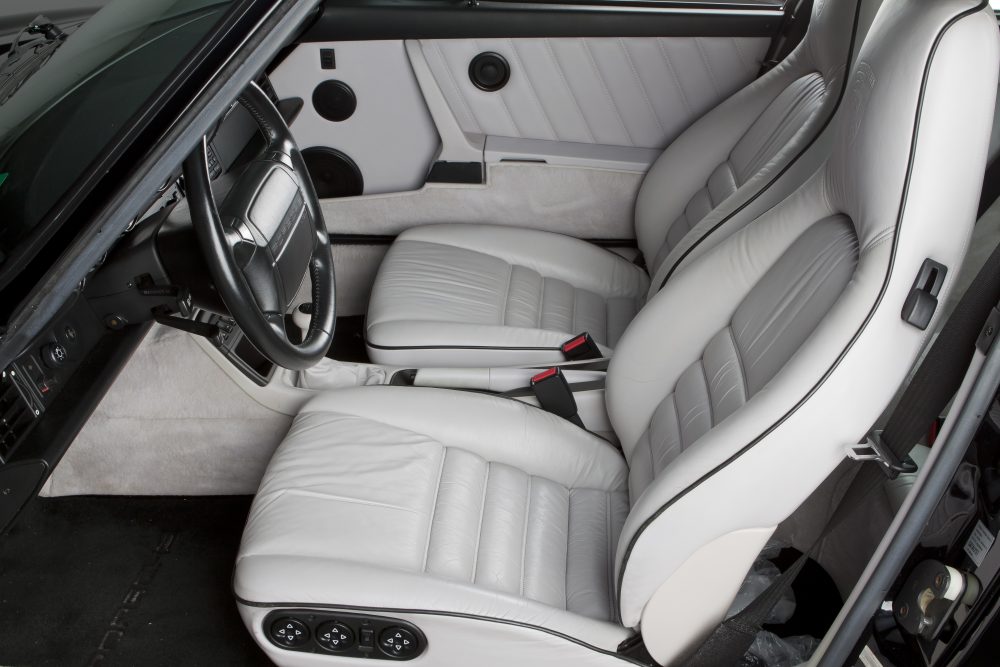 Ultra rare 1994 Porsche 3.6 Liter 964 Turbo Flachbau (Flatnose). One of only 76 produced for the world, and one of only 39 produced for the USA. Black over light grey, and 16000 miles from new. X88 Engine Performance Option.

Dual Heated Seats, Dual Power Lumbar Seats, Electric Sunroof, Head Restraints with Porsche Crests, Hi-Fi Sound Package, Light Grey Supple Leather with Black Piping, Remote CD Changer.

Porsche Flatnose/Flachbau Package (cost $60,179)

X85 Option: Turbo S Flatnose Package

X88 Engine Power Option, 385 Horsepower

X92 Option: Exclusive Front Spoiler

X93 Option: Exclusive Rear Spoiler

X99 Option: Air Inlets in Rear Side Panels for Engine Cooling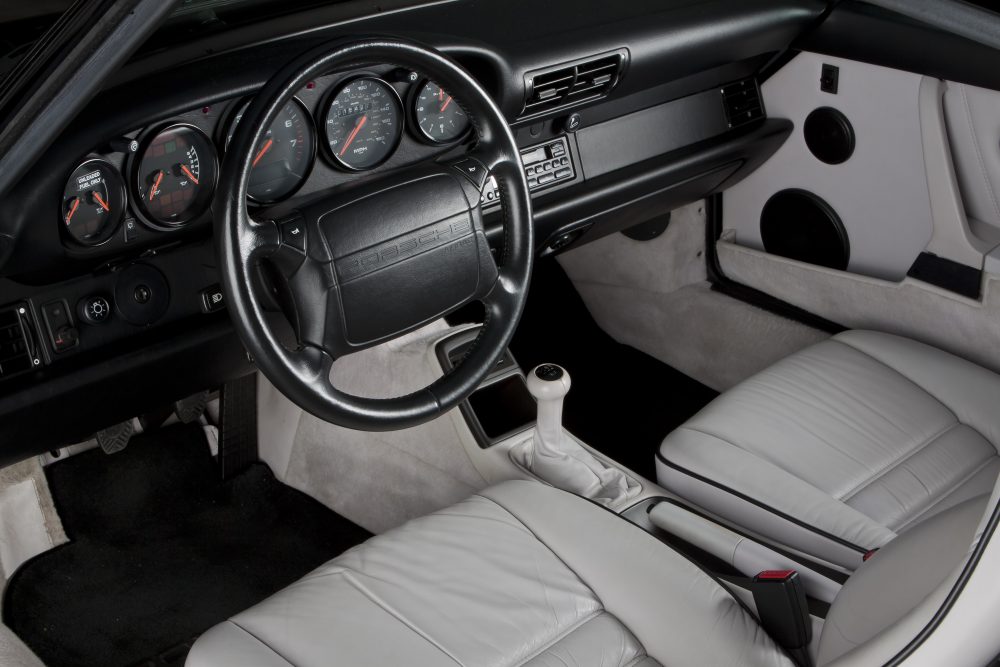 I'm not going to go through the various production numbers of the different iterations of the Turbo S since I've done that in previous posts. Look to those if you want the in-depth details. Suffice to say, the numbers given by the seller are correct with regard to Flatnose production for the US, which makes these very rare among air-cooled 911s. Not as rare as the Turbo S Package car, but still very rare. For those interested in the specific rarity of color combinations, I believe this is the only Turbo S Flatnose in this combination of Black over Light Grey. Black was the most common exterior color by a solid margin, but most of those were paired with a black interior. Not this one, so there is an added element of exclusivity here for those who take it seriously. Again, they're all very rare, but if you want to say you have the only one then this particular Turbo S gives you that possibility.
Like any Turbo S this one is very expensive and the $795,000 asking price isn't even out of line with what I'd expect. It's actually lower than I'd have expected, but I also don't think this one is as pristine as others we've seen. Given the still very low mileage that might make me question its care. I will grant that I'm splitting hairs somewhat as the overall condition is still quite good, but typically when we see these cars they are near perfect and there are some minor imperfections with this one. But cosmetic imperfections can be fixed so if its mechanical condition is excellent, then I think prospective buyers will be satisfied. Obviously, it's not often that these come up for sale and even setting aside their rarity they are still a highly regarded 911 for their sheer performance, so I'm sure there will be plenty of interest.
-Rob