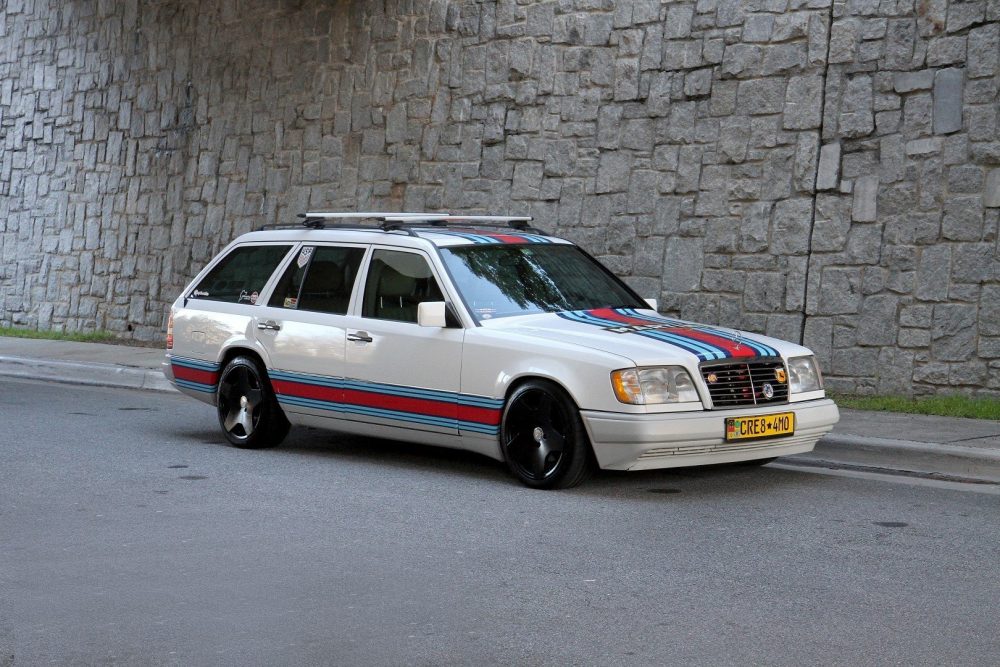 I'm a really big fan of OEM+ modifications on cars. Something always feels good about grabbing a part from a higher trim level or even another model and seamlessly adding it to your car to make even better. Lots of times it is something small like a piece of trim or a grille. Other times you go totally crazy and swap in an entire engine from another car. That is what we have today with this W124 Mercedes-Benz Estate up for sale in Atlanta. What started life as an already really nice E320 with the M104 3.2 liter inline-6 was swapped out the M104 3.6 liter inline-6 from a C36 AMG to make a pseudo E36 AMG Estate. As you might have noticed, that wasn't the only thing that was changed on this wagon.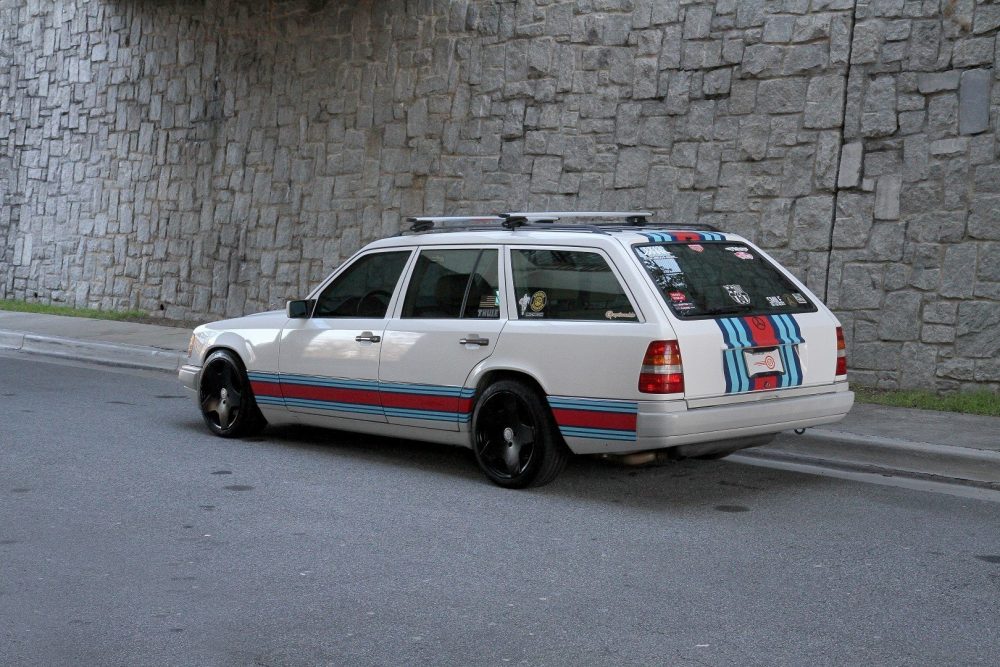 Year: 1995
Model: "E36 AMG"
Engine: 3.6 liter inline-6
Transmission: 4-speed automatic
Mileage: 156,604 mi
Price: $19,900 Buy It Now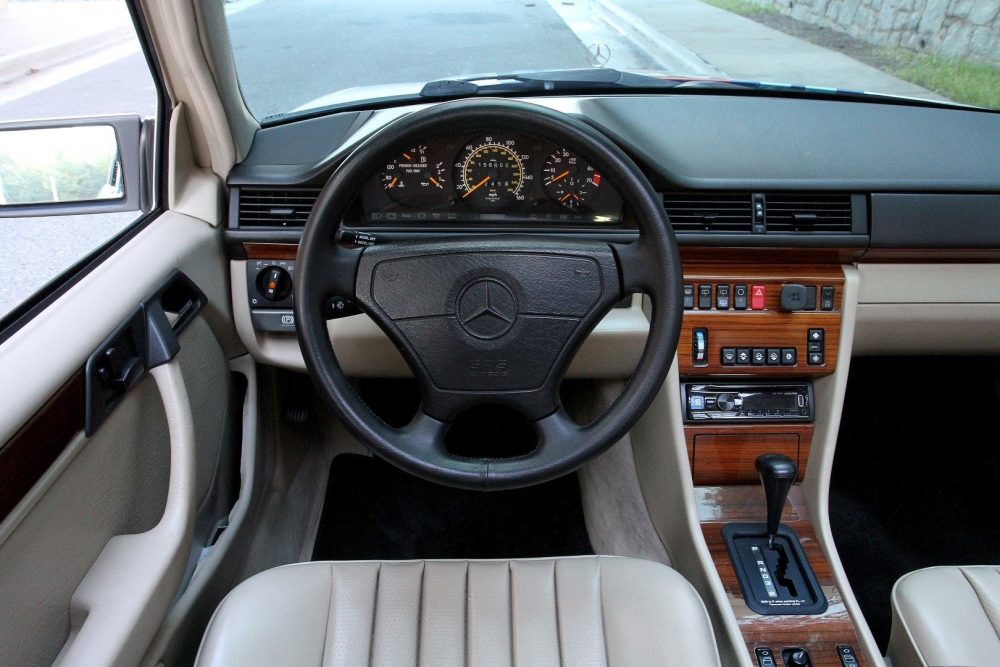 Motorcar Studio is pleased to offer this one-of-a-kind 1995 Mercedes-Benz E320 Estate. What do you do when you lust after the rare AMG E36 Estate that was never available in the US and is not yet eligible for import? You build one. Or in this case you have one professionally built for you with an open checkbook, and the results are fantastic.
The owner of this AMG E36 Martini Racing tribute wagon started with a clean 1995 example of the venerable E320. A reputable Atlanta shop oversaw the mechanicals, which included sourcing an engine from a 95k mile C36 — which was disassembled, received a top-end rebuild and reseal and was installed along with a rebuilt automatic transmission. The differential was changed to a shorter gear ratio. Virtually all of the suspension was renewed which included Koni Adjustables up front, new SLS in the rear, H&R sport springs all around, new bushings, new steering components and more. Brakes were refreshed and the entire cooling system was replaced at the time of the build. The 17-inch AMG-style wheels were sourced from the Tire Rack, and the Michelin Pilot Super Sports have lots of life remaining. Receipts total over $37,000 for the mechanical portion of the build alone.

Cosmetically this wagon shows well with nice paint and body — the vinyl graphics are removable should the new owner choose to have a more sedate estate. The interior is attractive with renewed seat padding and a refinished 500E steering wheel complementing an otherwise very clean and original space. No expense was spared (nearly $3,000) on a high-end yet stealth stereo install using Alpine, JL and Focal components by a reputable shop — the owner says that it sounds better than the Burmester system in his 2017 Mercedes.

If you are looking for a unique, do-it-all, performance wagon with a third row to haul the kids, classic Mercedes build quality and looks, and an approachable vibe that will have everyone admiring at your ride at Cars and Coffee…then look no further. Service records, tools, spare, jack and original first aid kit are included.

For more information about this 1995 Mercedes E320 / E36 AMG superwagon for sale at Motorcar Studio in Atlanta, please call 404-692-5250.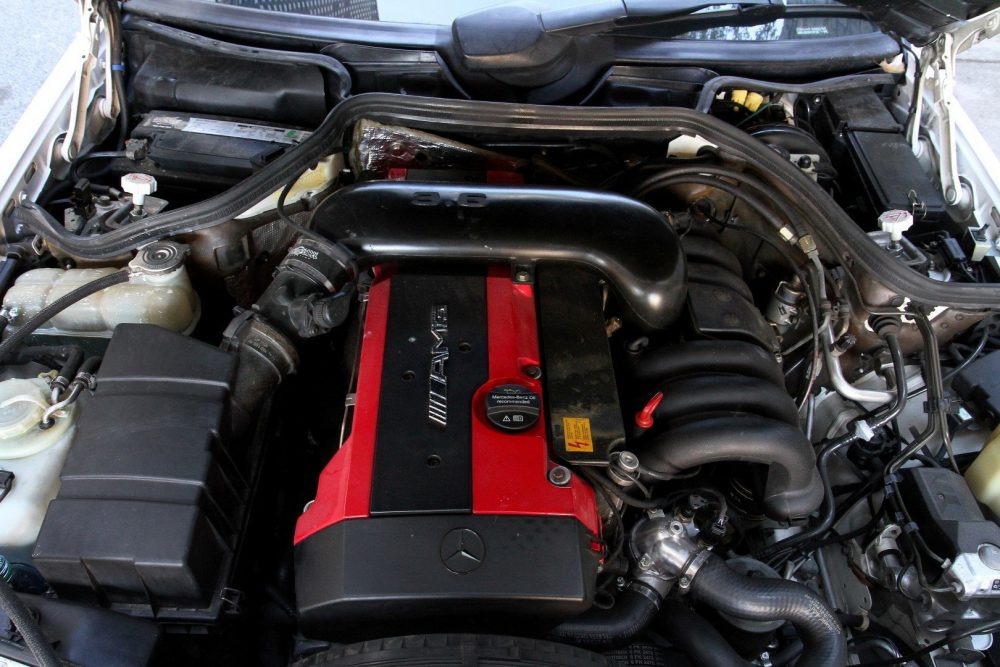 This wagon is the guy you see at the gym covered in tattoos, has eight piercing, wears as many accessories as possible but at the end of the day is probably a decent guy and means no harm. There is just so much going on with estate. The Martini livery, the grille badges, the endless amount of stickers, spray painted wheels, yellow europlate, red horns behind the grille and roof crossbars. All it is missing is some yellow fog lights. Inside, things are much more tame with just an aftermarket headunit that isn't too crazy and a smaller diameter steering wheel from a 500E. The real value here is all is all the mechanical work that was done. Top end reseal on the 3.6 liter M104, a rebuild of the transmission, a suspension refresh and even a shorter ratio differential make this package much more attractive than what you see from the photos.
The price $19,900 is a really big ask for this estate even with all of the work done. I think the seller would be much better off stripping off everything and make this car look as close to a real deal E36 AMG Estate as possible to draw more potential buyers in. I just don't think there are many buyers out, if any, that are willing to plunk down nearly $20,000 for this as it sits. Don't get me wrong, there is nothing wrong with this owner styling his car this way, but one mans unique taste doesn't translate well to selling at a premium price.
– Andrew