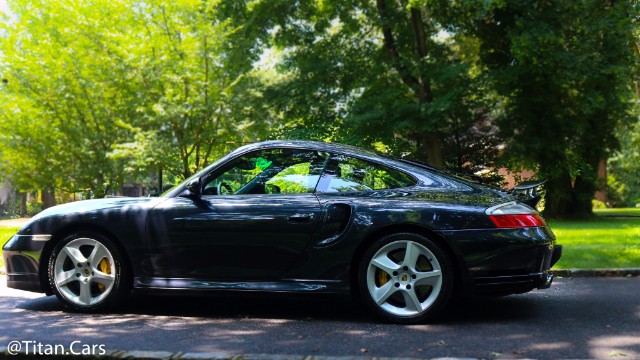 Update 3/1/19: Some 15 months later, this '05 911 Turbo S Coupe 6-speed is still available with a $15,000 reduction in price to $94,900 today.
Last week I featured this Cobalt Blue 996TT. I said in the post, and most of you agreed, that even with its rare and eye-catching color the price was too high given its mileage. Some of you thought it was way too high. Much of the problem is that it's a Turbo without the X50 performance package, but priced like a Turbo with the X50 performance package. If you're looking for performance value, you might as well maximize the performance side of that equation, right?
Another similar comparison is with the car we see here: an Atlas Grey Metallic 2005 Porsche 911 Turbo S Coupe, located in Delaware, with Grey natural leather interior and 29,700 miles on it. Outside of its single-year production there isn't too much difference between a Turbo S and an X50-equipped Turbo. While the comparison with the Cobalt Blue Turbo isn't really direct given this Turbo's much lower mileage it still makes for an interesting point to consider. And, of course, it is also interesting enough in its own right given how rarely we see a Turbo S Coupe come up for sale.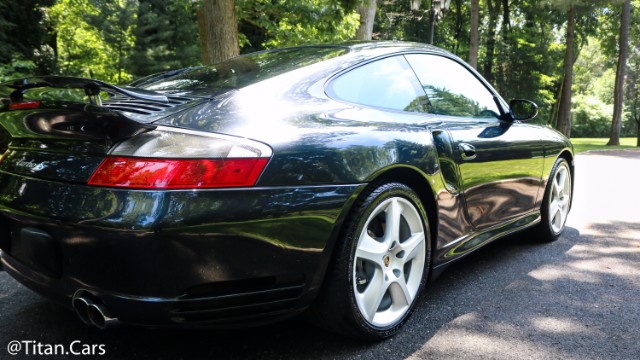 Year: 2005
Model: 911 Turbo S
Engine: 3.6 liter twin-turbocharged flat-6
Transmission: 6-speed manual
Mileage: 29,700 mi
Price: $94,900 Buy It Now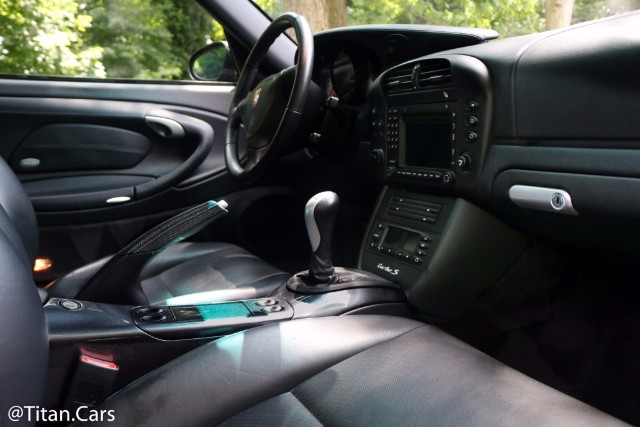 2005 Porsche 911 Turbo S Coupe

ONLY 120 MADE WITH MANUAL TRANS !!!
29700 MILES
NO PAINTWORK
VERY CLEAN CAR,
VERY RARE ATLAS GREY WITH VERY DARK GREY INTERIOR WICH IS LIKE BLACK
TURBO TECHNO WHEELS
CAR IS LIKE NEW !!!!
ANY FURTHER QUESTIONS CALL 718 986 9436
It's pretty tough from these pictures to get a good sense of Atlas Grey, though in a way you do get the gist of it. Atlas Grey is a very dark grey, almost more akin to black metallic than to grey. We see that in the pictures. What isn't made clear is how great of a color it can be when looking good. I won't say that it'll turn your head the way the Cobalt Blue Turbo might, but it's the sort of color that looks better and better the more you look at it. Assuming it's clean of course. It's like black in that regard as well. In the sun it can shine with hints of blue or purple to it. A very interesting color and we don't see it often.
That's about as much as we can say about this Turbo S. The interior looks in nice shape. We can hope the exterior is in similarly good condition. The mileage is fairly low, though we aren't provided much or told anything with regard to its history and service. So there are certainly plenty of questions to be asked.
Bidding currently sits at $55,700 with reserve unmet. That's almost right at the price of the Cobalt Blue Turbo, though I don't imagine this seller will be looking for that kind of price. We're surely to see bidding rise. The question will be how much and whether the reserve will be met.
There were a lot more 996 Turbo S Cabriolets produced than Turbo S Coupes so coming across one is fairly rare. The rare color of this one just makes it all the more desirable.
-Rob