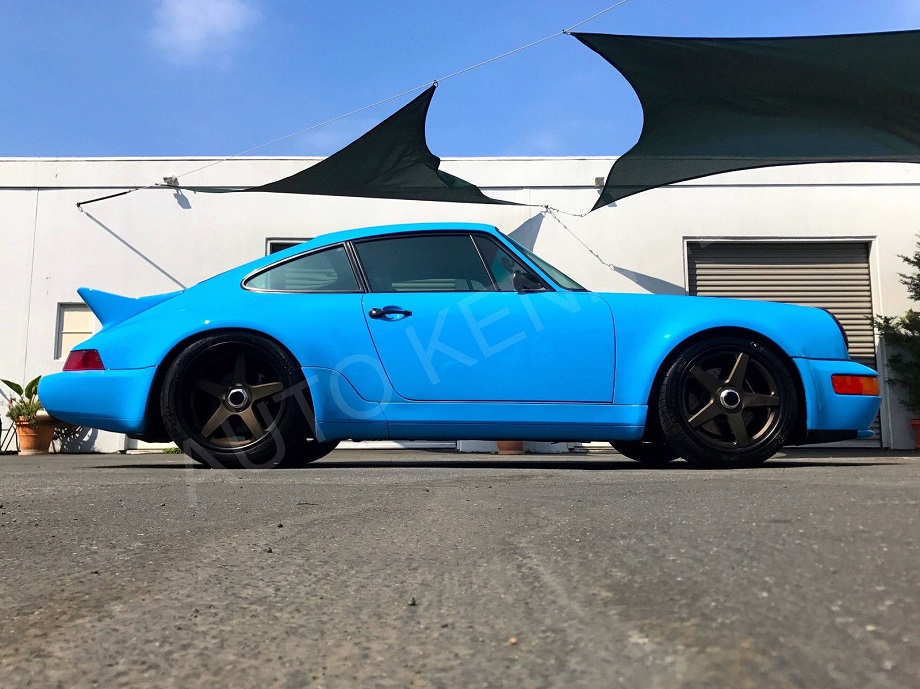 I've seen this car for sale for a little while and have kept meaning to come back to feature it. There's just so much to take in initially and I've pulled up the listing a few times. It's obviously far from anything original and is an extensive build, though it does possess interesting historical characteristics that should give it appeal beyond the typical custom build. It's very bright, probably pretty loud and raucous, and sure to be very fast.
So let's get the basics down. Effectively it sounds like this build began as a way to find a home for a very special engine: a 3.8 liter single turbo flat-6 producing 550 hp developed by Andial that served as the engine in a Pike's Peak winning 964 Carrera 4 back in the '90s. To house the engine a 1991 Porsche 911 Turbo with around 90K miles on it was found and work began. Those are excellent pieces to build upon. A suitable paint was needed so the designers reached back to the '60s to source one of Porsche's earliest pastels to show up on the 911: Pastel Blue. Combine all of that with a whole host of parts to improve upon the suspension and braking, along with a new interior, and you get the final product we see here.
Year: 1991
Model: 911 Turbo
Engine: 3.8 liter turbocharged flat-6
Transmission: 5-speed manual
Mileage: 4,000 mi
Price: $199,990 Buy It Now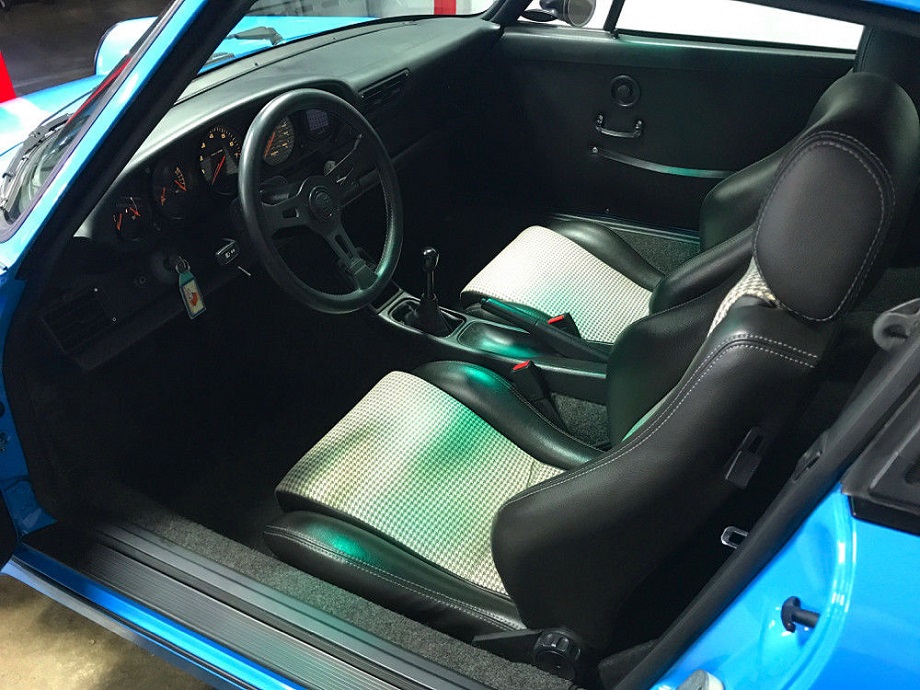 OVER 100+ PICS AVAILABLE ON OUR WEBSITE!

1991 Porsche 965/964 Turbo Coupe
Andial 3.8L Pike's Peak Winning Motor
Fresh Engine Rebuild/Over 550 HP
Upcoming Magazine Cover Feature
Reviewed by The Smoking Tire
Stock #0886

VIN# WP0AA2965MS480521
ENG# 61P00548 (M64/50)
4,000 Miles on Build
Pastel Blue (321) on Black Cloth Seats with Houndstooth Inserts
5-speed G50/52 Transmission (good for 700HP)
Clean and Clear North Carolina Title
3-Year Custom Build

In 1994, Jeff Zwart drove a Porsche 964 Carrera 4 to his first win at Pike's Peak. However, this wasn't just any C4. Zwart recognized that Porsche's AWD system, now available on regular 911s, would be the perfect fit for this event if it had enough power. So, he approached Andial in Southern California. Andial was running the Porsche Motorsport operation for North America and was able to secure a setup from a Porsche running a 550hp motor in the SCCA Supercar championship and IMSA. This motor was a very unique 3.8L single turbo build that was able to handle the unique altitude challenges of Pike's Peak. 20-years later, that power plant serendipitously found its way into this unique custom built 964 Turbo.

The owner/builder of this Porsche, Tate, has been a huge fan of Ruf built cars for many years. This was part of the inspiration for this build. The availability of this special motor and then a factory 964 turbo chassis was the catalyst that made it happen.

After the 1994 Pike's Peak win, the chassis went to Zwart while the motor went back to Andial. Shortly thereafter, Jim Bailey from Brumos Porsche expressed some interest in the motor for a hill climb event they wanted to enter. So, they purchased the motor and shipped it to Florida. It was never used and ended up sitting on their shelves for 20-years. After Bob Snodgrass, head of Brumos Racing, passed away, parts began to be sold off. The parts manager was a close friend of Tate and knew this would be the perfect motor for one of his builds.

Tate has been building specialty hotrods and Porsches for many years. He started RWB Atlanta and is building about 10-cars per year. He is a big believer of cars that go as fast as they look. In fact, it is this very build that created the bond and business relationship between himself and RWB founder, Akira Nakai. The goal of this project was to build a custom turbo powered 911 for himself that tipped its hat to what Alois Ruf was doing in the 80's and 90's, while also being something that was comfortable enough to hop in and take a long drive. In fact, Tate just got back from a 1,200-mile drive in this Porsche while out here visiting Monterey for car week.

This build began back in 2009 when the Andial 3.8L motor was secured. Then, in 2011, a straight, dry, and original 1991 Porsche 964 Turbo was also found. It had about 90k++ miles on the chassis and was the perfect blank slate. For the next three years, no expense was spared during this build. The first step was to go through the entire motor as it had been sitting on a shelf for nearly 2-decades. Anywhere they could further improve performance while retaining the original spirit of the build was done. They employed the help of David Barrack who not only had experience with air cooled motors, but was also a master engine builder for many motorsport professional series. He understood the value of a perfectly balanced and blueprinted motor. He also knew the value of using light and strong materials as well as reducing weight on any moving parts within the motor. Final tuning was done by Chris Carroll of Turbokraft in Arizona. After tuning Chris was stunned with the power it produced and stated that, "..it is the most lively and highest horsepower CIS Porsche ever made."

Highlights of the engine build included:

3.8L Andial built Turbo Pikes Peak race motor
Garret GT35R Turbo
Special GT2 clutch by Patrick Motorsports
Lightening of many interior metal components for quick revving motor
Estimated 555-580 crank horsepower
Highest HP CIS motor built
Case and crank work by Ollies
Shuffle pin case
Boat tail/sanding case
Crossdrill crank
Mooned the cylinders
ARP rod bolts and head studs
Shot peened rods
Special cams (from Andial)
European fuel lines (2mm larger)
Factory S2 competition intercooler

Further customization to the build included:

Gamroth short shifter kit
Shaved rain gutters
'67 911 rear glass (no defrost lines)
Custom made 18" true center-lock wheels by Forgeline
Custom Talbot-style side mirrors (mounted to plexi side windows)
964 Turbo S front splitter
Early original "orange-bar" hood badge
Factory 964 Turbo brakes
Early Recaro LS seats with houndstooth inserts and heated
PLX gauge custom fit to clock space (AFR, Fuel Pressure, and Boost control/located in ashtray)
Bilstein PSS9 suspension system
Custom fabricated ducktail using factory engine lid
Custom made black plenum to force air through intercooler
993 engine grill (better air direction to intercooler)
Early '76/'77 turbo badge on deck lid
Custom HID headlights by Retro fit
Vintage Abarth steering wheel
Vintage Heuer Monte Carlo dash rally clock

The end result is truly a synergy of the best components and builders. Everything works together in perfect harmony. Nothing is overstated or done without a specific reason. This build is much greater than the sum of its parts.

Recently, Matt Farah with The Smoking Tire just did a video review of this bespoke build and found it to be incredibly well built. I met up with Matt at a recent show and he remarked how great of a fun "do-everything" touring vintage Porsche it was. Here's the video:
Pike's Peak ANDIAL Power: 600HP Porsche 964 Turbo – One Take – YouTubeVideo will open in a new window

Finally, The Ultimate Porsche magazine just did a photograph session and will be featuring this Turbo as the cover story in their next issue (see pics of the shoot).

The exterior looks fantastic. The owner has painted well over 130 cars in his career and this is one of his best finishes yet. He used Porsche's late 60's color, Pastel Blue, as an inspiration. Countless hours went into the metal work involved to properly shave the rain gutters as Ruf did as well as remove the sunroof for a maximum headroom interior. The paint looks near flawless with minimal signs of light use. The leading edges of the rear flares down low show some mild rash as well as under the front spoiler lip (see pics). The windshield has a chip that has been professionally filled (see pic). This example has been used mostly for weekend tours and shows. It's never been abused or raced. The custom Forgeline center-lock wheels look near new with a unique two-tone finish. They are wrapped in near new Michelin Pilot Sport tires (275/35-18 front and 335/30-18 rear). The front brake pads and rotors are also near new and the rears have over 70% life remaining. The panel fitment is exceptional with consistent gaps. The steel panels are all original and unaltered. Over a dozen duck-tail deck lids were made trying to get the exact right look that would not only fit over the factory competition S2 intercooler but have a slightly more aggressive rake. All the exterior lights work including the custom designed HID headlamps.

The interior is equally thoughtful and minimalistic. This Turbo was built to be comfortable, but also lightweight and focused. There is no heat, A/C, or radio. The only creature comfort is heated seats so open window driving can be enjoyed in cooler months. The vintage Recaro seats have excellent support and easy to sit in for hours on end, while still hold you snug on mountain roads. The owner/builder is very tall, so the seats are mounted quite low. They can be installed to accommodate a higher seating position for the next owner. The passenger side seat back release knob has broken off (see pic). There are no signs of wear on these custom built houndstooth seats. The suede headliner looks like new as do the custom lightweight door panels. The lightweight carpet kit has some wear in the driver footwell area. The dash is perfect with no cracks or warping. All the gauges operate properly as well. The digital computer gauge has been disconnected.

It is an absolute treat to drive this bespoke built 911. Everything is so well done and has that factory feel to it. It's a bit cold blooded and may need a couple cranks to start. However, once it starts, with a blip of the throttle, it holds an even idle. The power is incredibly smooth and quick. All the lightweight parts of the engine internals are certainly felt through the acceleration. The revs wind up quickly and the turbo spools easily, minimizing traditional lag. With a gentle squeeze of the throttle, there is way more than enough power. However, as you press a bit further, the car accelerates with a smooth sense of urgency that I've never quite experienced before. It's not violent like some on/off switch turbo builds. It's just a silky rampage of power. It's really quite hard to put into exact words. It has the kind of power that you dare not press the accelerator all the way down or wind it past 5,000 rpm due to fear. The handling is very precise and well suited for the power. It is a performance setup that is more than capable through tight and twisty corners, yet compliant enough to not rattle your teeth out. It's very comfortable on long drives. The brakes are exactly what you expect from this generation turbo. They have incredible bite and can easily bring the power in check while also benefiting from an ABS system in case more severe braking power is required. This special Turbo is a head turner at any local Cars & Coffee event while also being a well-suited companion for longer vintage touring events.

If you have any questions, please do not hesitate to contact Paul at 714-335-4911 or paul@autokennel.com

For tons of photos, go to: www.AutoKennel.com

This vehicle is sold "as-is" with no warranty, written or implied. In some cases, the vehicle does have the remaining factory warranty still in place and will be described above if that is the case. All taxes and fees are the responsibility of the buyer and are not included in the listed price. All vehicle sales will require a $65 document fee. The vehicle listed is described to the best of our ability. The information is based on our own research and statements made to us by the previous owner(s). To the best of our knowledge, the above information is accurate. We are not responsible for errors in our description of options or any other details. The above-mentioned vehicle is used and can be expected to show some wear and tear. It is not a brand-new vehicle. We do welcome all local pre-purchase inspections on vehicles in order to verify condition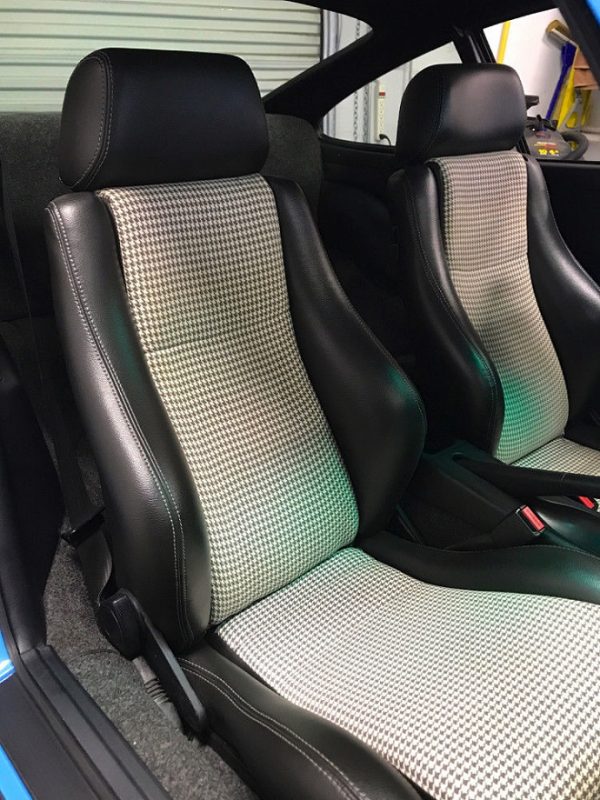 The owner/builder of this Andial-powered 964 also is the builder of the Olive Green RWB 964 I featured last month. The two cars make for an interesting comparison. The RWB is, of course, insane in the way all RWB builds are insane. It's naturally aspirated so horsepower levels are lower than this 964, but there's still plenty of power on hand. The interior is a bit more developed. Within the world of RWB, it's one of the best I've seen.
While this 964 doesn't possess the same wild appearance as the RWB it doesn't exactly shy away from attention. I suppose it's as subtle as a Pastel Blue 964 Turbo could be, but that's still not very subtle. The interior is a good bit more subdued. It's minimalist in the way we can appreciate a minimalist build. The things you need are there, the things you don't aren't. Very straightforward. With power approaching 600 horses its acceleration will not bore you. Put your foot down and pay attention. Both of these cars are well executed builds designed with a purpose. Which is better surely is a matter of personal preference.
They're also both very expensive. This Turbo is priced $30K more than the RWB, which was already pretty darn expensive. But you are getting a car that is quite special and unreplicable. The Andial engine alone must have tremendous value. I don't really know what it's worth, but for those seeking a very unique and VERY fast 964 I can think of little else that will compete. It won't have the value upside of a Turbo 3.6, this is true, but I guess that means you'll just have to spend more time driving it!
-Rob