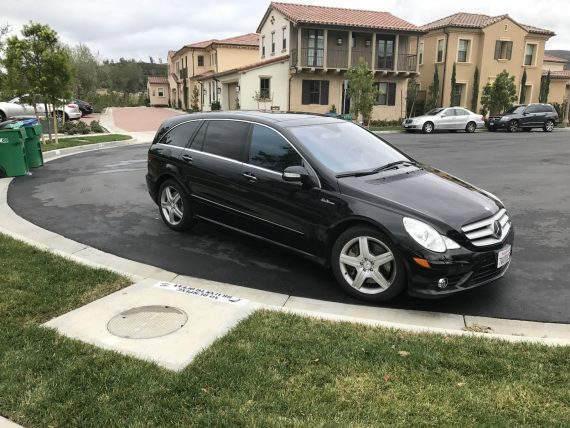 Earlier this week I looked at a 2003 G500 and explained that despite it being a relatively mass produced Mercedes, it doesn't depreciate like you'd expect. Today's featured car is somewhat like the G, except it's a lot faster and a whole lot more rare. Enter the R63 AMG – the answer to a question no one asked. This is a vehicle which I still can't understand why Mercedes would green-light for production.
The short of it is that the normally mundane first-general R-Class was given to AMG to let them do their thing. The result was pulling everything out of the AMG parts bin, bolting various parts up where they count and coming away with an all-wheel drive people hauler than does 60 mph in around 4.4 seconds. Carter recently included it in his insane van article for The Truth About Cars. Seeing as Mercedes isn't totally insane, the R63 AMG was limited to a production in the mid-200s worldwide with only 30 making it to the U.S. and a mere 5 to Canada. So as these monsters hit the 10 year-old mark, what's going on with their value?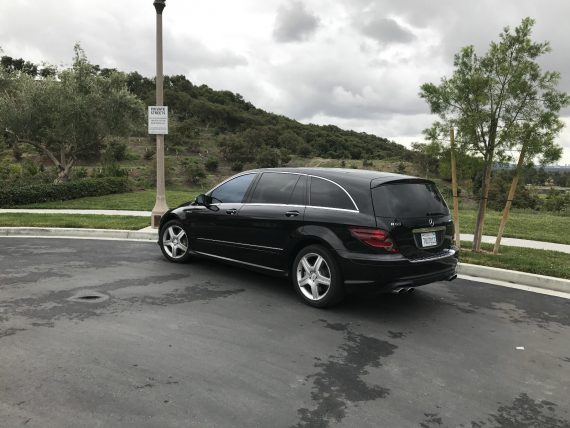 Year: 2007
Model: R63 AMG
Engine: 6.2 liter V8
Transmission: 7-speed automatic
Mileage: 126,000 mi
Price: Buy It Now $49,500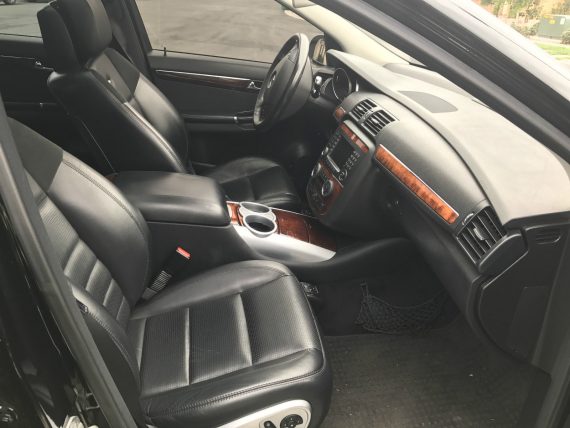 R63s are rare in any country and this particular example looks to be clean and well-kept . With room for six, 507 horsepower, and all-wheel-drive, this is a versatile vehicle with impressive performance for its size.This 2007 Mercedes-Benz R63 AMG is said to be one of less than 104 examples produced worldwide and 44 in the USA.  The all-wheel-drive R-Class could seat up to six people in comfort, and the AMG 6.2L V8 was powerful enough to propel it to 60 mph in around 4.6 seconds when new.  It has been meticulously maintained by the seller with the most recent service in December 2016 with over 7,000 spent on all new air suspension, shocks, brand new brake pads and rotors, new tires with less than 500 miles on them, full services and alternator replacement. This R63 is located in Orange County California and is being sold with a clean California title in the seller?s name.  The interior on this R63 is a 10, perfect condition that still smells new, exterior paint shows wear of a vehicle this age, but is glossy and still shines. R63s left the factory with an AMG body treatment, quad-pipe exhaust system, a specifically tuned AMG sport suspension, massive 15.4? front and 14.4? rear brake rotors with more powerful calipers, and attractive 20? wheels with 265/40 series tires at all four corners. this R63 is up-to-date on all maintenance with good tires, strong brakes, and a smooth but firm suspension system. Combined with the all-wheel-drive system, these AMGs are known to perform and handle far better than their size suggests. car is bone stock except for a resonator delete, which makes this car sound even better.  i am the 2nd owner i purchased this from a multi-million dollar car collector.  i will answer any and all questions.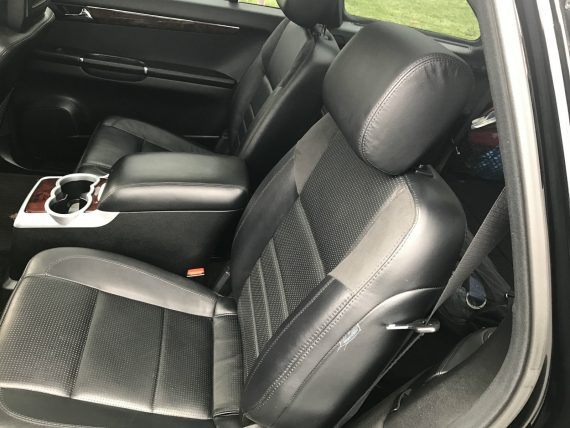 As you might of guessed, the R63 didn't exactly fly off dealer lots. I'd imagine the dealers that were lucky (or unlucky) enough to get these pitched them as the best of both worlds for buyers who needed the room for six but still wanted to drive home like their house was on fire. I've heard that the dealers who got them were getting no bites at $88,175, resulting in heavy discounts just to rid themselves of this rare beast – hereto unheard of for AMG cars.
So just to set a comparison first, the sibling ML63 AMG of the same year with about 100,000 miles on it you can snag in the low $20,000 range. The R63? Double it. The latest R63 that I've seen sold in an auction format was in November that went for a hair over $50,000. Granted that one was dealer maintained its entire life and needed nothing but it still blows my mind. This black one for sale in California with over 120,000 miles is asking $49,500 which, again, blows my mind. These aren't great cars to own overall in my opinion. The M156 V8 engine is susceptible to head bolt failure (among other things) that is an extremely expensive repair. The R-Class chassis wasn't exactly engineered to lap the Nürburgring ring either. I think the R63 is one of those extreme cases where the production numbers are so low that the demand is there because of how absurd it is, no matter how much it doesn't make sense to own one. Would I bank on these to become extremely valuable in the long-term? Not really. But the short-term looks promising for this hen's teeth AMG.
– Andrew