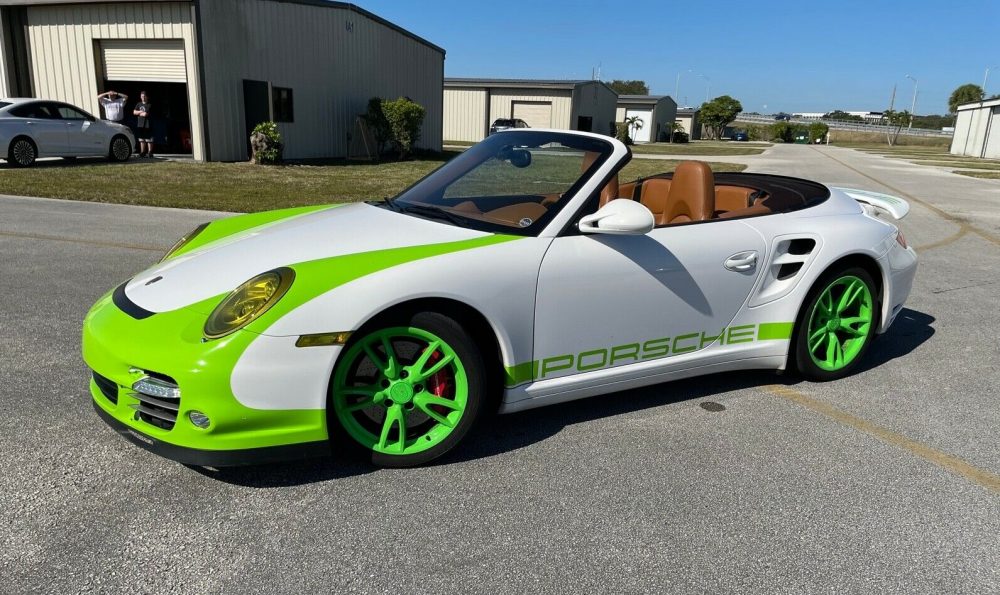 Oh boy. Today's car might be a nice refresher on how not the sell a car. In general, the modifications you make to a car do not appeal to other people when it comes time to sell. If they do, they very rarely add any value. Let me repeat that. They do not appeal or add any value to said car. Unless the modifications fix a problem factory, i.e., an aftermarket charge pipe on a BMW 1M after the OEM one explodes, you are better off selling the car as stock. This only increases as the value of the car goes up. $7,000 Honda Civic with wheels, coilovers, and an intake? Someone on Craigslist might bite. Lime green wheels and accents on a 997.2 Porsche 911 Turbo Cabriolet? Grab a heat gun and start pulling.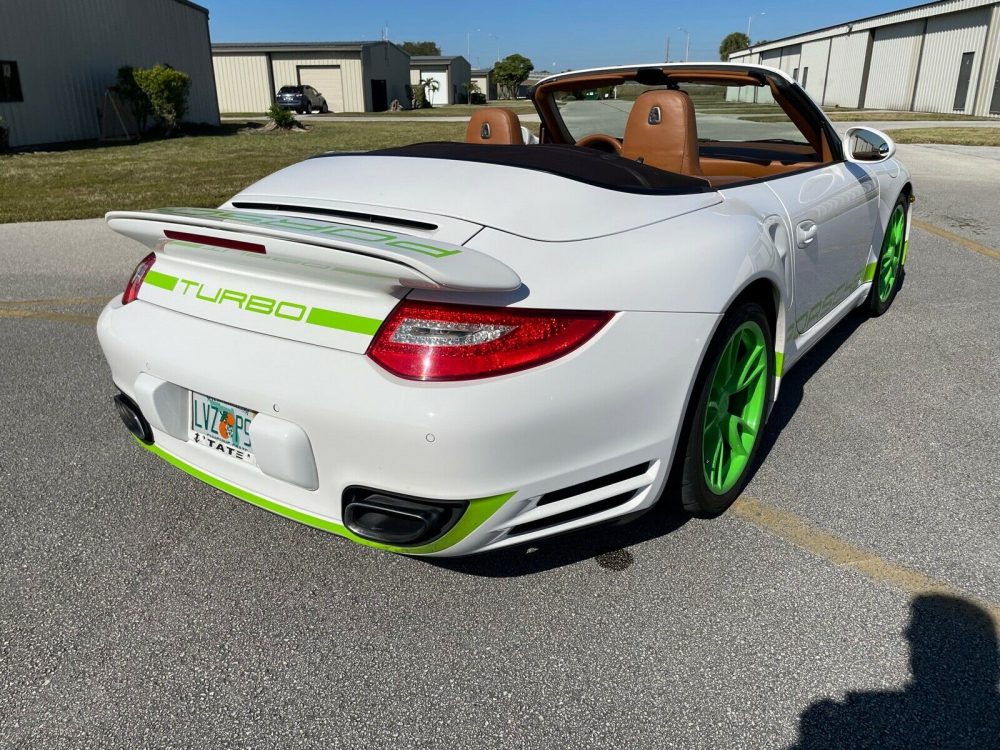 Year: 2010
Model: Porsche 911 Turbo Cabriolet
VIN: WP0CD2A95AS773241
Engine: 3.8 liter twin-turbocharged flat-6
Transmission: 7-speed Doppelkupplung automatic
Mileage: 33,500 mi
Location: Boca Raton, Florida
Price: $82,500 Buy It Now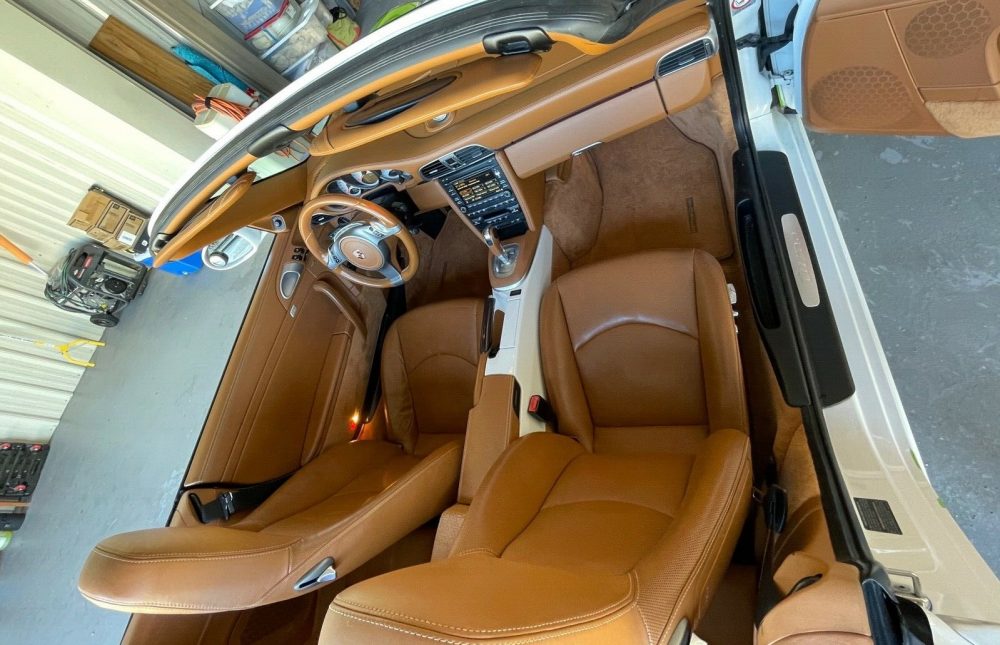 This Car is a true find. It is a daily driver with two sets of wheels and tires, which sees light use in the South Florida area. It has just had the BIG 30k / 6 year service and is ready to go.

The car will not disappoint. Call Tate if you have any questions at four one zero 3532176

911 Turbo Cabriolet 06 Brown Natural Leather 250 Porsche Doppelkupplung PDK 342 Multi-stage Heating System for Front Seats 421 19 911 Turbo II Wheel 437 Comfort Seat 446 Wheel Caps with Colored Crest 541 Seat Ventilation Front 603 Dynamic Cornering Light 619 Bluetooth Interface for Mobile Phone 640 Sport Chrono Package Turbo Including Dynamic Engine Mounting 686 XM Radio 810 Floor Mats in Interior Color 840 PDK 3-Spoke Sports Steering Wheel with Shift Paddles 870 Universal Audio Interface 998 Leather Interior Natural Leather B4 Carrara White XCW Aluminum Look Belt Outlet B-pillar XSC Porsche Crest Embossed on Headrests XUB Headlight Cleaner cover in Exterior Color XUV Logo on Center Console Storage Bin Lid XWU PDK Gear Selector Gate Surround in Leather MSRP- $162,600

Service Completed for 4900.00. Car needs nothing but a new owner. Green on car Is wrap.

Green Wheels are powder-coated.

Clear Florida Title in hand. RESERVE IS $76,000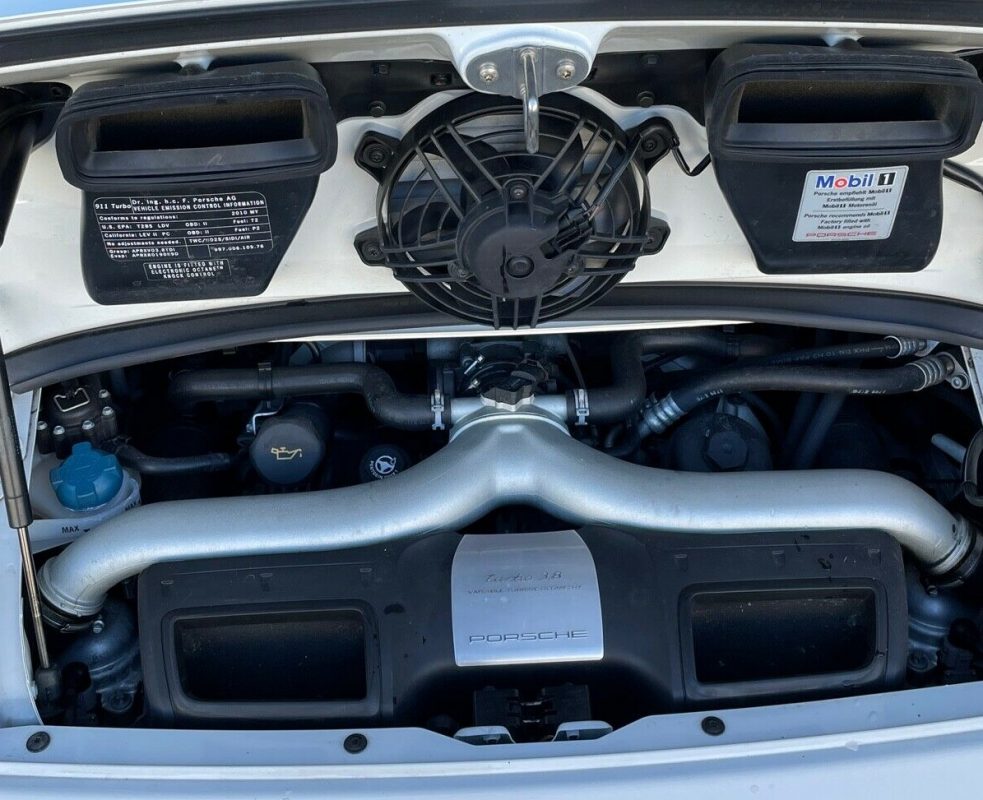 I don't want this to be about the current modifications on this specific car. If you want to powder coat a set of Boxster wheels lime green, go for it. It is your car and your money. The point I am trying to get across is that the kind of person in the market for an 11-year old Porsche for $80,000 probably doesn't want random lime green accents everywhere and Boxster wheels that don't fit. Thankfully, you can already see a big piece of vinyl wrap tearing away on the front bumper. So chances are you could maybe even peeling everything off before leaving with the car if you didn't want to wait until the cover of darkness to drive home. The factory wheels are available, so another giant plus. Crisis averted on this one.
In all seriousness, the 997.2 Turbo is a great car. It is the first 911 Turbo with PDK and as a result, does the 60 mph run in the very low three second range. However, the cabriolets are not seen at the model to buy. They usually sell for significantly less than the coupes and really have a tough time moving. The asking price $82,500, or is it $76,000, is nuts. Sorry to be so blunt, but these struggle to sell in the low $60,000 range. Not sure where the owner is at one this one, but you can make your own judgements.
– Andrew