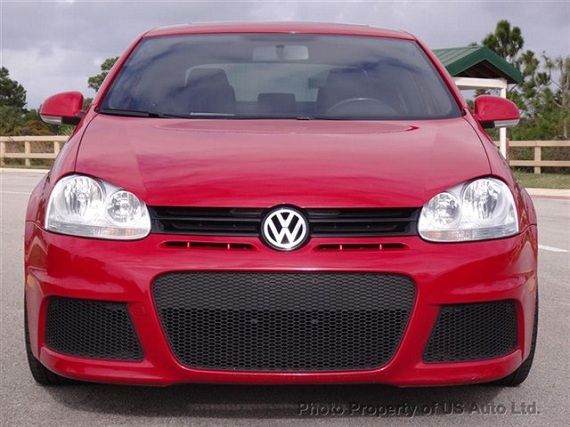 2014 will reportedly introduce to the U.S. a car that many Volkswagen fans have been eagerly awaiting – the Golf "GTD" TDi. Basically a GTi with the turbo diesel in place of the 2.0T, the GTD looks great, drives wonderfully and gets some fantastic mileage. But go back a few years and we basically already had the prototype here; the short lived 2010 Jetta TDi Cup Edition. What you got for your hard earned bucks was a basically a Jetta GLi with it's heart yanked out and replaced by the thrifty and torque-laden turbo diesel. But this wasn't just a styling exercise for Volkswagen – they had actively engaged in racing the Jetta TDi in the "TDi Cup" to help promote the TDi brand, so this car has some racing heritage as well. Only 1,500 were produced in black, white, blue, or today's Salsa Red: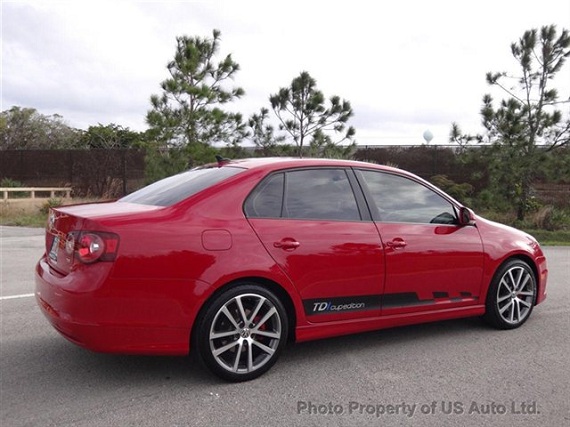 Year: 2010
Model: Jetta TDi Cup Edition
Engine: 2.0 liter turbocharged inline-4
Transmission: 6-speed DSG automatic
Mileage: 76,640 mi
Price: $17,995 Buy It Now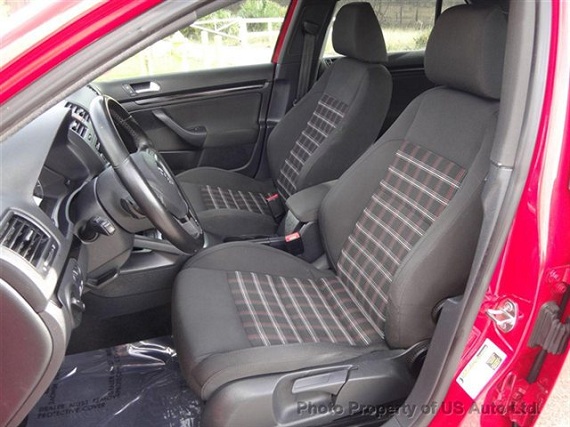 Vehicle Overview
** CALL 954-302-1927 FOR MORE DETAILS ** NATIONWIDE FINANCING AVAILABLE * 2010 VW Jetta TDI Cup Edition Very Rare One Owner Clean Carfax Dealer Serviced

Here is a beautiful, ONE OWNER 2010 VW JettaTDI Cup Edition for sale. The Cup Editions are VERY RARE with only 1,501 produced worldwide! And only 162 in this Salsa Red with the 6-Speed DSG Transmission! That makes this one of the most rare Volkswagen Jetta's ever produced. The Cup edition package includes GLI brakes, suspension, and sway bars. Additional upgrades from the base TDI are "TDI Cup Edition" body side stickers, 18-in wheels, aluminium pedals, leather-wrapped steering wheel, chrome door linings, aerodynamic body kit, an Interlagos cloth interior seats, carbon fiber trim, and a black interior headliner. Some other features include keyless entry, touchscreen satellite radio, cold ac, rear folding seats and much more.

This 2.0L turbo diesel engine provides up to 45+ MPG!! The alignment is perfectly straight and it the car does not vibrate at any speed. The body is in excellent condition and the paint is nice and shiny. The body and paint is in great condition with no major ding, dents, or scratches.The interior is extremely clean and it was NEVER smoked in. Carfax shows NO accidents and has been serviced at the Volkswagen dealer since NEW! It has been VERY well maintained by its previous own and shows. This beauty has been fully serviced, inspected, and is in pristine condition.

We are open to reasonable offers and interesting trades.

Low cost shipping and extended warranties available.

Call 954-302-1927 or email for more information.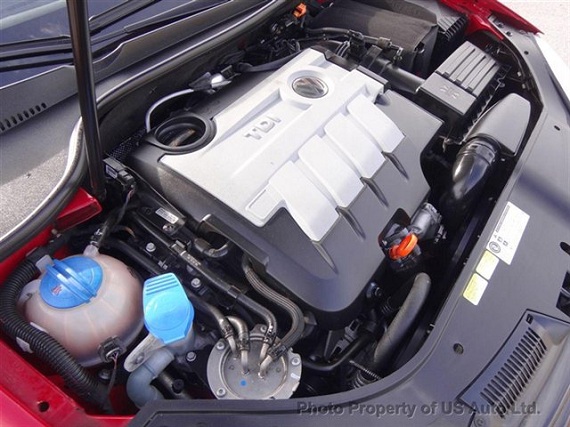 I love the Interlagos interior on the GLi and GTi, and it looks great here as well. Salsa Red is a pretty color; deep and with lots of character. The special part of the Cup Edition was the possibility to get the "Thunder bunny" body kit, and this car has it. It may not be to everyone's taste and it's certainly not understated, but this is the highest optioned Cup. The buyer also selected the DSG transmission which is well suited to the TDi, though truth be told I'd probably have opted for the manual. Condition for a fairly new car is unsurprisingly very good, and though miles are a touch high that tends to affect the the value of TDis less than the gas models.
Only 215 of these were produced in Salsa Red, making it the second rarest color of this car, and about half of those were DSG cars. Figure a few didn't have the body kit, making this one of the rarest Jettas out there. I think in the future these will be semi-collectable by Volkswagen enthusiasts, but right now the pricing is still pretty high for these rare Cups. Still, given the pricing on older TDi models I'm not sure how low these will fall; it's typical to see $10,000 200,000 plus older TDis so the potential buyer that is interested in one of these will need to balance waiting for prices to fall with condition.
-Carter