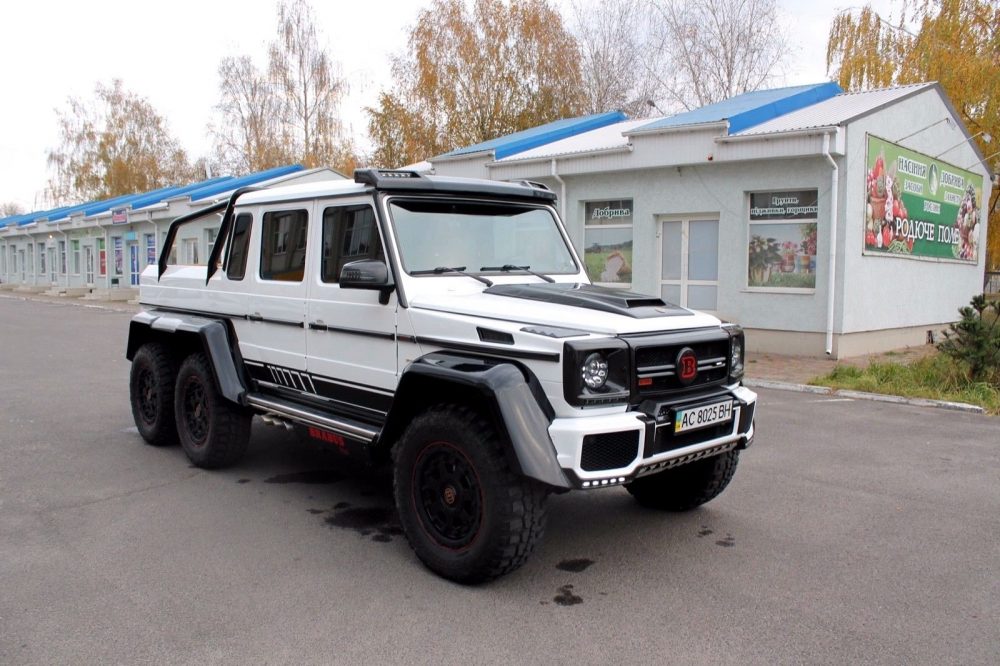 Have your eye on that G63 AMG 6X6 Brabus B700 but can't swing the $1,895,000 price tag? I might have a solution for you. You are probably looking at the title and seeing 1999 G500 and looking at the photo not seeing a 1999 G500. I have an answer to that question as well. This W463 started life as your regular G500 and was transformed into a faux Brabus B700 6X6 by master craftsmen in Eastern Europe. You are probably chuckling when I say "master craftsmen" and "Eastern Europe" in the same sentence, but hear me out on this one.
As you might have noticed this G is not in Miami like the listing says, but is actually in the city of Lutsk in Western Ukraine parked outside of a khrushchyovka and a store that sells fertilizer. Mercedes made less than 100 6x6s in total and Brabus converted a handful to their B700-spec so it's not you can just go grab a 6×6 body from the local parts department. Being a former resident of Ukraine, I reached out to this seller to ask a laundry list of questions as to how this 6×6 came to be. The seller said the entire body was custom fabricated by his team and all the carbon fiber pieces, including the giant fenders, were made custom by his factory that molds carbon fiber pieces. How he got all the specs and dimensions, he wouldn't tell me. Simply "its secret". When I asked if Mercedes or Brabus contacted him, seeing as he somehow replicated one of their most exclusives vehicles ever that sold over $700,000, he replied that they had not, but he hopes to sell the 6×6 before they do. As for the mechanicals, it is a 6×6 system that fully functions and mentioned that while it is fun to drive, actually parking this monster is less than ideal. Oh yeah, we haven't even talked about the interior yet.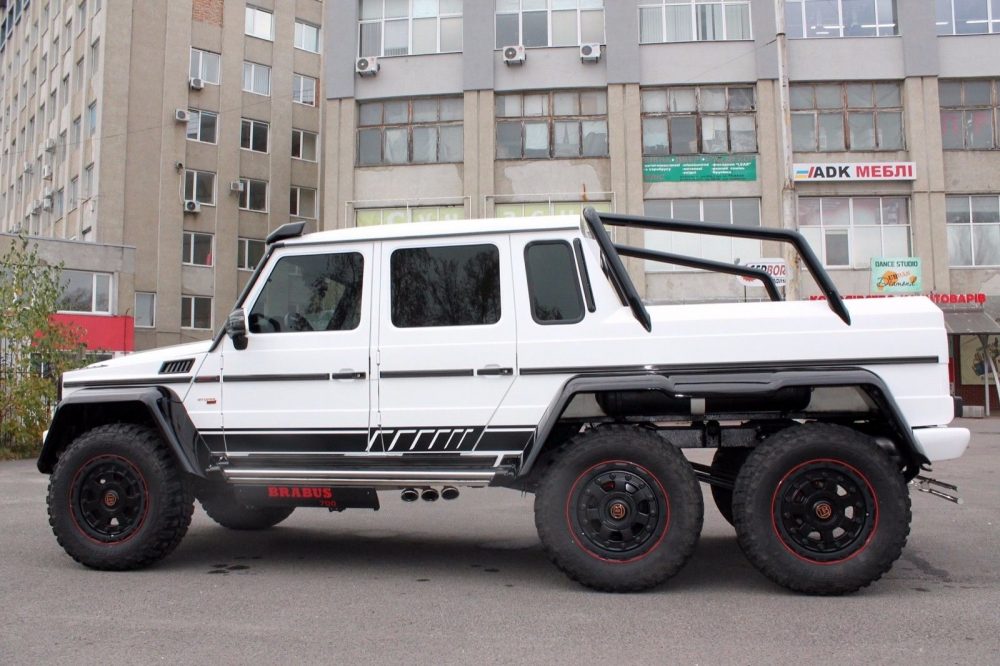 Year: 1999
Model: G500
VIN: WDB4632411X115230
Engine: 5.0 liter V8
Transmission: 5-speed automatic
Mileage: Not Listed
Price: $250,000 Buy It Now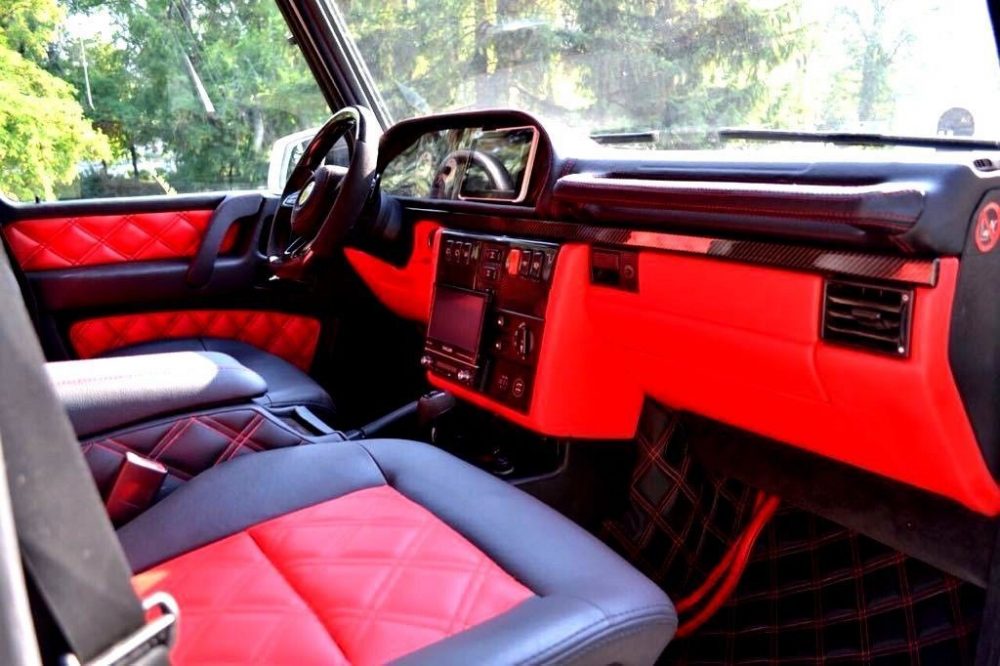 UNIQUE CAR! BE FIRST TO BUY!

Original 1999 Mercedes-Benz was converted to One-to-One original Brabus style G700 6×6 Pickup!
ORIGINAL PARTS USED!!!!!!
VIN WDB4632411X115230
Engine and gearbox, including all technical parts and issues, are original and in almost new condition!!!
-Exterior trim was equipped with carbon fiber trim,rear pickup side is covered with real ship woods(hydrophobic coating)
-Interior is also repaired , carpets, seats, roof and door panels are also new(changed and repaired with red and black leather),including carbon steering wheel and carbon rims
-Engine and all(!) gearboxes are original and stock(rear gearbox added from original MB W463)
-every suspension ant technical part is original or from original G-Wagon!

Please feel free to contact us if you want to make a conversion of your own G-Wagen or to buy it converted! I will always respond all of your questions and will make you sure that you need that car:)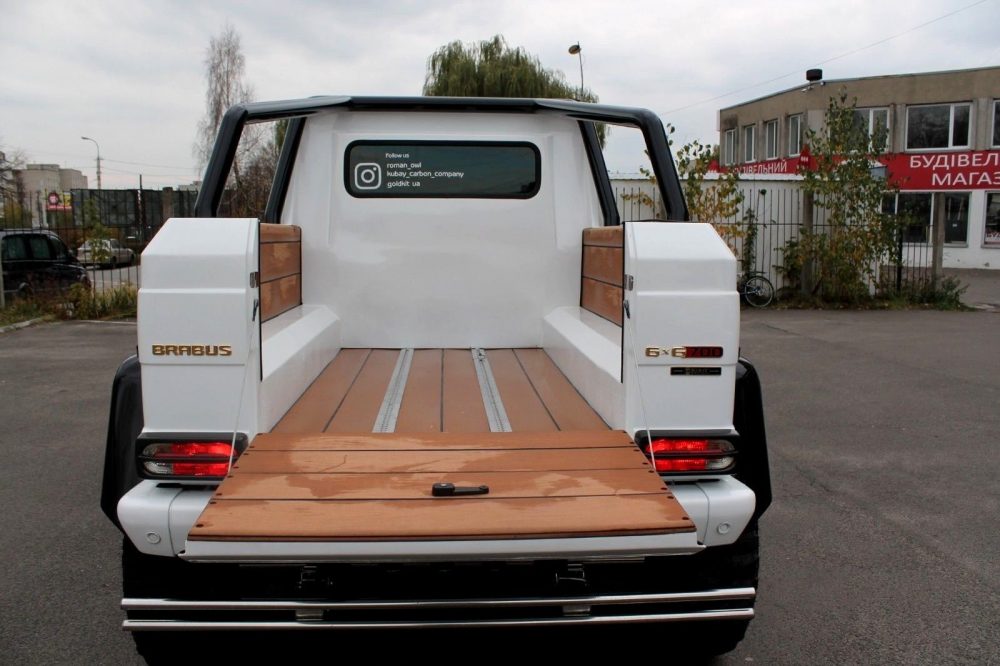 As impressive and spot on as the exterior is, the interior maybe leaves a little to be desired. You open the doors and are immediately reminded that this is a 1999 G-Wagen, not a 2015. They did cover every square inch with leather, Alcantara and carbon fiber to try to mimic the genuine Brabus interior, but it just falls short. I don't doubt that the materials are high quality, but the design of a 1999 W463 interior just looks too dated to me for it to be this loud and extravagant. Under the hood, the stock M113 V8 remains so the six-pack exhaust tips probably aren't needed, but it should have enough muscle to power all six wheels reasonably enough. The seller even did a walk around video on this G to show you it isn't held together by pig fat and honestly, it would fool a lot of people into thinking it is a factory Brabus B700 — until you open the doors or the hood.
This asking price is $250,000 and when you do the math, probably is pretty reasonable. Like I said earlier, a real B700 is $1,900,000. So you can have all the looks and some of the utility of a real one for a cool $1,650,000 discount. Seems like a no-brainer if you really want a 6×6. If you are a person who has a budget of $250,000 and this is your only fun vehicle? Probably not a wise investment. I do think that ultimately this will sell rather easily even with it's quarter of a million price tag, just where might be the question. I'm sure buyers in the middle east would love this thing for the sand and buyers in snowy European countries would enjoy this in the winter time. Just another example of what can be done with a little bit of money and fabrication.
– Andrew
Thanks to Roman for the information on his build. Check out his companies on eBay here and here.