I'm going to do something a little unusual here; follow a path I have not normally taken. Here we have a 2017 Porsche 911 Carrera Coupe. There isn't a lot that is special about it. It's the base Carrera, not an S or GTS. As far as I can tell there aren't any unique options; it hasn't been owned by a celebrity; the color combination, which I do like and you do have to pay extra to get, is part of the standard offerings currently available from Porsche. Basically, you could configure a 911 like this one fairly easily on your own and there likely are quite a few out there that are similar to it.
This is pretty much a standard base 911 that's still pretty new and I don't usually bother to post those cars. If we get into the details it does have a few miles on it for its age (29,833) and we certainly can't ignore that. But I wanted to post it because 1) I like the color combination a lot and 2) sometimes it is nice to look at a base 911 that does not stretch well above six figures and probably won't ever leave a garage unless the weather is absolutely perfect. Also, while you could configure your own, those miles and it being kind of standard means you get a discount and can enjoy your 911 with fewer worries. That's not so bad!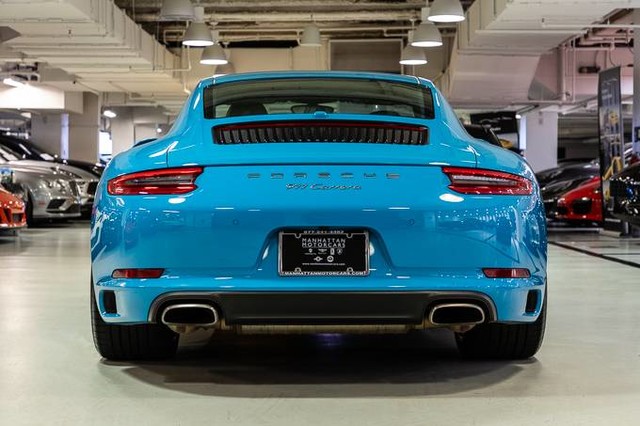 Year: 2017
Model: 911 Carrera
Engine: 3.0 liter twin-turbocharged flat-6
Transmission: 7-speed manual
Mileage: 29,833 mi
Price: $81,995 Buy It Now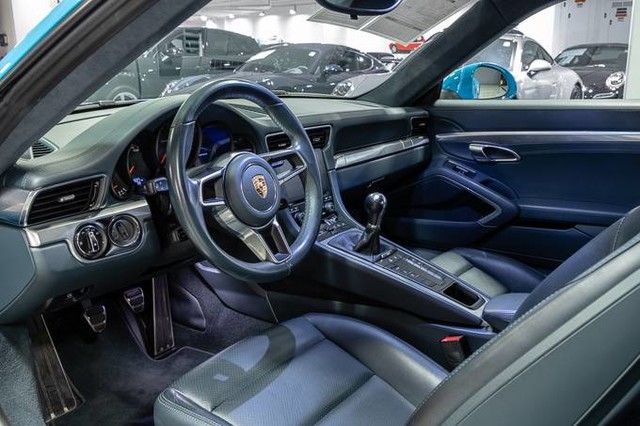 This 2017 Porsche 911 Carrera is offered to you for sale by Manhattan Motorcars. Ask us about our Certified Pre Owned Lease special on this 911! Certified Pre-Owned means certified peace of mind. Marked by excellent quality and features with unmistakable refined leather interior that added value and class to the Porsche 911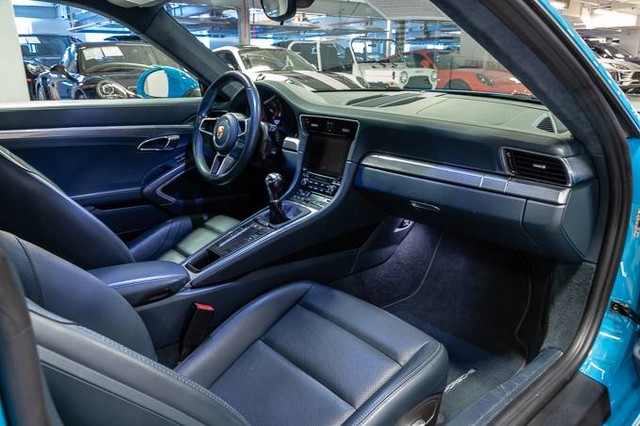 We've seen many times before the variety of brighter blues that Porsche has offered over the years. A few of those are now some of Porsche's most iconic and sought after colors. Blue also happens to be my personal favorite color on a car – at least in a broad sense as certain particular colors do, on an individual basis, rank higher for me, e.g. Signal Yellow. Riviera Blue, Mexico Blue, Voodoo Blue, or even the much older Pastel Blue. There is a long list. Miami Blue is not yet on that list. It hasn't been around long enough. Even though the shade of blue is slightly different, and all of them are a little different from one another, Miami Blue does fit within that general range and over time I would expect it to garner similar attention. The difference more immediately is that it is both easier and less expensive to obtain since you do not have to go the paint-to-sample route. Basically, you can get a great color for less money and wait less time for an allocation.
That is part of the appeal of this Carrera for me. When I first saw it I suspected it was Miami Blue, but I had to have a closer look at the ad in order to be sure. Most people seeing it on the street won't know the difference. It will simply be an eye-catching 911 that you will not fail to notice.
Without knowing the particular options on this 911 it's difficult to know its original price, but a base 911 with Miami Blue exterior and a Graphite Blue interior is right around $100K without bothering with any other options. So that puts this one at around a $20K discount. Given the mileage I suspect you might be able to knock that down a little bit farther, but overall it's not a bad price for a 911 that's still pretty new. Obviously, you'll want to make sure it's been well cared for over those miles, but assuming that all checks out, then I'd have little concern.
It is not always easy to find fun colors on a car. Fun cars deserve fun colors. This is a fun car, it comes in an exciting color, and it comes at a discount. Someone should grab it.
-Rob