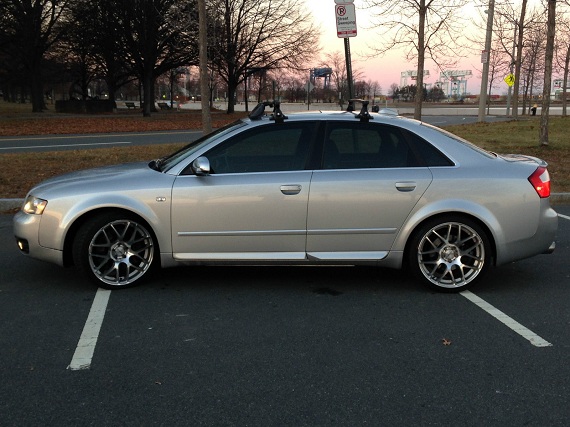 Last week's 10K Friday BMW 540 faceoff generated a lot of interest in a single-model showdown with a twist, so I thought another V8 6-speed showdown would make some of you happy. In honor of 4WD week, this particular 10K Friday is going to feature one of our favorite sports sedans, the Audi S4. Available most recently only in sedan version, the S4 in previous generations was available in convertible and wagon form as well. While it's difficult to find the wagons (and even the convertibles) under $10,000, today I managed to find two 6-speed S4 V8s ready to rumble. Which would you choose? Let's start with the sedan: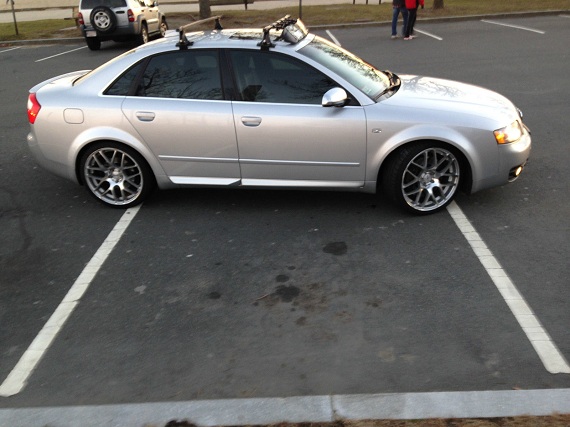 Year: 2004
Model: S4
Engine: 4.2 liter V8
Transmission: 6-speed manual
Mileage: 91,500 mi
Price: $10,750 Buy It Now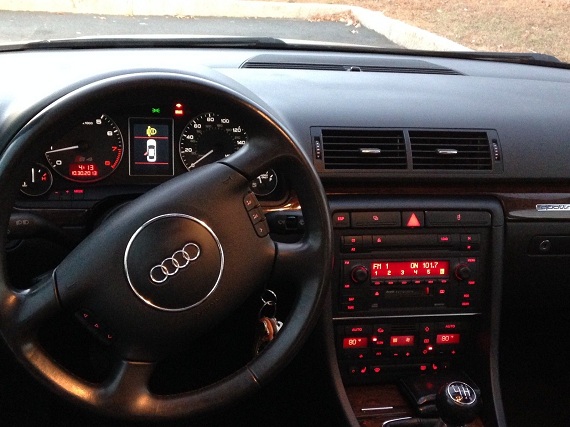 Selling my 2004 Audi S4 6spd manual with 91,500 miles on it. Exterior color is silver with black leather interior. Navigation, power seats, power everything, etc. Car is immaculate. 35% window tints all around. Stasis 19″ rims with new tires in July. Blacked out front grille. Milltek full catback resonated exhaust. Recent service done, new alternator, new right control arms, brakes, suspension, clutch, all checked. Interior is flawless with no rips or tears. Only selling for lack of use in the city. Car has been garaged up until this year. SERIOUS BUYERS ONLY. Roof racks will be included with right price. Throw me an offer for consideration.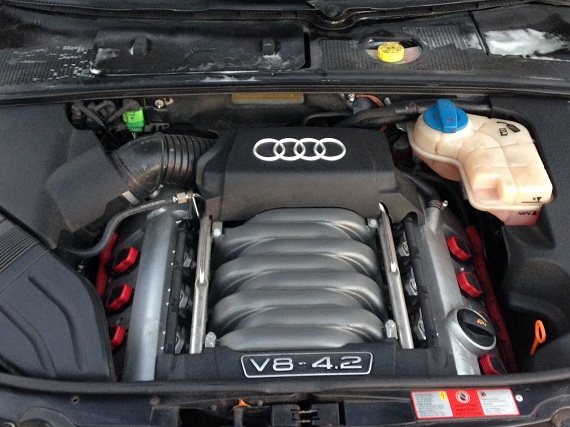 In popular silver over black, this car has some things going for it. While I'm not a huge fan of the VMR wheel look I know many are, and this car has some expensive Stasis 19″ wheels on it with newer tires. Additionally there's the great-sounding Milltek exhaust and some maintenance to both the motor and suspension. For under $11,000 this car offers a lot of performance and style, though silver over black probably wouldn't be my first choice for these sedans. You know what would be my first choice? Nogaro Blue, of course.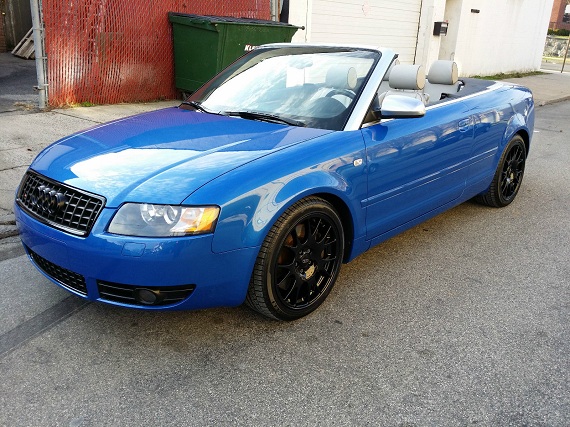 What a great color – it just suits the design of the S4 really well and the car looks like it was made to be blue. This particular model has some light modifications; the grill and wheels have been painted black. I'm usually not a huge fan of this, but I think the grill at least works. However, those great BBS CHs would need to return to at least graphite color if I were to own this car. I love the silver-grey with black piped leather, though I have always found the black top on a blue car combo – regardless of make – not a pretty combination. No problem, just drive it only with the top down! As these models were made by quattro GmbH they're a bit more special than the run-of-the-mill S4, and while this model has high miles it sure looks great.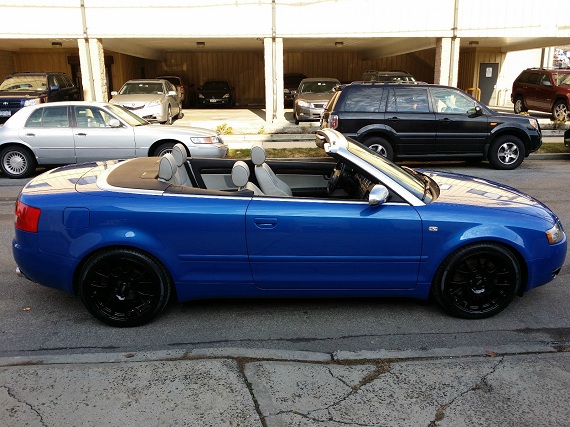 Year: 2006
Model: S4 Convertible
Engine: 4.2 liter V8
Transmission: 6-speed manual
Mileage: 160,395 mi
Price: $9,000 Buy It Now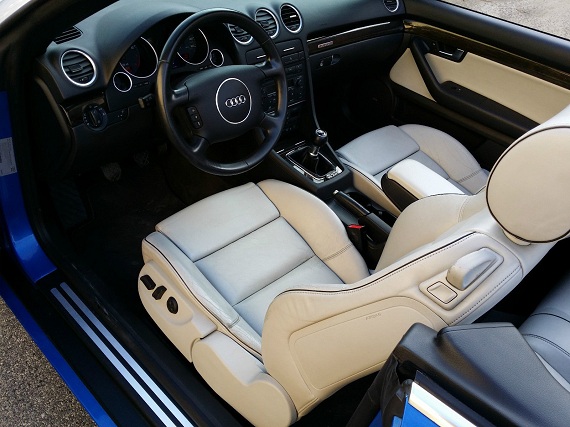 2006 Audi S4 Cabriolet
V8 – 340 HP, 302 TQ
Miles – 160,395
Mechanical – The car has a full service history, and has had every major Audi specified service performed at Mohegan Lake Audi.
Head Job was done roughly 30,000 miles ago. It has new Pads and rotors. We have installed a brand new set of Pirelli P6 all-season tires. A full compression test was done, and a coolant pressure test was done as well by us. The car passed all tests perfectly. It does not leak any fluids, and has NO check engine lights or stored codes. This car is a rare example of a true highway driven car that was maintained properly and vigorously.
The car also has a built-in Passport radar/laser detector w/ front and rear laser diffuser/jammers.
As you can see in the images, this car is immaculate. The exterior of the car is in excellent condition, no rock chips, scratches, dents….NOTHING. The interior of the car has normal wear and tear, but is also in amazing condition. The factory wheels have been powder coated gloss black, and the factory grill has been painted black as well. The convertible top is in great condition and is fully functional. The car also recently passed NYS emissions tests.
Please contact George or Mario @ 914-654-1010 with any questions.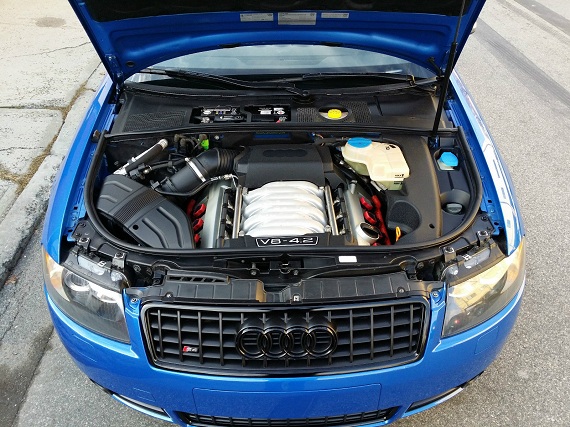 There's no doubt that 160,000 miles on one of these cars gives me a little pause, but despite that I think the convertible is aggressively priced with some recent maintenance, and it'd be the one I'd choose if it were my money. It just looks very, very special in comparison to the stealthy if boring silver, and as I've said many times, if you're going to be shouty about driving one of these cars you might as well be bright and shouty. I say pop the $2,000 in savings into a high-yeild account for repairs down the road and get the topless quattro.
Which would you choose?
-Carter