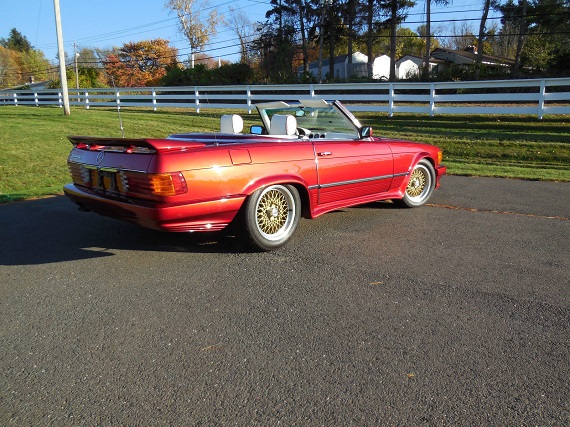 There's an absolutely classic scene in the Adam Sandler movie The Wedding Singer in which the Miami Vice obsessed character Glenn Guglia pulls up in his DeLorean DMC12 with the theme song from the popular show blasting. The character was the perfect caricature of 1980s excess, and the show was the pulse of the nation at that time. The brightly colored polos with white suits, dark aviator sunglasses and devil-may-care attitude of the protagonists are as classically '80s as the bad plot developments and cliche catchphrases. And then there were the cars; the twin replica Ferraris are both notorious and inseparable from the show; the white Testarossa was the car to have – impossibly cool and improbably ostentatious at the same time. The period spawned an entire industry of cars; perhaps an unfitting tribute, but today they're always a bit of a treat to see. It's not so much that I want them; they're just like perfect time pieces that throw you back to another time. And as with #ThrowbackThursday posts that seem to riddle the web, this 1984 Mercedes-Benz 500SL immediately reminded me of legwarmers, INXS and Vuarnet shirts: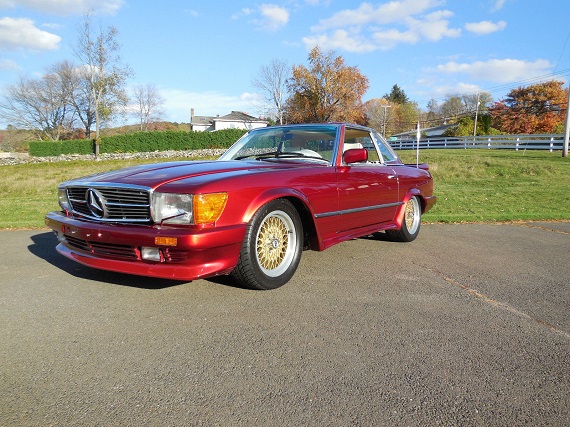 Year: 1984
Model: 500SL
Engine: 5.0 liter V8
Transmission: 3-speed automatic
Mileage: 31,000 mi
Price: $17,500 Buy It Now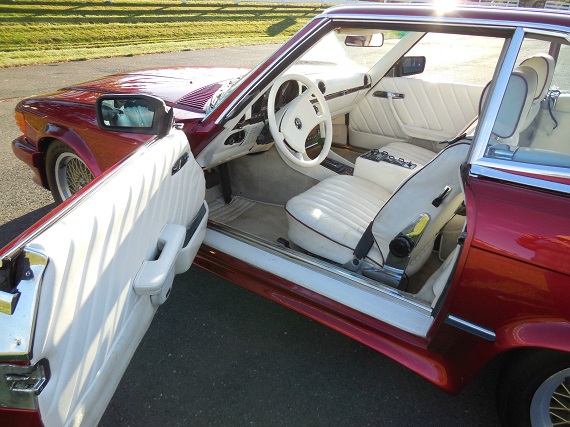 Just got this in from my cousin who is 90 years old and I didn't even know he owned it, since he had hidden it away in his garage for 15 years! He has Only put 3000 miles on it in that time and has all the receipts of the work sense he has owned it including re-built trans,added Cat converters to pass emissions and tune up's etc. It was purchased in Florida in 1999 with 26760 miles. He had it shipped to Connecticut where the car has been here ever since so he decided to sell the car because he didn't want his wife to have the burden of selling it if something happened to him. To say the least I was Blown Away when he drove it into my driveway my jaw hit the ground…The Candy Apple Red Paint is to die for, The White Custom Leather interior just pops the Gold Rims just shouts Miami Vice which the more I tried to find out about the car and the custom work done in Florida 25+ years ago, the paint, the interior the customer Clarion Stereo System, The Steel Safe in the Glove Box and of course the Nitro Oxide Tank in the Trunk and a Built in Radar Detector ( He took it out years ago but the Fitting and line is still in the Trunk) so you tell me if this isn't a Miami Vice Drug Runner Car ??? who else would spend this Obscene amount of money to customize this car?? I have had the car for two weeks now and put a 100 miles on it to give an honest evaluation of the car. First thing I found out from the MB Dealer is that this is a Gray Market Car which has a lot of different parts then the US Version had and the Vin # is not in there data base to find out anything about the car and also on ebay vin dose not show up for the same reason because of it being a Euro Car.The Vin # WDB1070461A01441 Connecticut Clean Title Clean Car Fax ! The paint is an 8 out of 10 a couple nicks in top of front bumper a small crack in top of hood and two small chips on the front fender by hood all are shown in the pictures. Paint is still outstanding for its age the other noted thing I found on the hard top, someone must have dropped it at some point, and dented the two chrome strips on the front lower edges and the rear window has a crack in it as shown in pictures, other then that no dents, no dings, no scratches, no rust. I put the Car on a lift and took pictures of what I saw so you can see that there are NO OIL LEAKS AND NO RUST!! You can see the Transmission has lettering on it, it was rebuilt at 28,624 miles! New Inner and Outer Tie-rod Ends, and New Cat Converters to get through emmission in Connecticut, which it PASSED in 2013! The interior is a 7 1/2 out of 10 just because of its age and some of the white pigment is fading on the white leather, but the red pinstripe outline is still perfect as the pictures show. Believe it or not the stereo system works great, I have replaced all speakers with the same Clarion speakers I found online, Stereo sounds Great!! Everything in Car works just as it should including AC/HEAT, Cruise, Lights, Etc. The car starts right up goes to hi idle til it warms up then low as suppose too, now for the drive the engine is smooth and powerful, the transmission is smooth and firm between gear shifts never skipped or missed a beat!! I took off the hard top and put convertible top up which had not been up in fifteen years and is near perfect as you can see in pictures, now I didn't snap all the way down in the back because I didn't have time to let it warm up as suggested as it was tight from sitting so long. Rear plexiglass window is perfect shape no cracks, no fog, no slumping shape! So there you have it, the best description i can give you. I hope the pictures answer all of your questions. This is One of the nicest Mercedes Benz SL500 in the WORLD without a doubt!! So DON'T MISS OUT. IF YOUR LOOKING FOR UNIQUE AND SPECIAL THIS IS DEFINATELY FOR YOU. I have 100% Feedback so Bid with Confidence. Car is SOLD AS IS, Connecticut Title in my hand, 20 minutes outside Bradley International Airport, fly in and drive it home or better yet, ship it home!!! Feel free to call me Sean (860) 424-1818 ONLY BID IF YOU ARE SERIOUS ABOUT BUYING THIS CAR, LESS THEN 5 POSITIVE FEEDBACKS YOU MUST CALL ME BEFORE BIDDING! GOOD LUCK BIDDING…….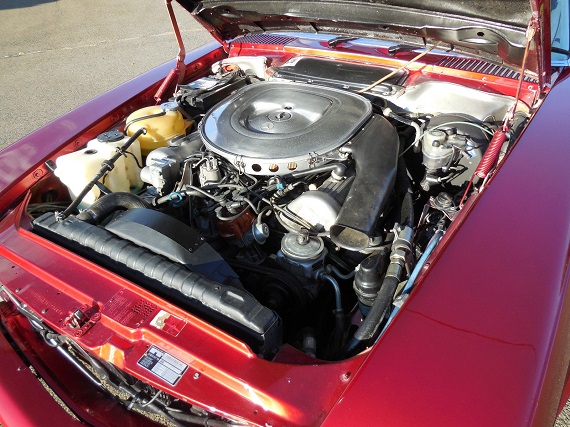 By itself, a low mileage R107 is a desirable thing these days, as we've been seeing values on nice ones rapidly appreciate. Add in a Euro-spec model, and most are still on board. Even the BBS RA knockoff MSW wheels are period correct and in most ways, desirable. Unfortunately, it's there where the 1980s mods kick in and the "want" versus "fun to look at" quotient starts to tip; the custom candy red looks decent but isn't correct or perfect. Then there's the bright white interior; wow. I'm not even sure what to say about that – I guess it looks reasonably well executed? Hidden – not so well – in there is that massive stereo; perhaps enlisted by SETI and capable of contacting Beta Centauri, big old radios manage to mostly be a turn-off. And if you didn't read carefully, you may have missed that this car has a nitrous oxide system built into the trunk. The seller certainly does correctly summarize that someone spent a lot of money on this conversion, and it's certainly interesting that it turned up in the hands of a 90 year old which is somehow hard for me to visually wrap my head around. Nevertheless, even if this car isn't anything that I'd really want, it's still fun to look at. Not $17,500 worth of fun to look at, mind you, fun nonetheless.
-Carter