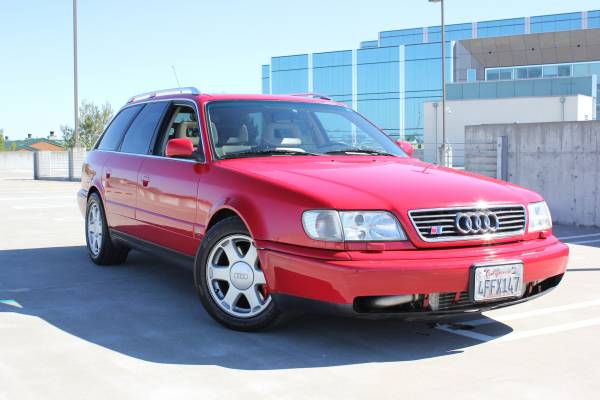 There are plenty of special cars in the realm of classic German automobiles, but one of the most capable and affordable is the S6 Avant. Only a few hundred of these special wagons made it to U.S. shores; denied the S4 Avant, enthusiasts lined up for the U.S. replacement for the fabled 200 20V quattro Avant. It was worth the wait, as great styling coupled with even more power for a truly luxurious sleeper wagon. It was unique on U.S. shores, too – BMW and Mercedes-Benz didn't really offer any competition to these cars. Most have been pretty used by this point, but thanks to eagle eyes from our readers John and Jack, we can enjoy two great examples today – from mild to wild. Which would be the one you'd want?
Year: 1995
Model: S6 Avant
Engine: 2.2 liter turbocharged inline-5
Transmission: 5-speed manual
Mileage: 193,000 mi
Price: $11,700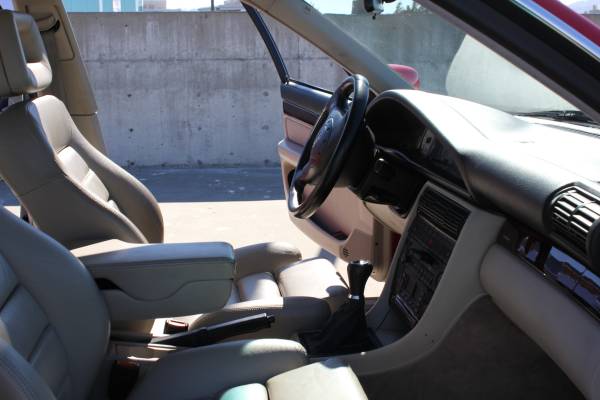 Overview:
1995 Tornado Red/Ecru URS6 Avant
193xxx miles on the chassis.
95xxx on engine, installed at 192,800 miles
K26 Billet Turbo/Fully RS2'd
California Car, no rust whatsoever
Located in San Jose, California
More photos located here: http://s208.photobucket.com/user/jackpiunti/library/1995%20URS6%20Avant?sort=3&page=1
$11,700

Upgrades:
Iroz Motorsports K26 Billet Turbo
EFI Express Injectors
EFI Express Chipset
3Bar MAP Sensor
DeatschWerks DW300 Fuel Pump
Southbend Stage 3 Clutch
Autometer boost gauge
Eibach Cold Air Intake
K&N Cone Air Filter
034 Coolant Hoses
New Coolant & Oil Lines
034 Motor Mounts
034 Silicone PCV Hose
Samco Boost and Intake hoses
Wagner RS2 exhaust manifold
2.0T Ignition Coils
Apikol FMIC
Stromong Turbo-back exhaust
Porsche 993 TT "Big Red" Front Brakes w/ A8 310mm rotors
034/Apikol Short Shift Kit
2Bennett Adjustable Coil-overs
2Bennett Camber plates w/ camber and caster adjustment
Rieger Illuminated Shift Knob
OEM Euro taillights
Euro Hella Clear Corners
Euro Headlights
HID Kit
Tinted Windows all around, lighter on front than rear
OEM S6 Plus badges, front and rear (happy to pay for and replace with regular OEM S6 badges, but the blue in the "S6 plus" badges looks fantastic on the Tornado Red paint)

Interior: 9/10
Interior is unbelievably clean, especially for an Ecru car. Front seats show very little signs of wear, no tearing at all. The center console armrest shows a just bit of wear on the front left corner, while the rear seats look like they did the day the car rolled off the factory line. All heated seats work fantastic, and the sunroof panel functions properly 100% of the time!

Exterior: 8/10
The car's exterior is in amazing condition, especially considering it is a 19 year old car. Chrome is shiny as new, 16″ OEM "Avus" wheels are pristine. The resprayed Tornado Red was done properly, not a MAACO style smash and go. Previous owner did rip off front bumper on a curb, however, and the replacement bumper from another TRed urS6 has some slight paint cracking.

Recent Maintenance:
Done in March before undertaking the engine swap – Heater Core, Blower Fan, Timing Belt, Water Pump, Thermostat, and replaced original coolant hoses with 034 Silicon Coolant Hoses. Replaced ignition switch, also installed remote unlock/lock function. Flushed and replaced transmission and rear differential oil with stock Audi fluid.

History:
I picked up this 1995 urS6 Avant, Tornado Red/Ecru, in February. It was sitting in a shop in Berkeley where the previous owner had a lot of work done to it, but then moved to Atlanta and left the car at the shop, and owed money on it. It looked to be in pristine condition. Shiny Tornado Red paint, interior and seats without any visible signs of wear, etc. Long story short, the PO upgraded the turbo to a RS2 spec Turbo with a "stage 3" chip, and didn't mention to me that it hadn't been properly tuned. Thus, 300 miles after I bought the car, the head gasket blew, along with the heater core. I was not prepared or skilled enough to undertake this type of project, so I brought it back to the shop where bought it and got both the heater core and head gasket replaced, and at the same time did the entire timing belt/serpentine belt/water pump routine at the shop where I bought it, as they claimed they would "give me a break" on the labor cost. However, fewer than 50 miles after I got the car back, piston #2 melted. The entire block was completely shot. The shop had neglected to diagnose the root cause of the head gasket and heater core failure; they basically put a band-aid on it, told me it was fixed, and sent me on my way.

I immediately pulled the car out of that shop, and took it down to my Audi guy in San Jose. We diagnosed it as a tuning issue; essentially, the previous owner had thrown on a RS2 turbo and didn't upgrade fuel injectors or chip. It had been running lean as all hell. To be fair, I should have immediately checked the ECU first thing when I bought it, but I simply couldn't imagine that someone who spent all this money and upgraded the car so heavily would neglect a simple, easy thing like tuning!

We sourced a used AAN engine with 95k miles, and installed it. When the engine melted down it decided to take the turbo with it, so I picked up a K26 Billet from Hank at Iroz Motorsport and tuning (chipset + injectors) from Marc at EFI Express. Also at this time I installed a boost gauge, as somehow PO neglected to do this, and a DeatschWerks DW300 Fuel Pump. We put the car back together and she now runs fantastic. The K26 pulls HARD. This thing destroys regular RS2 setups, and any silly Mustang/Camaro/WRX/Civic that is dumb enough to try and keep up. I've put around 1000 miles on the setup.

However, I've recently moved up to San Francisco for work, I don't have a garage, and I literally can't sleep at night worrying about this car on the streets. I have a 35 mile commute one way, and sitting in stop and go traffic is not what this Avant was made to do. She's too good for that. Thus, I'm selling and getting a more economical commuter car. It pains me to do so, but this car is so clean and deserves a better life than I can currently give her. She is currently garaged in San Jose, California, and being driven once a week to keep fresh. This Avant is amazingly clean with highly desirable mods. Please contact me with any questions or concerns about the car. Asking $11,700.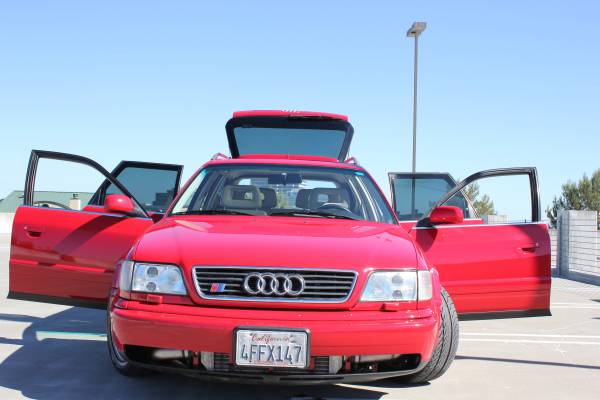 This car has been pretty turned up but still looks to be mostly a sleeper – it's a great combination. So is the color pallet; I love Tornado Red on these Avants and the Ecru interior is still in very good shape. Then there are the lovely and well-picked S6+ pieces front and back. While it doesn't have the right engine to be making the claim, it does hint at the added performance. Miles are higher but the condition on this car is certainly one of the best and the modifications are what most enthusiasts would want if they wanted a turned-up example. I think the asking price is probably in line with what the car should bring. Considering the Heap of the Week S6 Avant that was a non-runner failed to meet reserve at over $8K, this car is arguably a much better deal.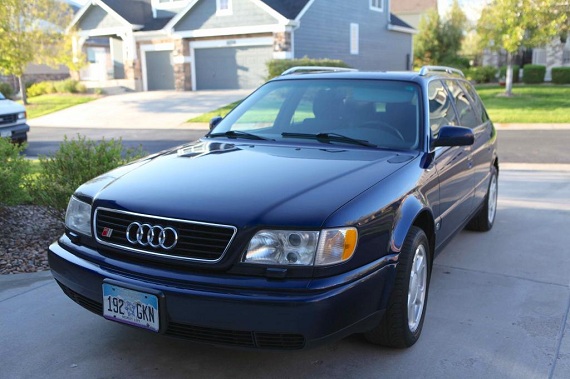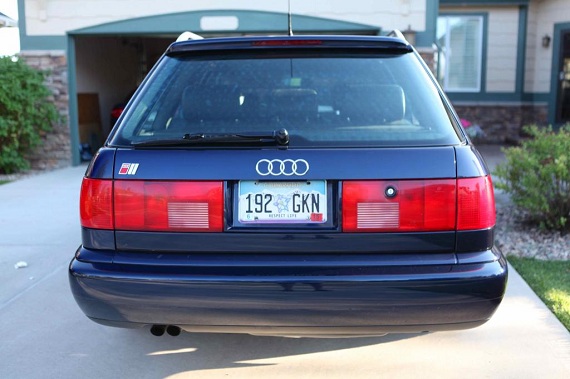 Year: 1995
Model: S6 Avant
Engine: 2.2 liter turbocharged inline-5
Transmission: 5-speed manual
Mileage: 84,300 mi
Price: $15,000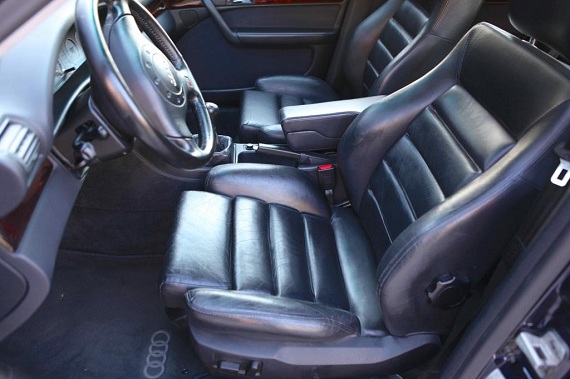 Ladies and gentlemen, boys and girls, out of the depths of hidden gems and dark places may I present the ultimate in Unicornity: The rarest of the rare, a 1995.5 S6 avant in Europa blue with black interior. This is that blue/black low mileage avant that has been rumored about for the last several years.

The current owner bought this car in 2002 with 26k miles and it has been serviced by Dave Jones ever since. It currently has 84,292 miles and that will go up slightly in the days ahead. Speaking of mileage, I took this car out for an extended drive and it was pure urS bliss. The ride was confortable but had that typical German sport sedan taughtness. Its as tight and quiet as any avant I have ever driven. Now for a few highlights on the car:

1995.5 S6 Avant
84, 300 miles.
RS2 exhaust manifold
MTM 1+ chipset
993tt front BBK
Koni shocks all around
Matching red stock rear calipers
Europa blue/black interior
PRICE—$15,000

For more information call or email Hap Maguire
303-475-6760
captmagu@gmail.com

I am enclosing some pics but the car had been sitting in its garage spot for several months and it was a little dusty. More pics of the cleaned up will follow next week after I get back from a little excursion with my wife down to Branson. I do have several detailed pics from underneath the carthat I can send out in emails.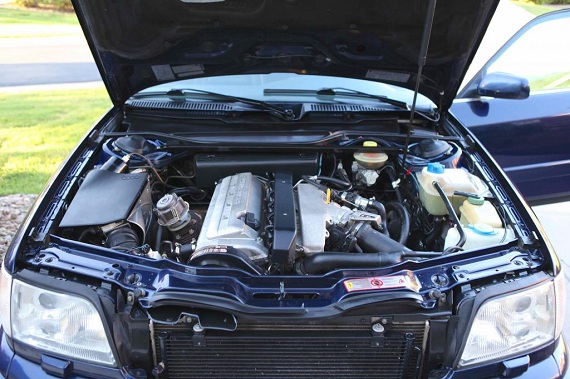 When our reader John originally sent this car in, he said it was too much money – and on the face of it, that's a reasonable statement. $15,000 for any old Audi is a lot of money these days outside of the original Quattro. But if there's an example that deserves it, I think this one might be it. First, it's in the rare and desirable Europa Blue Mica, but has black leather instead of the typical Ecru that accompanies the blues. That leather looks near new, too – the interior condition is amazing and matches the near spotless exterior. Then there's the mileage – unbelievably low at 84,000, it's less than half what the average Avant comes to market with. This car has also been modded but not as extensively and again addresses the weak areas of the car – floaty ride and weak brakes, along with some additional motivation. Considering the condition and "unicorn" status of the package, I can't really argue with the price. That amount buys you an average but not exceptional E34 M5 and not much 500E – and this car is easily the match for those two, if not faster.
Which would be my choice? I'd pay more and get that Europa Blue Mica example, because wow – it's just about perfection, and on S6 Avants we don't get to see that much. Kudos to both sellers for nicely presented and clean cars, and thanks to our readers John and Jack again for two great spots. One can dream….
-Carter