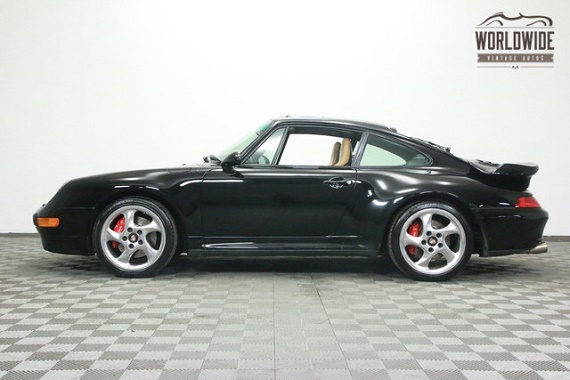 Could it be that there might actually be some value to be found on the 993 Turbo market? It has seemed like an impossible dream for a while as prices continued to elevate, but as I look around now I'm starting to wonder if there's been a shift. Granted, we're still not talking about inexpensive cars; after all north of six figures remains the norm. But we're getting closer to crossing that magic barrier. I first had an inkling of this last summer when I featured this 911 Turbo and thought all things considered the price wasn't bad. It wasn't cheap, but it felt like prices had moved down a step. I didn't think too much of it at the time, but I think now we need to give them a little more attention. The two we're going to look at here aren't the only two Turbos on the market right now, but they're two that stood out to me the most. I'll begin with the cheaper of the pair: a Black over Tan 1996 Porsche 911 Turbo with 80,533 miles on it located in Denver.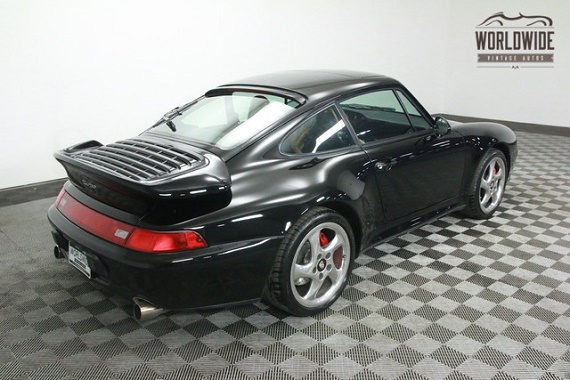 Year: 1996
Model: 911 Turbo
Engine: 3.6 liter twin-turbocharged flat-6
Transmission: 6-speed manual
Mileage: 80,533 mi
Price: $108,900 Buy It Now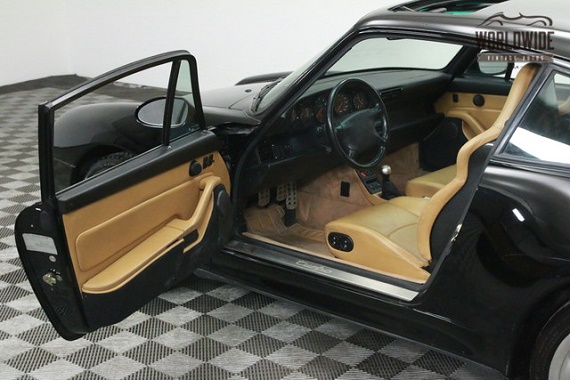 Worldwide Vintage Autos is pleased to present this incredible 1996 Porsche 993 Twin Turbo. THE LAST OF THE AIR COOLED AND THE BEST PORSCHE IN HISTORY! PERIOD. We scour the country for collector cars and trucks like this and we rarely come across one like this! We have searched for over two years to find a nice, collector grade 993 Turbo at an AFFORDABLE price. This will be the most reasonably priced 993 Turbo on the market. Buy it and ensure your investment for the future. You must see and drive this rare Porsche!

SPECIFICS / BUILD INFORMATION

EXTERIOR:

-Porsche Black. Gorgeous paint and body with no material flaws.

-Heavily optioned from the factory.

-Polished factory wheels.

INTERIOR:

-Full Porsche tan leather.

-8 Way adjustable seats.

-Floor mats.

MECHANICAL:

-Original Porsche 3.6 Liter Twin Turbo. Meticulously serviced. 80K original miles.

-Porsche 6 speed transmission.

-$5K aftermarket exhaust (sounds incredible). Original included.

-All wheel drive.

DISCLOSURE:

-There are a few chips / imperfections in the paint (See detailed pictures)

-Factory original except for shifter boot and emergency brake arm (OEM factory ones included) and the aftermarket exhaust (Factory mufflers and tips included).

Own this Porsche at wholesale. Fast forward 5 years and you will laugh at what you paid! These are the next hot investment cars and we have already seen unparalleled appreciation.

An excellent investment and something you can enjoy daily. Collectible vintage vehicles have historically appreciated at a rate greater than that stock market, gold and other arts and collectibles as documented by many articles and auction result tracking.

NEED MORE DETAILED INFORMATION? CALL US AND WE WILL HELP ANY WAY POSSIBLE!

1-877-422-2940

WORLDWIDE VINTAGE AUTOS [. C O M ]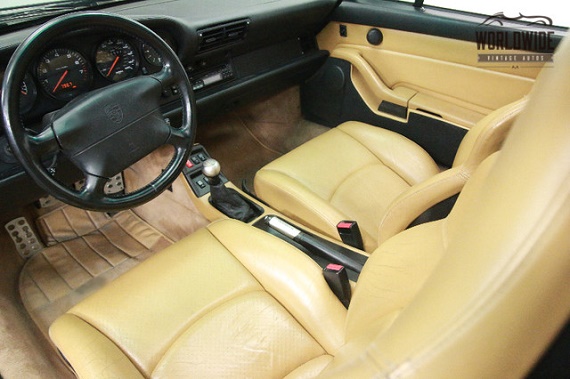 Black and Tan isn't an exciting color combination, but I always appreciate it as a classic pairing that is tough to beat for those who are fans of these contrasts. I happen to be one of those fans. Everything looks in good shape as well with the only non-original items on the car said to be included in the sale for those who might crave complete originality. At 80K the mileage isn't low by any means, but if the maintenance has been good then there's certainly long life left in it yet. And with a price under $110K it's one of the lower-priced examples I've come across in a good while. It's probably not going to dramatically rise in value any time soon, but I also would not expect it to drop much, if at all, so long as it continues to receive proper care. For someone looking for that elusive 'driver' 993TT this one makes for an interesting option.
Our next example has a higher price, but also shows many fewer miles and a more interesting color: a Guards Red over Black 1996 Porsche 911 Turbo with 41,718 miles on it located in Chicago.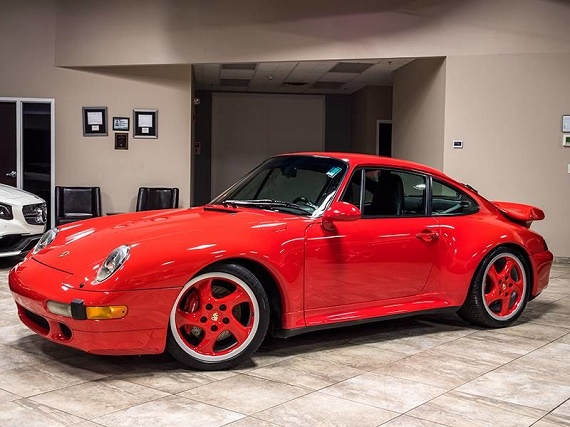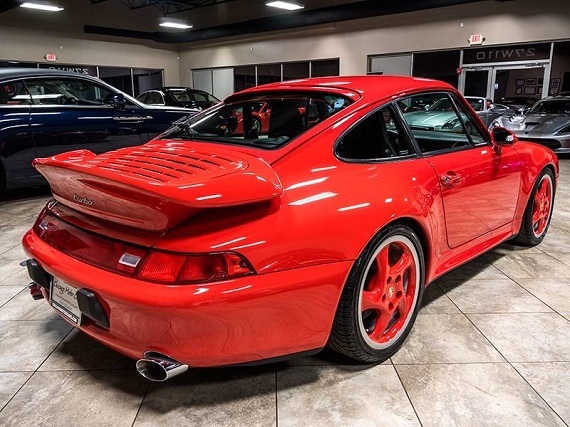 Year: 1996
Model: 911 Turbo
Engine: 3.6 liter twin-turbocharged flat-6
Transmission: 6-speed manual
Mileage: 41,718 mi
Price: $149,800 Buy It Now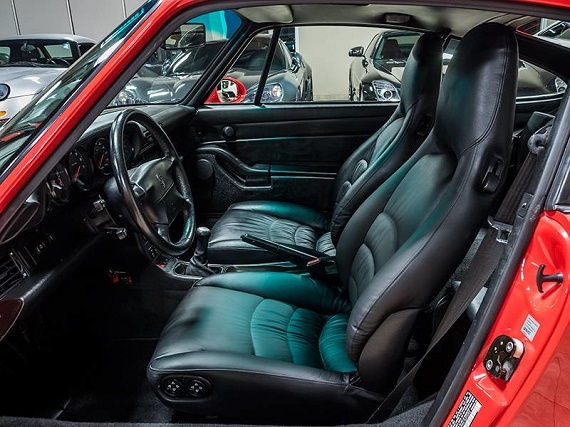 1996 Porsche 911 Twin Turbo 2dr Coupe

1996 Porsche 911 993 Carrera Twin Turbo Coupe

Guards Red Exterior over Black Leather Interior

ONLY 41K MILES! VERY RARE AND PRISTINE EXAMPLE!
FACTORY GUARDS RED PAINTED WHEELS! 6-SPEED MANUAL TRANSMISSION!

1 OF LESS THAN 1400 993 TURBO COUPES PRODUCED FOR 1996!

FACTORY OPTIONS INCLUDE:
Portable Cellular Phone w/Exclusive Console

Wheels Painted Exterior Color

Oval Chrome Exhaust Tips

Wheel Caps w/Porsche Crest

Auto Speed Control

Sunroof

Pleated Leather Front/Rear Seats

VEHICLE HIGHLIGHTS:
3.6 Liter Turbocharged 6 Cylinder Engine
-400 Horsepower-
-400 lb/ft of Torque-
All Wheel Drive
6-Speed Manual Transmission
17″ Red 5-Spoke Alloy Wheels
Power Adjustable Exterior Mirrors
Intermittent Windshield Wipers
Power Tilt/Slide Sunroof
Halogen Projector Headlights
Red Painted Brake Calipers
Dual-Oval Chrome Exhaust Tips
Front & Rear Window Defrost
Partially Power Adjustable Front Seats
Single-Zone Climate Control
Leather Wrapped Shift Knob
AM/FM Radio
Auto Speed Control
Portable Cellular Phone Console
Leather Wrapped Steering Wheel

VEHICLE HISTORY:
Only Two Previous Owners!
Excellent Condition Throughout!
Only 41k Miles!

**Last of The Air Cooled 911 Models!!!
A Perfect Car for Any Porsche Enthusiast!!**

INCLUDES:
*One Remote Key*
*One Valet Key*
*Original Owner's Manuals*
*Tire Inflation Kit*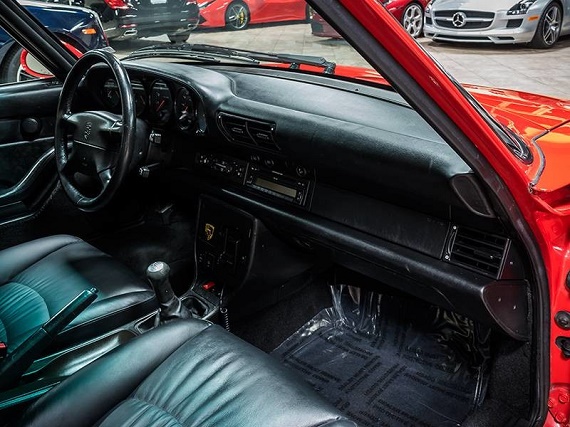 Color-matched wheels aren't something we see often on the 993. It takes us back to the '80s when it was much more common to see a 911 with its Fuchs wheels painted to match the exterior. Of course, there are reasons why these things go out of style and it's debatable whether the color-matching works as well on the 993's Turbo Twist wheels as it did on the 3.2 Carrera's Fuchs. I think here it's walking a fine line and I imagine some won't care for it, while others will appreciate it. I'm in the latter camp. Like the car above, everything presents well with this Turbo and while the price has moved up by $40K this still seems like a reasonable price, though I'll admit that this one falls more in line with the Arena Red example I featured over the summer. It's not a great price, but doesn't seem bad.
Both of these Turbos suffer from the same failing: a lack of documentation. We aren't provided with much about the history of either and while I think that's likely less of an issue with the Black Turbo, it's definitely an issue for the Guards Red model. Perhaps that's partly why the prices here seem lower to me. Though as I said, these aren't the only examples available so there's more to it than that. We've seen a lot of 930s come on the market lately and perhaps we're seeing something similar with the 993 Turbo. If that means more reasonable prices for the last of the air-cooled Turbos, then I see no problem with that!
-Rob