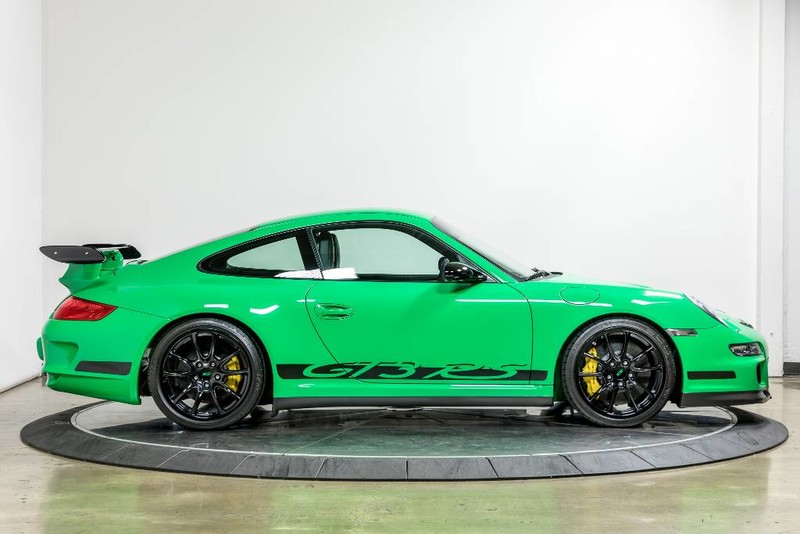 I have been featuring the GT3 RS a decent bit lately, with a few of those being the 997.1 models, so I thought I'd add in a couple of the less common colors we come across. As I've noted previously this model itself is one of my all-time favorite Porsches. I like the very bright Orange over Black version. As it turns out those are the most common, which is something we don't get to say very often about an orange car.
The two we'll see here aren't nearly as common. However, assuming the numbers I have seen are correct, they only occupy second and third respectively on the rareness chart. The claim for most rare actually belongs to the Silver version I posted a couple of weeks ago. Nonetheless we don't see these very often so they are always worth a look.
Let's start with the highest priced, the very bright RS Green, which here sits with 9,078 miles on it: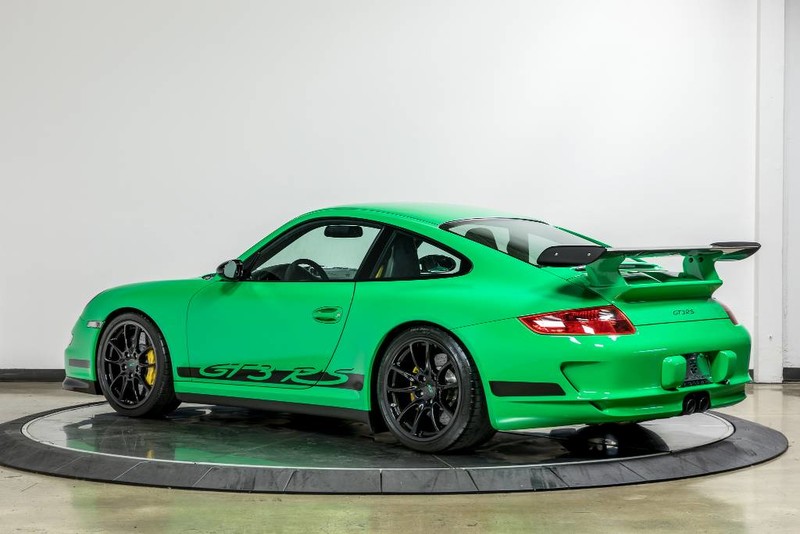 Year: 2007
Model: 911 GT3 RS
VIN: WP0AC29957S793271
Engine: 3.6 liter flat-6
Transmission: 6-speed manual
Mileage: 9,078 mi
Price: $279,888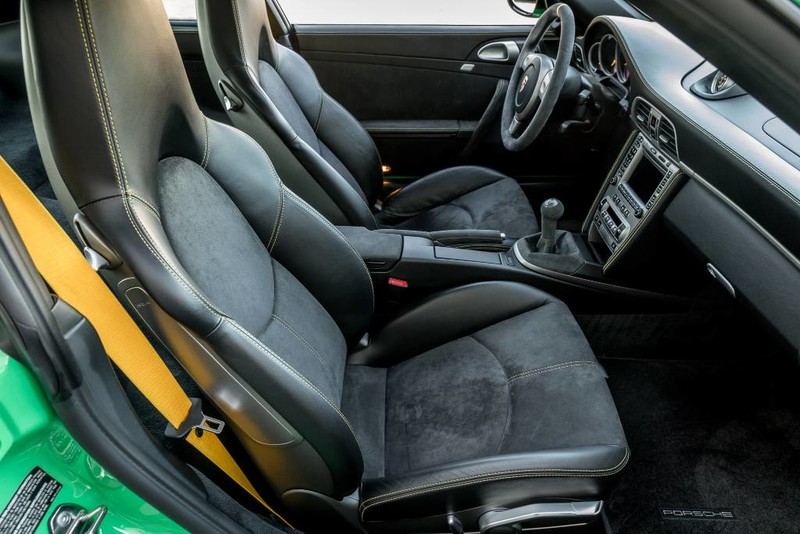 2007 Porsche 911 GT3 RS
This iconic RS Green 2007 Porsche 911 GT3RS is a One owner CA car and is in near perfect condition, with only 9,000 miles. This car has a clean Carfax and no previous paint work. Bought new at Stevens Creek Porsche Santa Clara CA on 9/-06/2007. The car was always serviced at Porsche of Livermore CA, the last service was on 4-12-2016 at 8,915 miles which it received its 10k mile service. The car just passed smog on 7-16-2018. DME report available, only a couple stage 1 and 2 over revs. This car comes with 2 keys and books.

This rare GT3RS is highly desirable among collectors. The black interior with yellow stitching and Speed Yellow seat belts accent the Porsche Ceramic Composite brakes that sit behind the black Porsche wheels. A black GT3 RS decal that runs across both sides of the car looks great against the RS Green paint. This car has the Chrono Package Plus which adds even more performance capabilities to this RS. The Porsche Active Suspension Management system allows for improved handling whether you are on the road or track. This Porsche was built for performance, and you will not be left disappointed. Only 25 RS Green GT3RS's were made for the US which makes this car a must have for any Porsche collector to have in their stable.

The car is powered by a 3.6 liter flat-six engine producing 415 horsepower and 300lb-ft of torque. The six-speed manual transmission makes this a fun car to drive. This RS has a 0-60mph time of 4.2 seconds. This car matches the power and capabilities of new cars today, and the 997 body style still turns heads as you drive down the street. This RS Green Porsche is sure to be a classic even more then it is today, and would look good in any collection or garage.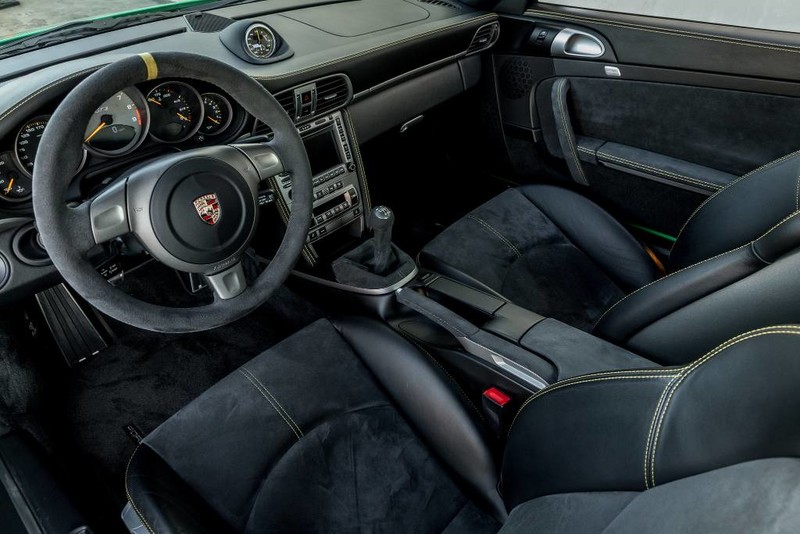 Purely on spectacle I do think these are the most jaw dropping of the bunch. That green paint is just so bright and the contrast with the black wheels and trim so apparent that it's seriously hard to turn away from them. With only 25 coming to the US in 2007 there aren't that many of them either. So I can understand the very high asking prices we see for them. But man is that asking price high. As we'll see when we turn to our next example, this one will cost you an additional $100K over most any other color. And while the price here certainly is high it is not unrepresentative of the prices we see. You actually could buy BOTH the most recent Silver GT3 RS and most recent Orange GT3 RS I've posted for only a little bit more money than this RS Green by itself. Both of those had quite a few more miles, and that definitely matters when comparing these, but I think it still puts things in perspective.
This is a really nice looking example though that also possesses Speed Yellow accents in the interior, a common occurrence on Green 911s, especially those equipped with PCCB. Alright, let's take a break from all of that brightness to look at a Carrara White GT3 RS. This one sits with a few more miles (11,972) than the green one, but is said to have originally been purchased by Jerry Seinfeld: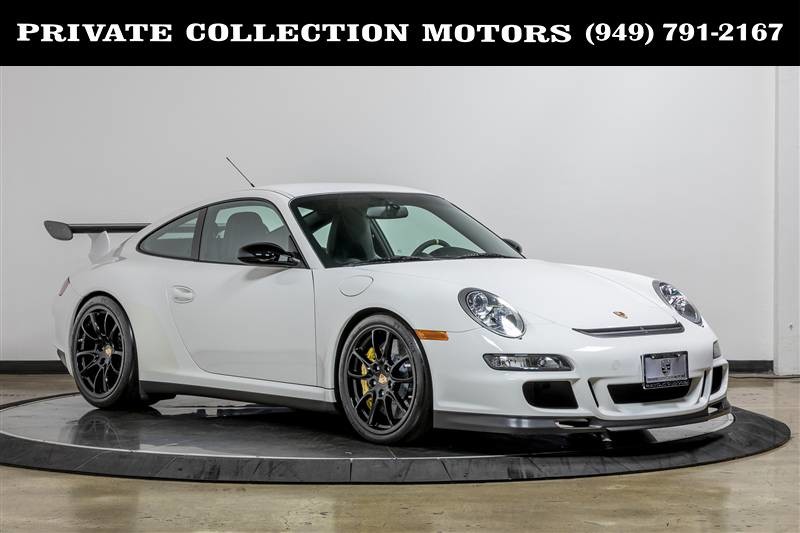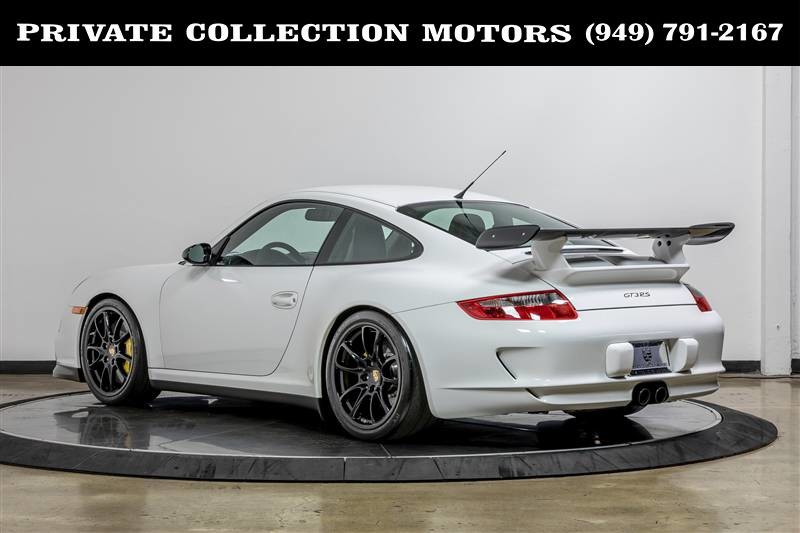 Year: 2007
Model: 911 GT3 RS
VIN: WP0AC29907S792609
Engine: 3.6 liter flat-6
Transmission: 6-speed manual
Mileage: 11,972 mi
Price: $179,888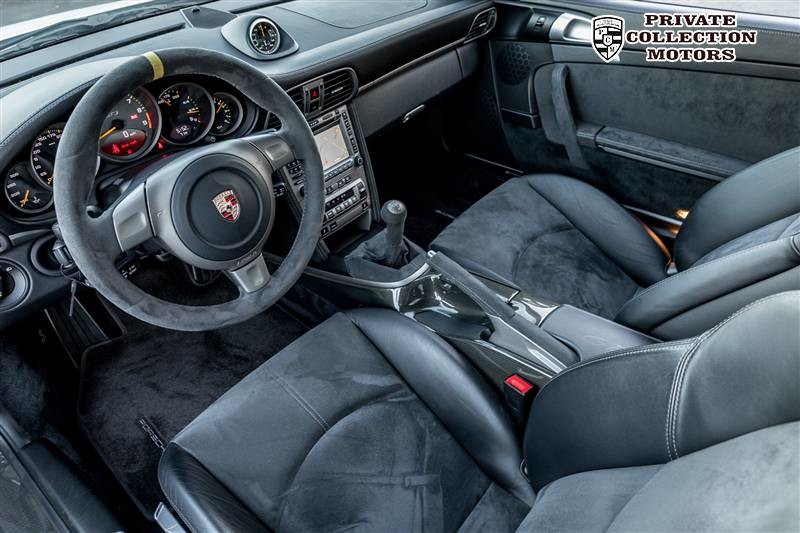 2007 Porsche 911 GT3 RS
Famed comedian Jerry Seinfeld is a committed Porsche fanatic whose collection is well-respected. The 2007 Porsche 911 GT3 RS presented is documented, with a Bill of Sale, as being purchased by Seinfeld on June 26, 2007 from Manhattan Motors in New York, City. Seinfeld was the first owner of the Porsche 911 GT3 RS and it currently shows only 11,970 miles on the odometer. The GT3 RS offered is finished in Carrera White with full black leather interior. It is offered with a long list of options including Porsche Ceramic Composite Brake (PCCB) which are more heat and fade resistant than the cast iron units fitted as standard.

This generation of the GT3 RS is the last with a manual transmission. The 997 GT3 RS offered is equipped with a 7-speed dual-clutch transmission, and Porsche has stated that manual transmissions won't be returning on future RS-badged cars. This make the Seinfeld car even more exceptional.
The Porsche 911 GT3 was introduced in 1999 and is a high-performance version of the Porsche 911 sports car primarily intended for racing. A number of variations, designed for road and track duty, have been introduced since its launch and more than 14,000 911 GT3 cars have been produced.

In 2003, Porsche introduced the Porsche 911 GT3 RS, an even more track-focused version of the 996 GT3. RS is short for RennSport, literally "racing sport" in English. The 996 GT3 RS is lighter than the 996 GT3 thanks to a polycarbonate rear window, carbon fiber hood and rear wing.

In February 2006, Porsche revealed the first generation 997 GT3, commonly now known as the 997.1 GT3. In addition to a new 3.6L flat-six engine that produced 415 horsepower and is the most powerful naturally aspirated 911 produced. The vehicle made use of Porsche's active PASM suspension making it the first of Porsche's RS or GT3 versions to feature an electronically adjustable suspension system. The car went to sale in summer of 2006 and had a starting price of $106,000 USD. A total of 917 units were sold in the United States and 46 units in Canada.

The Seinfeld car presented, due to the extensive list of optional equipment, had a selling price of $151,400 and it is well documented that he was in fact the first owner. His name creates magic in the Porsche community and the opportunity to own and drive a Porsche that he once owned rarely is presented.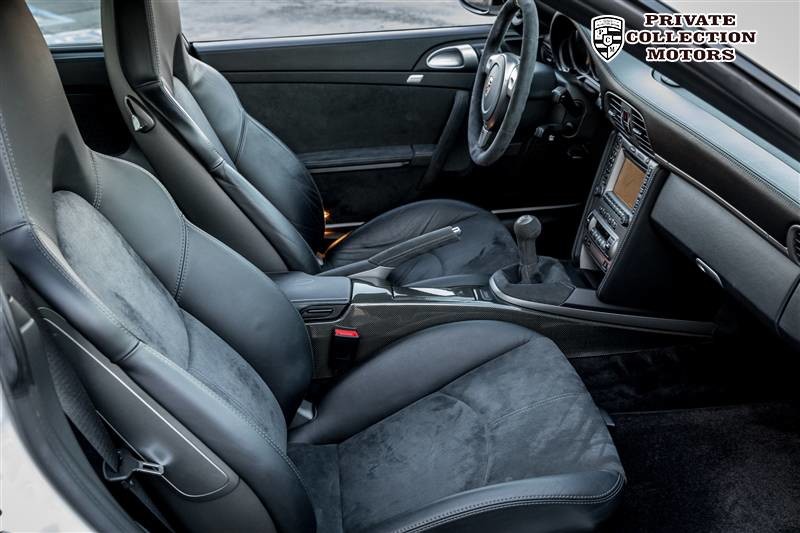 While technically produced in higher numbers (40 came to the US in 2007), Carrara White is the color I have seen least often on the 997.1 GT3 RS. I have no idea why that is and I'll admit it is entirely possible I have passed them by on occasion. White just isn't as attention grabbing as orange or green nor those with the orange decals that help some black and silver examples stand out. But I suppose the numbers don't lie.
In white and lacking the GT3 RS graphics, this is a very clean-looking example. Like the green one the condition throughout looks quite good and having been owned by Seinfeld should garner it a little extra attention. From the ad it sounds like it is no longer in his possession. One other thing to note, the build sheet shows that it was optioned with silver painted wheels rather than the standard black. Obviously these wheels aren't silver so it might be worth investigating. I doubt that's a significant issue, but something to consider. Given how rarely we see them and the relative cost of this one compared with the Green RS it seems kind of hard to pass this one up. It certainly isn't as head turning, but for some buyers (perhaps Seinfeld included) that might be exactly what they want. And these do look good in Carrara White. We see the GT3 in Carrara White pretty frequently and they always look great. The GT3 RS certainly follows suit.
Both of these cars are available from the same seller and perhaps even come from the same collection. Each looks in excellent condition. Given their premiums I don't know that you'd be able to spend as much time behind the wheel as the orange or silver examples I've recently posted, but either one of these still would make a nice addition to any 911 collection.
-Rob