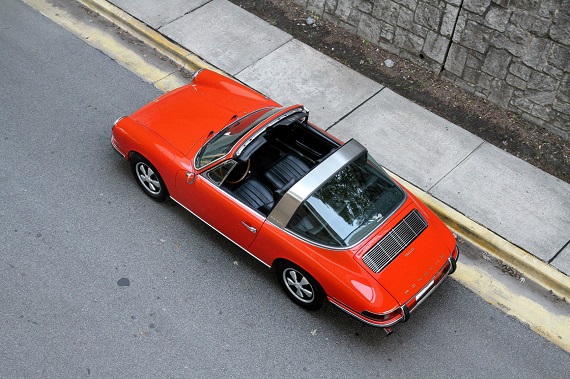 Time for some citrus. I've mentioned previously how the market for the long-hood 911 has plateaued, and perhaps even reached its peaked, but even if that is the case the 911S remains a special car that we must keep an eye on. These were some of Porsche's first opportunities to show its ability to produce a top-level machine that could provide performance but also remain civilized. The 911S epitomized that focus and here we have two different variants, both of which come in the wonderful shade of Tangerine over Black. With values remaining mostly stable over the past year it's not a bad time for those who really enjoy these early 911s to look for the right opportunity. Here we have both a Coupe and a Targa and both look in very good condition. Which would you choose? We will begin with the Targa, from the 1968 MY: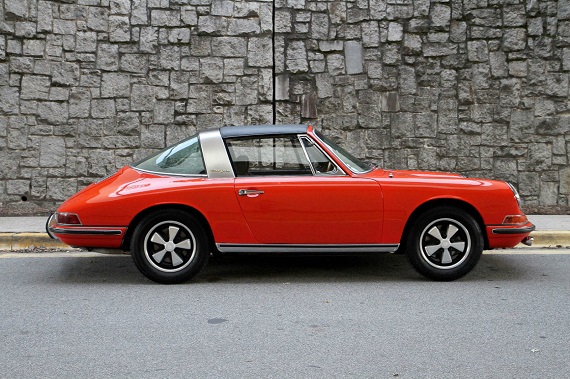 Year: 1968
Model: 911S Targa
Engine: 2.0 liter flat-6
Transmission: 5-speed manual
Mileage: 42,172 mi
Price: Reserve Auction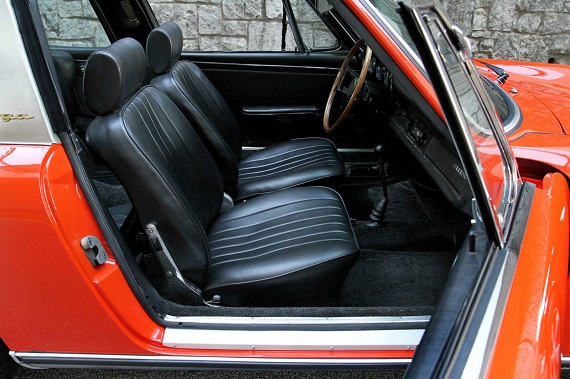 Motorcar Studio is pleased to offer this stunning 1968 Porsche 911S Targa. Tangerine over black; COA confirms original color and numbers-matching engine. Fresh from an extensive but sympathetic restoration in our shop, this example is very correct, including rare "elephant" interior and all of the '68 and S-specific details intact.
Collectors prize the '68 S for a number of reasons, not the least of which is scarcity — Porsche only manufactured 442 '68 S Targas, none of which went to the U.S. It's also the final year for the short wheelbase. Chassis number 11850132 was completed in 11/67 and fitted with engine 4180069 (which is a rare early '68 aluminum case).

The car just saw a glass-out repaint finished to a concours standard; gaps are excellent and floor pans are original. We started with a straight, dry west coast car then fully disassembled it for a photo-documented nut-and-bolt restoration (note in particular photos of the floors stripped to bare metal before German Wurth undercoating was applied). Seals, gaskets and many fasteners are new, but much of the hardware was carefully reconditioned and reinstalled — our philosophy is to preserve as much of the original car as possible. Lenses, trim, horn and engine grilles are in good original condition. Euro headlights with "city lights" plus Hella fogs. Period Amco bars. Rebuilt Targa top. New Vredstein sprint classics on date-correct (10/67) Fuchs refinished by Al Reed.

Interior retains original dash and door panels in very good condition; refinished wood wheel, restored gauges, period (and working) Blaupunkt. Mechanically well sorted, this 911 saw a complete suspension and brake overhaul when the car was reassembled after paint. Shocks, bushings, ball joints, tie rods, brake rotors, pads and calipers are all new or rebuilt. Original numbers-matching 2.0 liter S engine has correct accessories including relay panel, distributor, etc. Fresh service including valve adjustment. The car was born as a Sportomatic; at some point decades ago the Sporto was swapped out for a 901 five-speed manual (serial number 7112080).

A worthy addition to any collection finished in a spectacular original color. For more information about this 1968 Porsche 911 S Targa for sale at Motorcar Studio in Atlanta, please call 404-692-5250.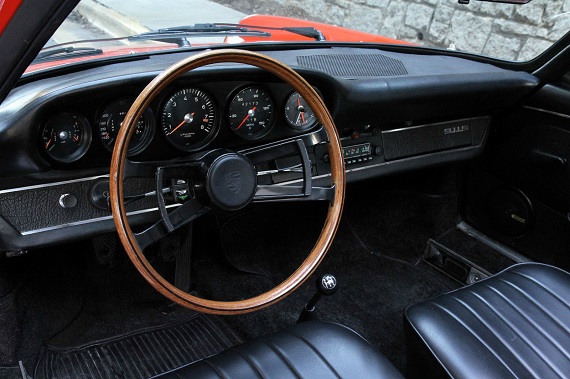 Porsche increased the wheelbase of the 911 as we moved from the 1968 to 1969 model year, which provides us the most immediate difference between these two Tangerine 911s. As the final year of that short wheelbase the '68 models will carry the most demand. And of course, values aside, we must also consider the subtle changes to appearance and overall dynamics of those changes to the wheelbase. For some those dynamic changes could be the decider. Of note: this 911S Targa began life as a Sportomatic, which was swapped for a 5-speed manual some years ago. All in all a very pretty example of an early 911 Targa, now let us move forward one year to this 1969 Tangerine 911S Coupe: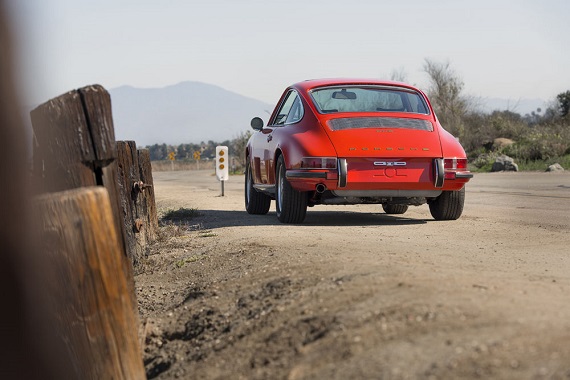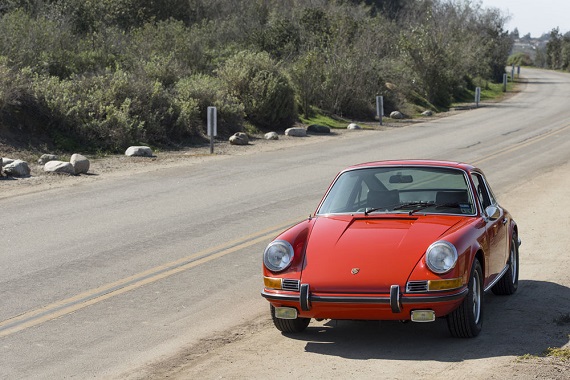 Year: 1969
Model: 911S
Engine: 2.0 liter flat-6
Transmission: 5-speed manual
Mileage: 4,981 mi
Price: Reserve Auction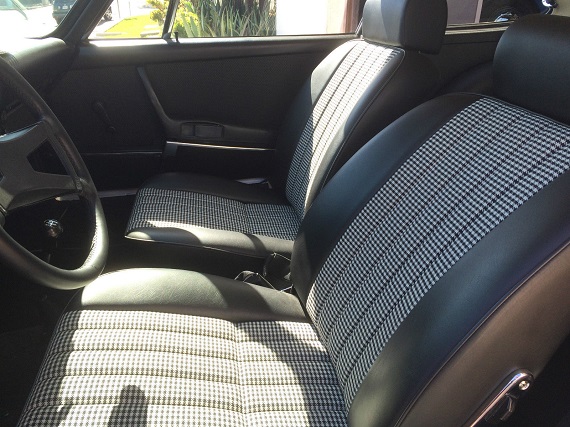 Nicely restored early 1969 911S Coupe in Tangerine with factory installed sunroof, matching numbers with Certificate of Authenticity. Only 1 of 1492 S Coupes built!

Make: 911S Coupe w/ factory installed sunroof

Color: Tangerine

Year: 1969

CarparcUSA proudly offers a beautifully restored 1969 Porsche 911S Coupe. This car is matching numbers with full documentation and Certificate of Authenticity.

Options listed on the COA for this vehicle include; U.S. equipment, electric sunroof, tinted glass and Michelin tires. This vehicle is also equipped with period correct Hella fog lights. The car was professionally painted the original Tangerine color with a bare metal, glass out repaint. The car has the original numbers matching 2.0 liter engine which has been completely rebuilt (NOS Mahle S piston cylinders and upgraded Carrera oil fed chain tensioners) including the MFI system with supporting documentation. Brand new NOS oil cooler in front fender. Fully rebuilt brake and suspension system with rare aluminum front S calipers. The wheels are deep 6''(hearts, date correct) Fuchs all around with a spare fifth (steel wheel) in the trunk.

The interior for the greater part, is all original! The original seats have been reupholstered in period correct black leatherette with Pepita cloth inserts and headrests. The carpet has been replaced with correct German material. All original instruments have been professionally restored by Palo Alto Speedo.

The tool kit and jack are located in the trunk, which also has new trunk carpet.

The body and body panels are all original to the car, never had any rust or accident damage. The car comes with the original owners manual in the dealer jacket with the certificate of authenticity and documentation (history from previous owners).

Less than 500 miles have been driven since the restoration.

For more information/pictures of this vehicle please visit: http://early911specialist.com/new-products-1/1969-porsche-911s-tangerine

Please inquire for more info.

The car is available for inspection by appointment only at our location in Costa Mesa, CA.

We can be reached by phone however please note we are on Pacific Standard time +1 562 331 0681

We reserve the right to end this listing at any time should the vehicle no longer be available for sale.

Payment Terms:

The successful high bidder will submit a $1000 non-refundable deposit within 24 Hours of the close of the auction to secure the vehicle. Buyer agrees to pay remaining balance due (plus applicable fees and taxes) within 5 days of the close of the auction. All financial transactions must be completed before delivery of the vehicle.

Payment Methods: Cash (In Person), certified check, bank transfer, or 3rd-party financing.

Fees and Taxes:

All domestic buyers are responsible for all state, county, city taxes and fees, as well as title/registration fees in the state that the vehicle will be registered.

We can assist in shipping worldwide however all shipping charges to be paid by the buyer.

Vehicle is sold AS-IS, no warranty.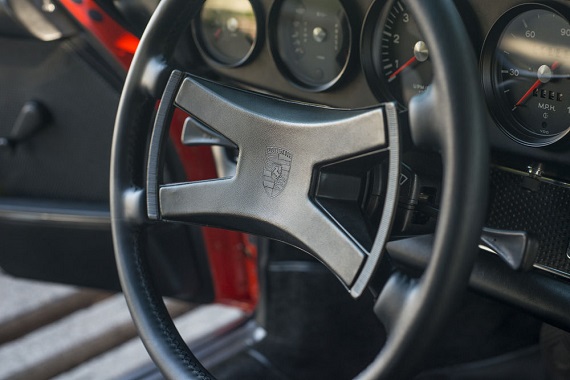 So the comparison here isn't entirely straightforward due to the wheelbase differences and that the Targa isn't entirely mechanically original. Many might prefer its transformation to a full manual, but as values go that shift will bring it down a bit. Coupe or Targa largely comes down to personal preference, though for those who are indifferent the Targa almost always is the cheaper option of the two. I happen to be a fan of the Targa and the example here looks in nice shape, but I can't help but think that the Coupe presents much better. There aren't really any specific reasons for that, but rather it's a matter of the overall appearance and presentation that we are shown here. Both look good with current bidding favoring the Coupe pretty strongly at $140,300 versus $98,000 for the Targa. That's a significant price difference. Perhaps the Targa might actually make for the better buy all things considered, or perhaps we'll see these two auctions come together some once all is said and done.
-Rob